(G1) Bubblegum + AK-47 IL
Fem seeds from ILGM
24x24x48 Vivosun tent (Seed/Veg) 27x27x63 Spider Farmer tent (Flower) Vivosun VS1000 LED AC Infinity Cloudline T4 Vent Fan AC Infinity Carbon Filter Inkbird Heat & Humidity Thermostat Vivosun 6" Oscillating Fans 3gal Fabric grow pots FFOF medium
....stoked 🌱✌🏼
2 years ago
Everything is going great, 2-3 weeks to harvest.
2 years ago
Flower is officially noticeable and I'm loving it
2 years ago
Some nice stretching happening, and increased bud sites. Will add third trellis net soon.
2 years ago
...growing...fed plain RO water
2 years ago
Let the stretch begin! Added a second trellis net as I feel it will help me better control the canopy and support the stalks
2 years ago
Fed them today, 2nd of the week and the plants are looking great! Top buds and lower bud formation taking place. Per Gallon: FF Big Bloom: 1.5 tsp FF Grow Big: 1 tsp FF Tiger Bloom: 1 tsp Flower Fuel: 1/4 tsp
2 years ago
Buds are in early formation!
2 years ago
Still working on drinking up the 2-gallons I fed them yesterday. Seeing some great flowers starting!
2 years ago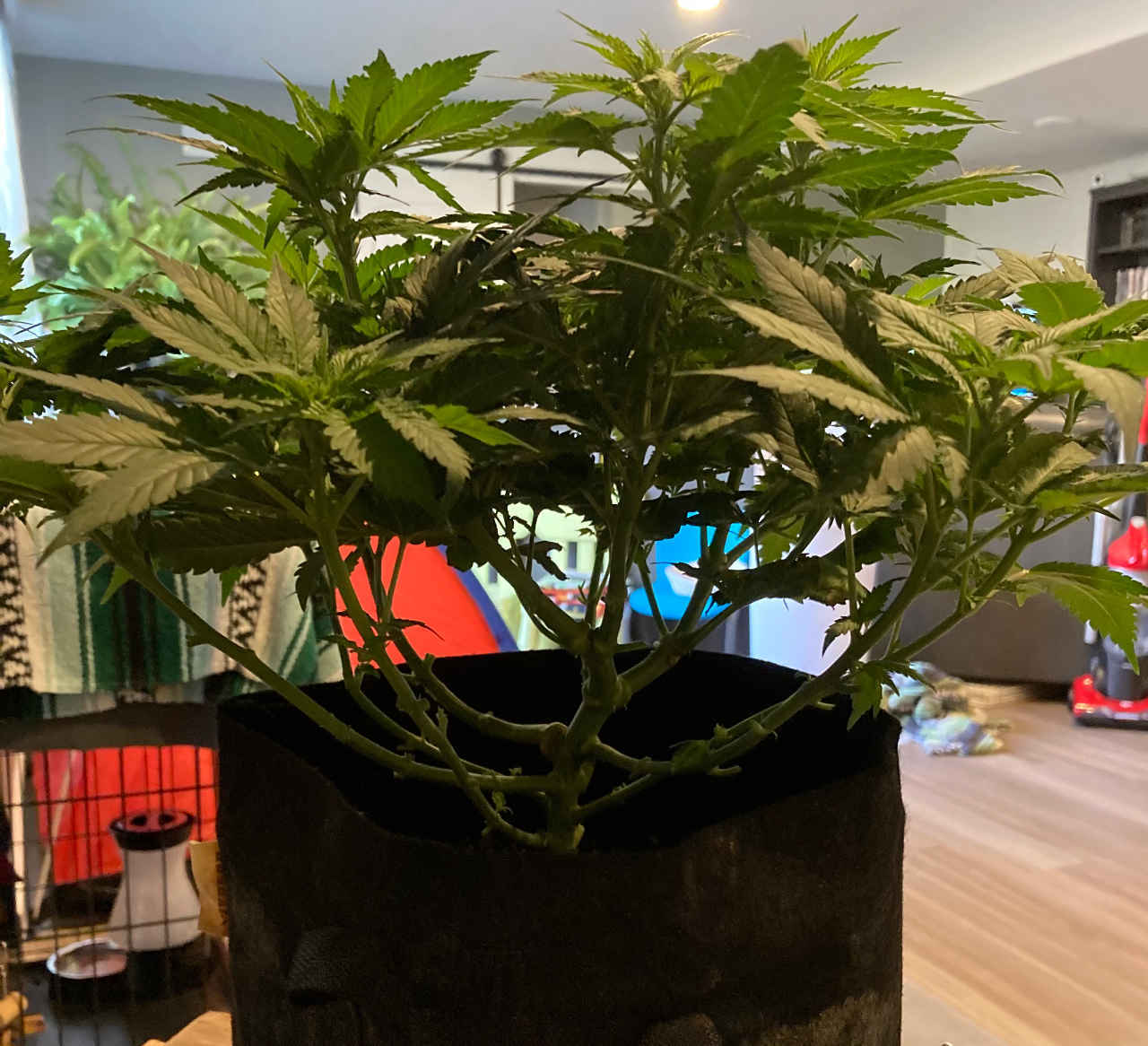 Did some Lollipop style on all 3 plants. Hoping this will move more focus on the flowers. Excited to see my buds soon!
2 years ago
Moved the trellis net higher, hoping they will begin to shoot up more
2 years ago
Flipped these guys to flower & their first day of flower nutrients.
2 years ago
Flipping the plants light cycle to 12:12 starting at midnight. Fed them a 1/2 dose of Week 1 Flower nutrients to kick things off.
2 years ago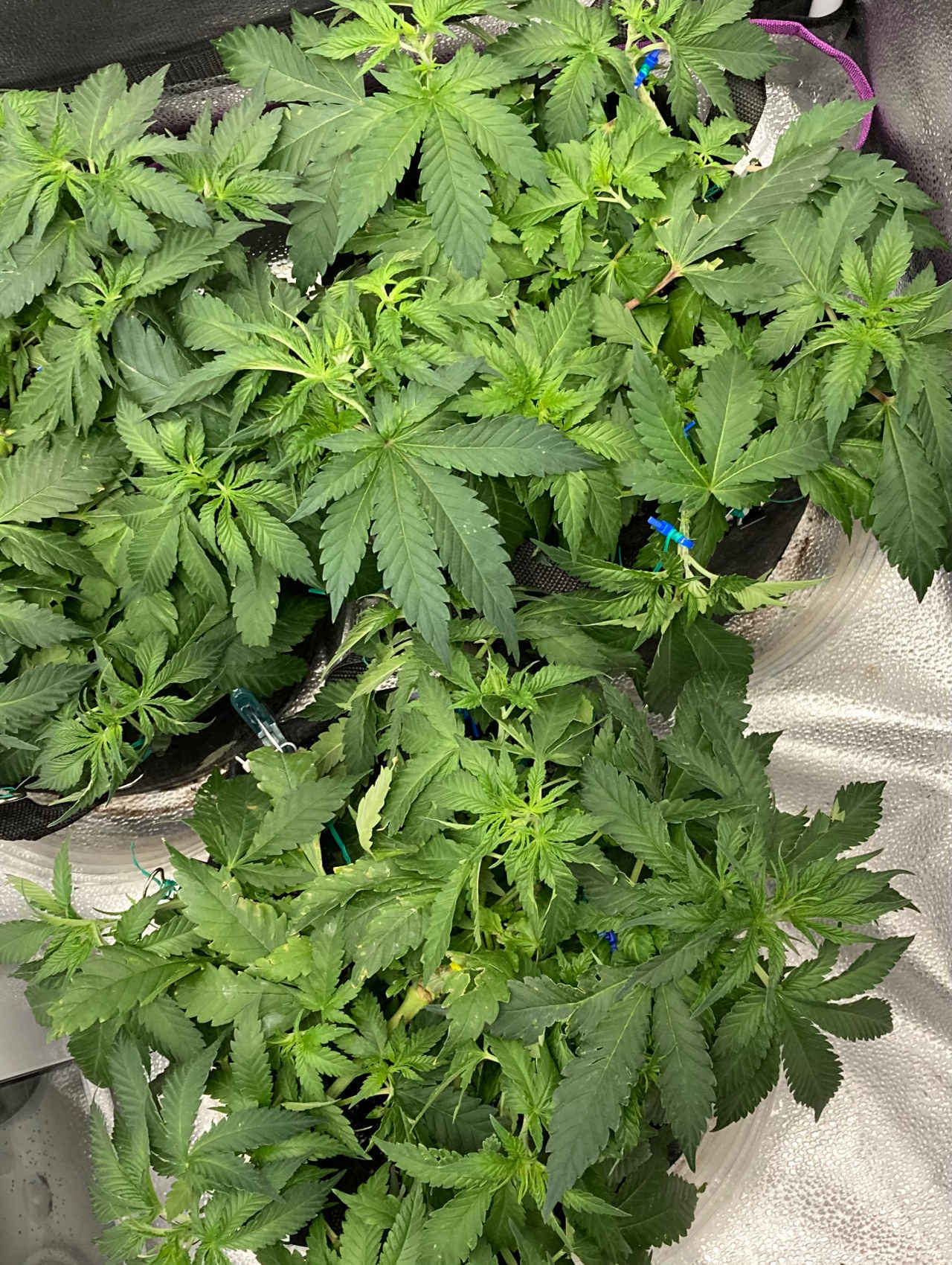 Performed LST, both tying down newly emerging branches, and performing adjustments as needed to the existing tie downs.
2 years ago
I left the kids alone today after a late night feeding, looking awesome
2 years ago
Performed LST, really liking how the training has been going this far, looks great!
2 years ago
Fed all three plants nutrients for the first time. Blue Planet Cal Mag FF - Big Bloom FF - Grow Big
2 years ago
LST is the real deal, lots of good and even growth happening.
2 years ago
I left the plants alone today, let them recover from the LST and topping. All plants showing Lots of great growth already from the training I did. Will need to more worn with LST tomorrow.
2 years ago
Growing nicely, I worked more on my LST tonight, finally happy with how this turned out.
2 years ago
Moved plants to their new tent for remainder of Veg & Flower cycles.
2 years ago
Actually Day 37 - Spent time doing some LST...I had the main branches tied down to the sides for 3-days, release them this morning and got some explosive growth today. So tonight I tied down a large branch that has emerge on all three plants.
2 years ago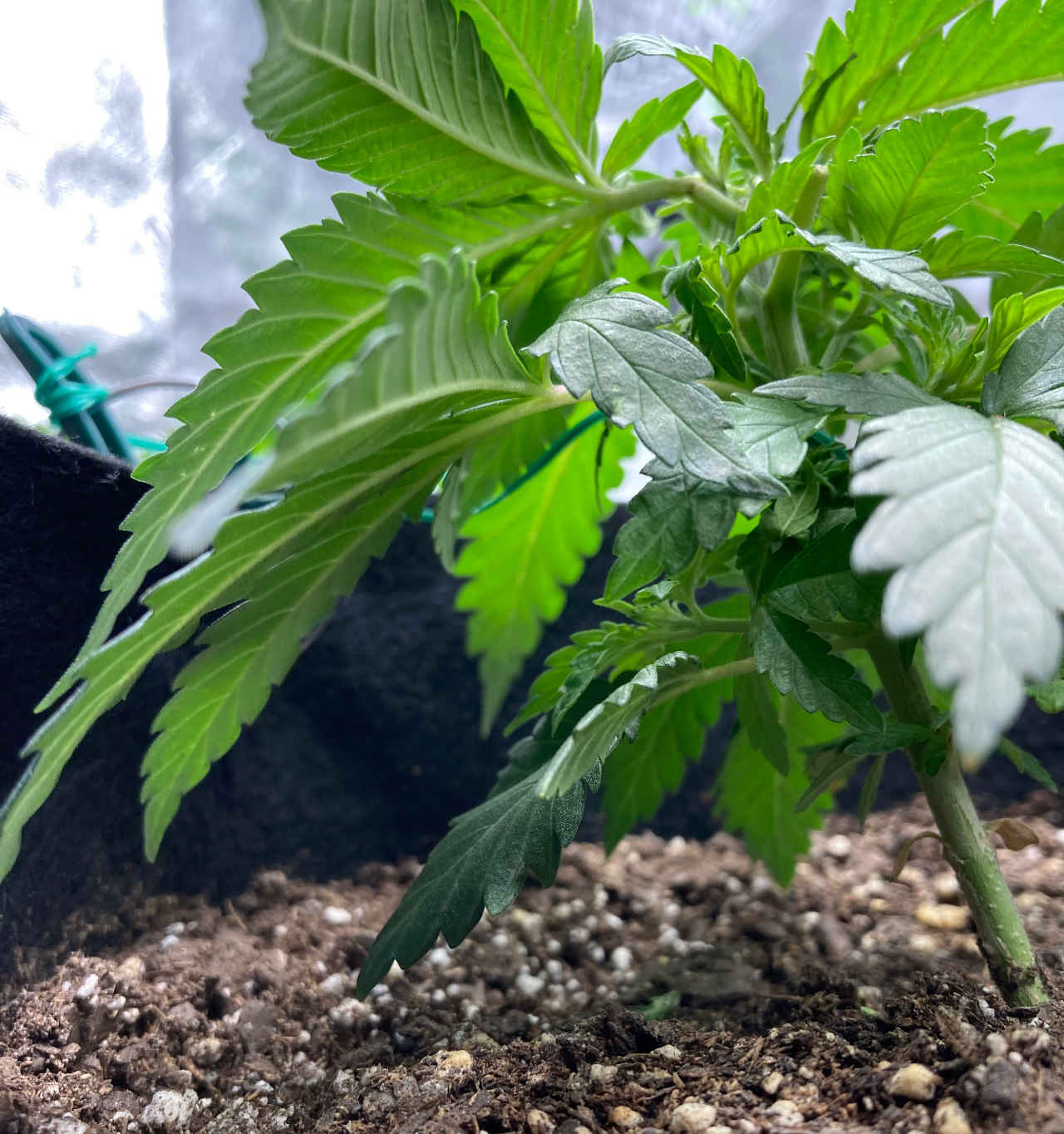 Looking good, so did some LST, tied main branch off to one side. Starting that SCROG off early!
2 years ago
Filling out nicely!
2 years ago
All are looking good
2 years ago
Today the seedlings were transplanted to 3 gallon fabric pots. I used Root Magic and then watered with RO + Unsulfured Black Molasses. They will hopefully perk up tomorrow.
2 years ago
Growing cannabis will be a great test of patience.
2 years ago
Exciting week ahead, either Thursday or Friday they will be transplanted to their 3g Fabric Pots and get this party stared
3 years ago
Couldn't be happier for my first grow, looking strong!
3 years ago
Stoked, seedlings are looking healthy!
3 years ago
Added an Exhale C02 365 bag to the tent, however it will take 20-30 days to begin delivering to the plants.
3 years ago
Things are looking good, AK-47 is 2-days behind but all looking very healthy. All three plants are now under a Spider Farmer SF 1000 24" from plants.
3 years ago
Good day but dealing with a lot of first timer crap in regards to controlling heat and humidity. Plants all look good
3 years ago
B-1: continues to thrive, grew a lot today. B-2: catching up to B-1, but looking very healthy. A-1: out of the soil today wearing a fashionable split shell hat. It's getting more dry as Fall approaches so playing a lot w light setting, in-line fan speed, & humidifier. Managed to find a sweet combination that is staying around 78 degrees & 58% humidity.
3 years ago
B-1: Seedling is doing well. Added more medium to the cup to help strengthen the stalk. B-2: Still hasn't kicked the seed shell off of one side. Seedling is doing well. Added more medium to the cup to help strengthen the stalk. A-1: Germination successful. Added the seed, root down and lightly covered w soil. Placed a plastic bag over the cup to help promote growth.
3 years ago
B-1: starting to sprout next leaves B-2: finally kicked its shell off w a little help
3 years ago
B-1: Looking very healthy and has grown a lot in one day. B-2: Has made it out of the soil, stem looks strong, but needs to pop its hat off still lol B-3: No good, I dumped the soil in an attempt to find the seed, I was hoping it had almost germinated and was maybe just stuck down too far. A-1: Using the paper towel germination method, hope to get it in the dirt tomorrow. The grow tent feels very set-up now, got both oscillating fans and lights going found a happy spot of 78 F w 54% humidity.
3 years ago
B1 looks great, B2 is now beginning its move to the surface. Not sure about B3, hopefully soon!
3 years ago
Germination Day 3: My seedlings have been covered and placed on a Seedfactor 10"x20" Thermostat Controlled Heat Mat for almost 48 hours. B1 has sprouted, looks healthy! Hopefully B2 & B3 are close! I have removed the plastic cover on B1 and sprayed the top of the medium.
3 years ago
Germination time, soaked my Bubblegum(fem) seeds from ILGM for 24 hours in tap water. Adding the seeds now to 4" nursery pots filled and inch from the top with Fox Farms Ocean Forest soil........
3 years ago
Covered nursery pots with plastic bags, and put under a 45w I-Venoya LED(225 LED full spectrum.
3 years ago