Face Fat (Auto)
Atlas Seeds
I have 1 Face Fat Autoflower (Atlas Seeds) plant, in a 3 gallon plastic flower pot, in a 3ft x 3ft x 6ft VivoSun grow tent, under a 315watt Ceramic Metal Halide grow light, with an 18/6 lighting schedule, the medium is Bio-All living soil, & it's being fed Nectar for the Gods' organic Spartan Regiment + One Shot. (water, feed, water).
Started flushing about 4 days ago. The trichomes are pretty much all milky, with some just starting to turn amber. I figure I got a week MAYBE two left before I harvest.
2 months ago
Today marks 75 days exactly, which is also the estimated grow time for this strain. But this baby still has at least a month to go before she's ready. The buds are startin' to get nice & frosty, with some very vibrant orange/red hairs, well on her way!
3 months ago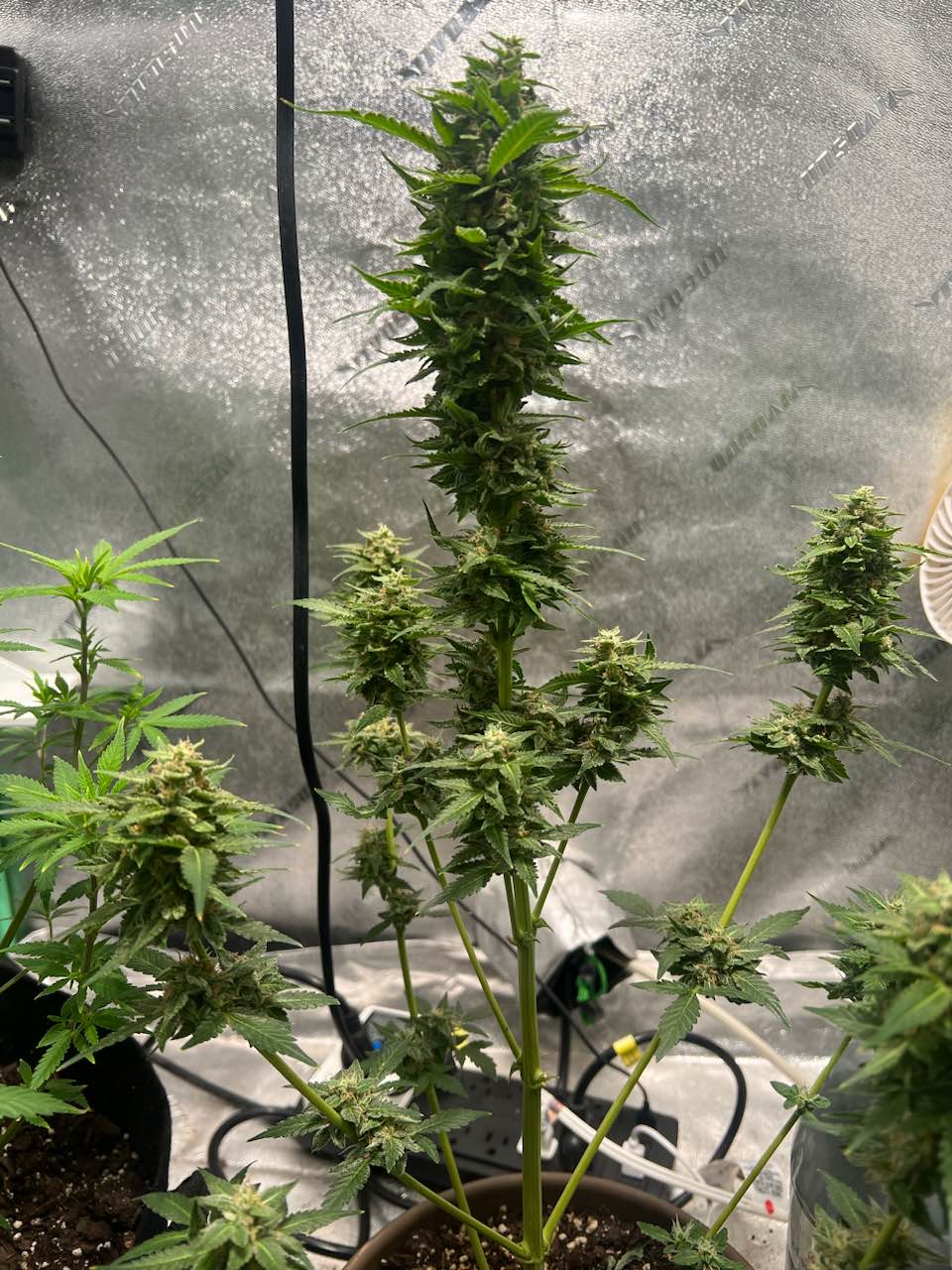 Got just about 3 weeks left until the recommended harvest date (90 days), which I always end up going over by a week or 2 I find lol. So I'm assuming at least a month til I harvest. She's stacking up reeeeeeal nicely! Not a super strong aroma, but those trichomes sure are beautiful!
3 months ago
Buds are lookin' absolutely beautiful! Buds are nice n dense! Not airy whatsoever. Love this plants genetics. Only thing that has me a tad worried is it doesn't really have the super gassy smell that others have reported it to have. Which is definitely a huge bummer, hopefully it'll get there before harvest.
3 months ago
This baby is startin' to fatten up reeeeeeally nicely! The buds are not airy whatsoever, very thick & dense, nice orange/red hairs on 'em, & the trichomes are just starting to be noticeable. Not a real strong aroma to it just yet tho. Excited to see how this one turns out come harvest!
3 months ago
This plants buds are still fattening up nice & good! Hopefully she just keeps packin' on the extra weight! This one's been a blast to grow this far & she's still gotta ways to go! Can't wait!
3 months ago
This baby is filling out more & more every day! Can't wait to see what she looks like come harvest time!
3 months ago
Starting to flower very beautifully! She's getting a full dose of flower nutes (feed, water, water) & she's really starting to open up & show me what she can do! Super excited to see how this grow goes!
4 months ago
Growing nice & tall with branches starting to shoot off from the middle stem. Started giving her flowering nutes as she is going into flower mode. This has been an absolute blast of a grow so far!
4 months ago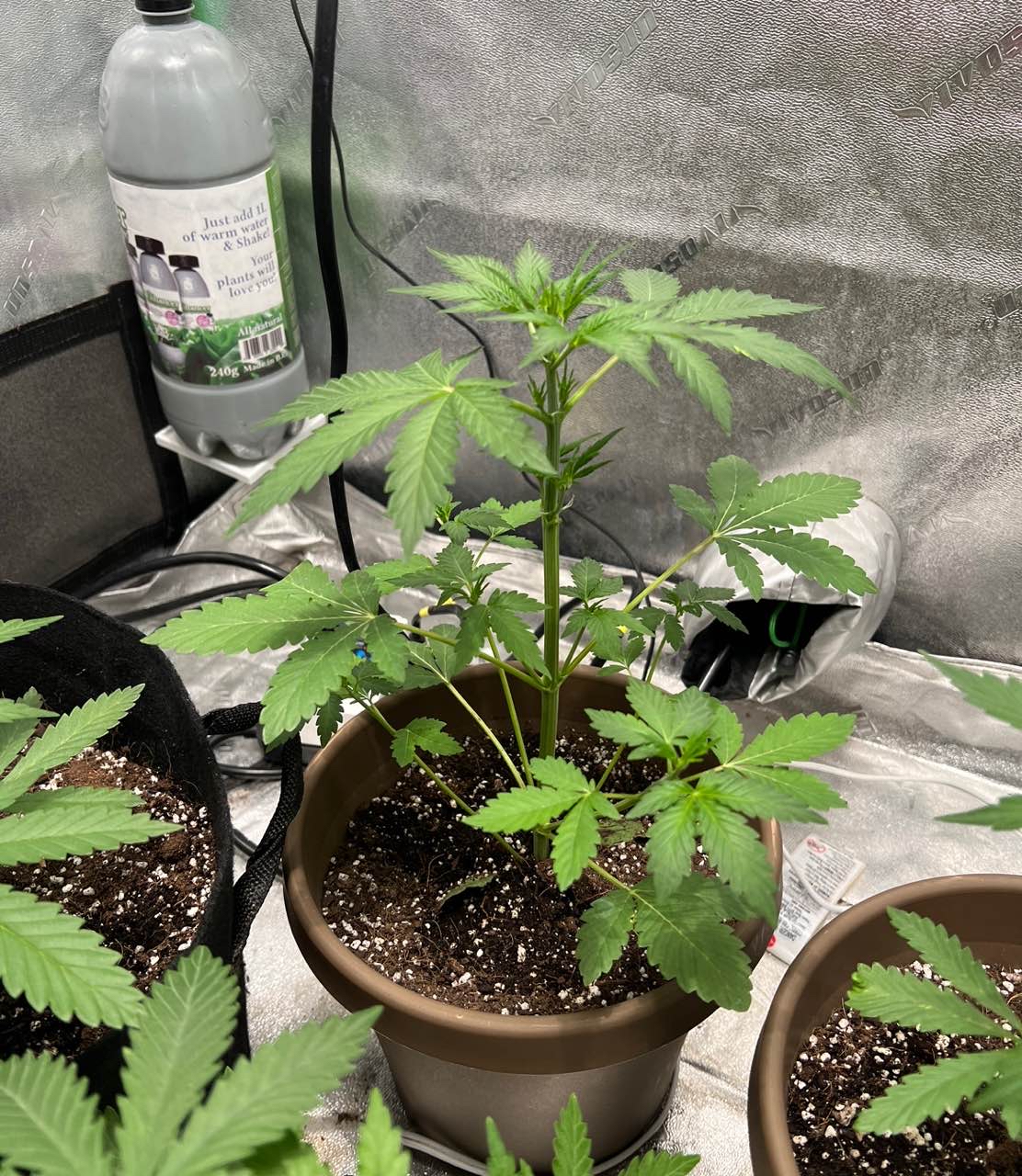 A month in & she's growing nice n tall! Starting to see white pistils gradually pop up & just barely pre-flowers. Giving full strength Veg nutes.
4 months ago
Started giving ½ dose vegging nutes & she couldn't have responded better! Finally seeing what she's able to do!
4 months ago
3 weeks in & she's still growin' like a champ! Has the big stem growin' up the middle, nice & strong. Still not nutes yet.
4 months ago
This seedlings has super large leaves compared to the other autos I currently have going. Still just watering daily. Won't need any nutes for a while since they're in living soil.
4 months ago
Started this Face Fat (Atlas Seeds) on 4/19-4/20, can't remember the exact date. But she popped relatively easily.
4 months ago