ckutz
Candy Cane (AutoFlower)
White Widow, AK-47, Mango
Crop Kings Seeds
Didn't yield as much as any regular feminized I've grown but this auto did exceed my expectations. Taste I would give 8/10 very sweet earthy. High i would rate 8/10.
4 years ago
Just waiting for some clouds
4 years ago
Smells really sweet.
4 years ago
Smells good, doesn't look the greatest lol
4 years ago
I'm very curious how this will smoke lol
4 years ago
You guys were right, these auto flowers are not bad after all. Neat little plants.
4 years ago
Skinx Hey nice looking plant I'm Growing a couple Myself, I found they really responded well to LST tho my first one got cut in half by a falling fan so it's not as big as I'd like she's still very happy.
Just letting the magic happen. Treating it no different then the regular feminized plants.
4 years ago
Looks decent lol
4 years ago
Looks like a decent plant! Doing well!
4 years ago
I'll be happy even if I get an 1 oz out of her. Time will tell lol
4 years ago
I could of talked too soon, Now She starting to launch!!
4 years ago
So far, not a huge fan of auto flowers.
4 years ago
DeadZone1121 Autos aren't that bad after a few grow to just leave in your tent while you veg photos
Thunderturd253 You are doing 24/0 schedule right? If you are, maybe run a 20/4. If you aren't maybe work up to 24/0
Ducatiboy It really depends on your style of growing. Take a look at myorganic grows. You can get them much bigger to where your harvesting 3-8oz every 30-60days if you run it right.
View 4 additional comments
She's got more light now!!!!
4 years ago
RowsOfGreen Looks good man. I would relax on the water and let her dry out a bit. Every picture you pot looks soaked. Let the roots search.
Ckutz Thanks for your advise, but the pots are not soaked, using neem oil to protect and help with fertilization. I just finished my Lemon OG Today, you should check that out 😉
Starting to get some growth!
4 years ago
I want some candy!!! Hurry up!!
4 years ago
Looking healthy
4 years ago
She will get more light once my Lemon OG is Out of the way so in the mean time just letting her do her thing.
4 years ago
Ckutz This is my first Autoflower so Any advise is always welcomed. I usually have a bigger plant by now with a feminized seed but seeing as these don't grow as tall I would think they have a slow start and a fast finish?
Ducatiboy Depends on soil, lighting, ph, feeding/watering routines etc. she looks to be on track!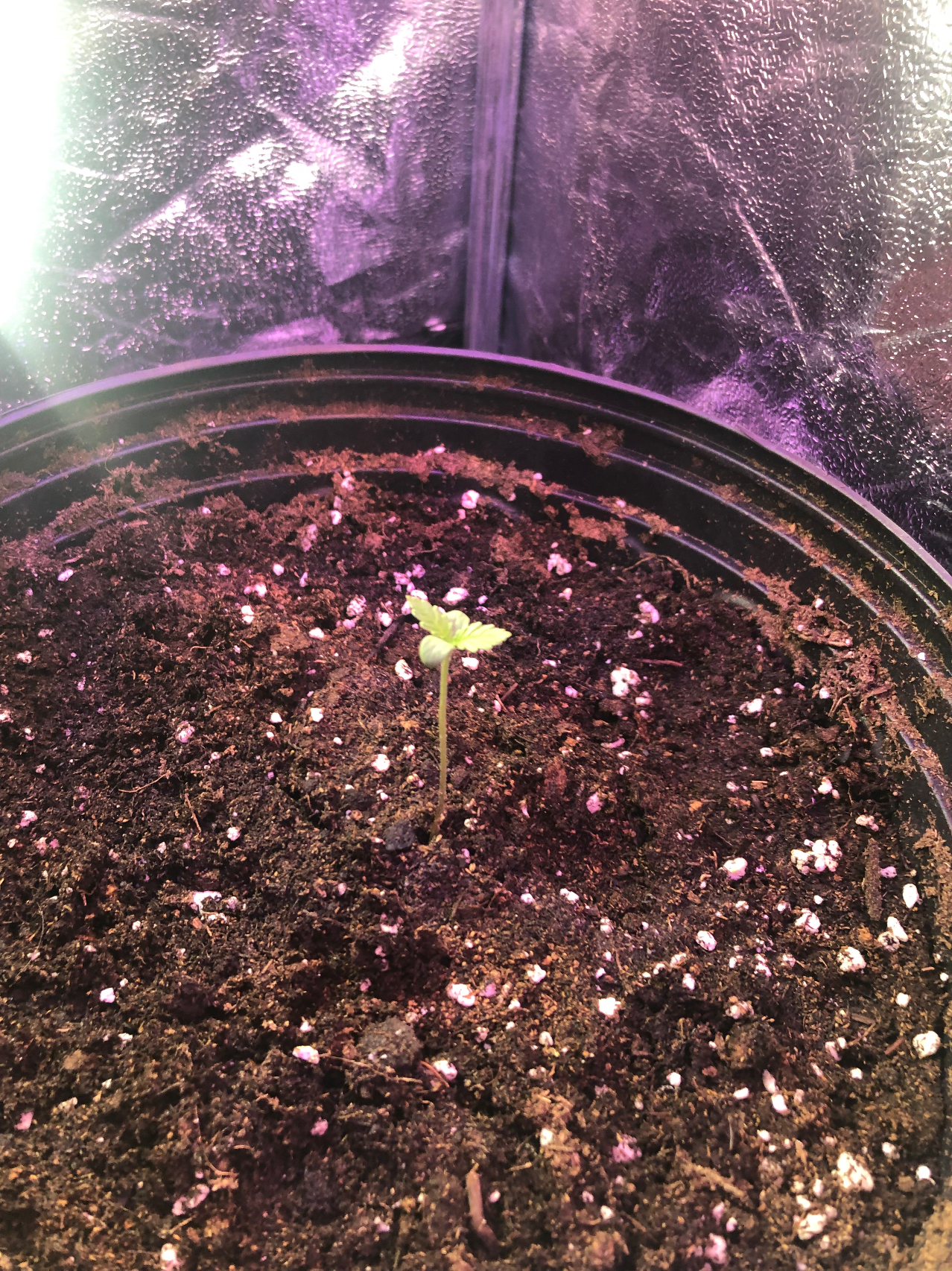 Transplanted into finishing pot
4 years ago
Ducatiboy What was the point in transplanting? Not being rude just curious. Why not just put it in the finishing pot from the jump?
Ckutz Auto flowers are susceptible to transplant shock and they typically grow short so the best way is to just transplant into the finishing pot.
Ckutz Originally I didn't have space for the finishing pot for this plant, that's the only reason why I didn't do it from the jump otherwise I would
View 3 additional comments
Gotta transplant into finishing pot
4 years ago
First auto, see how she goes!
4 years ago