bagseedwarrior
3x white cookies 600w led
White cookies
3x white cookies feminized in straight soil and peat moss 600w led.
Well, it's been bumpy, but Getting closer to that chop date! Sorry for no updates I've been stupid busy. Buds are big for what I've produced and quite dense for how big they are. Not as much trichome production as I like to see but it's got sativa in its bloodline so it still needs a little bit. Gnats have been a huge problem for me. Next time I'm potting in sand on top. For now I've just been watering very strategically to keep them down.
4 years ago
ClandestineWestOz Been missing your updates, spewing about the gnats, I have a similar issue here with midgies, they may be the same thing as I'm in Australia and we have to be different. They only like my soil/coco coir blend plants though not my hydroponic ones in the tent.
I'm having some ph problems since using the insecticidal soap.
4 years ago
Caught thrips on my plants! I used insecticidal soap in hopes to kill them before flowers begin! Besides that we are definitely beginning the stretch! 4 drops of my bloom nute has been fed with 40 oz distilled water. Phed to 6.5
4 years ago
We're into 12/12 now as I fear for my life. The stretch is gonna be crazy but I don't give up easy. Gonna give flowering nutes and a wee bit of molasses soon.
4 years ago
Yeah it's stuffed In there
4 years ago
Some lst again today.i bet the tops will be facing upward again by the time I'm off work tommarow.
4 years ago
Transplant complete. Half ml nute lots of distilled water. Soon the food goes up. My cat also ate a few fan leaves of one plant in the process. Stoner fucker.
4 years ago
After a dark period they are looking very happy. I might tie em back down later today.
4 years ago
Transplant soon!
4 years ago
Sorry for not updating but they are doing great. On half a ml of my veg nutrient per 40 oz 80% distilled 20% tap water Phed to 6-6.5 Now on 18/6 lighting. Anyone got any reccomended training for these topped baby's?
4 years ago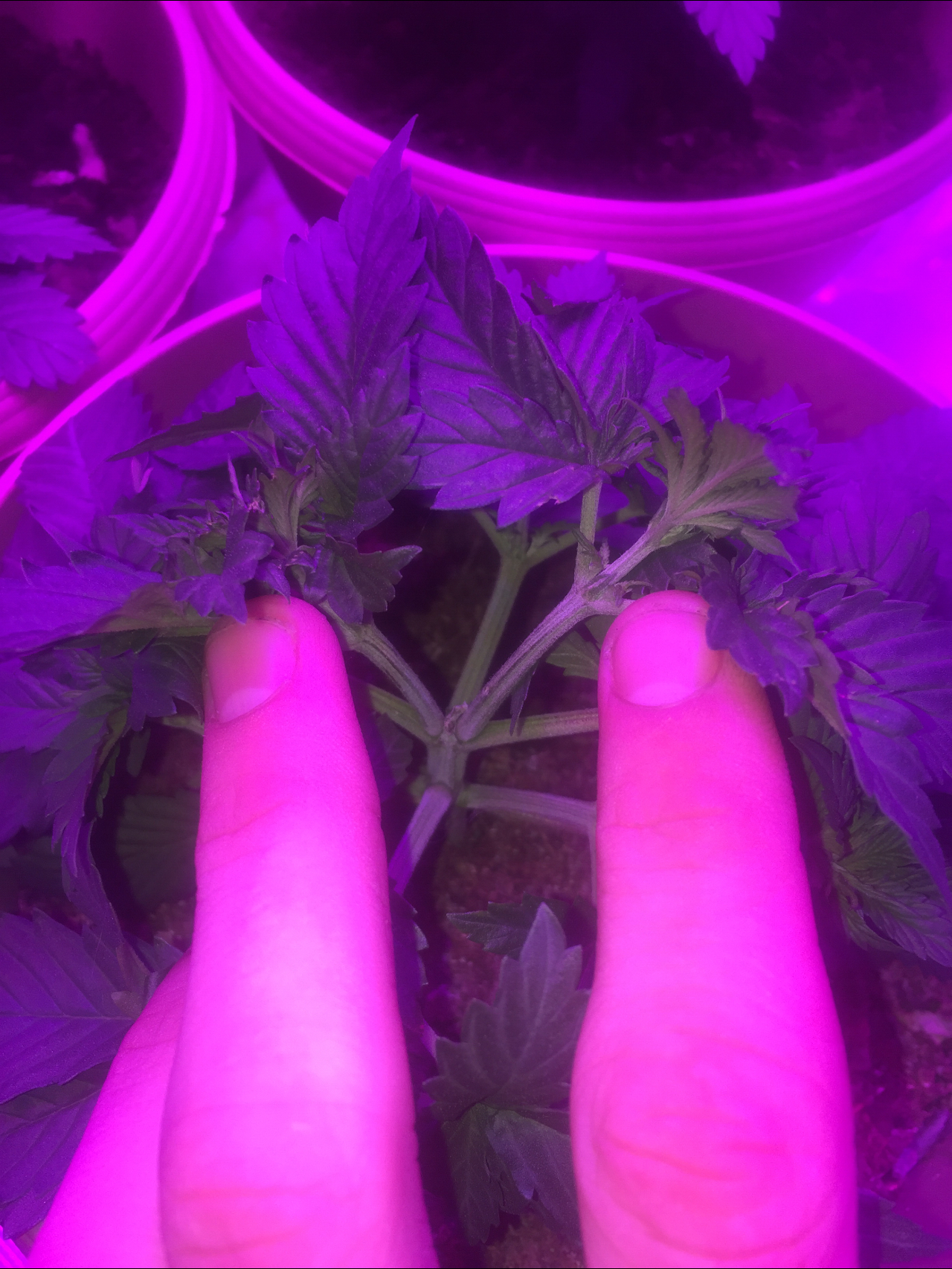 Results of my top coming through nicely :)
4 years ago
I've decided to change veg nute. So just of ph water lately till I decide it wants me to give it the new nutrient. They look great. Top is really sorting it self out!
4 years ago
Rh 47 temp 78, water only tonight. Leaves are king curled up on the edges. Growth is going nice though.
4 years ago
9:30pm Rh 47, temp 78. Is now on very weak strength nutrient, for my info: 3 drops part 2/ 2 drops part 3. The top is figuring itself out on all 3 plants. I figured out how to keep my humidity up a little better and it's thanking me for it.
4 years ago
Well 3 days after topping and it's doing its thing. Not sure what's going on with the very top growth right where I cut, but the other nodes are growing out, maybe I topped to low?
4 years ago
Well I topped them, do they look like I topped to early? I'm scared lmao. First time topping.
4 years ago
Top soon mofcker
4 years ago
Heat wave is over and I'm averaging 75f degrees. Growth is speeding up, can't wait till they are ready to top.
4 years ago
Still battling heat, we should be ok tho
4 years ago
Irishtech What light schedule are you doing? What kind of soil is it in? What is your water ph? If they are 11 days old they regardless of the heat should be bigger
Bagseedwarrior Regular potting soil with peatmoss , 20/4 light, 6.0 ph water.
Battling heat waves where I live and I think they are slightly stunted due to it, getting a new fan set up tommarow hope it helps. My are two other plants are Bubba Kush feminized on the left and nuken bagseed in flowering on the right (my first plant lol) any tips or comments are appreciated -bagseed
4 years ago
2 true leaves and next set are forming. More to come.
4 years ago
Irishtech Drop your light down to where it is about 3/4" above or they are going to stretch way too much