PowerPlant Scrog
1st grow of 2021
Airpots, Coco, Jack's Hydro, HLG 320 QB, 3x3 Tent.
Any day now. This is the end of week 11 of flower. Got some tip burn, but everything else looks very healthy. The bonsai has a beautiful shape now a days.
2 years ago
Finishing up week 10, and today we start the flush. I would like to chop next week but I have to check my buds. The bonsai got pruned again. That hook looks nice. 🪝
2 years ago
Finishing week 9 of flower? Obligatory 2 more weeks tease. I am aware of my burnt tips, been taking notes with this nutrient mix.
2 years ago
End of week 8. Pulled another 20 clones from my bonsai. Lots of fun going on.
2 years ago
burningberny Just as old as the girls in flower. 85 days now.
Finishing up week 7 of flower. Another 3 weeks minimum. Upgraded some clippings to get ready for adoption. Bonsai is bushing out. Probably clip another 20 clones this weekend.
2 years ago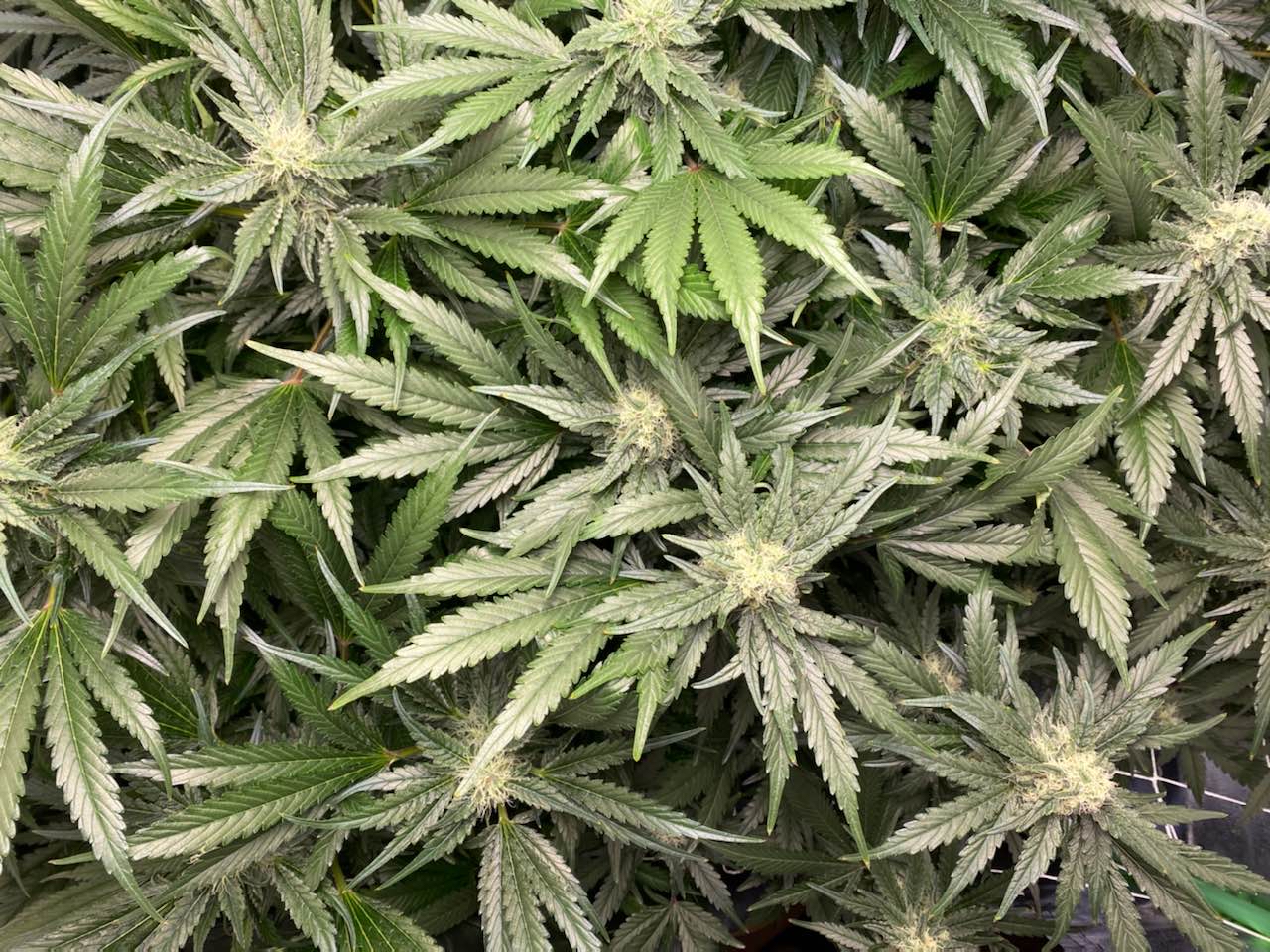 Finishing up week 6 of flower. Heavy defol this weekend hopefully. Another 5 weeks for this strain. The bonsai is bushing out and really taking shape.
2 years ago
Busy weekend. Flower girls are finishing week 5 of flower. The bonsai got stripped of 18 clones two weeks ago, and another 20 this past weekend. Everything is chilling 😎
2 years ago
french pony Hi, could you let me know where you find the informations about how make a bonsai from weed. I started one but not really sure about what I'm doing. Thanks
burningberny Pretty much just winging it. I started off my just bending it around and then deciding which shoots I wanted to be main branches. Started shaping it how I saw fit. I have a main stalk that I'm trying to wrap around the whole pot, and 4 others I decided to top once they got to where I needed them. Those branches will keep getting topped for more clones while the other makes its way around.
End of week 4 flower. Still looking healthy. Definitely manifolding the rest of my grows. Fuck all this defoliating. Haha.
3 years ago
volcanobag Man this little vivosun tent sold a ton on Amazon
burningberny This one is actually Cool Grows. Not a bad tent. Naturally I want even more space.
volcanobag 5x5x7 is my other it's a lighthouse hydro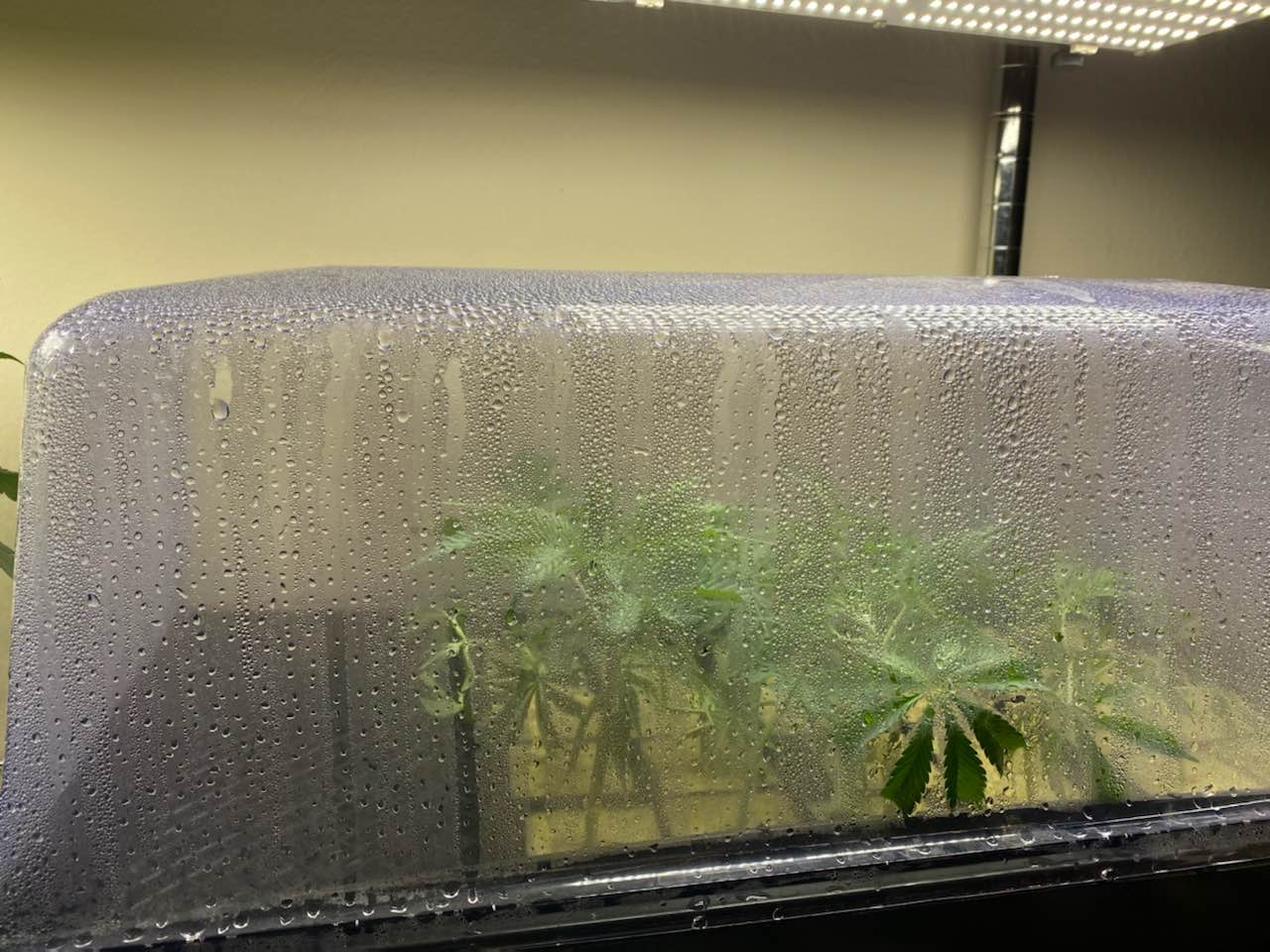 Missed an update last week. Pretty much filled the tent out and did a 2 hour defoliation, probably going to need another one this weekend. Took 18 clones from the bonsai, waiting for roots and adoptive parents haha. This would be the conclusion of 3 weeks of flower.
3 years ago
One week of flower done for the 4 in the tent. The stretch has officially begun. Defoliated twice this week and switched my nutrient combo to test some set points for all my ppms. The bonsai is taking shape. Going to let some shoots grow so I can get some clones soon. Have a fun week fellow growers. 🤙🏼
3 years ago
I apologize I'm a day late. The girls were flipped yesterday to 12/12. Stripped them today since they were bushy and wove into the first trellis to try and get more light on everything. Pics have before and after defol. The bonsai is coming along nice. Plants look healthy and lush. Adjusted my nutrients to dial in my individual ppms of N, P, K , Ca, Mg, and S. Big stretch the next two weeks.
3 years ago
I Anbassa Can you explain the reason for two scrog nets. Looks so cool. I have one but my plants are just coming and I'm utilizing LST and FIM/Toppin. I'm new to the Scrog technique so anything would be a help. Love and light. Looks great!!
burningberny I use the first net during veg to stop them from getting too high and to grow laterally. Then I strip all my fan leaves below the top node when I flip to flower and spread everything out. During the stretch I'm going to weave all the shoots in the second net which is about 9ish inches above the first , to spread out even more to maximize how much light the buds get. Hope that helps. This is my first scrog as well. I personally like mainlines better but they take 6 weeks of veg vs. the 28 days for this.
Hard to tell but They're about an inch away from my first trellis. Defoliated earlier in the week. Should spread out over the next week. Bottom right is my runt. Should be able to flip next update. The bonsai is growing slow but that's what I expected because it's under less intense light. Took some leaves off and made that bitch leeean a little.
3 years ago
burningberny I have a 30gal drum with a 400gph pump on a timer for 20sec watering every four hours while they're awake. If you go to cocoforcannabis.com they have a diy with all the parts.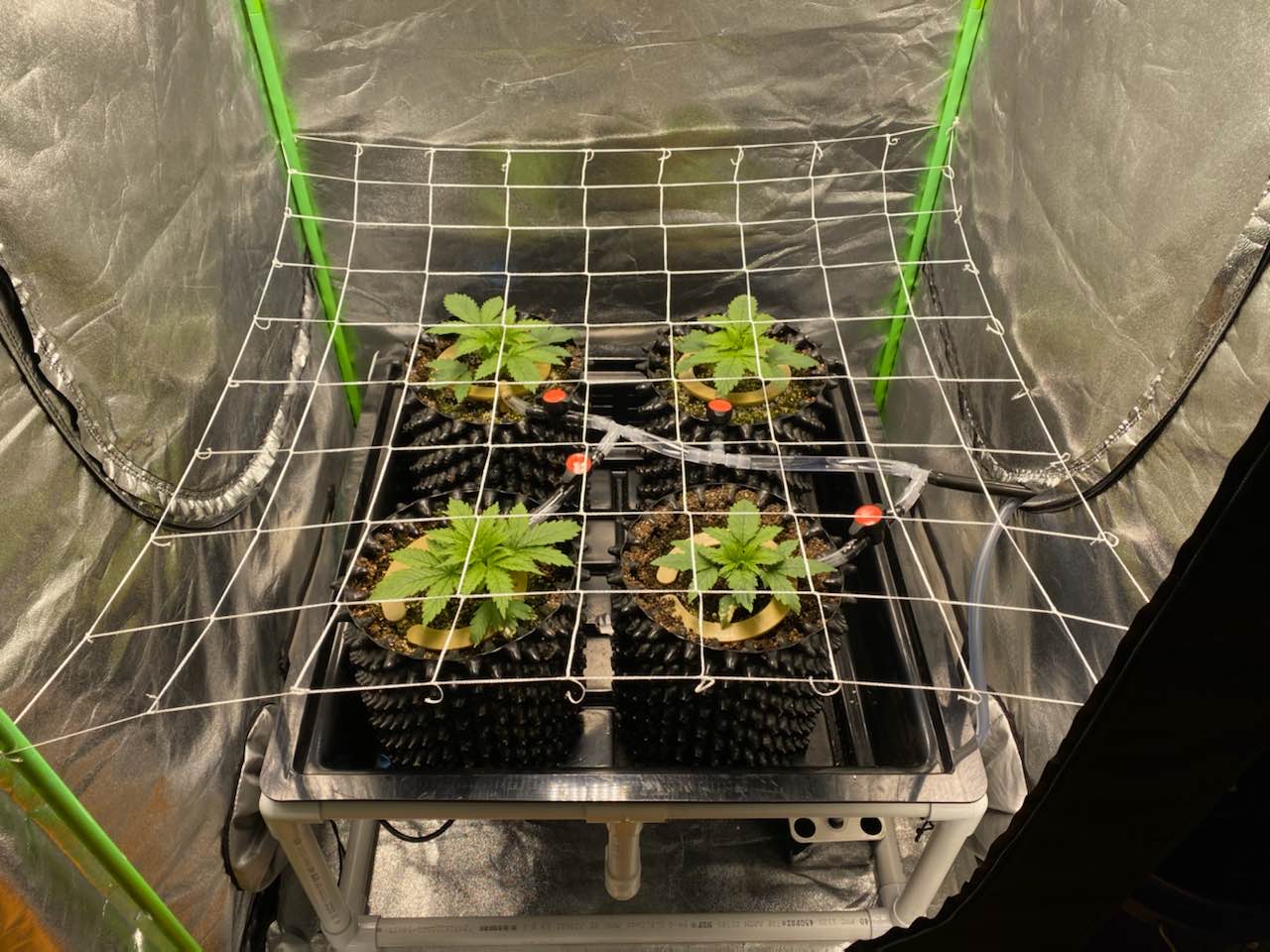 Transplanted around day 10. Four plants for herb and one bonsai mom for clones later. New growth looks great. The four in the air pots had a minor transplant shock but they're recovering well. I offset the bonsai so I can have the stalk wrap around the pot. See ya'll next Wednesday.
3 years ago
710.seth Have you ever used any other pots besides AirPots? I'm trying to decide between these or fabric pots for when I transplant soon.
mystrain420 Very nice 👍🏾. Have you done the bonsai method before? I'm currently working on 2 bonsai moms myself and would love any tips you might have.
View 1 additional comment
1 week in. Had a Potassium lockout from not rinsing my coco. No worries, these plants are very resilient and I don't hide any imperfections. I did a flush once I saw the spots on the older leaves and gave them a fresh feed. All the new growth is nice and green. Raised the dosage on my Nutes today to get ready for transplant in another day or two.
3 years ago
Got some sprouts this morning. First fertigation today. I might do weekly updates instead of daily. First grow since I started my degree in horticulture.
3 years ago