Apex by Ethos
2021 early Fall
22gl RDWC. 💡2 Viparspectre Pro 2500 LEDs 💉Advanced Nutrients trio
I forgot to wrap this grow up lol but it was a good harvest. All the trim went to cannabutter and oil for gummies
a year ago
Plentiful Harvest! Ethos Apex ladies and gentlemen. Took about 10hrs
a year ago
emaj7b5 👍🏼. All of that was grown with two ViparSpectra's? Looks great!!
JustANovice Thanks fellas! And yeah, 2 vipars and 2 cheap blurple lights on the end. I believe it was the nutrients and perfect growing conditions along with some strong genetics. I plan to get another light and bigger buckets. I had issues with the roots blocking the flow so some buckets became dwc rather than rdwc, but turnout was a success!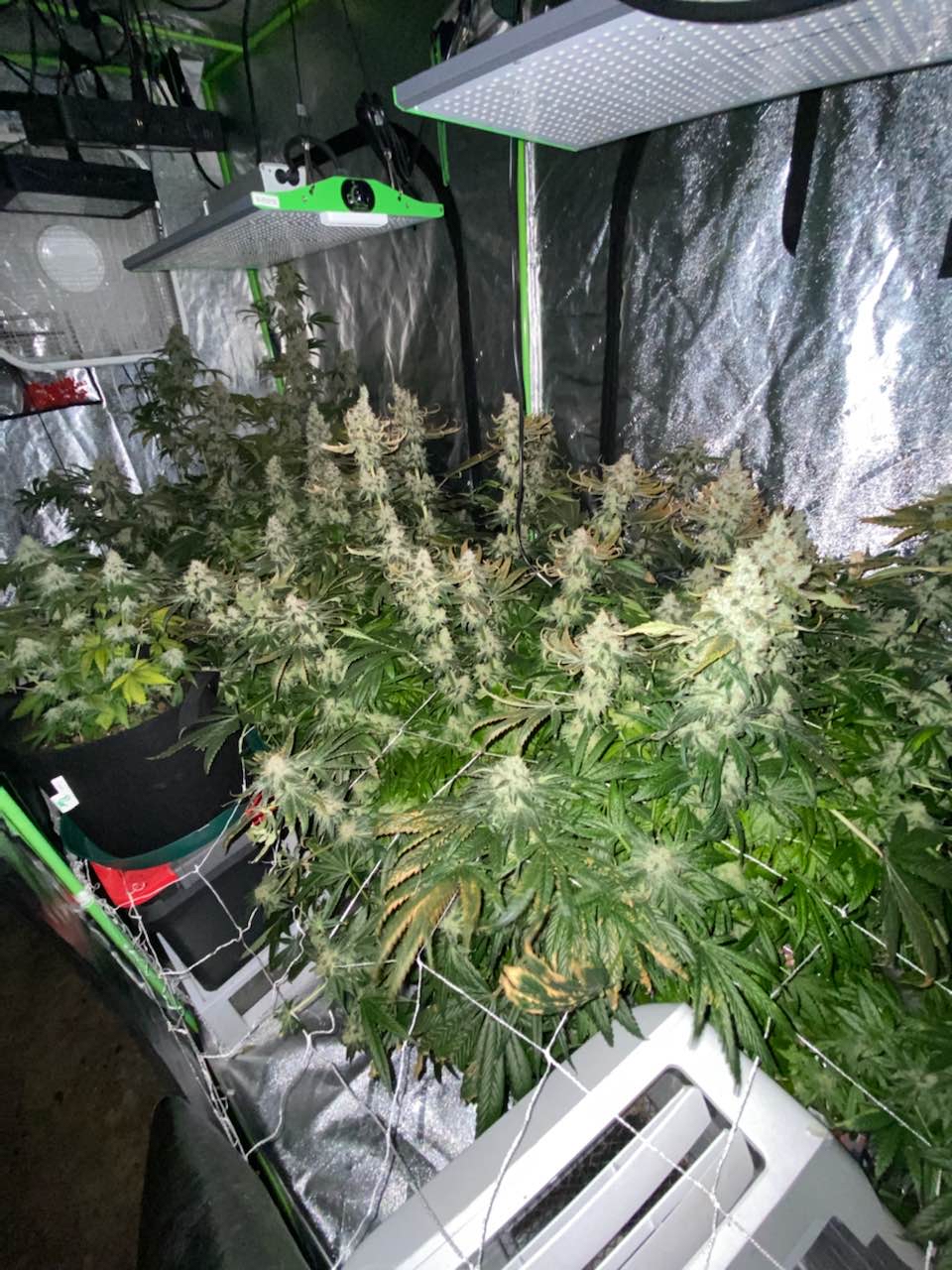 9 weeks of flower, holding off for another week until some of the hairs Amber up 5.7ph 1600ppm Day/night 74-65 45%rh
2 years ago
Half way through week 6. 6.0ph 1520ppm Day and night temps 78-68 45%rh Roots have taking up so much space my Rez always looks low but when I start to fill up the plants could possibly over flow
2 years ago
piecemaker Beautiful plants man ! Stunning, if I ask a quick question, do you only use full spectrum lighting or do you mix Another light in there as well ?
View 2 additional comments
4 weeks into flower and stacking nicely. Starting to frost up
2 years ago
Day 23 of flower. 6.1ph 1600ppm
2 years ago
JustANovice Haha thank you 🙏 😂 but this is only my 3rd grow ever so maybe third times the charm
mystrain420 _@eaegifts Hell yeah I'd say it's the charm. Looks great in there, it's gonna be a nice yield for sure 👍🏾👍🏾
Starting the 3rd week of stretch and here's a little before and after of an extreme defoliation and lollipop
2 years ago
JustANovice Yessir, everything here was about 1500-2000. Pretty sweet grow op rdwc
View 2 additional comments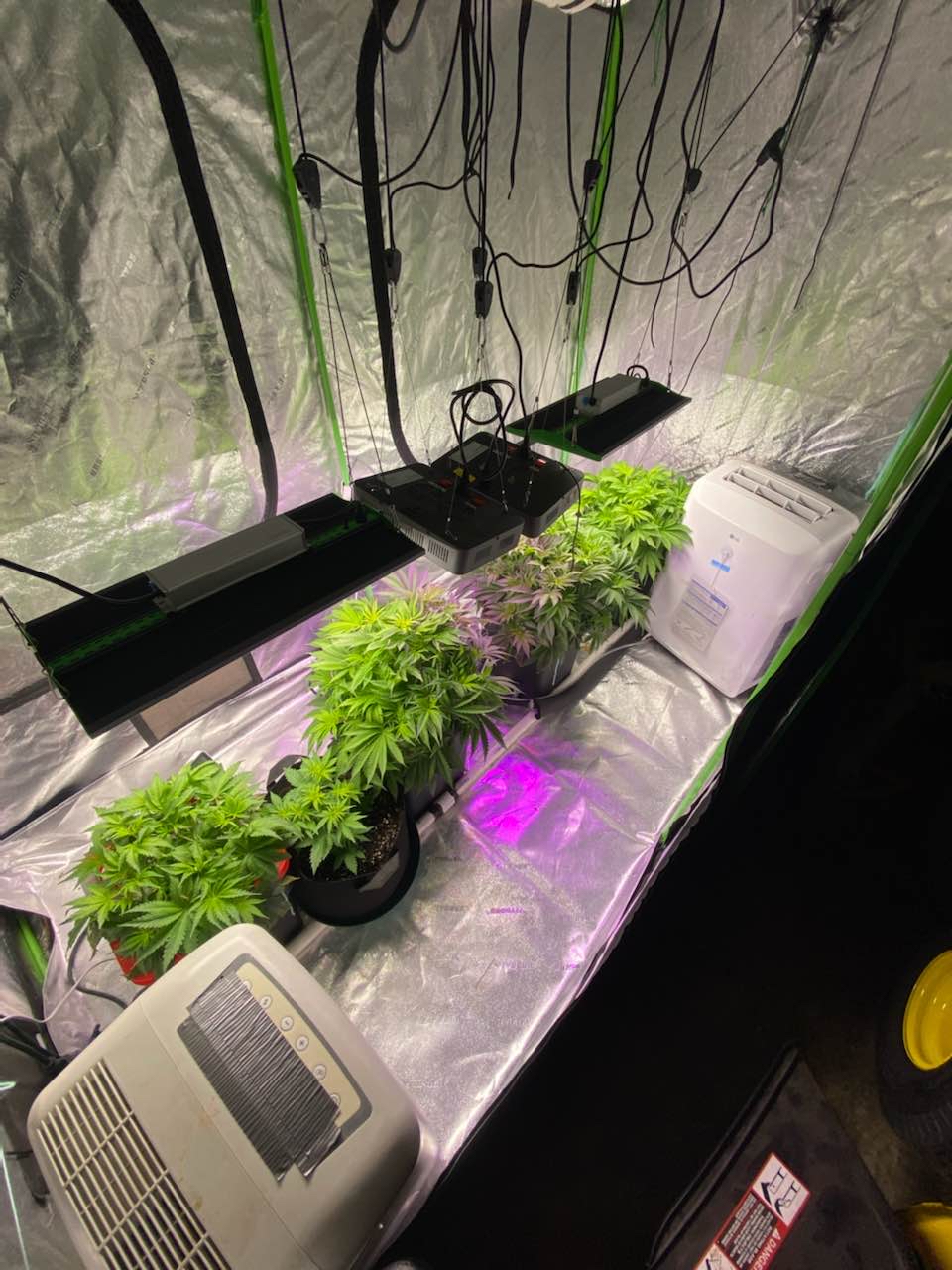 1st week of stretch is in the books. Ladies are looking happy and healthy guzzling about 2gals a day 🌡75/69 💦45% 📈 6.5/ 950ppm
2 years ago
1st day of 12:12. Systems flushed and ready for the stretch. Plan to heavily defoliate at day 15. 🌡78/70 💦55% 📈6.5ph 950ppm
2 years ago
The beginning of the 3rd week of veg. Girls are looking good, tons of bud sites showing up. I'm considering topping some of the chutes but saving the main top for later. What do you think? 🌡78f 💦60%rh 💉3rd week nute round 📈6.0ph / 1480ppm Not too thrilled about the ppm being this high so I've been adding water but I've reached my limit for now. I've had higher ppms and everything turned out fine so we'll see.
2 years ago
Mystrain420-@eaegifts Depends on if you've got a set amount of time u wanna Veg. If time is unlimited I'd lst to open them up then top 1-2 wk before flower 👍🏾
2nd week of veg. Had a boron issue causing abnormally fat leaves with brown patches. Adjusted nutes and brought ph down from 6.5 to 6.2 to help the boron into the roots. Also just did some defoliation to the effected leaves and leaves that were blocking chutes. Compared to the other 2 grows, these genetics are getting pretty stacked with these short nodes. 🌡78f 💦65%rh 📈 6.2ph/ 845ppm
2 years ago
Vegetative phase has begun! Currently have 4 with fingered leaves and one seed that I didn't think was gonna make it after I accidentally pinched the head off while trying to remove it's seed helmet. I plan to throw it in some Fox Farm ocean forest and hope for the best. 💉half strength for the first dose ☀️ 18/6 🌡 78f 💦 65%rh 📈 6.4 / 263
2 years ago
DracoBEBO Was curious to see a pick of the one that you accidentally pinched, and see it's progress. Like sports, always fun to see the underdogs push through till the end.
JustANovice I didn't snap any pics of the runt, she's in the humidity dome. She looked helpless for a couple days then bounced back hard and she looks just like the other ones with the fingered leaves. Half the height maybe but roots look good
DracoBEBO Ok nice. I was curious if it would of split and created 2 mains since it got "topped"
View 1 additional comment