Genesis - Chapter 1
2020 Quar·an·tine Grow
1 Random seed and 5 Blue Dream seeds found in an 8th purchased from MMD. Growing in Yeild Lab Fabric 3-Gallon growing pots using Ocean Fox Farms potting soil and House & Garden soil A & soil B soil supplements. Tent is a 32x32x63 TopoLite grow tent room complete kit. The growing system includes a RoHs 300w LED grow light, 4' in line fan by Intertek and 8' carbon filter. The lights are on a revers light cycle. Vegetative stage at 20 on 4 off.
1 Random seed & 5 Blue Dream seeds
Starting flush on one girl. The rest still need about another week or two.
2 years ago
Getting close to harvest time. Need a jewelers loop to check.
2 years ago
Figured out I had a deficiency a little late and trying to recover.
2 years ago
Been slacking on the updates. Now at about 30 days into the flowering stage. 1 Blue Dream plant turned out to be male so it is gone. 2 plants still have not flowered idk what's going on there but the other 3 look great!
2 years ago
New light arrived today and was installed. Will wait and see how the plants adjust. Otherwise everything looks good. 👍🏾
2 years ago
It's been a while and things seem to be looking good. Went in and did some cleaning up on the inside to help with air flow on the 1st random seed. The 5 Blue Dream seeds are coming along, some at a faster rate than other but all growing none the less. Have not ran into any problems yet 🤞🏾. Started training the 3 out of the 5 which are growing at the fastest rate. I may do the others tomorrow. Anyway have been watering them a lot more lately. About 3 gallons a day between them all. Doing 2 days of nutrients them one of water. Then let them dry out. Before repeating the cycle. They seem to like it as they have basically doubled since my last post.
2 years ago
Transferred everything to their final pots and added more soil to the pot with the first plant. Had a friend who also grows come by and check things out. She suggested getting a stronger light so I will be ordering one soon. Also did some clean up work on the 1st plant.
2 years ago
The random plant seems to be adjusting to the training well. About 4 new colas can now be seen. Other still did not get transferred yet but will soon. They are doing great as of now.
2 years ago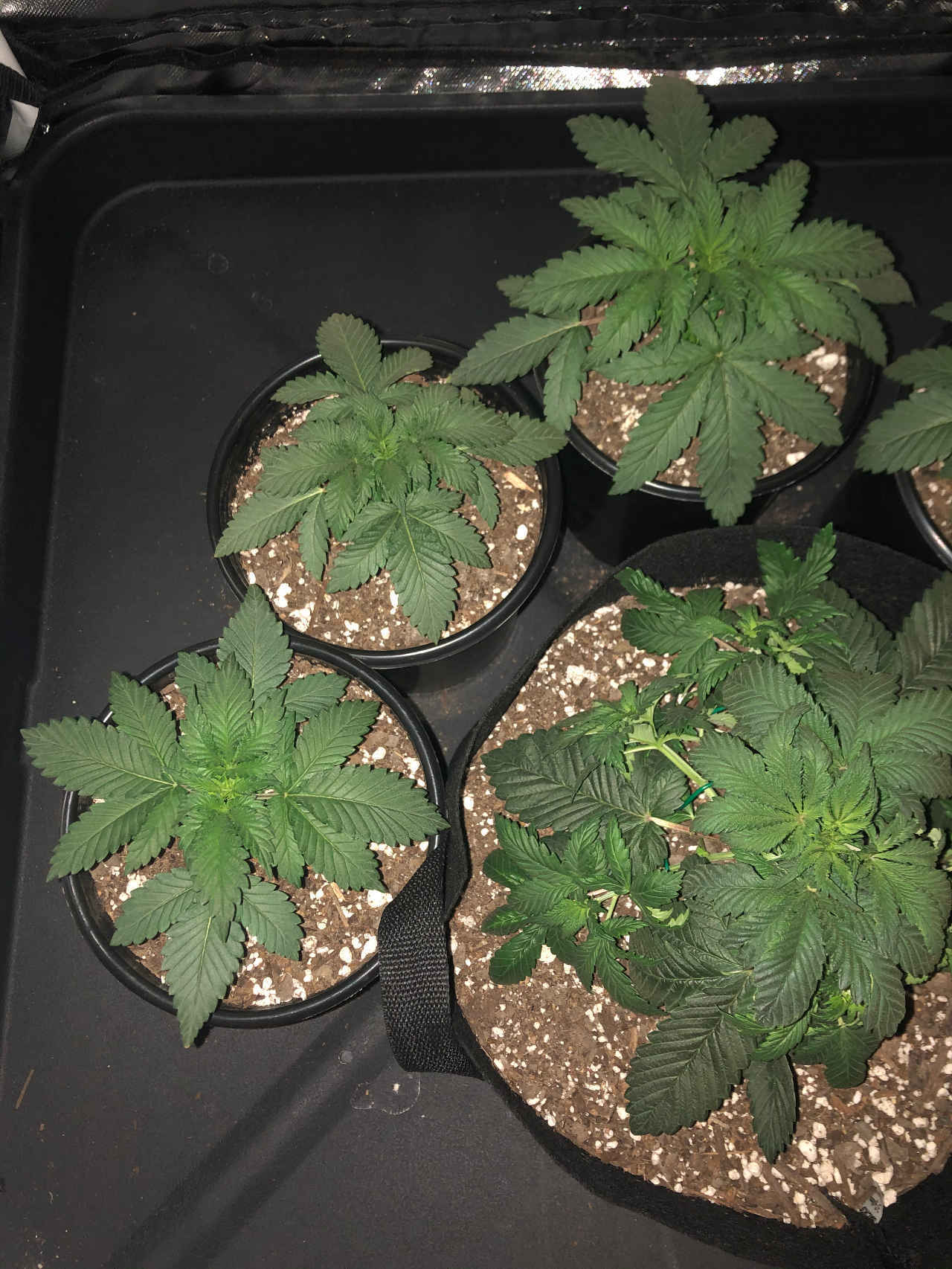 The 1st random seed was started on training today. Let's see how it goes. I also removed 2 of the first leaves as they were clearly under everything and recieving very little light. As far as the 5 Blue Dream seeds, I did not get around to reporting and they look nice and healthy. Some are much bigger than the rest but otherwise they look 👌🏾.
2 years ago
Everything is going great. Will transplant the 5 Blue Dream seeds to their forever pots soon.
2 years ago
Tucked some leaves to get light to lower branches on the 1st random seed. The 5 Blue Dream seeds are still growing fast. No water or nutrients today.
2 years ago
The 1 random seed has totally recovered from the topping and is taking off again. The 5 Blue Dream seeds all have the 3rd node out and the 4th starting to show movement. May transplant to new pots tomorrow if I have time. Fed nutrients today.
2 years ago
Gravitty How much water do you give each plant ? Roughly ?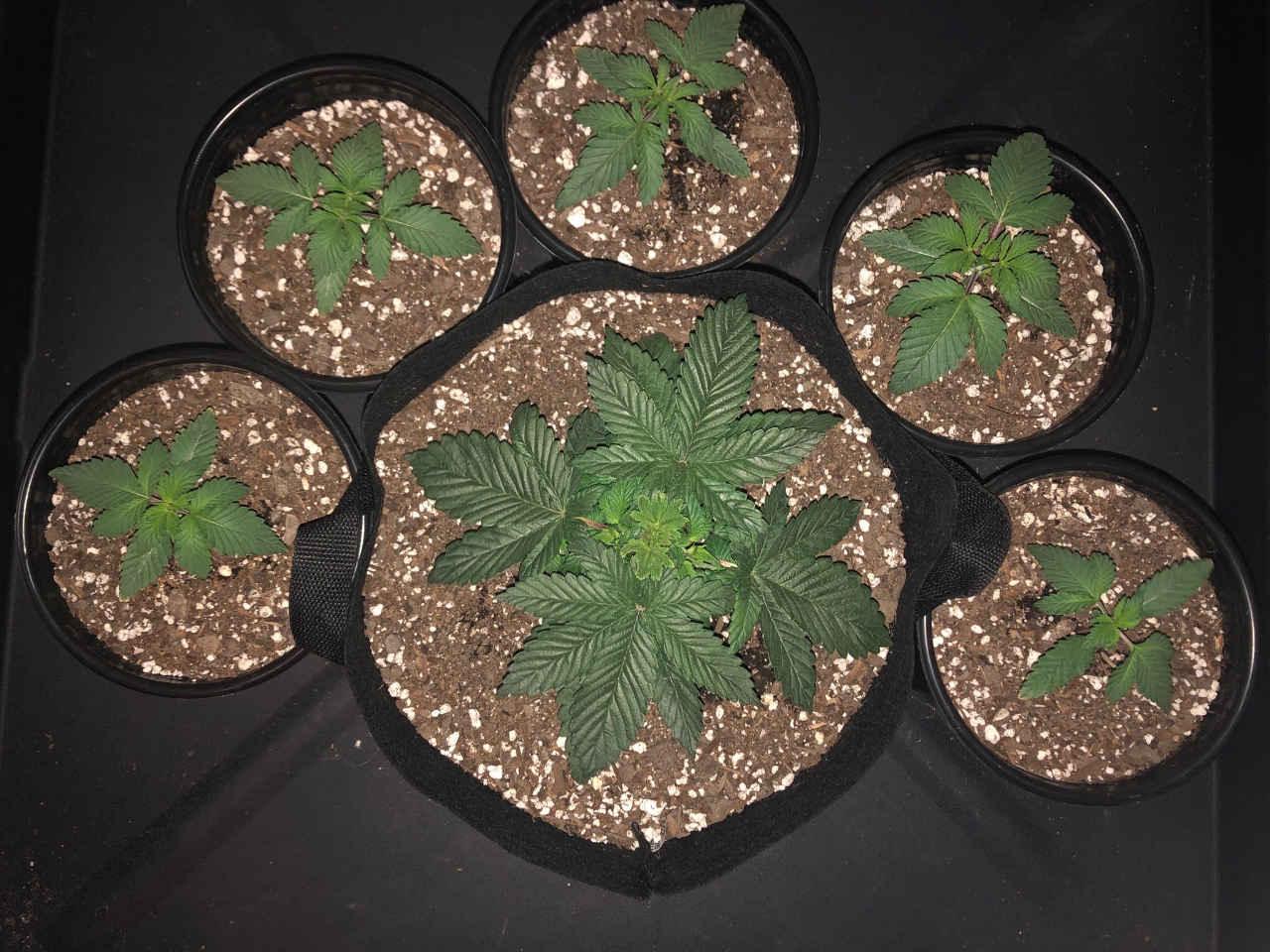 Still climbing.
2 years ago
Watered them today. 1 plant is still recovering well from the topping a few days ago. The 5 Blue Dream seeds all have their 3rd node up and are speeding right along. Moved the lights up so that they are 18" from the top of the tallest (the 1st seed) and moved a fan to a placement that is a few inches from the top of the tallest.
2 years ago
1st plant has lots of new shoots sprouting up and the main shoot looks like it is repairing itself and splitting into two. Other 5 look good and are where they should be.
3 years ago
1st plant seems to be responding well to being topped. Starting to show major new growth of lower branches. The other 5 are coming along right on schedule.
3 years ago
1st plant seems to be recovering well from being topped. The others are starting to show the second node. Watered today and everything seems to be going well.
3 years ago
5th node started to really get going today so I went ahead and topped. The others a getting big fast.
3 years ago
Did some work inside the tent and moved the new lighting around. All of the girls are doing great. Didn't top the mama plant but will in the next day or so
3 years ago
Momma plant got the starter leaves chopped off today. She will probably get topped tomorrow as the 5th node has just started to emerge. The others are still coming along nicely. They have the first node starting to pole through. Water all with pure H2O and no nutrients. The lamps also arrived to day so extra light as been added but there are still clearly visible dead spot so I will order two more to go along the front side. All and all things are shaping up nicely!
3 years ago
1st plant looks like it is adjusting well to its now pot. Everyone else is strong and coming along.
3 years ago
Moved the 1 plant into her forever pot and rearranged accordingly to give them all enough light.
3 years ago
The random seeds is now a well developing plant and all of the Blue Dream seeds have sprouted. Now it is just a waiting game. New lights also arrived. I ordered two 100 watt RoHS bulbs which will be used to focus light in dead spots through the use of clamp lamps with 8.5 inch reflectors. I was only able to install one of the lights today using an existing clamp lamp and will install the 2nd once the lamp arrives.
3 years ago
She is looking great! Plus 4 of the others have started to sprout so they have been transferred to their temporary pots.
3 years ago
Really taking off now. No sprouts yet on the new seeds.
3 years ago
Still going strong and getting bigger each day. Bottom two diagonal leaves of the typical marijuana leaf are starting to appear. The 5 other seeds seem to be doing fine. I added a wet towel into the dome to help with humidity and gave them a bottle cap full of water each.
3 years ago
Plant looks like it is growing at a steady pace. Signifiant growth from the previous day. Also, the Fabric pots arrived in the mail today. Still have not received the Blue Dream Feminized seeds from Seedsman.com but, I found some seeds in the Blue Dream I purchased from MMD so I went ahead and planted them.
3 years ago
Getting stronger and growing more with each day.
3 years ago
More leaf growth with a second set of leaves starting to shoot up.
3 years ago
Added a drip pan to the bottom of the tent in prep for the fabric pots and other plants. This one is starting to stand up and the leafs growth is showing.
3 years ago
Starting to stand a little more upright and showing some leaf development.
3 years ago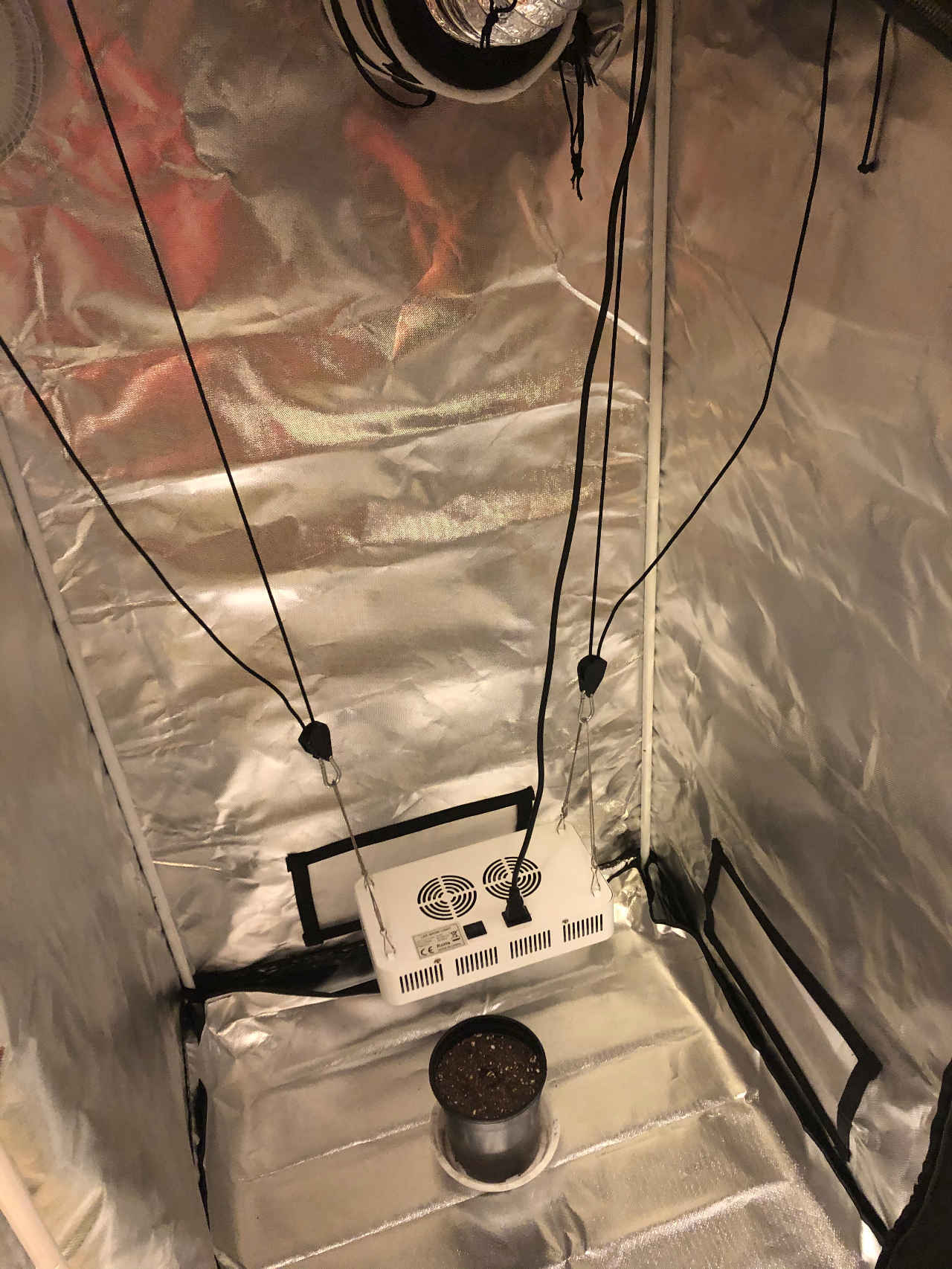 While waiting for my Blue Dream seeds I decided to plant a random seed found in some bud purchased from a friend. If this seed produces a male plant it will be taken out but in the meantime it will provide good practice for when the others arrive.
3 years ago