Unknown Seedz
Fall 3030
First legal grow at our new home in MA, 4th grow overall. One seed from a friend in Hawaii and the other from an outdoor grow last season.
Early harvest for MLG as nanners began to pop out—eeeek! I've certainly been stressing the plants more than usual and this strain is showing it's vulnerability. Moved grow space and fluctuating temps/humidity plus possibly a bit of light leak. Overall it smells great like lemons and Basil so I am happy! Another few days before I chop the Hawaiian 🌺
2 years ago
spiggleking Hmmm, Comfortably I would say 2 plants but you can probably squeeze a 3rd if the pots you are using are not too large. This is my 4th grow and am still definitely learning as I go, but I have had good luck with 2 plants in a 1x4x5 closet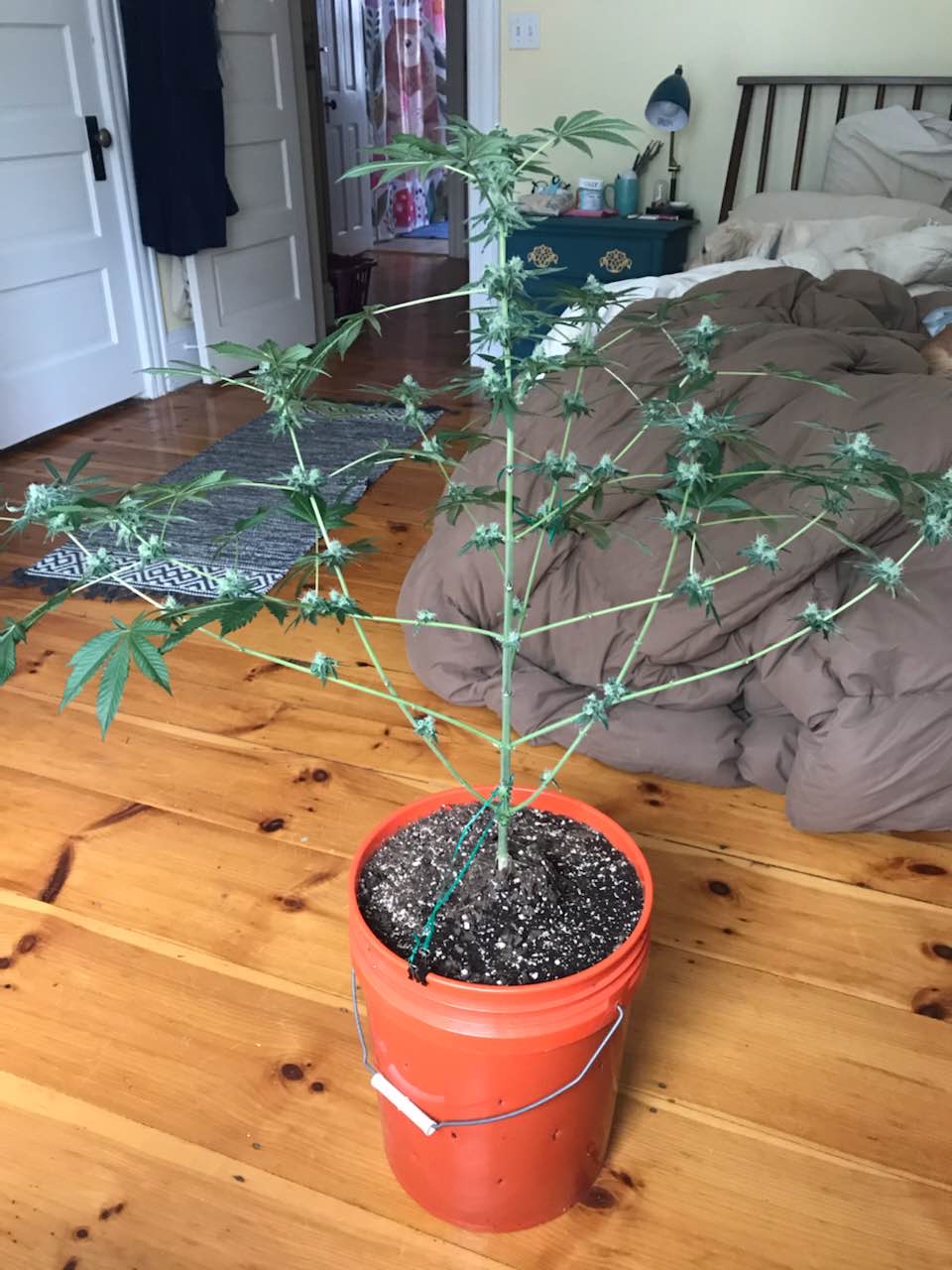 Day 44 in flower, roughly 3 weeks left before harvest. Girls are looking and smelling great!
2 years ago
Flower day 24, looking good and beginning to give off their fragrance
2 years ago
Day 21 in flower. Both girls really starting to flex their stuff. 2 tsp nutrient bath for big MLG. Temps 67-75, humidity in the high 30s low 40s
2 years ago
Both got a nutrient bath today (2 tsp tiger bloom each) and I'm happy to say they are both fems! Looking happy and growing tall
2 years ago
10 days into flower, MLG is definitely female and HSH has a few small pistils popping but still not definite it's not a herm. No signs of stress or dysfunction. Watered MLG yesterday and HSH today (no nutrients).
2 years ago
Watered both yesterday and today (MLG and HSH respectively) MLG very healthy, HSH is just a slow grower, must not have been the best seed. Curious to see how it ends up 🧐
2 years ago
16 inches tall each, MLG topped, HSH not. Just flipped into 12/12 after roughly 50ish days in veg. I'm happy with where they are and think I don't want them too huge. Let the flowering begin!
2 years ago
MLG is growing very rapidly and is training well. HSH slower but still growing, I won't top this plant, will just let it go to flower lightly trained for support purposes.
2 years ago
Began her training. Very bendy and healthy. HSH is 11.5 inches tall and growing sativa-like thing leaves with 9 blades 🧐will probably let her grow el naturale.
2 years ago
MLG 13" watered with nutrients (1.5tsp). HSH 8.5" just foliar.
2 years ago
Potted up MLG to 5gal bucket. Growing very well after topping last week. HSH slow and steady, healthy stable.
2 years ago
Topped MLG a few days ago, responded very well. Will pot up to the final container maybe tomorrow. Watered today. HSH still healthy but asymmetrical and slower growth, much smaller intermodal distance.
2 years ago
Supplies small amount of nutrients to yesterday's watering. Transferred HSH to a larger container. Will be topping MLG probably tomorrow. Healthy and stable. It's getting a little cold outside so temps inside grow space have been lower in the mornings/days. Space heater and monitoring ✌️
2 years ago
Healthy and growing. Thinking of transplanting smaller babe on Sunday. Keep it up ya'll!
2 years ago
Stable environment and growing
2 years ago
Potted up the 1st baby and nursing the Asymmetrical baby until it's ready (found some green mold on the top of soil-will ease back on the foliar and soil waterings). Maybe another week?
2 years ago
Growing and stable. Watered HSH.
2 years ago
Growing and all that stuff. RIP Rob 🙏 You are with me when I grow sir. May you be at peace.
2 years ago
RH hovering around 62%. Temp low 80s. Babes seem to be growing.
2 years ago
Full watering with .5 tsp GrowBig/gal. Added a humidifier to the space and has been hovering around 70% when in operation. Temp has been easier to regulate with day temps in the low 80s and evenings getting down to 65*. Not ideal but it will work. Just gotta get through this seedling phase!🙏
2 years ago
Both seedlings under 600W and trying to raise RH with humidifier (currently hovering around 40%) Roughly one week separates the two seedling babies. Both of a different strain.
3 years ago