Outside Grow op. #1
1
First outdoor grow.
Unfortunately the crazy N. IL weather must've been too much for her because she's FULL of seeds. I'll end up disposing of most of this pant because there about 15 seed per gram… it's insane. She was beautiful and fun to grow tho… next year I'll be more prepared.
2 years ago
Measuring in at 79 inches (6.5FT)!! She's a fatty lol. It rained all last week but this week nothing but sunshine in the forecast so she will be chopped within the next 7 days.
2 years ago
View 1 additional comment
She's nice and plump, going to chop within the next 7 days. Supposed to get cold and frost soon… Fkn N. IL weather 🤦🏻‍♂️.
2 years ago
She's filling out and becoming more sticky every day, plus trichomes are really showing now! Look how thick the stem is, measuring in at an impressive 2.5 inches! It's fulfilling to c my Baby Girl grow up to become a Mature Lady.
2 years ago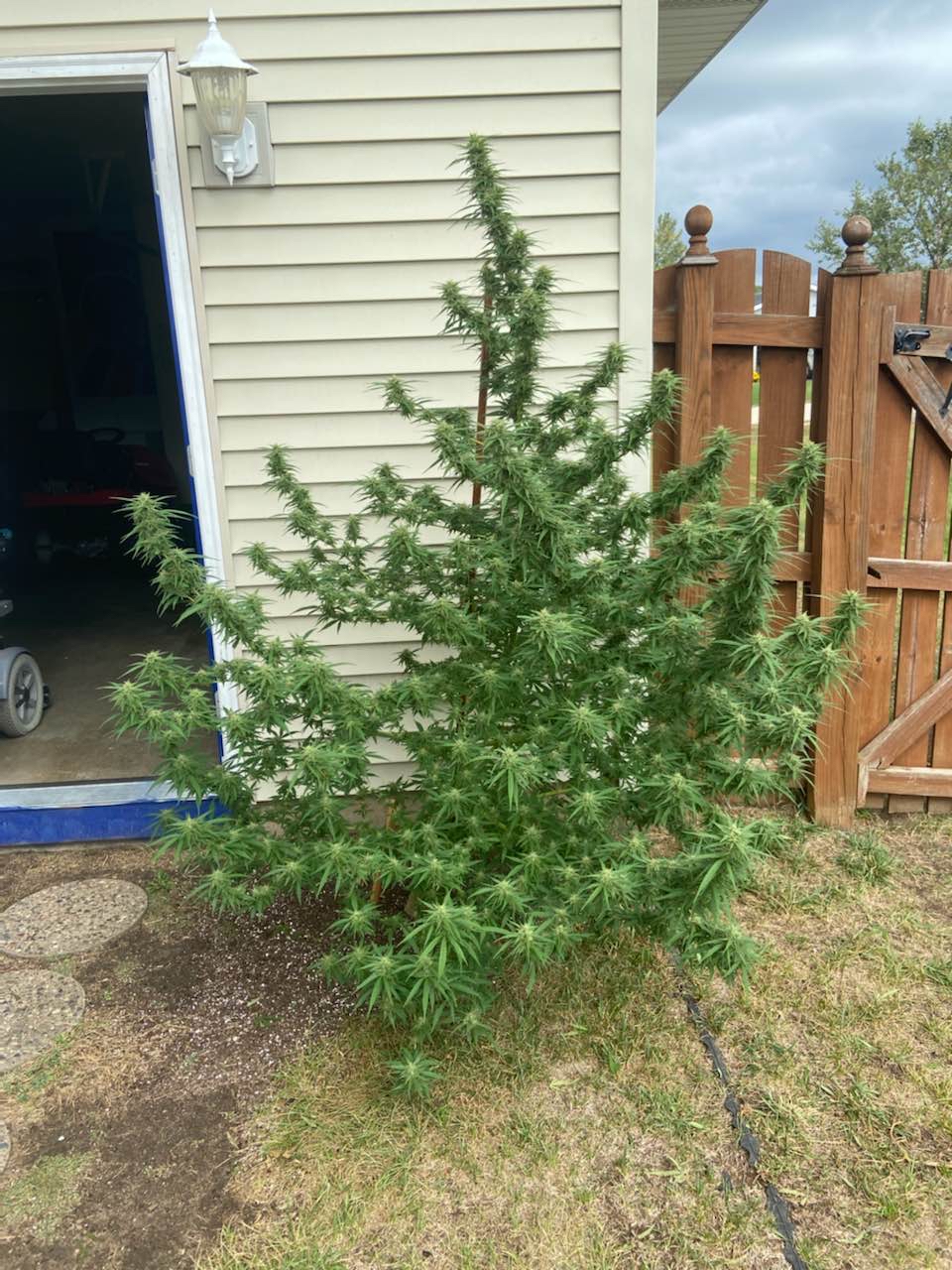 What a milestone… this lady is a TROOPER right here. My Xmas 🎄 tree fosho 😂 before harvest I am going to string lights on her. I don't know when I'll ever have another as BIG as her. Got some hairs turning amber, I'm praying she'll be ready for harvest within the next 30… 🤷🏻‍♂️ I'll keep y'all posted Fosho. 👍🏼
2 years ago
Growing slowly but surely, unfortunately I found a couple seeds… 😢 I want to say stress related do to this crazy N. IL weather. Some days it's +80F daytime and 40-50F nighttime. Or it could simply be BAD GENETICS 🧬 idk, either way going to harvest about 400 grams from BIG BETSY 🤣
2 years ago
Sativa357 😂 that's what my gma said. She said we going to string lights on it🎄
What a MONSTER! She's exceeded all expectations thus far. Can't wait! About 30 more days to go!
2 years ago
Looking RIGHTEOUS! Everyday I c more and more flowering. So far so good!🍻 just trying to configure how to ready my big girl for the fall weather and soon to be cold weather. Thinking about getting a little tent/canopy to somewhat help w the rain and soon to be cold 🥶 weather.
2 years ago
Got some nice preflowering. I just gave her a hair cut for the sun can better penetrate the canopy. So far so good! I do see a couple spider webs 🕸. I got rid of them but need to take precautionary measures to keep pests away!
2 years ago
She is growing exponentially! Every other day I have to defoliate a little bit cause she's growing into my siding! Rookie mistake, planting to close to the house… how was I supposed to know? I didn't think she'd get this big LOL 🤣.
2 years ago
Sativa357 Super stoked for harvest. She's got a long ways to go tho…
She bounced back (since defoliation). I think I'm just going to leave her to grow bushy and do her thing for the rest of her life (couple months).
2 years ago
She's filling out nicely! I think I stocked her when I defoliated last week. She's back to her beautiful self though, so be complaints.
2 years ago
Pruned last week, now I'm second guessing myself and I that I should've left the foliage on. Looking kinda puny now. We live and we learn 🤷🏻‍♂️ she still gunna yield like 400grams tho! So I can't complain.
2 years ago
Sativa357 Now that I am about to harvest same strain inside, the yield is less then average. With that said, a more realistic harvest should be anywhere between 200-300 grams… hopefully. Can't be counting them chickens before they hatch 😂. Anything is possible. This plant is 3x's the size as my indoor grow. So we'll see. I'll def be posting updates before and after harvest.
Unfortunately, I do believe the plant on the left is the male. The plant on the right already has pistils forming. So ima give it another week and c if any pistils, if not then ima chop him down. At least I know 100% I have 1 female plant outside and she's BIG AF.
2 years ago
Much bigger leaves (twice as big as inside grow) and overall size. No issues with pests or rodents. Northern Illinois soil got these ladies BOOMING.
2 years ago