bassman
Acapulco Gold organic
From seed
Popped from seed.
Been curing for 30 days now.
4 years ago
Started to get frosty. Buds looking good hairs starting to turn and they are drinking at a fast rate. I'm having to water every 2-3 days now. All in all looking good.😁
4 years ago
Nice and trimmed up😁
4 years ago
ClandestineWestOz Looks great buddy. Sorry I haven't been on for awhile mate, I've split from my woman and had to move, been way busy. Hope you're going well 👍
Bassman Awe man, I'm sorry to hear that. I hope you found a good place. Time to move to America where you can grow weed legally 😁. What do you think of the hair cuts. I didn't take off too much did I? I had to remove a few small buds that weren't going to make it up. I heard that helps the other buds get fatter. What'd you think?
Wow, this girl is tall dark and thick 😁
4 years ago
The biggest one 😁
4 years ago
Bassman Hey ClandestineWestOz, do you think I should defoliate a bit?
Look at Mrs Acapulco Gold go!!! Streach on baby girl 😁
4 years ago
Go gurl!!! 😂😂😂
4 years ago
Day 2 of flower. Look at her go😁 time to feed fox farm goodness and give a light defoliation.👍🏾
4 years ago
Under the hid light at 50%. Day 1 of flower😁
4 years ago
She's 21 inches tall and ready to flip. The 24 hrs of dark starts tonight 😁
4 years ago
Greenhouseguy95 Hell yeah man. Can't wait to see some buds on her! Take a peak at my grow brother. I just started making some organic willow extract (rooting hormone) with a couple beneficial acids in them that I think you'd appreciate and your plants aswell. Willing to ship internationally to and I'm a hell of a lot cheaper then anybody else. Currently trying to set up a website "Canadian organics" will be the brand name. These bottles are not labeled but will be shipped professionally and safely with tracking number.
Bassman Great. I may take you up on that. I can't wait to see those buds either.😁
Greenhouseguy95 Ya brother. Ill be getting on my updates soon with a fine description, payment instruction and shipping information. In a couple-few months when the weathers warmer and i can start extracting outside again the the reservoirs.I'll be feeding my plants nothing but my line of organic nutrients! Will be a killer demonstration of what they can do
View 2 additional comments
Damn it's getting tall.😁
4 years ago
Wow. Look at her go 😁
4 years ago
Bassman Hey Clandestine, do you think this is big enough to flower?
Damn these fabric pots dry out quick. I just watered 2 days ago.. Ima give it one more day.
4 years ago
Look at her go😁
4 years ago
Look at her go 😁
4 years ago
This one is Damn near perfect with 10 tops😁
4 years ago
Finished mainlining this one. I'll top her as soon as the branches turn up. It will need water soon. I left the center top on this one as well. We'll see how it turns out.
4 years ago
Hoober Hey man. Question. Do plants need a change in temp? Like for example. I have an "inkbird" device that controls my temp in my grow room. Do I need the temp to fluctuate between light and night. Like what if I keep them at 74 Fahrenheit for light and dark?
ClandestineWestOz Hoober it's best to maintain around 5-10 degrees Celsius difference between light on and off but never lower than 18c with lights out. You'll have to do the maths to change to Fahrenheit.
ClandestineWestOz Bro your plant looks great. Where you have the centre top I also leave growth. After topping i grow out 4 nodes both sides, then topafter 3rd node, strip off node 2 both sides so nodes 1 and 3 are left to form 8 main colas. Can top all those tops and get 16.
View 2 additional comments
Topping and LST day 😁
4 years ago
Started mainlining.
4 years ago
ClandestineWestOz Always wanted to try this strain since the Chechen and Chong days. I'm keen to see how it turns out 😎
Zergas Looking good and healthy
View 1 additional comment
Transplant day😁 everything is going into 5 gal smart pots. Organic soil. PH to 6.8
4 years ago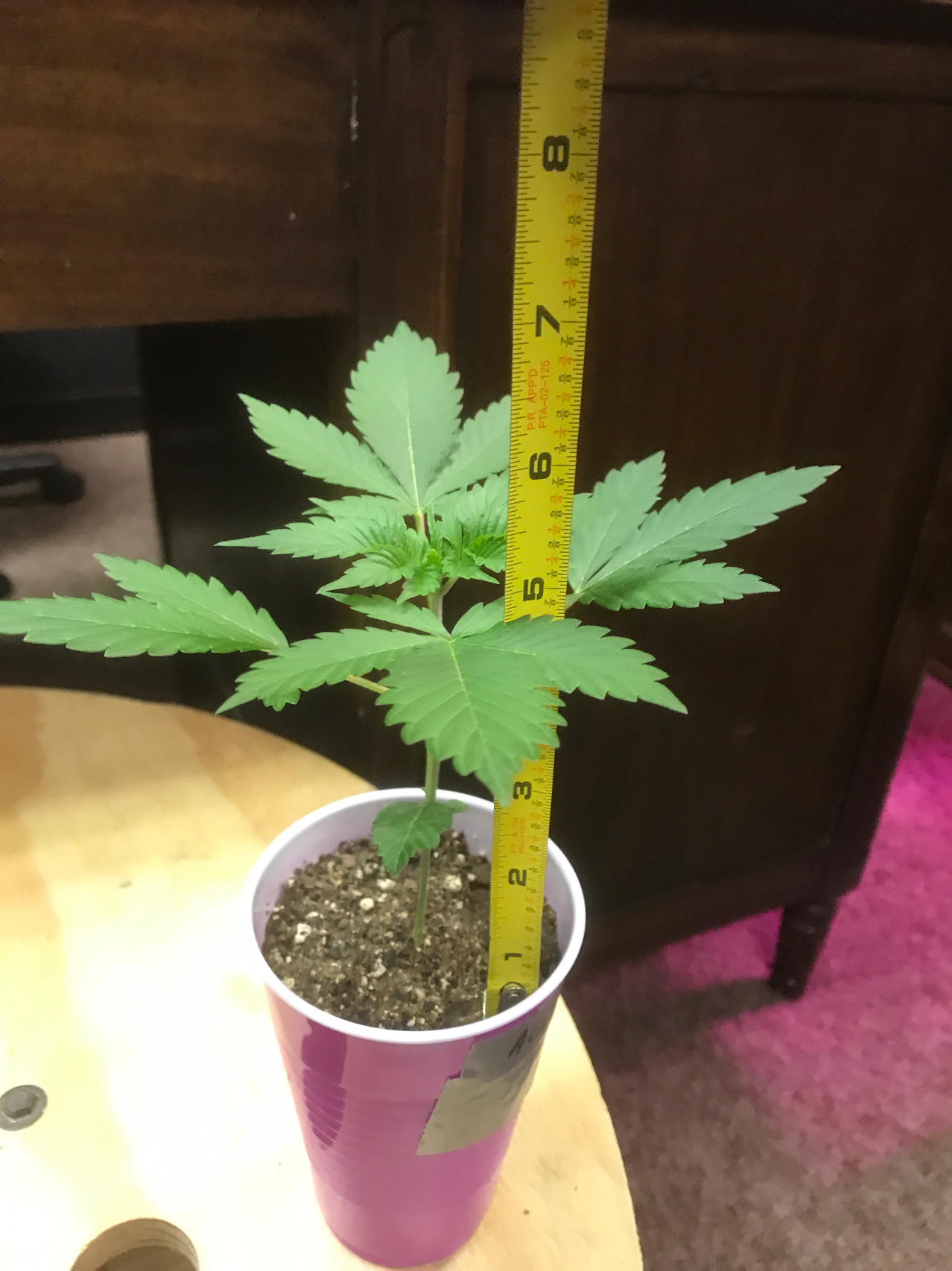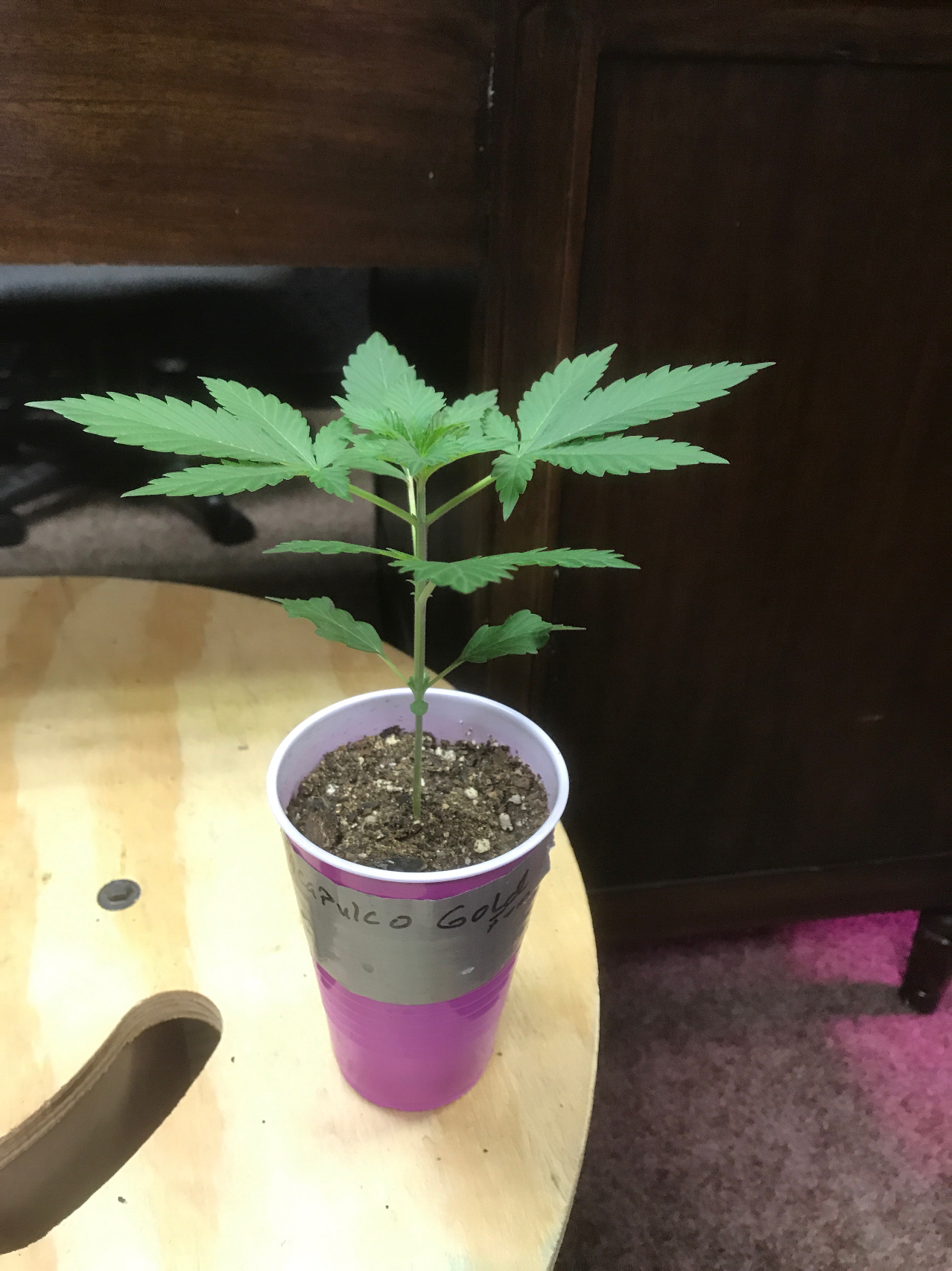 ClandestineWestOz I've always wanted to try this strain so depending how your grow goes I may give it a shot.
Looks great so far 😁
4 years ago
Some slight leaf curling but otherwise ok😁
4 years ago
Had to take the shell off, but it's alright 😌
4 years ago
It's barely popping up, but looks OK so far.
4 years ago
I soaked the seeds for 24 hrs then put them in a napkin to germinate. This one has a nice thick tail. I hope that's a good sign.
4 years ago
CheeseBrain I subscribed, check out my grow, I'm about 24 days in. I have been hearing about this strain recently. From what I recall this strain was old school strain from the 60's. Do you have a tall space to grow this Sativa?