ladyarcher
AK 47 Auto ILGM seeds
Imbolc 2019
From seeds
Flush day ! Week 2 of flowers
4 years ago
Terrible pic but first pistols today on my tall girl I call " show off"
4 years ago
Ladyarcher 28 day fro sprout and she's 16 inches tall
Topped 7 days ago look at her go !
4 years ago
Added supplemental side light to low light area if my tent. I rotate my girls daily so each will get some extra
4 years ago
Look at my little runt girl ! Almost dead a week ago from burn , but survived . STRONG GENETICS
4 years ago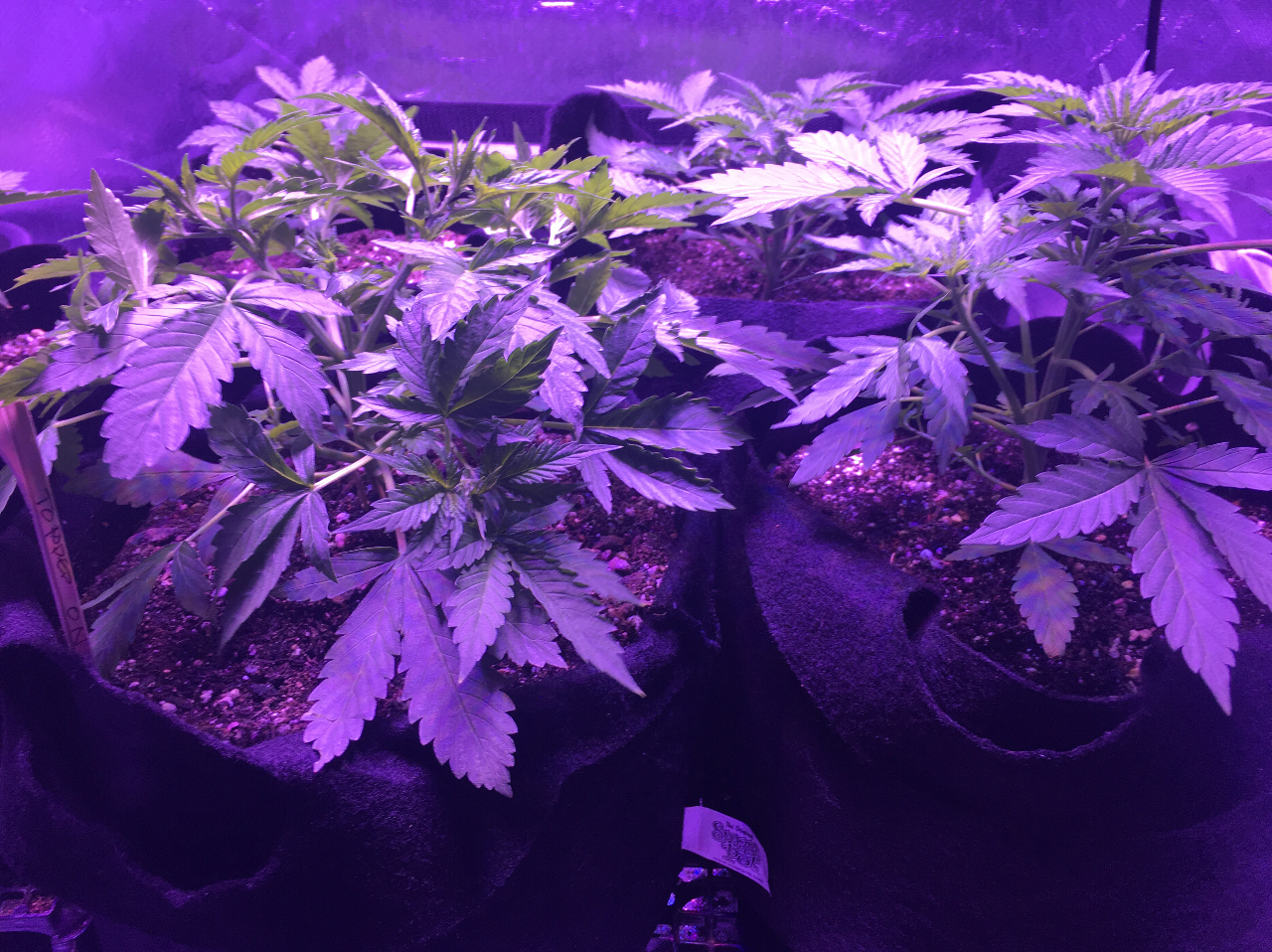 Side by Side comparison of a topped plant and one that is not . These are auto flowers 22 days old from sprout . I topped the left hand lady when she was 14 days and had 4 good nodes . There is controversy with topping autos but I always have . I just didn't do this one for comparison study .
4 years ago
Alaska is extremely dry and humidity is an issue . I use natural ways to add . This is a simple towel I wet twice a day . Humidity goes from 10% to 45% for free . No extra electric used for a humidifier . Just attention is all that's required to keep your girls happy
4 years ago
My runt that almost died last week turned around after c02 add .
4 years ago
Ladyarcher Don't give up on the ones you think aren't going to make it . If they are still green there's a chance . I'm so glad I didn't give up on this girl
19 Days from sprout . All 5 plants doing well On Fox Farms feed schedule at 1/4 strength recommended .
4 years ago
Brendan They look good. I've started a grow with the same strain but am doing it outdoors with no topping or training if you're interested.
Day 22 from seed 19 from sprout This pic is 48 hours after top
4 years ago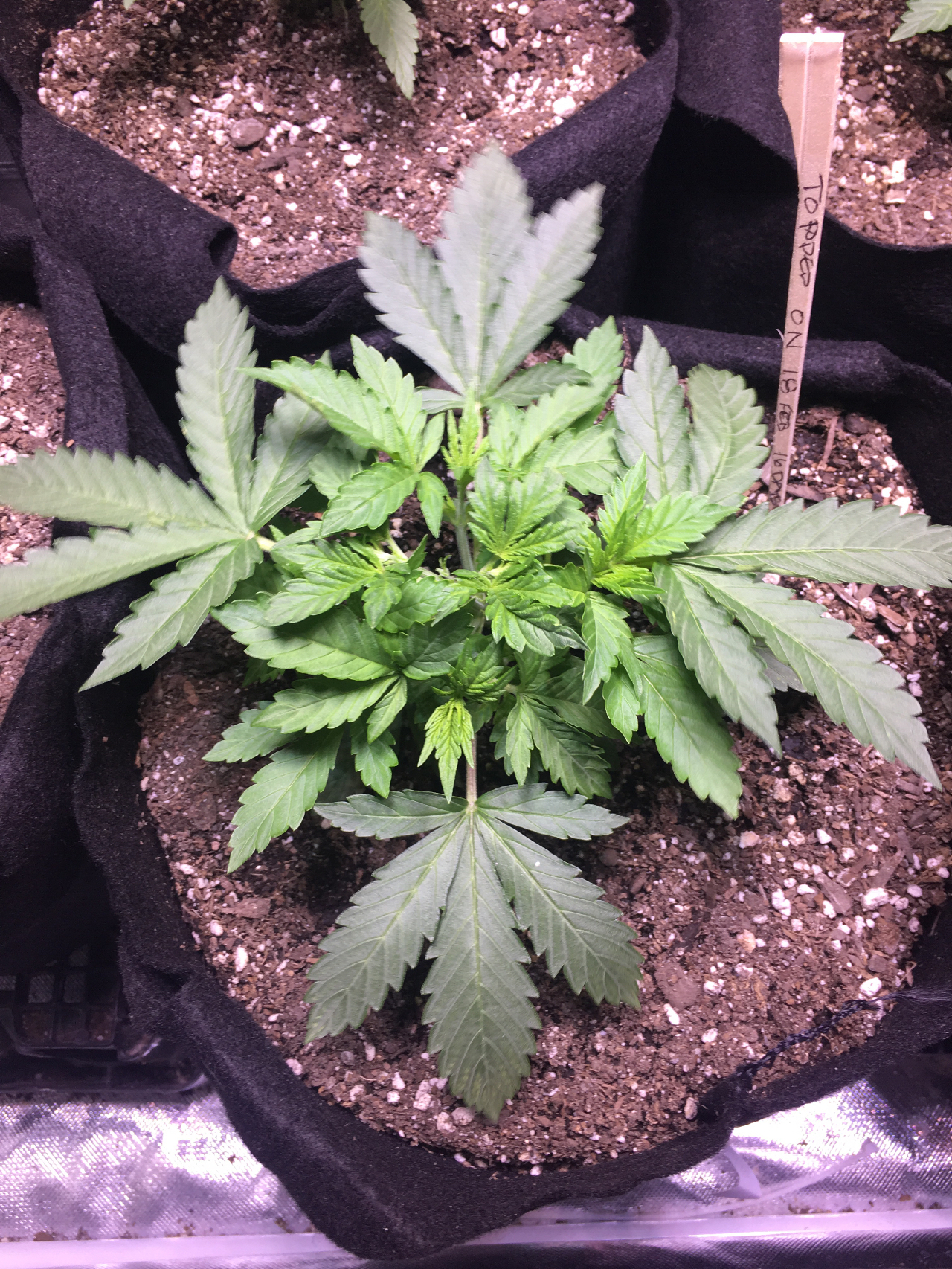 19 Days old 21 from seed
4 years ago
Looking good this morning ! Even my runt looks better
4 years ago
Topped 3 days ago
4 years ago
Really responding to the c02 bag ! Leaves praying upward . Topped plant showing no signs of stress . Watered with FF GB and Microbrew at 1/4 strength yesterday .
4 years ago
Topped 48 hours ago !
4 years ago
Added c02 today
4 years ago
Day after top ..
4 years ago
Runts trying .. growing up top but can't stand up
4 years ago
Topped at the 4th node plant number 1
4 years ago
Water today with ff microbrew and grow big at 1/4 strength
4 years ago
Maintain 40-50% humidity is a challenge here in Alaska
4 years ago
HELP /ADVICE NEEDED PLEASE! This spot formation is only on my one plant . Anyone know what it is ? These are AK AUTOS in ocean forest ( fox farms ) soil in 3 gallon pots. Under 700 viparspectum variable panel placed 26 inches above . Average heat is 80 and humidity though a struggle is about 40-55% daily .OH and it's only one 2 fan leaves hasn't spread or anything it's just there bugging me 💁🏼‍♀️
4 years ago
Transplant scare over .. looking happy
4 years ago
DAY 9 IN SOIL Watered yesterday with first feed of FF Big bloom at 1/4 strength.Kanga roots at 1/4. Blue light 100 white and red at 50% .. 23 inches from plants
4 years ago
They had a little signs of shock year so I gave them 1 tsp per gallon of boomerang and split between all 5 .. today they look much better. Still struggling to keep humidity @ at least 40% but this is Alaska and so dry here
4 years ago
Look so tiny in their new pots . 24 hours after transplant..
4 years ago
My little runt catches up
4 years ago
Transplant into their smart pots yesterday. So far no sign of stress . Still on 24/0 light with variable light knobs in veg settings.
4 years ago
Day 7 little runt finally growing
4 years ago
Visible roots transplant today
4 years ago
I started my grow the day I soaked seeds so this is actually day 3
4 years ago