thetrunkofmyslab
Second grow
All octopots
4 octopots, bloom yellow bottles, 2 lights
1 OG Kush Autoflower, 1 West Coast O.G, 1 Girl Scout Cookie, 1 Zkittles
Zkittles, GSC, and Nirvana OG Kush are all just beginning their flush. West coast OG has exploded in growth. She is still a few weeks behind the other girls but the bus dryer is on the way.
3 years ago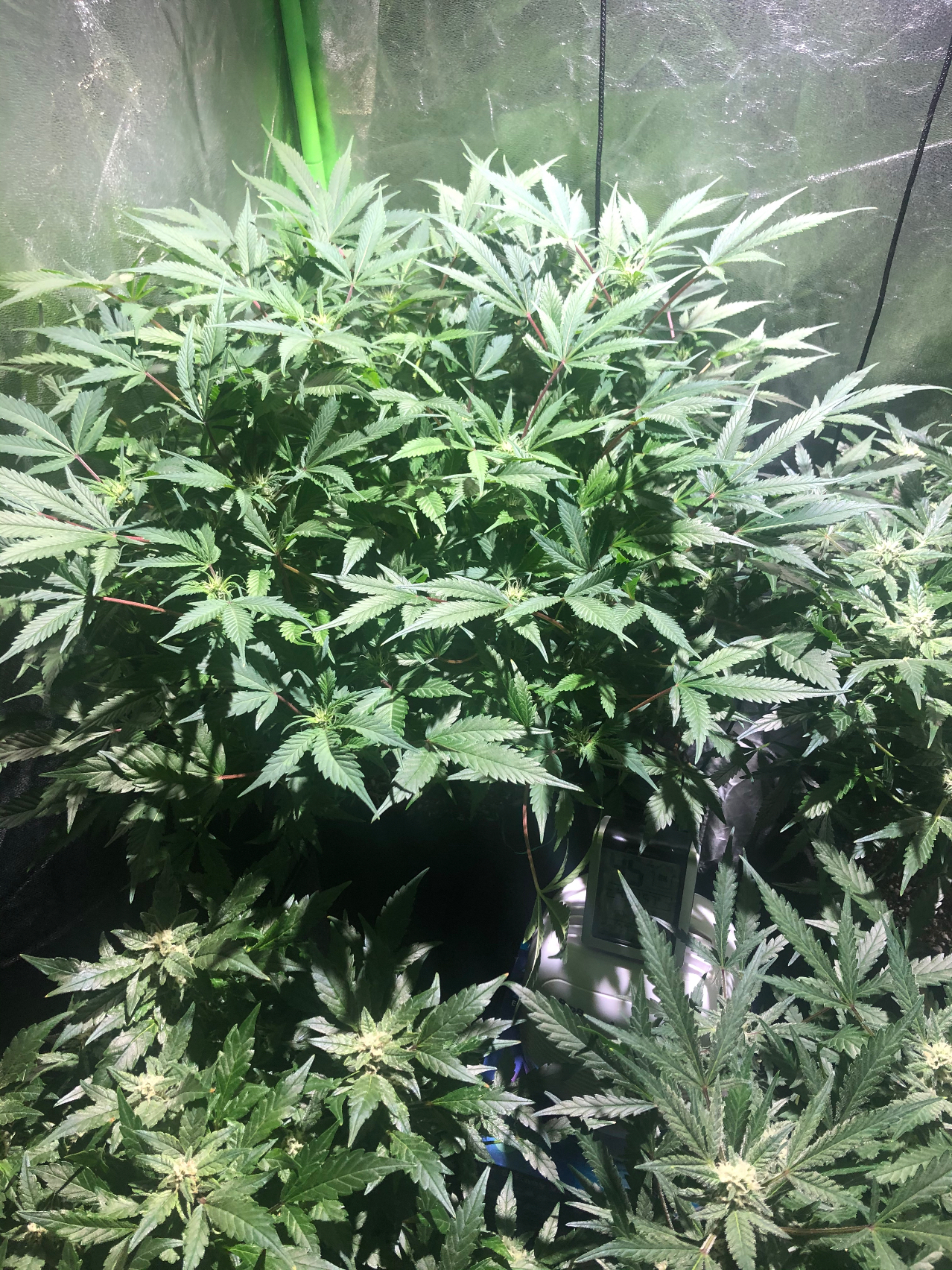 I'm think they need about 3 more weeks. The west coast OG May need 4-5 weeks.
3 years ago
Bails231 Can I get a Close up of the nugs on the next update?
All 4 plants seem healthy and the small dehumidifier seems to be working at the canopy level. They have received their last feeding a week ago. One more week then I start flushing.
3 years ago
Still defoliating because the humidity is around 61% even with the dehumidifier running. I'll get a bigger one on the next grow.
3 years ago
Trying to match up the post dates with my first grow for accurate comparison. The plants are well into flower and the humidity is becoming a problem. Right now it's hovering around 58%rh. I have a dehumidifier but it doesn't seem to be making a huge difference. I may need a larger one.
3 years ago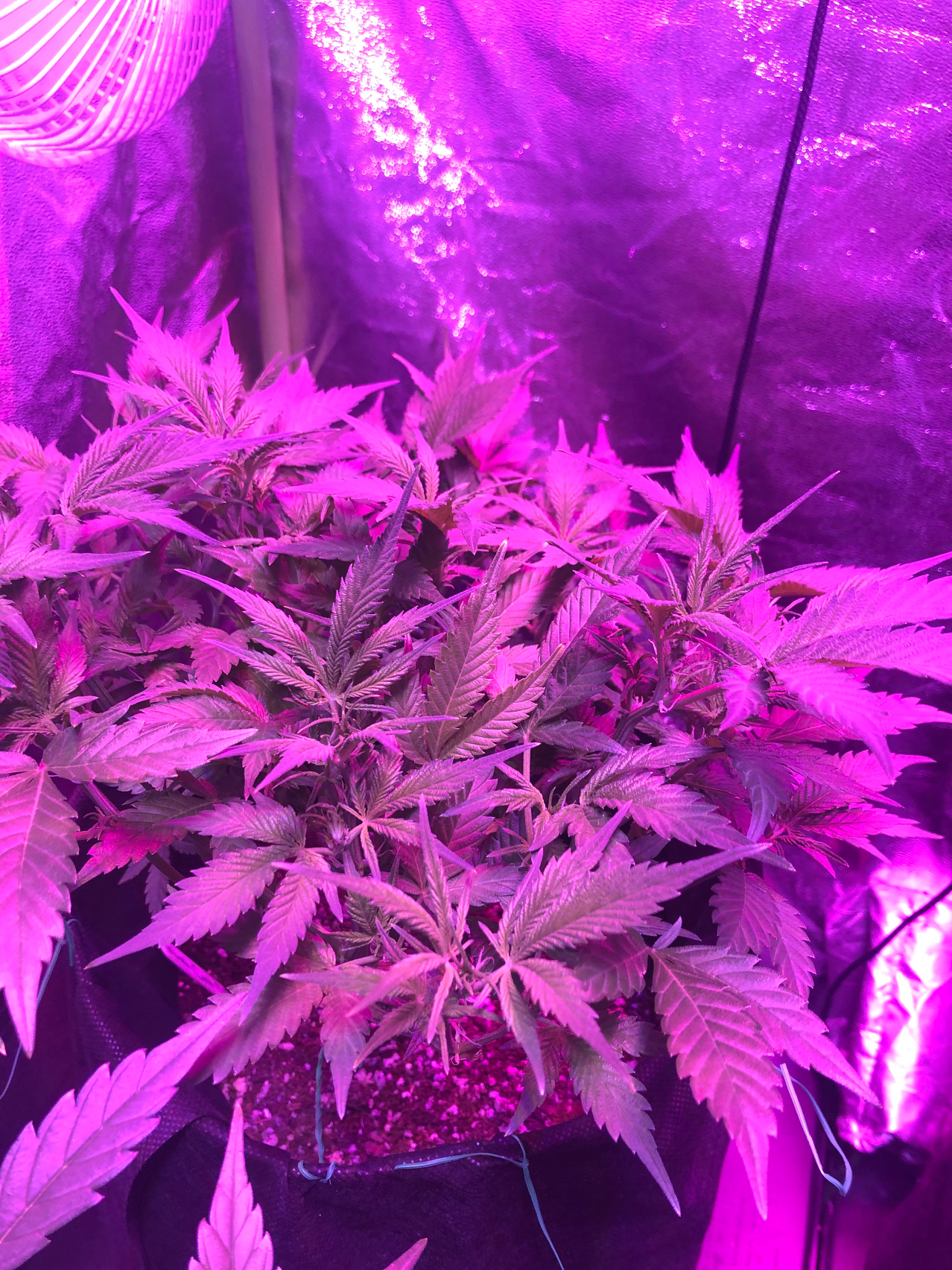 I have begun feeding the girls flower nutrients and removed some of the ties tort the branches stretch.
3 years ago
I'm not sure but I think they should be in flower by now. Maybe the pruning and training stunted them a bit but who know. I began feeding them veg and flower nutes. The ties I tried to use to create a mainline were too weak to hold the plants down by sticking them in the soil so I made holes in the fabric of the octopots and tied the main beaches down. Plus I'm gonna remember next time to start counting from sprout and not from planting of the seed so I can get closer to the breeders estimated time frames. I'm still expecting a November harvest but we will play it by ear.
3 years ago
Bails231 One thing I do to help with the weight of the ties is just raiding my tackle box for some sinkers.
What kind of deficiency is this? It's only showing on the fan leaves of the GSC plant but I can figure out what it is. Any help is appreciated.
3 years ago
Snapped a branch on the zkittles plant while trying to bend the branches for the mainline. Had my tape nearby but I'm nervous. I fed all the plants grow and bloom nutes from yellow bottles today. I hope she recovers
3 years ago
Yesterday every plant was topped and mainlined.
3 years ago
Waiting for the 3rd and 4th nodes to come in so I can top and mainline these ladies.
3 years ago
Plants are growing well. The cob light appears to be making the plants directly under it more than the vivosun.
3 years ago
All 4 plants germinated and sprouted last night and today.
3 years ago
Beginning germination in octopots. Trying to get a pound this time. Topping and main-lining all four plants to see how they react.
3 years ago