chasingravens
Bagseed
2018
First grow with Bagseed. Learning process.
3 weeks into flower. Have been thinking about trimming some lower fan leaves that aren't getting any light but not sure about stressing the plant in the flowering stage. Any suggestions? I've also read about people adding molasses to their watering schedule for bigger buds. Anybody ever try this or should I just stick to my regular nutrient schedule?
5 years ago
Wiser_greenery Yes I use it a little bit now not too much tho cuz it has calcium iron and potassium and I use calmag but I feed it to my girls every third feeding or so. Just to get the sugars in the soil
ChasingRavens I might try some. I just fed nutes yesterday so I might try it with the next watering. Or should I add it in with my nutrients when I feed?
Wiser_greenery Well the one time I added it with my nutes...I either put too much molasses or something cuz the tips started burning. So I started to add literally a drop of molasses to every 2nd or 3rd watering. Also had to change nute feedings. I use to feed nutes every other feed but since they are drinking much faster I gotta nute then every 3 feed so...water water nutes water water nutes
View 1 additional comment
Watered with pH'd water this morning. Need to find a way to keep the heat down. Getting into the mid 80's.
5 years ago
Wiser_greenery How many fans do ya have. Is leaving part of the tent open an option. My temp in my tent is usually around 79-82. Can get up to 86. But then I run ac in the room.
ChasingRavens Well I should say most of the time it's around 75-78 but in the middle of the day when I'm at work I use the energy saving system on my thermostat to combat the cost of outrageous electric costs in the summer here. That's usually when it spikes to 83-85. I might try putting a couple frozen ice jugs in the corners when I come home at lunch to see if it'll keep the heat down. If not I'll just bite the bullet on the electric bill. And ya I do leave the bottom vents open as much as possible to try and allow cool air in. I'm using a 6" inline fan and carbon filter system but it can still get a bit potent when I leave the flaps down.
Wiser_greenery Are you in Cali?? Try the jugs. I use to put frozen packs in when I couldn't get a handle on temp/rh. And if that doesn't work maybe a little desk a/c. Otherwise. Bite that bullet haha. The plants look really awesome too
View 4 additional comments
Watered and fed Tiger Bloom last night. Going go go ahead and finish them in the smaller pots instead of taking the chance of messing them up transplanting them.
5 years ago
Darkcloud2669 👌🏼👌🏼 they look A-1 ok.. your about two weeks into flowering wanna see the turn out
ChasingRavens Thanks. Have definitely learned a lot on this first grow. Now just trying to be patient.
Watered last night with ph'd water. And rotated plants to get some better light coverage. I wasn't expecting them to get this big this fast. They've doubled in size already. Is it too late to transplant to bigger pots? Or just deal with the fact I'm going to be watering often?
5 years ago
All 4 of these plants have shown to be female. Wondering if it's too late to remove some lower secondary growth that's not going to ever get any light?
5 years ago
Switched to 12/12 on day 34. 2 Males got pulled. I believe the two on the right are females but not sure about the big one on the left (the little one is just in there to be in there). Watered with ph'd water. Trimmed a couple fan leaves from the bottom of each plant and adjusted the top ones to let more light to secondary growth.
5 years ago
Dustin3003 What kind of LED panels are you using along with the wattage?
ChasingRavens It's just 2 300w Viparspectra LEDs and 1 138w UFO LED.
Watered with ph'd water. Two plants are definitely female and one is male. Going to use the male as a guinea pig for a bit before I pull it. Wanting to put into flower soon but thinking I should try to be patient. 12" Tall.
5 years ago
Ziggy Hey what's ur light schedule if u don't mind me asking.. I feel my plants should be further along for their age.. figure it has something to do with my light schedule..had them using sunlight for first month till I finally ordered lights.. have them on 18/6 now.. first cpl days I had the lights I had it 16/8..
ChasingRavens Hey no problem. I'll try to help how I can but this is my first grow with just bagseed so I'm still learning. Im on 18/6 but I've literally had problems with 5 automatic timers so I'm having to turn them on and off manually so sometimes they may only get like 17/7. Mine didn't really take off until this past week. To the point that I thought I may have screwed up and stunted them. So the only advice I could give right now is just give it another week or so.
Plants have filled out nicely but one is causing me concern. Please comment if you can help. It has some damaged leaves that look like something has eaten at them. But it's just a couple leaves on one plant and I can't see any pests around. Also this is my first Grow and I'm pretty sure this plant is male but wanted to ask and double check. (Btw I know that I've got some claw going from too much nitrogen. I think I should've waited a little longer to feed nutrients after transplanting). And sorry for the bad pictures on the preflower.
5 years ago
Plants are looking better. Will feed this evening. 7" Tall. One plant is barely starting to show preflower. Looks male but I'm waiting it out because it's way too soon to tell I think.
5 years ago
Transplanted bigger plants to smart pots. Had to move seedlings back out. Not enough space. Will add nutes at the next feeding.
5 years ago
Titi Hey bro I need help something wrong with my plant
Got the carbon filter and fan installed. Big help. Also got more seedlings in pots and in the tent. Also realized I'm probably gonna need another tent for flower. Probably should've done a bit more studying on that before I started but this is the only place to start over from.
5 years ago
Very sad. Over watered and should've added more perlite to FFOF. I'll let them dry out for a few days and hopefully they'll come back. The one on the bottom left has had the two crooked curly leaves since they first grew.
5 years ago
Some plants recovered quickly and a couple are still questionable. Temps got a little high today. Up to 88. Ordered fan and carbon filter to help with heat and smell.
5 years ago
Plants really drooped today. Trying to figure out why. Too much water during transplant? Temp 81 Humidity 31
5 years ago
Transplanted to 6" pots Watered with plain water Installed 2 300w LEDs Plants started to droop a bit after transplant
5 years ago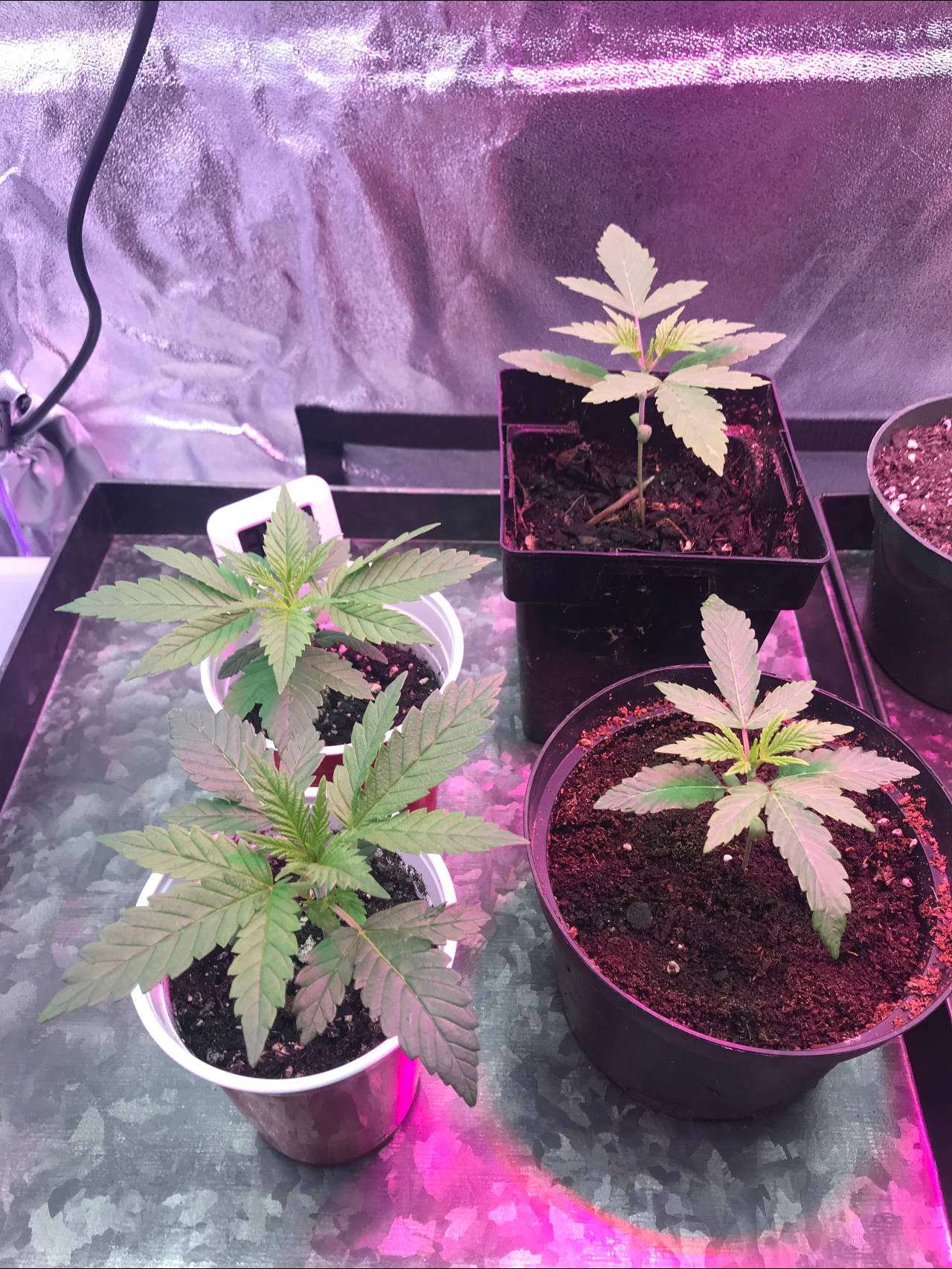 3.5" Tall. Stems Thickening Up
5 years ago
Fed Fox Farms Grow Big 1/2 Strength. 3" Tall
5 years ago
Seeds sprouted
5 years ago