Bathroom Plant
First try!
3 gallon bag - 1/3 potting soil - 2/3 fox farms ocean. 100-120 watt vipraspectra leds. two 4" fans & one 6" oscillating - carbon filter and blower
new tent - got a SpiderFarm blower and carbon filter suckin air from the top - have a sensor controller n shit in there - a fan oscillating above canopy - a fan at the bottom sucking air outside air into tent - humidifier. watered plant a day or two ago
5 days ago
fed a small gatorade bottle full of fox farm tiger bloom. and flip to 12/12
8 days ago
I watered her once, since her trimming, seems to be doing well going to flip as soon as I can, and get other plants out of this tent into a different one 
9 days ago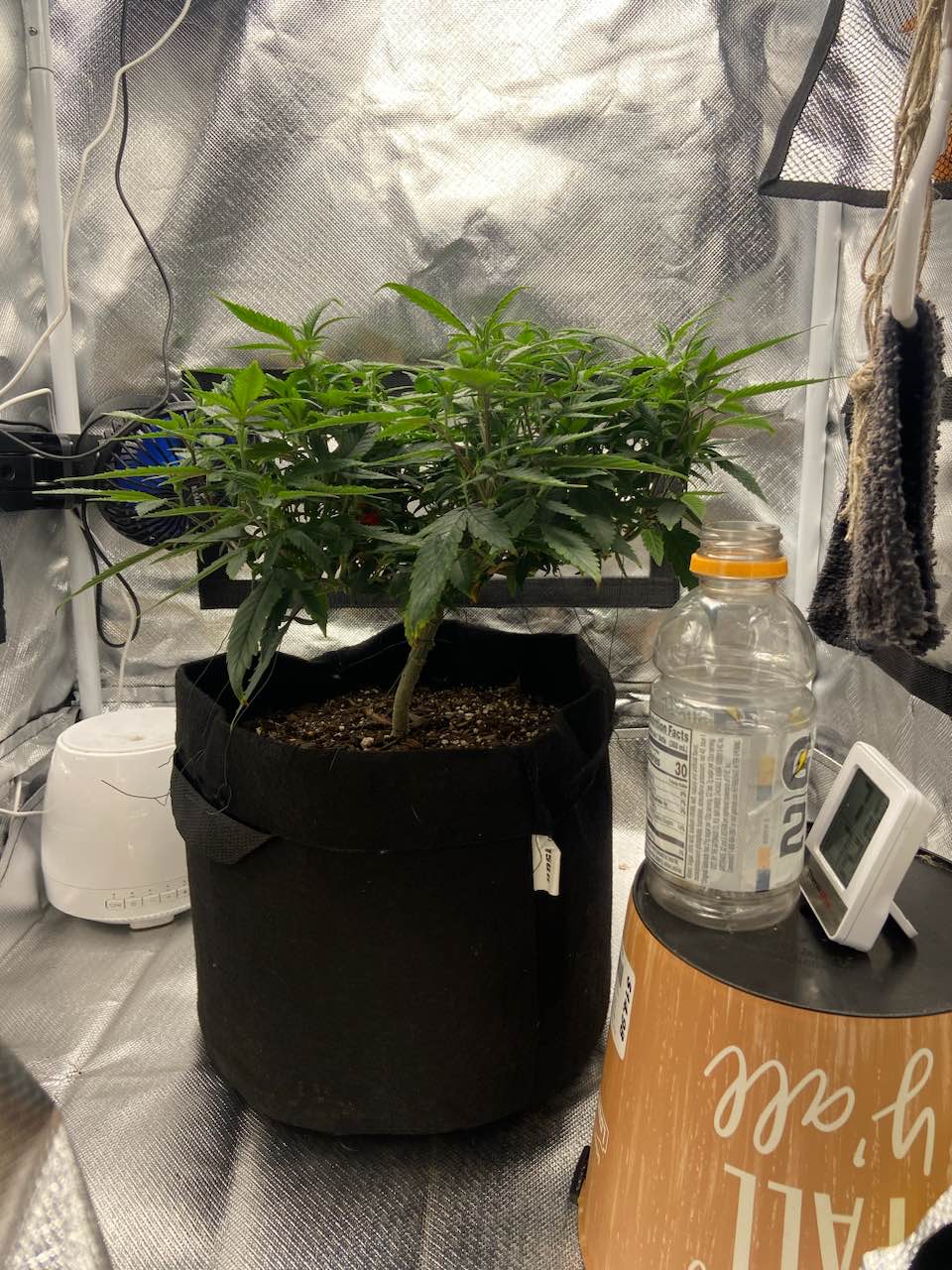 defoliated her today and laid stems down. going to let her recover from trim and then flip her :) so excited
13 days ago
watered her today
19 days ago
LeChron James Lol. I wondered the same thing. I thought it was a strain name. All the Bathroom Plants on this app look super healthy.
she's short but she's alive - gave her a gatorade bottle full of feed this morning
22 days ago
gonna name this girl Chira - fed her half water bottle of onion water .
24 days ago
i think shes thirsty. going to water her now and let her soak with a fan going on over night on the dark in an hour.
a month ago
fed 8 oz of fertilizer on day 118 - new tops coming in all at diff speeds- waiting for them to all catch up and then flipping into flower very soon.
a month ago
lookin like shit but we ride . Watered yesterday with a full water bottle because it started to wilt. this morning i watered half of a water bottle and gonna let her dry out. humidity is all over the place 45-75% - other than pistils growing now there are signs of little bud vegetation- gonna just let her flower now even tho she is. light schedule is 15/9 , will give 12/12
a month ago
fed her some onion water this morning - still trying to flower, im procrastinating cuz i want her bigger . done topping and lining etc just gonna let tops grow then flip. hopefully she explodes during flower
a month ago
trimming her arms a little bit and spread her out for some light - she's really trying to flower lol but still haven't wgiven her 12/12 schedule
a month ago
spicednutz It's so small and cute for how old it is lol
Cuben_Si00 she sprouted out of dirt january 12th …… this is my first grow and with all the bending, lining, topping, deficiencies and maybe even toxicity i'd say she's still a trooper and fighting haha
always hard for me to diagnose this damn plant - i see yellowing, i see burns, i see toxicity idk so gonna stop everything and dry the bag out. give it a flush with alkaline water and start a new feed. VPD is still a litttttle hard for me to control. 72F - 78F with a RH range of 54-75%
2 months ago
light schedule 16 : 8 // new LED helping a lot. // put two 90° clips on the two top stems ( one stem is creased pretty good hoping she gets good flow still :/ ) //// added a humidifier since the new LED puts off some warmth. 60%-79% is the range for humidity now and 72-79 F is the temp range. VPD is checking out
2 months ago
fed her a like 1/5 of what i normally feed today after watering yesterday. cut the dying top since i was tired of looking at it - slowly working it
2 months ago
i think one of my top stems is dying (taped) - the stem was bent just like the one across from it (without tape) watered it yesterday all the leaves showed good signs except this whole stem. might've died - still determining if my plants r flowering or if i can put it back into vege ?¿
2 months ago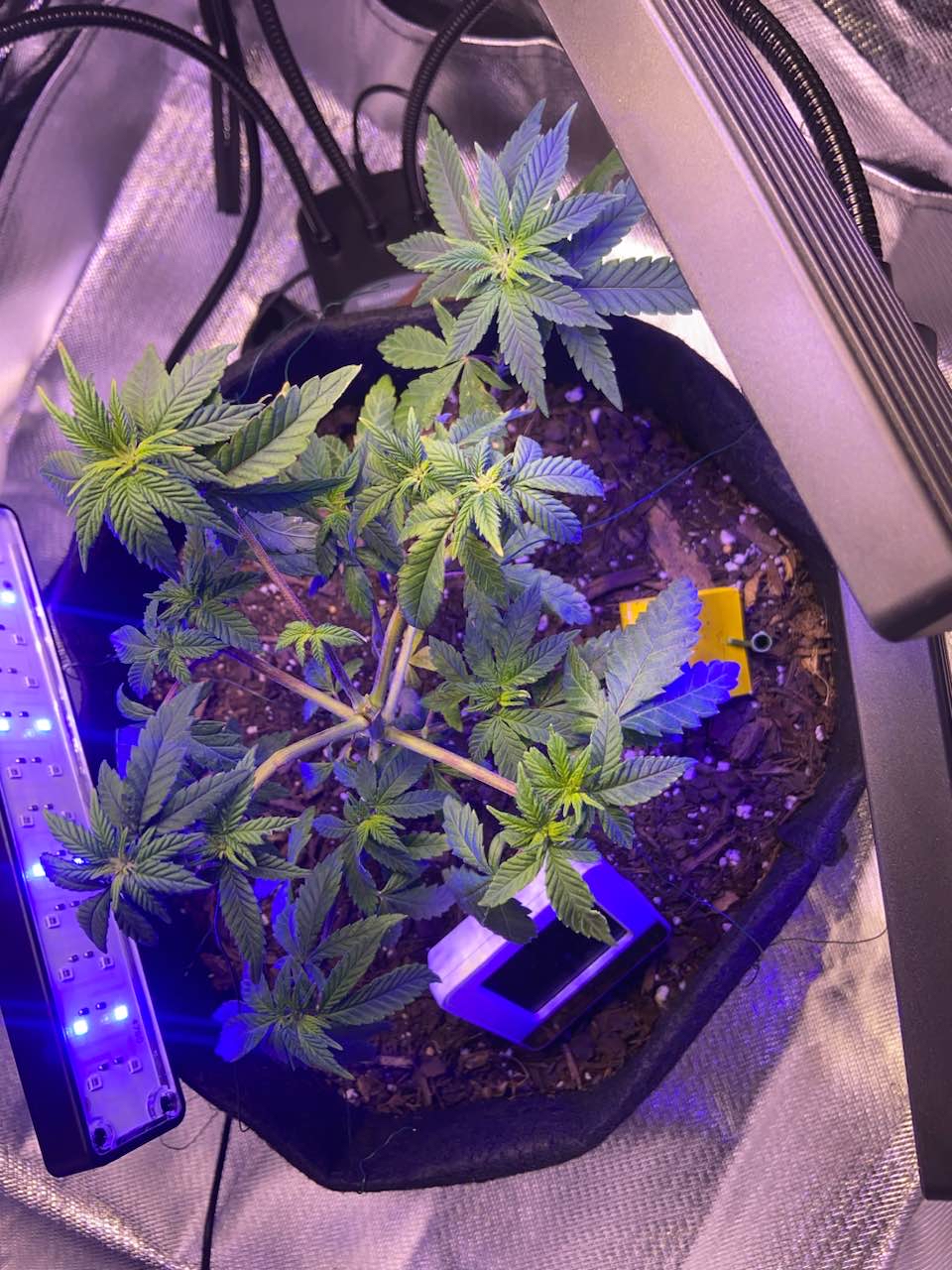 watered 8 Oz yesterday started using damp towel, light mist plant, heavy spray walls - bump Rh to 70-74% for like 40 min then back to high 40's low 50's. i have my 3 fans and the holes/windows maybe fiddle with them and find a good combo for temp/humidity
2 months ago
looks like they are going into flower? never switched to 12/12 lighting always have done 14 - 15 hours of light : 6am - 9pm also counting 15 tops growing fed 7oz of FxF's Big Bloom yesterday
2 months ago
watered this morning and i have managed to stustain the humidity level as i would like so thanks for past tips
3 months ago
growing day by day
3 months ago
still going, trying to keep humidity up without humidifier, misting the walls and plant, watered a little today. tops are looking sweet
3 months ago
got plant back from buddy, has 4/5 ish tops going on, going to top 2 of them for fun i guess lol. just like shortness
3 months ago
topped two stems
3 months ago
having to give to a friend for a week. hoping they take care lol. watered yesterday and the tops are looking how i would like. fan leaves have spots but can't tell what is causing.
3 months ago
Caliban Looks like a PH issue or cal Mg
slowly lookin good
3 months ago
topped and kinda looks like i fim instead so potentially 4 growing ?
4 months ago
Cuben_Si00 still stressing the main stem at a 90 degree
just been misting with water. topped over the weeknd
4 months ago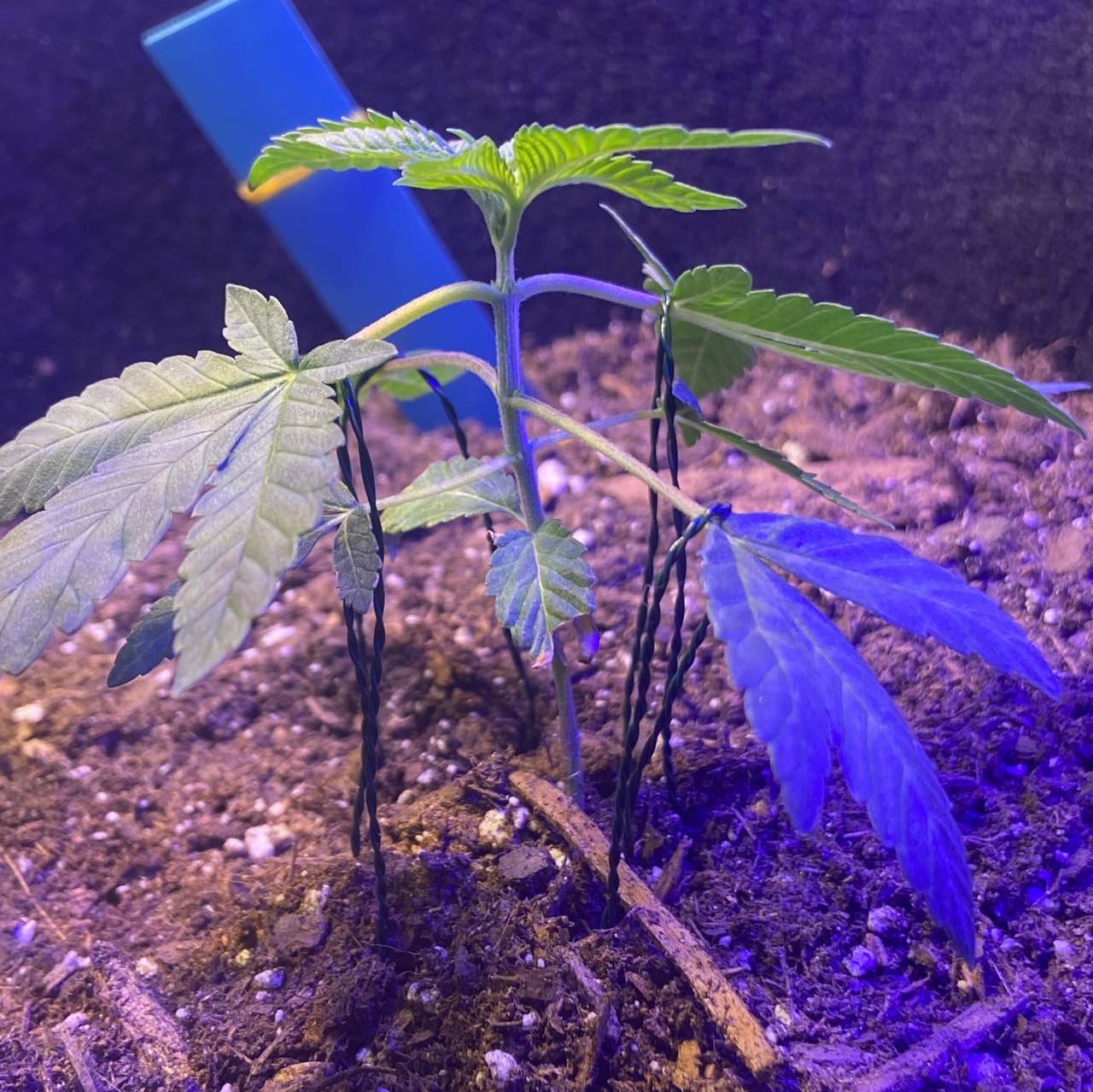 topped off with Miracle grow potting mix since it was reaching a tad bit, sturdied the stem and started stressing the leaves. gave it a sip of water not a lot just enough to wet the column around it
4 months ago
BINAII What are you doing to the leaves and why??
BINAII Alright. Cause you're my boy, I'll hook you up. All the leaves does is absorb energy. The shoots that will grow out from where the leaf attaches to the main stem. Those you'll want to train….when the time is right. For now, let that girl get comfortable 18 hours of light, 60-65% humidity, some fresh air with good airflow. Make sure you keep her healthy. 5-10% water. No more…no less.
View 6 additional comments
thin stems from reaching during the first days of sprouting
4 months ago