King tut and Cindy 99 Ebb and Flow grow
July 2021
6 king tut and 3 Cinderella 99 in a small flood table in a 2x4 tent.
Day 1000000 (Week 142858)
Hung for 7 days. The humidity got down to 42% and they got a little crispy but not too bad. No hay smell. Got an average of about 40g per plant. Final weight to be updated after the cure. 9x 1L jars. 1 Jar Cindy99 and 8 jars King tut.
2 years ago
Total weight 287 g. Looks decent too. I have 400w of lighting in a 2x4x5 ft tent. Looking to improve on this with the next run. I suspect temps got a little high and my battle with spider mites took its toll on the yield.
2 years ago
stick e fingerz Loves that Cindy harvested some last year she's pretty awesome nice work growmie 👍
kactai Yup dried and cured! 8 plants, hydro on a flood table! Only 2 weeks veg and filled the tent really well!
View 1 additional comment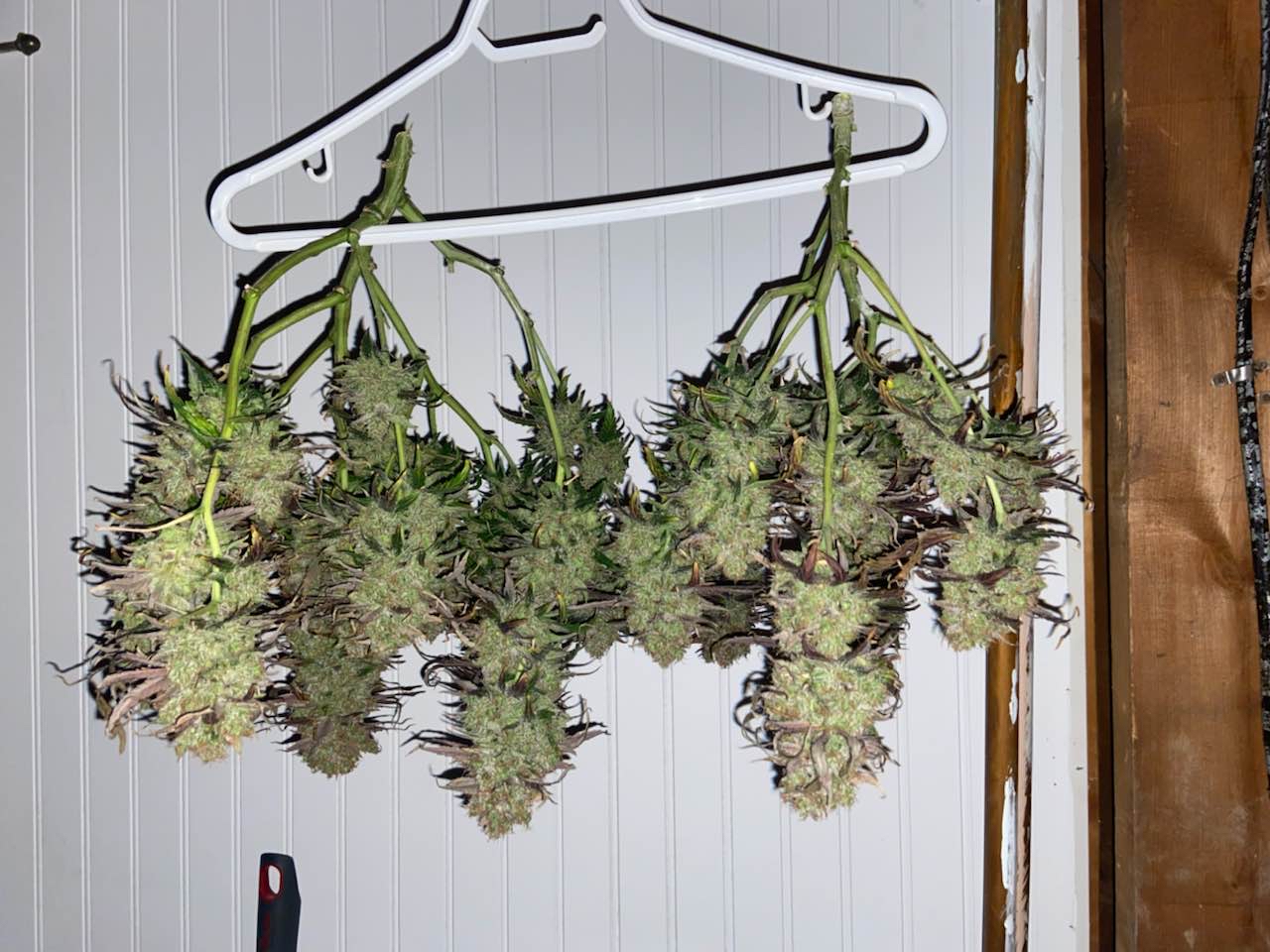 Harvested!!!! Look at that root mat. A little wet trim and hung up to dry!
2 years ago
stick e fingerz Dope I harvested some cindy last year came out pretty good smells amazing nice job 👍
BigBubba Wow those were some Fat girls! Great job can't wait to see the yield
Am I ready for harvest??? I can't quite tell….
2 years ago
stevemehh Bowing down to Excellence this is beautiful and your photos are awesome
kactai Yes. Wednesday would have been the end of week 3 of flushing. I went ahead and cut them since I'm up against a timeline and have to leave town this Thursday for a week
View 1 additional comment
Fall colours are in and the lights are going off for 48hrs. It's tiiiime
2 years ago
Day 58 of flower. We almost ready? I think about another week to 10 days and they will be perfect.
2 years ago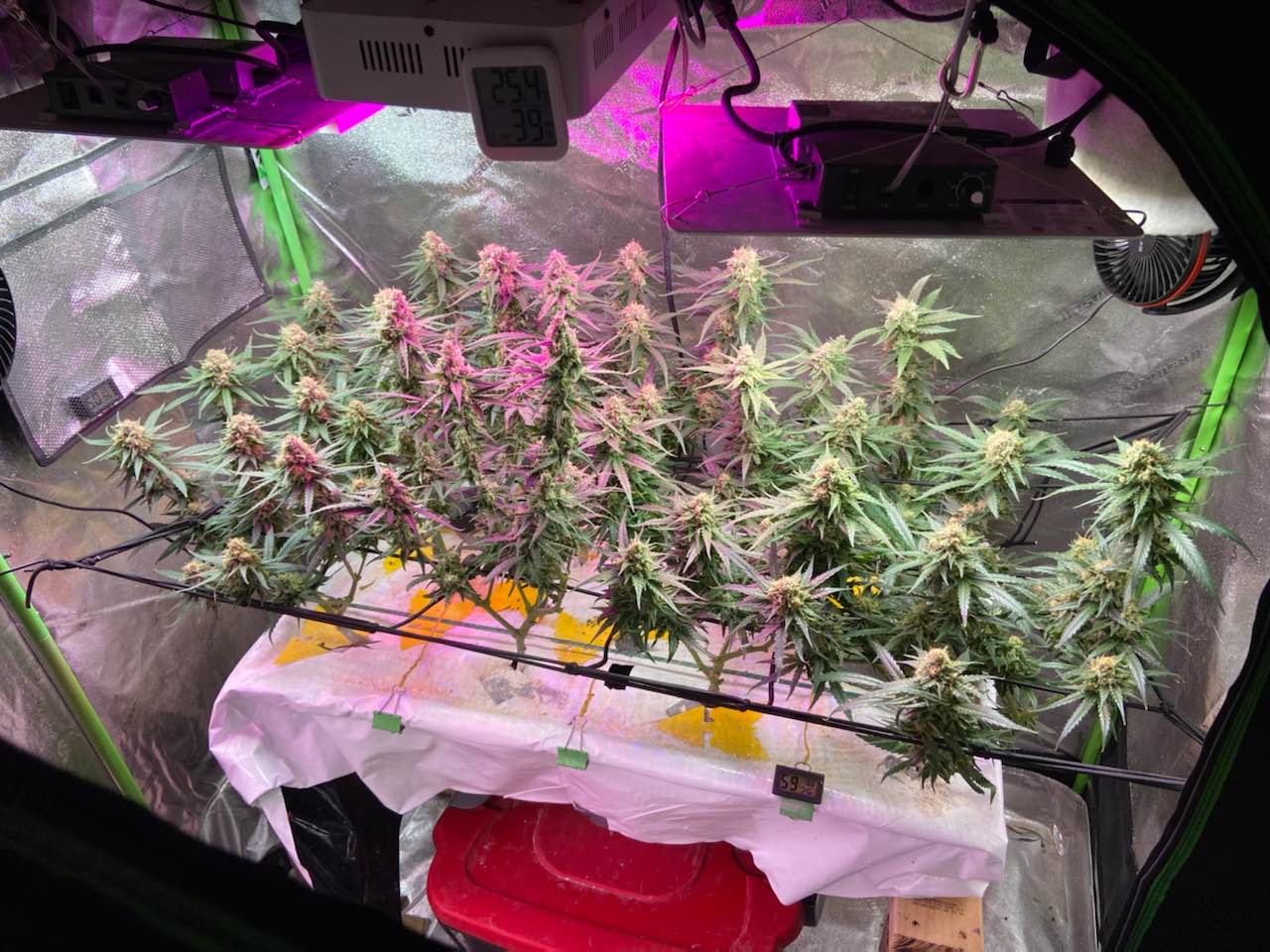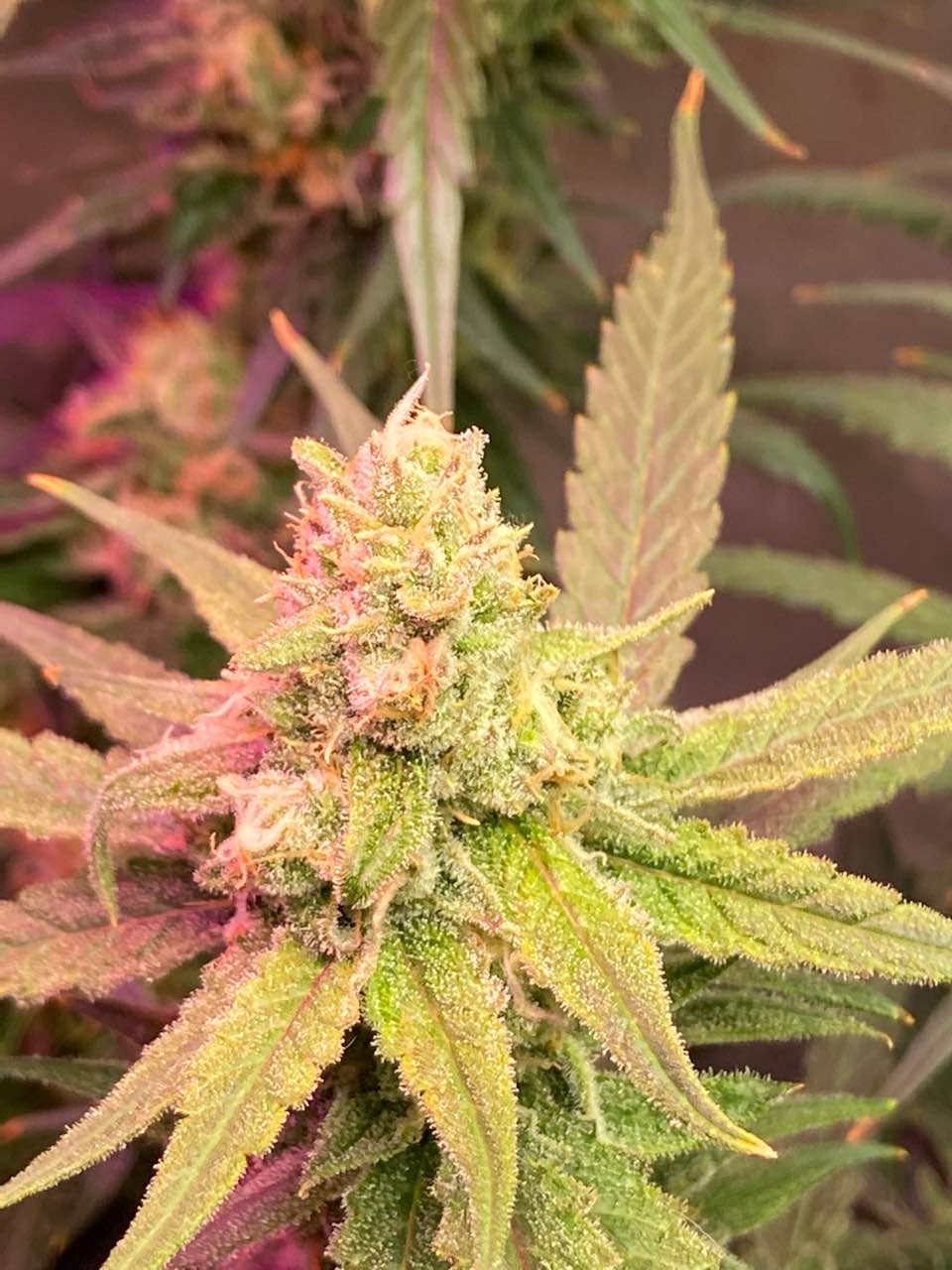 Day 47 of flower. 10 more or so to go.
2 years ago
Day 43 of flower. New nutes and the buds are really filling in now. Another 20-25 days for these strains but of course I'll be checking trichomes.
2 years ago
Day 37 of flowering. Little bro is doing a good job in the garden while I'm away.
2 years ago
Pa Vee Did you cover your flood and drain tray ? Would that help slow down with algae and bacteria?
kactai Yes! Totally. That's why I did it. It also helps with root growth. Then entire bottom of the tray is filled with roots so the cover keeps them dark and stops them from being pruned by the light.
kactai Also keeps the humidity down in the canopy
Day 33 of flowering! Stay cool, get frosty!
2 years ago
Day 30 of flowering. Doing some fan leaf defoliation. Last time I touch these until harvest. The king tut (photo1) is filling in way more than the Cindy 99 (photo2). But everything looks awesome. Way too smooth for my first hydro grow.
2 years ago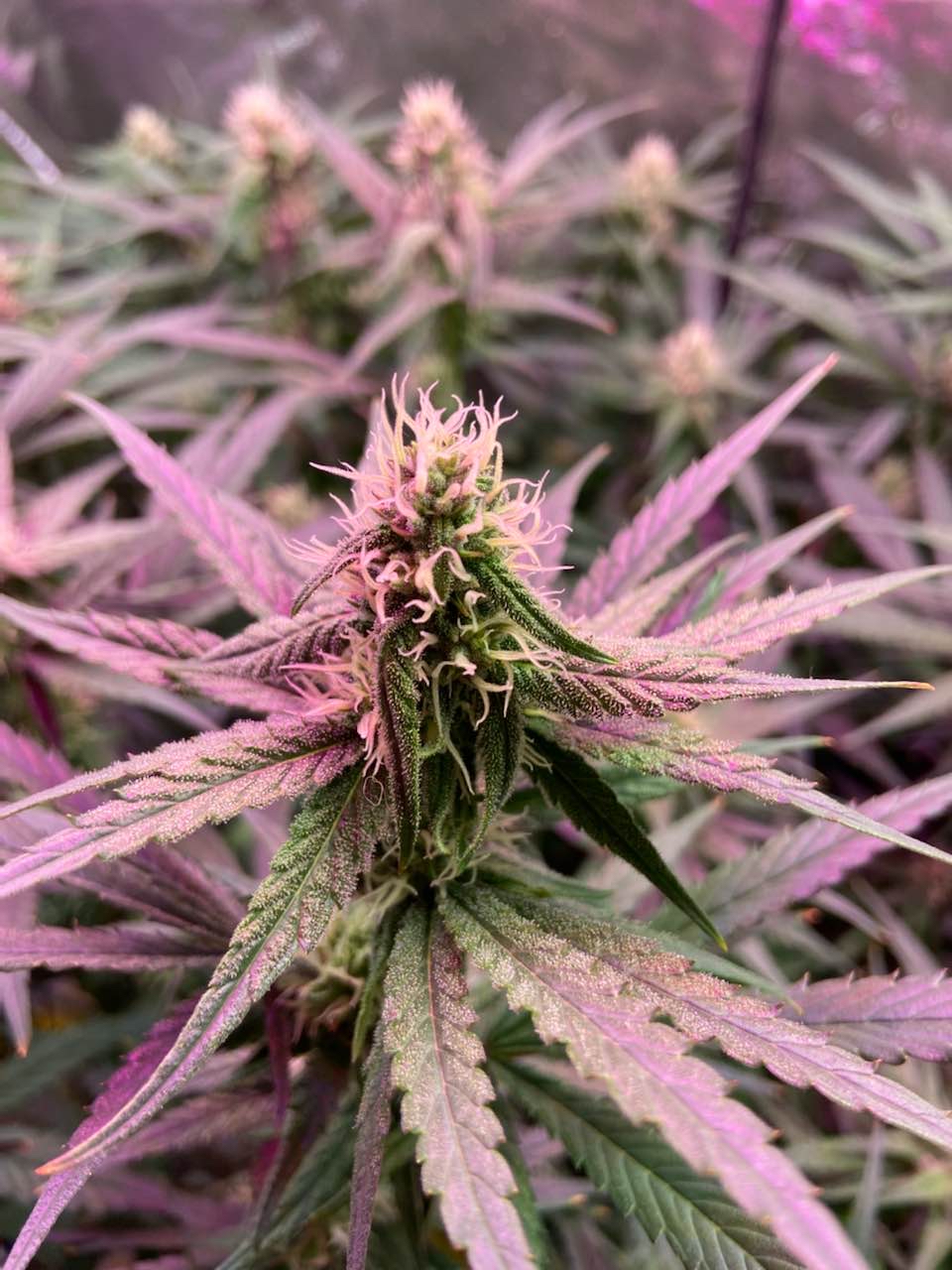 Still rolling. New batch of nutes today. Everything is good. Week 5 starts today
2 years ago
Little bro is doing a good job checking the reservoir and sending me pics! Week 4 of flowering almost done!
2 years ago
Day 2 of week 4 of flowering. Just cruisin. All good!
2 years ago
steezykayla Those look fantastic! 😎 👍🏼 Any close up pics?
kactai I'm out of town until Thursday! My brother is watching the garden for me! I'll get some fresh updates when I get home!!!
Just rolling along! Some tip burn from my last batch of nutes was mixed at 1250 ppm. Previous batch 850 ppm. Newest batch 1050ppm looking for burnt tips to correct on new growth.
2 years ago
Week 3 of flowering started today! Mixed a new batch of nutes. LST and super cropping on top bud sites continues.
2 years ago
Mystrain420-@eaegifts That's a nice setup with some nice yielding strains. Plants look great also, happy growing 👍🏾
kactai Thanks for taking a look and sharing your thoughts! I'm a little worried that I've got them packed in too tight but no issues so far.
Mystrain420-@eaegifts Na looks pretty good to me. The canopy is very even so airflow isn't restricted, if anything u may need another fan when colas fill in
View 3 additional comments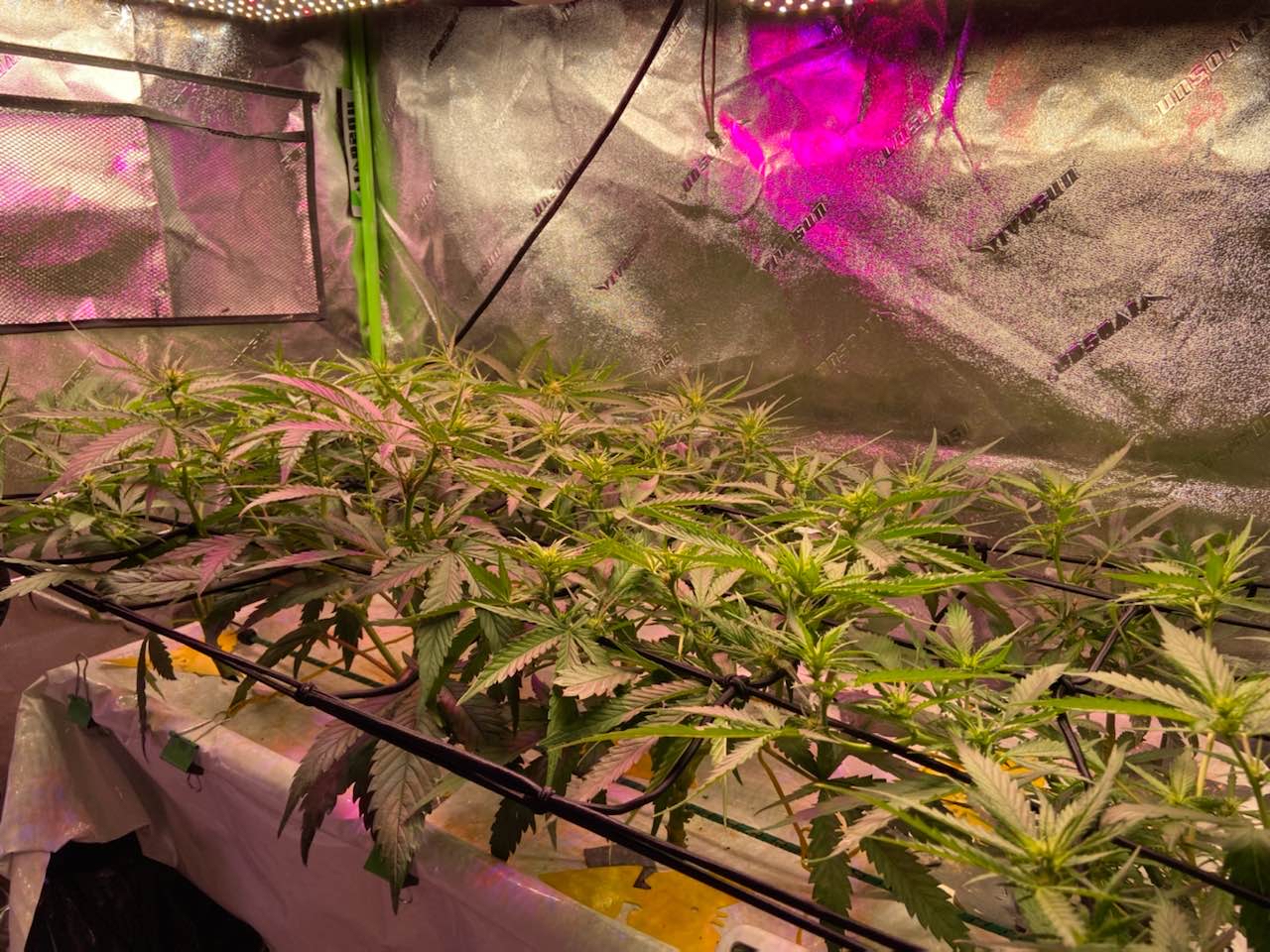 In second week of flowering. LST continues on only the tallest tops. 3rd week starts Friday the 20th. 2nd week nutes schedule on the beginner AN pH perfect micro, grow, bloom feed schedule.
2 years ago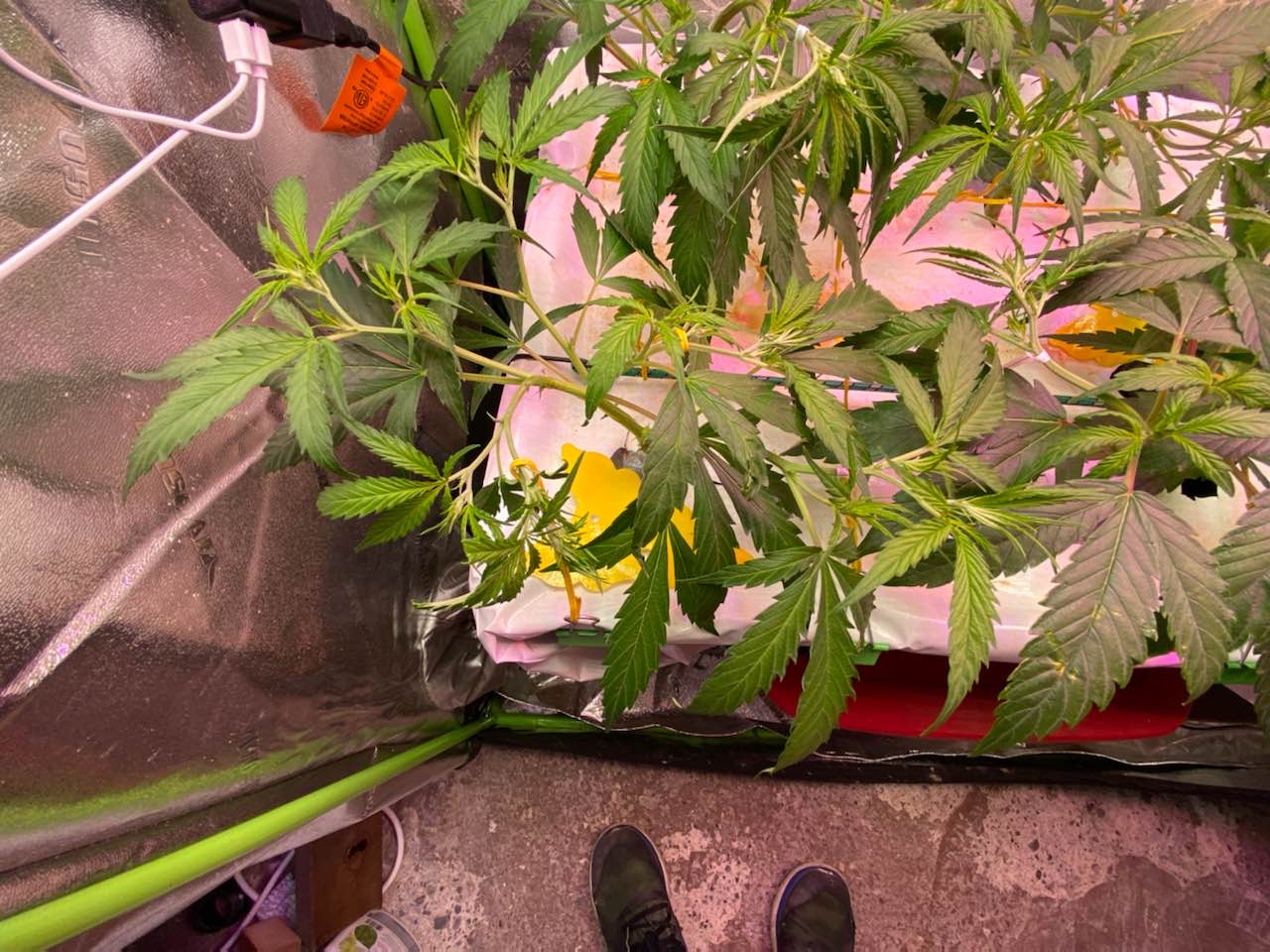 LST and trimming continues. 6 days into flower and stretching has started. Small pistils are appearing.
2 years ago
Switch to 12-12. Full strength nutes. LST continues.
2 years ago
Continue LST. All plants showing good growth except #3 and #6 - Cindy 99. Considering topping plants early to keep canopy low and even. Will wait a few more days.
2 years ago
1 day fresh water flush and new batch nutrients week 2 schedule at small plants ratio for mice grow bloom. Started LST on #8
2 years ago
5 days after rooting through the rockwool cubes. Clones placed in flood table, cover placed on table. Nutrients are 1/4 strength advanced nutrients micro, grow and bloom
2 years ago