MANDARIN COOKIES
Inside — Summer 2021 — Jordhan's grow
One Mandarin Cookies plant in XXXgallon sized, XXXX pot with Fox Farms soil mixed with worm carcass. 2x2 curtain tent with LED SF1000 lights at ~22" away from top of plant. Veg ~8 weeks, Flower ~XX weeks. In soil August 9.
update! heres my mandarin cookies! still have it in veg, this plant has also shot up, been trying to stay on top of trimming and still giving compost tea <3
2 years ago
emaj7b5 Have you thought about defoliating the bottom quarter? It looks like you topped that plant. I can't really tell from the pic. Have you tried topping?
lilhulahan @emaj7b5 I topped it one time, i've defoliated less on the bottom newer growths, but in a few days, i'll go through on the bottom half and trim more
View 2 additional comments
giving compost tea and fox farms grow big still, picked up some fish sh!t for its next watering, everything's looking good
2 years ago
mephhead If this is your first time using Fish Sh!t... you're gonna love it! Your girls are looking strong 👍🏽 👍🏽
lilhulahan thanks! i'm excited to try it. I can add it to my auto as well right?
View 1 additional comment
leaves are getting HUGE, mandarin cookies seems to be doing well, need to upgrade lights and growing space very very soon
2 years ago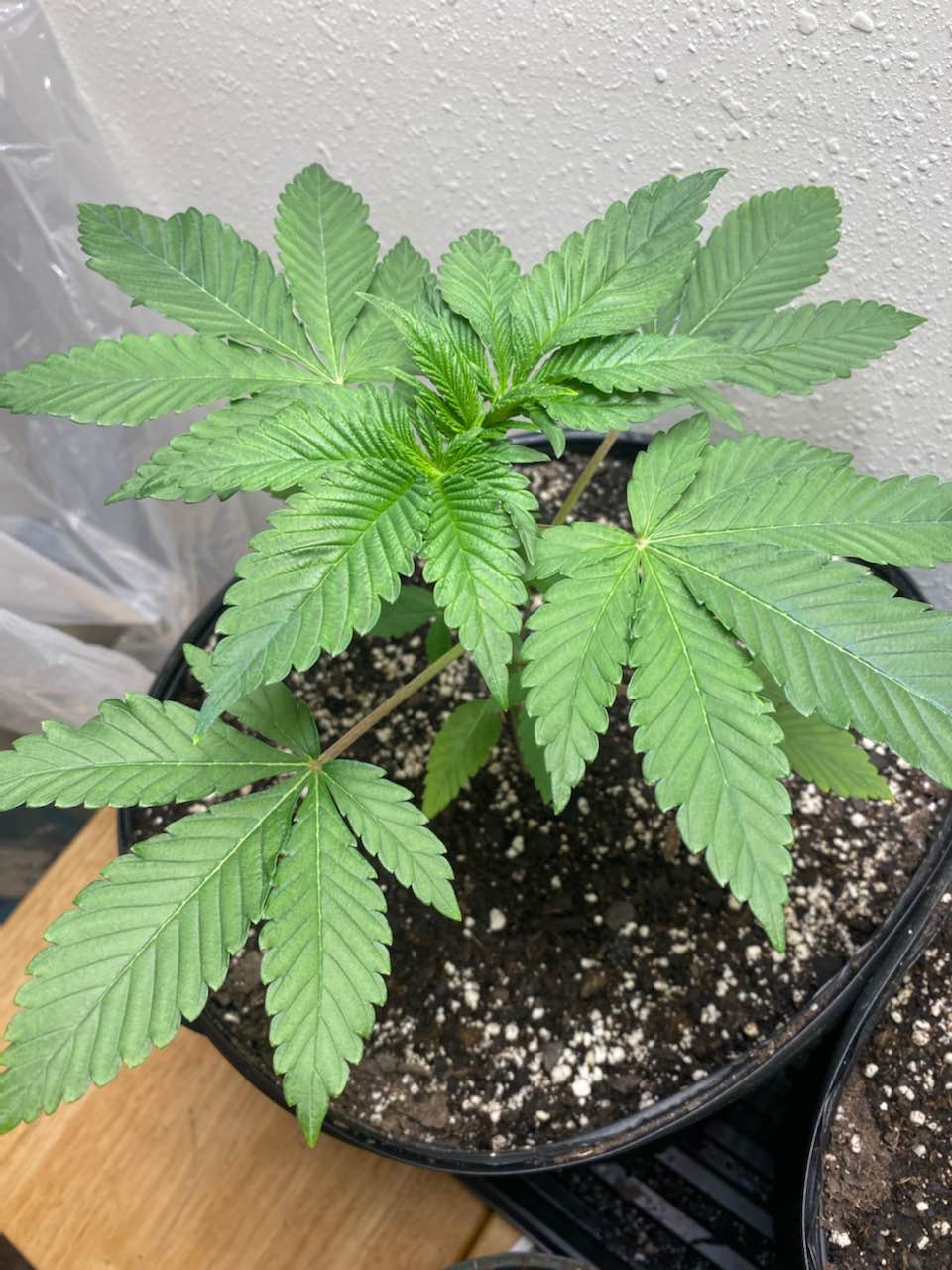 new hydro store just opened (first i've ever heard of in VA) so we went to get ph down, fox farms grow big and compost tea. gave compost tea, and watered yesterday so waiting until next watering to add the rest. can't wait to see how the grow big effects this mandarin cookies, im expecting it to appreciate it immensely. the stems are still regreening but im proud of it for working so hard (: -hulahan
2 years ago
mattekar Im just curious what store you're talking about im in the VA Area? New stores to check out are always fun 😋
mattekar Never mind my bad punctuation 🤣
lilhulahan @mattekar it's called Peaks View Hydro, 12767 E. Lynchburg Salem Turnpike, forest, va 24551
View 1 additional comment
so happy with the transplant, stems have started to regreen and they're growing, soil ph 6.4 today
2 years ago
beginner grower — help? ):
2 years ago
lilhulahan just wondering if it looks ok? and the bottom leaf is yellowing (2nd pic) and Im not sure what's going on
lilhulahan they're on an 18/6 light cycle rn and they've been dropping/standing up at different times drastically, didn't know if this was normal
View 7 additional comments
transplanted to bigger pot with fox farms soil. ph tested perfect & watered
2 years ago