Unknown Zoe
Late summer 21
Unknown surprise in starter pods. Fox farm soil with mollass water ph to 6.6. 600w light. adjusted to 12 inches and 200 watts. On heating mat.
Some defoil. That's about it for her.
2 years ago
Light defoil and letting her bloom.
2 years ago
Watered with 6.2 ph yesterday. Also lst a little more with light defoil.
2 years ago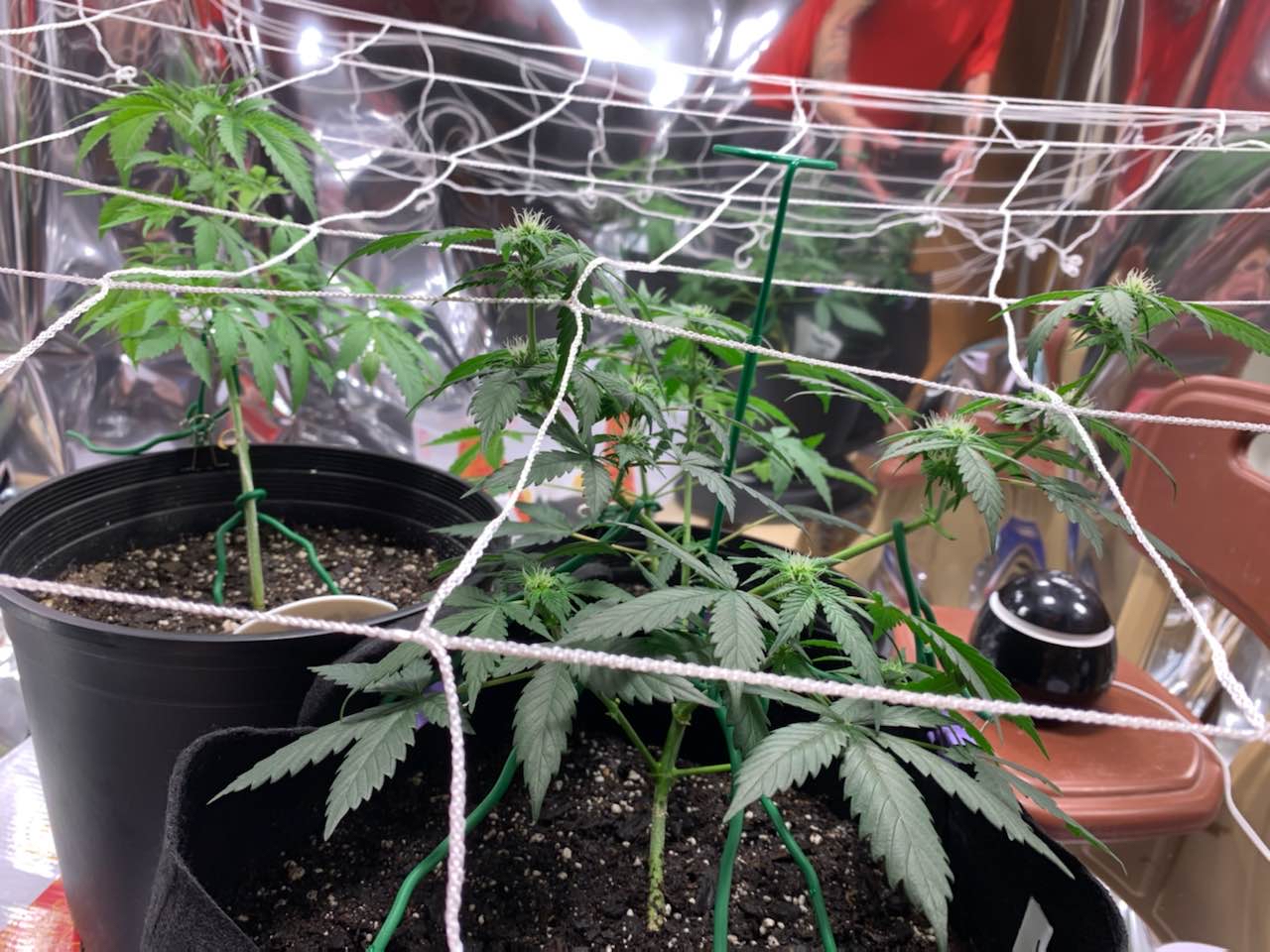 Noticed she's stretching out some. The lower limbs still is t catching up. Yet. Watered with a ph6.3. Light defoil.
2 years ago
Watered yesterday with 6.2 ph and leftover nuets from last mix.
2 years ago
Heavy lst defoil and cleaned the bottom up. Watered 6.7 ph with nuets and moved to front and raised an inch.
2 years ago
Zoe got transplanted and molasses water to 6.5 ph. Fox farms happy frog and D-Earth. Oct 13 was transplant day.
2 years ago
Done some more LST. Decided against topping anymore. We're wanting to see how the other two do without topping at al. Watered with a ph 6.7.
2 years ago
combatmedic81 I know topping hurts, but it leads to better things
Ohm Punisher Even with autos? Is there a big difference in yield?
combatmedic81 Did not know it was an auto. People say don't do it if it's an auto. I grow photos and topping is the only way to go, sends the energy to the right places
View 3 additional comments
Watered with molasses and ph 6.6. Did a little more lst. I'm being a touch more aggressive with this one.
2 years ago
Moved them into flower room to allow Meredith to use the tent during drying. Watered today with ph 6.3. 1000 watt light 18/6 schedule. At 43 inches I believe.
2 years ago
Began this form of LST today. Watered with a ph 6.4.
2 years ago
Ohm Punisher Also moved the light up 2 inches. More than likely will be moved to the flower room with the other 2 while Meredith dries and Pam finishes.
Watered with ph 6.5. Adjusted lights up a couple times already.
2 years ago
Moved the light up about an inch. Watered with ph 6.7 and went ahead and topped.
2 years ago
musman 1. Place Order 2. Payment and confirmation (in BTC or ETH) 3. Delivery details 4. Tracking 5. Monitor your package 6. Package arrivals That's how I work. No cash on delivery. If you are not comfortable working that way feel free to try elsewhere...
Nothing has really changed. We'll except for her growth. Everything still looking good. Loving the transplant I think too. Prob gonna water and move light up a touch. It'll be ph 6.3-6.8 water. I need to start trading and topping sooner than the last batch that's going.
2 years ago
Transplanted today from the little humidity tray that I absolutely hate. Happy frog soil 12 inches from 600 watt led set to 200 watts. Watered with ph 6.8 water. D Eart mixed in and sprinkled on top.
2 years ago
Still stretching. I'm feeling like this is the same and fruity pebbles. We shall see though. Moved the light up 4 inches and left at 200 watts 18/6. Lightly sprayed soil with in treated water. Left the humidifier too off and removed heat mat.
2 years ago
We'll day 3 was great! Nothing extra done. I was thinking 2 weeks in these small starters but this one may be a week.
2 years ago
She's a quick one. Done nothing new. Always the unknowns that pop first.
2 years ago