ghostriter98
My Own Creation
Dark Star x'sed with GSC
I'm super excited about this one since I accidentally crossed two of my favorite strains! I had an awesome pheno of GSC that got light stressed and pollinated my tent when I wasn't paying attention. She pollinated another of my favorites, Dark Star. I terminated the GSC but was to late as DS was pollinated. I super excited to grow this cross out and if it's decent, I have a few hundred seeds to find the perfect pheno to clone.
Flower, week 8
3 years ago
Two weeks left
3 years ago
Harvested the top cola and lowered light to the lower nodes.
3 years ago
Day 80 since start of veg and day 51 of flower. Getting a lot of advice not to flush. Gonna skip flushing and see how it ends up.
3 years ago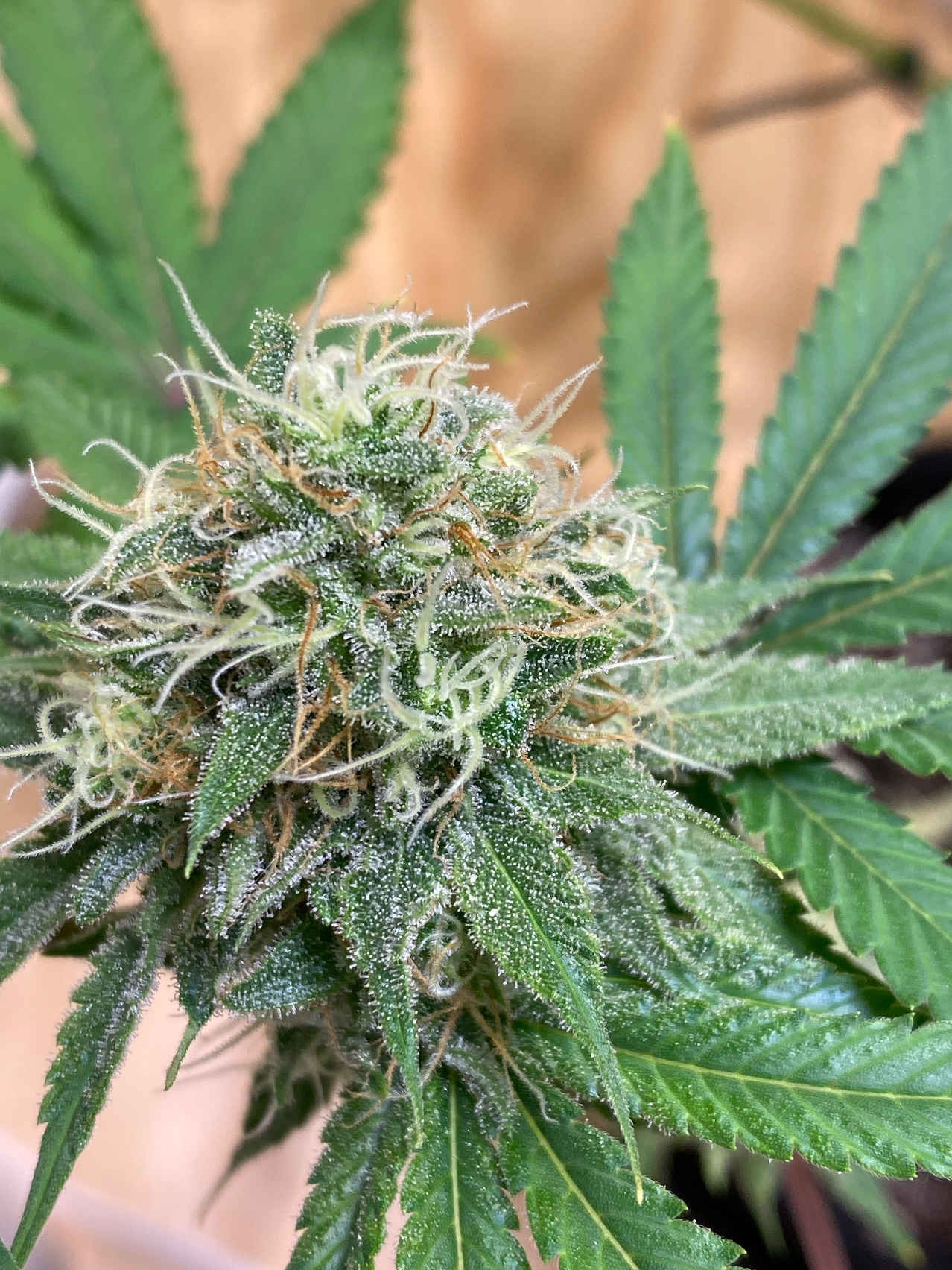 We're at week 7, thinking 3 weeks to go and she'll be ready
3 years ago
Been gone for 10 days and left the blumats in charge of watering. Gave her a heavy feeding prior to leaving and watched them on a live cam. Great to know that my automation is working solid. On the next grow , I'm going with a super soil water only environment and hope to keep maintenance down to trimming, water reservoir tops, and environment management.
3 years ago
She's is showing her dark colors from her mother. It's gonna be interesting
3 years ago
Still looking good
3 years ago
Think she's using up nitrogen from her leaves. Any ideas if I should supplement N this late in flower? Thanks
3 years ago
Looking at about four more weeks
3 years ago
Same shit dif day
3 years ago
Looking noice!
3 years ago
Same pic as yesterday
3 years ago
Day 26 since going 12/12. Such a pretty gurl
3 years ago
It's been a couple weeks. She's 2.5 weeks into flower and 24 inches tall. I cleaned up some of leaves blocking lower bud sites to see how that goes.
3 years ago
Pretty sure she's a she
3 years ago
She was growing a lot of under growth , so I thinned her below so she would concentrate on top growth. She looking exactly like a broadleaf type.
3 years ago
Moved her to soil do to an upcoming trip. I'll be gone for 5 days and it's safer to have her in soil than DWC, where things can go south real fast.
3 years ago
Her root zone is getting fat 🥰
3 years ago
About 2 inches tall. Her leaves looking more like the GSC than the Dark Star. She's in DWC with a 2 gallon bucket and 8ml of each, advanced nutrients, grow, micro, bloom ph perfect nutes. Water solution is at 74 degrees F and ph of 590-600 range.
3 years ago
Nothings changed
3 years ago
Ghostriter98 Dark star is T.H. Seeds Dark Star is Purple Kush x Mazar I-Sharif, and mostly indica. Girl Scout Cookies is OG Kush x Durban Poison x Cherry Kush hybrid.