Random Strain #2
1/3/22
Successful germination of 1 seed
I think she's ready to flower. Any tips?
a year ago
Haven't posted here in a while, when will I be able to flower this baby?
a year ago
Apologies for the lack of updates, I've actually been relatively confident and just cruising along. Considering giving this plant another top dress, any input or suggestions?
a year ago
Defoliation #2 today
a year ago
She seems to be veryyyy happy from the defoliation.
a year ago
Did I overdo it? I was following some tutorials and now that I look at mine it doesn't look quite like the ones on YouTube and in my books.
a year ago
Growth had continued, unsure of cause if this. These are the only leaves with this issue
a year ago
Both the airflow on her and the couple leaves I took off made her super perky and not quite as cramped. The leaves started growing all folded and such. Figured a few of the oversized fan leaves could come off
a year ago
Topped her today and removed two leaves from the bottom
a year ago
Going to top at the next node.
a year ago
On to its second set of 5 finger leaves. A couple questions, should I do anything about the clusterfuck of small leaves and does anyone know the cause of this death of the leaf tips?
a year ago
Just removed the bottom two sets of small leaves because they were curling up and doing nothing for it. Also just top dressed her and gave it a good watering, any help on gender?
a year ago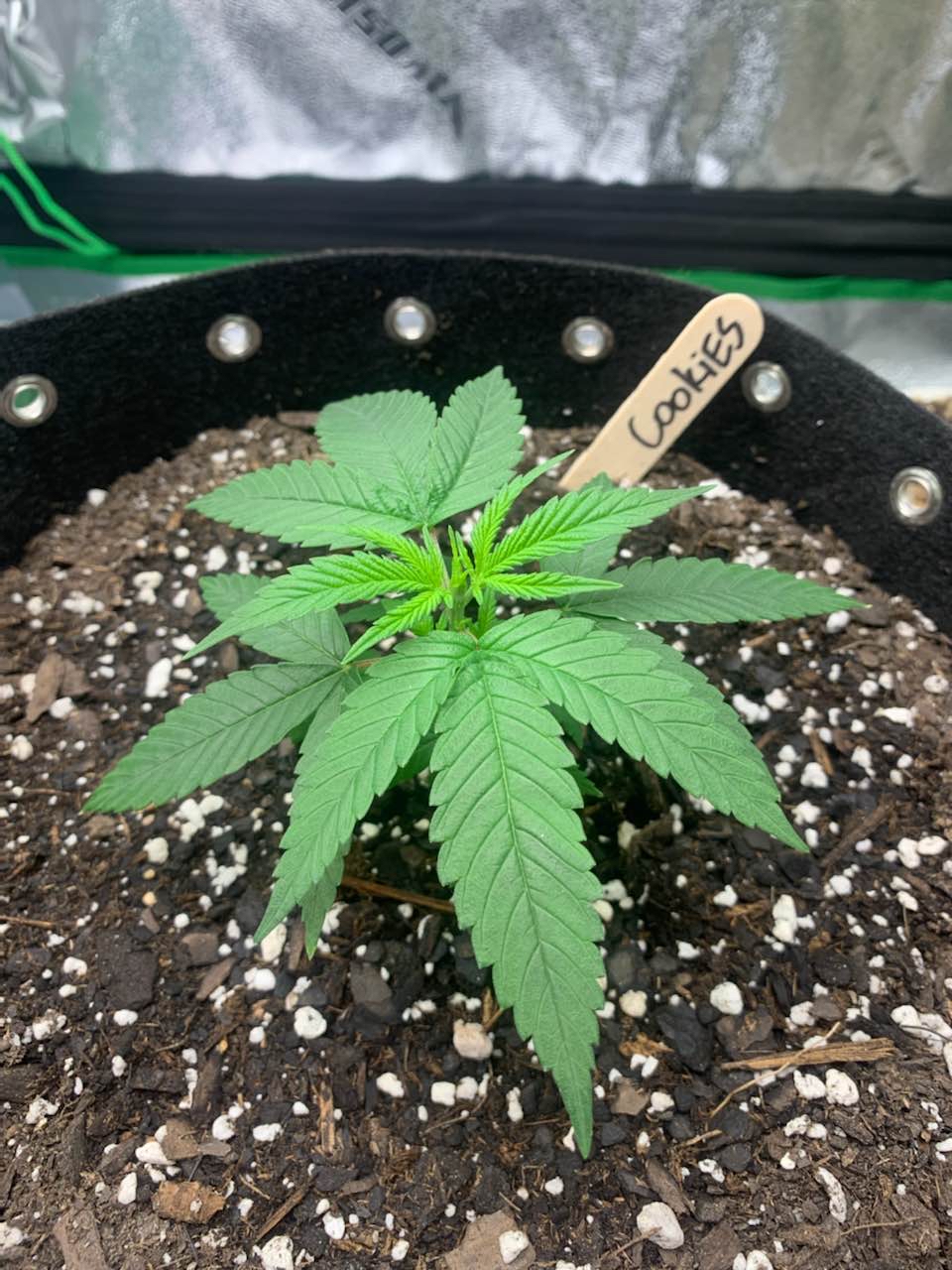 She's starting to grow more steadily. Is it possible to sex this young one yet?
a year ago
Looking better again today.
a year ago
Seems to have responded very well to transplant, I do have a few questions/concerns if anyone has a second. On the third photo I have a picture of the only leaf that has any browning or holes like this, is this a reason for concern? Also on the 4th and 5th pictures I did my best to get photos of the nodes, is it too soon to gender this plant? I want to preserve as much products/time as possible due to this being a bag seed. Thanks for any help!
a year ago
Hello everyone! Just noticed this today, saw this root that shot out the bottom, am I correct in believing that this is the tap root that shot down? Is this cause for concern or will it begin to branch off on its own?
a year ago
Just finished the transplant, a bit scared I took some root damage because the soil evaporated during transplant process.
a year ago
She's looking happy, seems like raising up the light is already helping that next node spread out a bit. Still hoping she's gona slurp up all of that excess water I was giving her…
a year ago
I started acclimating the plants to a lower RH and she seems to be liking it. Without a doubt now suffering more from the chronic overwatering. Going to let her be for quite a while and hope for steadfast recovery
a year ago
Does anyone have input if this is only from overwatering or possibly clawing from nitrogen toxicity?
a year ago
Lifted Depends how much you've fed this I suppose as it's still quite young. It does look to me like possible overwatering though.
Kazuma I was recommended to pre mix my soil with Gaia greens 4-4-4 but I've also been told that with the fox farms might be too much for the young girl. Hard to figure it out with such differing inputs.
Gave her water because of the curled leaves, not sure if that is light burn or nutrient burn. I lowered the intensity of the lights either way. 24 inches above at minimum power on the spider farmer sf2000
a year ago
Kazuma I appreciate that, im hoping that prevents it from getting any worse
HammertimeAZ It's pretty early to needing nutes. I'd leave her be for a couple of weeks and then get her on a feeding routine that works for both you and her. Off to a slow but good start.
mystrain420 _@eaegifts Light is definitely a problem but the main issue is rh imo. Her foliage looks like clones acclimating so I'd think your rh is either low or she is used to it being higher-this sometimes happens when seedlings are left in a humidity dome too long..tip seedlings don't need humidity domes or acclimating. As for the, tight internodes shows that you can raise your light some. I'd go to 36" @50% if it won't effect other plants. Just an opinion 👍🏾👍🏾
View 14 additional comments
Looking stressed, going to let it be and hope for recovery
a year ago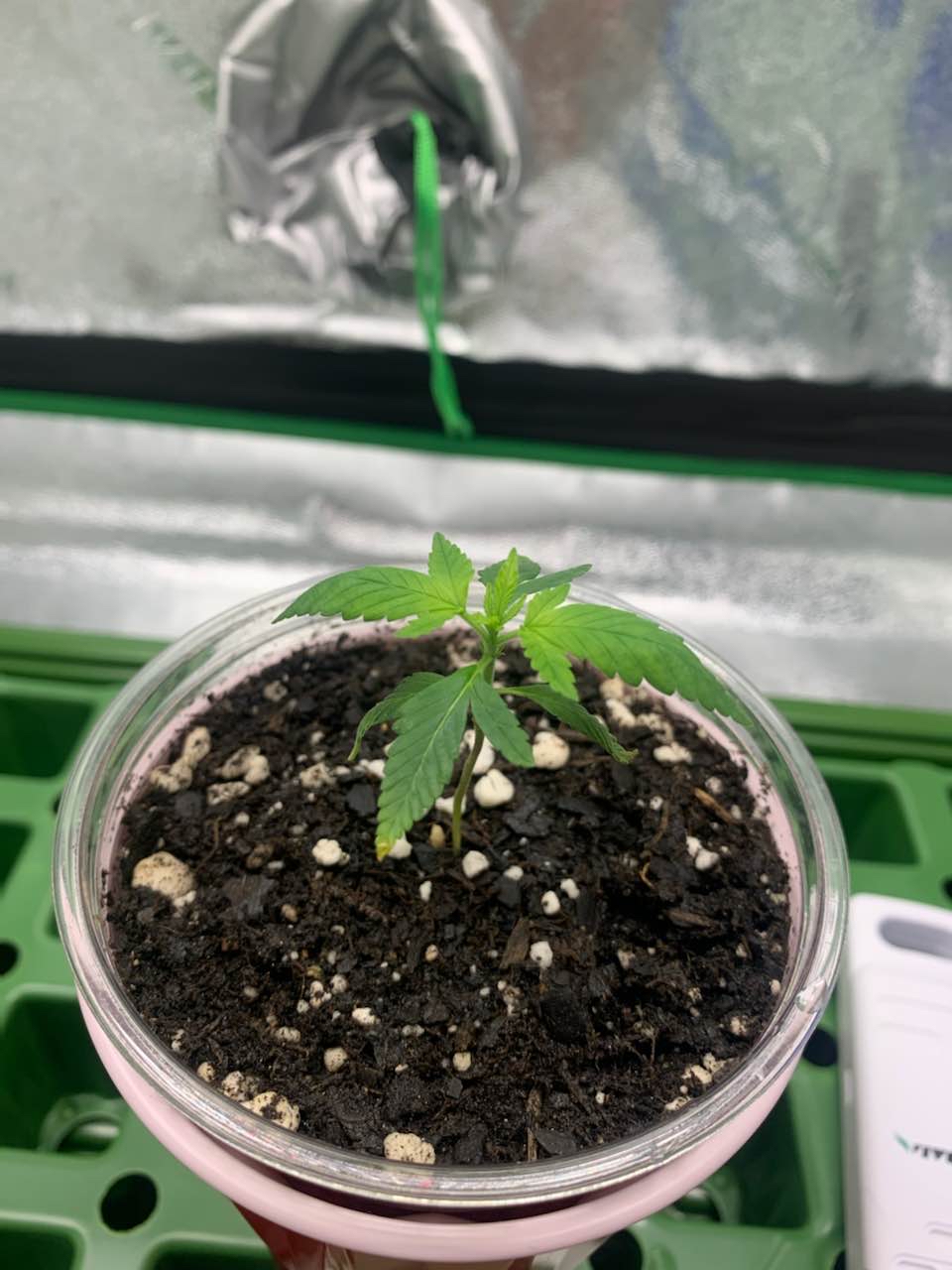 Watered with 30mL of water because of cupped leaves
a year ago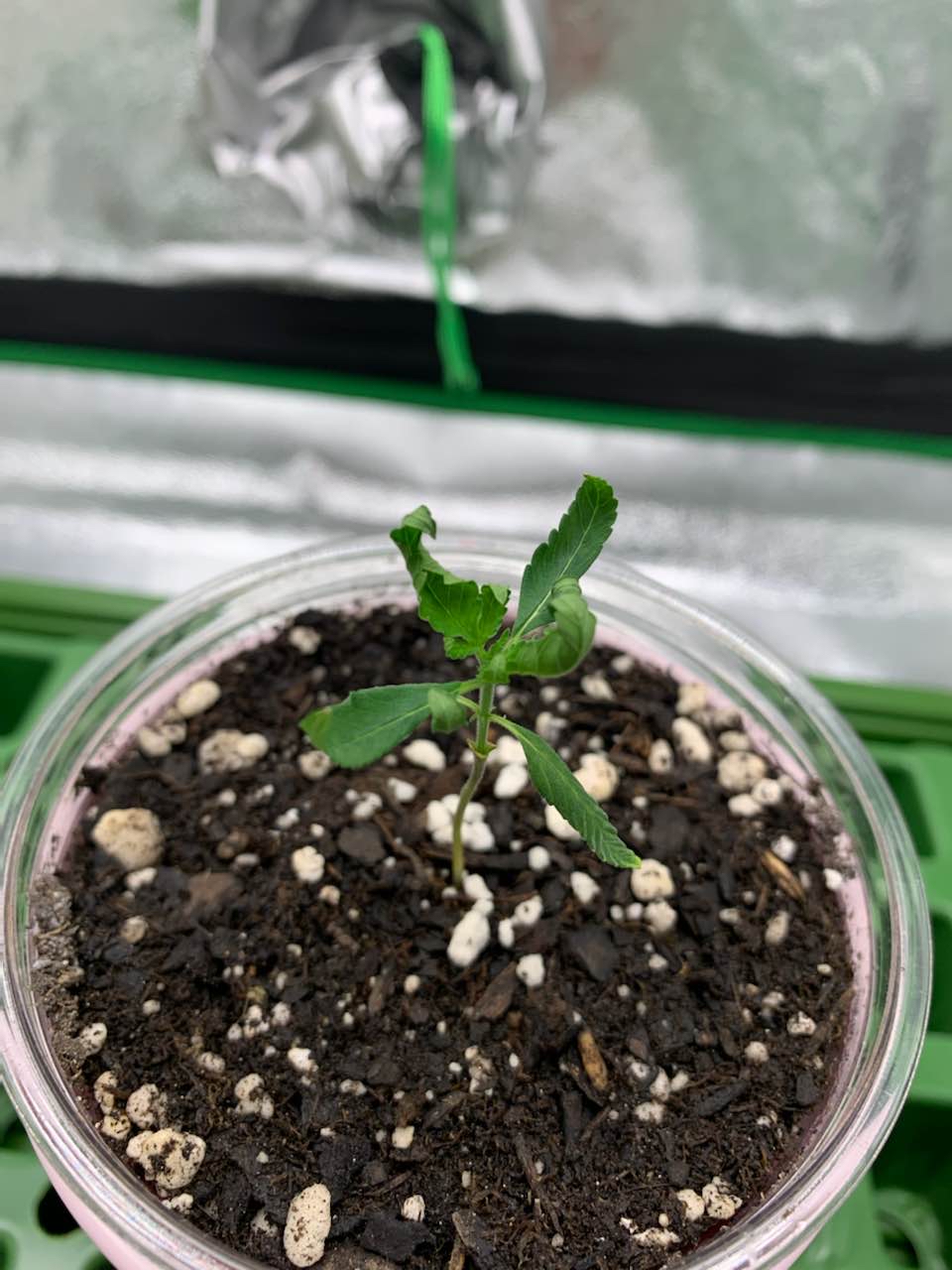 Extremely curled leaves today, not sure why this is happening I believe overwatering but I haven't watered in two days.
a year ago
Kazuma Anybody have some insight?
KIOS_Funky84 What mix are you using as a seed starter? To me it seems the media may be a little too saturated for the young girl
Kazuma Ive got it in a root riot cube that I transplanted into fox farms soil with Gaia greens 4-4-4
View 6 additional comments
Another update, I did nothing besides leave it in its humidity dome. Seems to be doing fine now, kinda confused why it looked so miserable earlier today.
a year ago
Decent growth, going to water with 20mL of water at 6.6ph. Any ideas what's causing yellowing of the leaves?
a year ago
stick e fingerz I see they were in clear cups is the enough drainage that could be why they're yellowing and slow growth just thinking I've had this problem before
Kazuma Ive got some cuts in the corners of the cup so I'm not sure if it's that, I think I might just be overwatering but this is the first time I have in a while.
greenbuds Over watering. Possible nutrition block at the roots
View 1 additional comment
Just transplanted into a solo cup, fox farms soil mixed with 4-4-4 from Gaia Greens. Any pointers?
a year ago
Having a bit of yellowing on the leaves, most possible cause is light burn moved the light up to 28in. I believe slow growth is due to having to cut one of the first leaves off to prevent defects
a year ago
Seedling isn't opening up and there is what seems to be a mold on the outside of the soil cube, is this a result of a too humid/moist environment?
a year ago
Seed capsule popped off, successful germination no activity from other seeds yet. Unsure of why there is discoloration, if anyone knows I would really appreciate some guidance
a year ago
Peng Normal, is just from being in the seed
Kazuma Thanks a lot, first grow and I just wanted to make sure there was nothing I was doing wrong
Peng Yeah sometimes those leaf undersides can look weird, almost greyish purple, nothing to worry about at this stage wait til they open as long as it's not fallen over wilting it's not rot
View 1 additional comment
Seed into root riot cube, supplemented with mycorrhiza and rooting formula as suggested from grow center.
a year ago