6 BCN Big Bud XXL Autoflower First Run be
Herbies seeds, presoaked in Rev 80/20 Rev/water for 4 hrs before planting
Seeds pre soaked 4 hours then dipped in mycelium and planted in Root Riot plugs and placed in AC Infinity Tent prop chamber with small layer of water covering bottom of chamber and Placed under Philzon Cob Cree 100w (still figuring combo). Temp 77*f and R/H @ 70%~80%. Heating pad set at 77*f as well.
BCN XXL BIG BUD AUTOFLOWER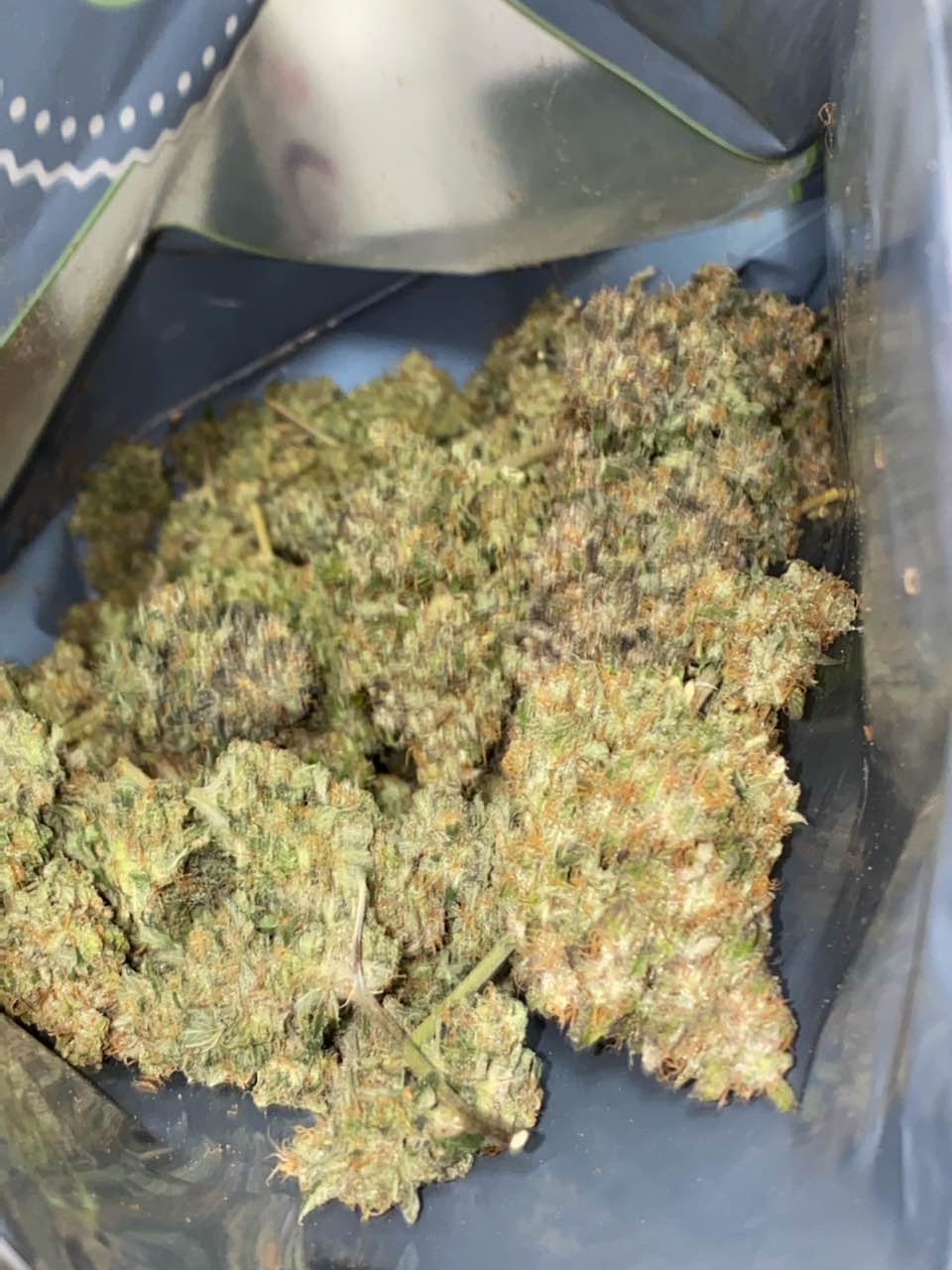 Went into Grove Bag last night!!!
a year ago
stoned_ginger What do you think about groove bags? Do you still have to burp?
jjpooch44 So far so good. This is the first time that I have personally used them but have heard amazing things about them from friends that have used them. What a time saver and so much hassle than burping and needing humidity pads ect. Just throw the dry/trimmed buds in the bag, heat seal with you gf straightening iron or whatever and that's it!!!
stoned_ginger Wow will definitely look into these thanks for sharing
Harvested on Day 83. Today is second day of drying and smells beautiful.
a year ago
Tomorrow is the big day. Keep posted once I hey some wet weights.
a year ago
stick e fingerz Nice 👍 love it when you gotta turn em into puppets 💪🏽💪🏽chunky
jjpooch44 Thanks guys. Not to bad for a first try.
Approaching the final days of this grow. Have been cutting nutrients and increasing Sweetner for last week and a half and today gave first feeding of all fresh water and Ad. Nutes. Flawless Finish. I'm thinking if harvesting Thursday (3 days)
a year ago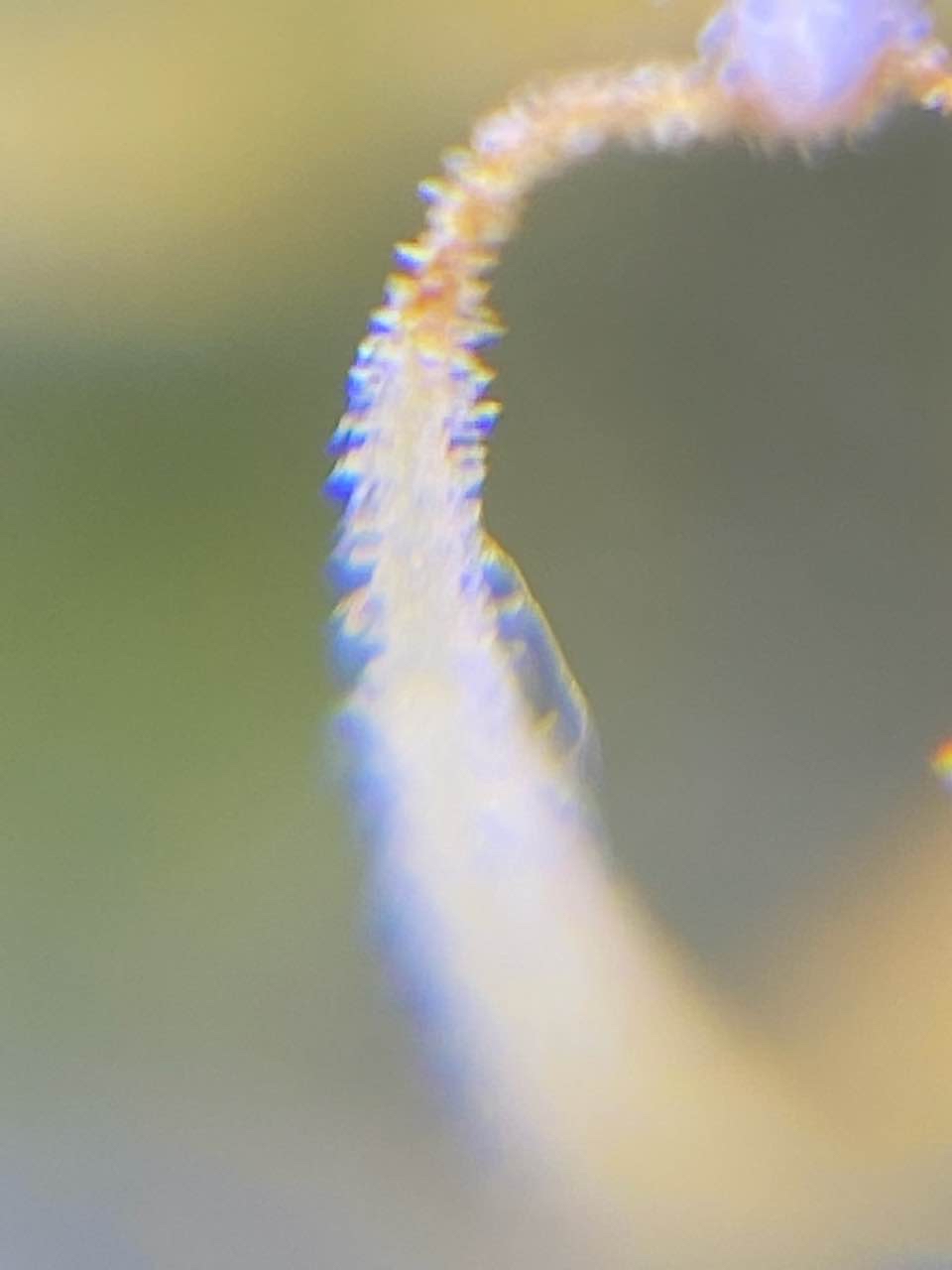 Gave girls full foop feeding 35/35/50 plus cal Mag/hydroguard/ fish shit/rev. For next feeding I will maybe give one more feeding then flush.
a year ago
Have to prop up the colas. They gotta be one the home stretch but still are fattening and getting more frosty so I'm just going to keep watching and keep a close eye for harvest time.
a year ago
Fed all girls 16oz of 30ml Rev/g, 2ml HydroGuard, 2ml CalMag, 3ml Fish Shit, 5ml Big Bud, 5ml Bud Candy, 5ml B-52. Watch all plants for signs of nutrient burn. I adjusted all lights heights so they are at full power (widest spread) with min PpFD 800-1000 and DLI ~65. Watch for signs of light burn as well.
a year ago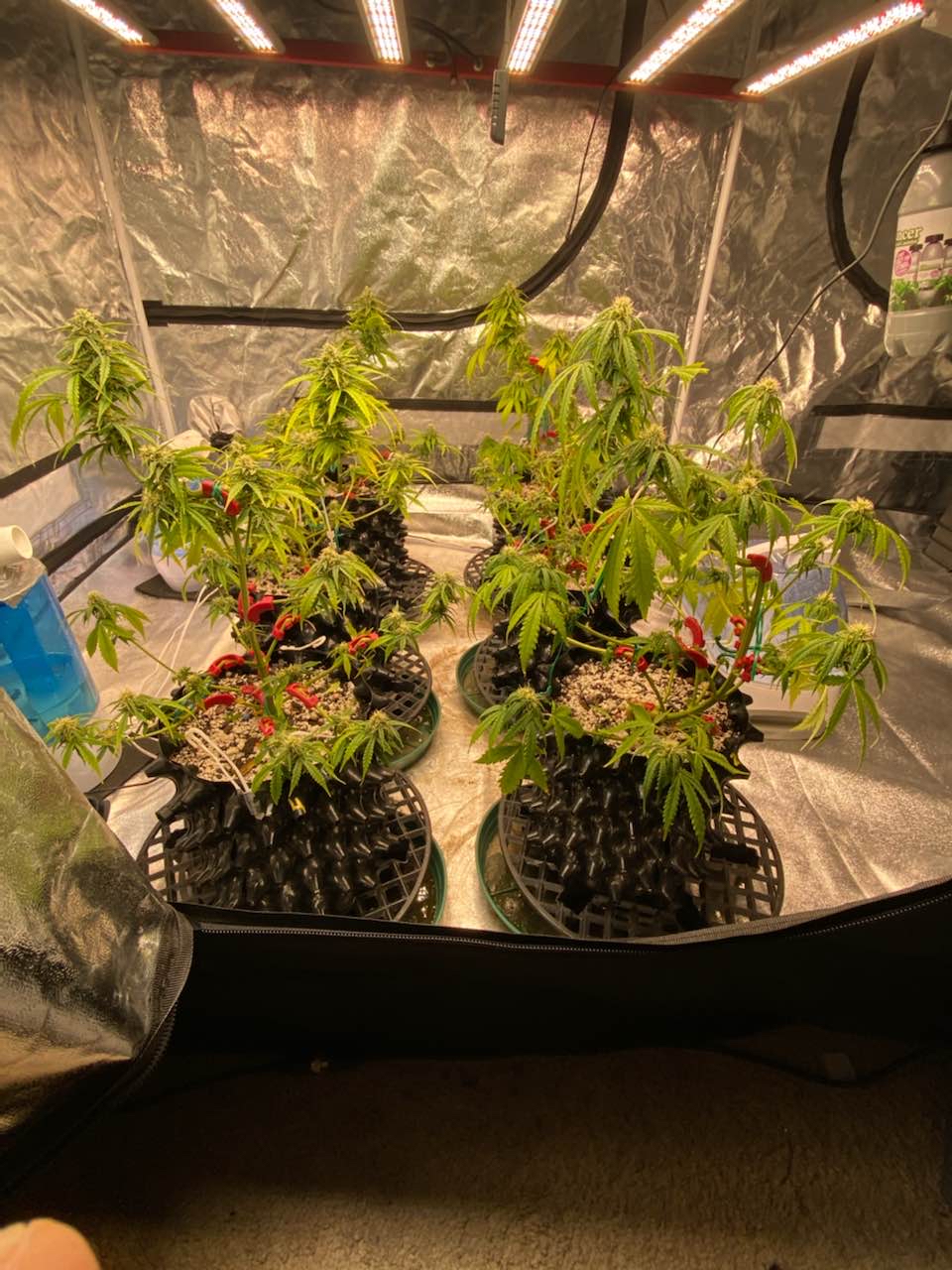 Fed FOOP 50/50/40, Fish Shit 2.5 ml, 2ml Cal/Mag, 2ml Hydroguard, 2ml Big Bud. I'm going to start using the Advanced Nutes with the Rev.
a year ago
jjpooch44 Haha. You're like the fifth person that said that. lol. I wish. That wound be dope af.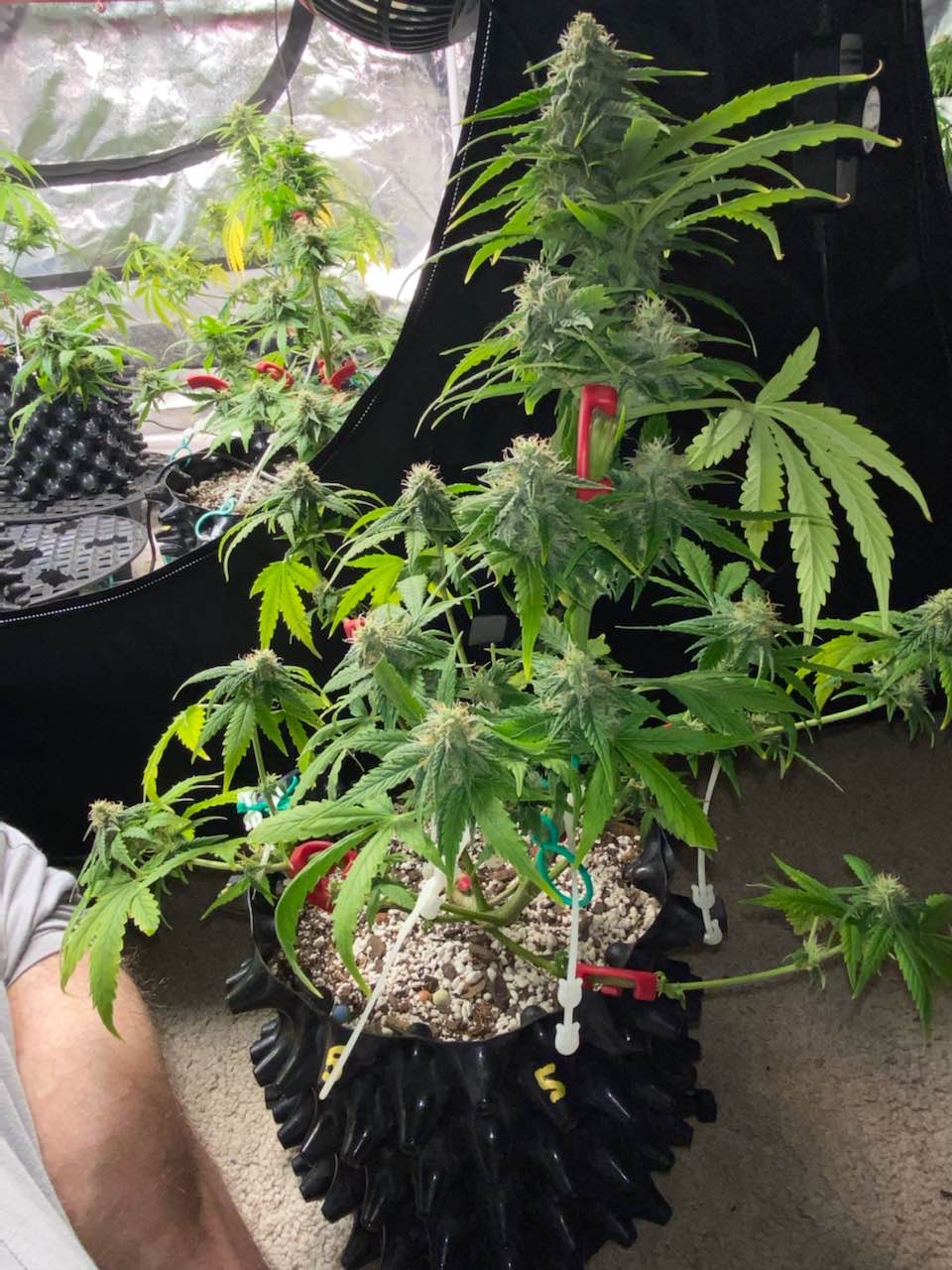 Turned lights down more. Need to find a more even PpFD spread. Fed each plants 20oz of 30ml REV, 2ml Cal/Mag, 2ml Hydroguard, 5ml Fish Shit. Watch for signs of nutrient burn even tho runoff was 6.5.
a year ago
Carambolas far red kick on at 11:30pm and shut off at 12:15am. When I get up today 2/12 I need to take PpFD/DLI and adjust to ~850ish with DLI ~60.
a year ago
Adjusted all PPFDs/DLIs to 800ppfd and 65 DLI. A lot of the girls got light burned but am now seem to be doing a little better. I checked the weight 36hrs after feeding and listed above. Recheck in morning and feed/water depending. Some of the girls didn't seem to drink any water. Others drank a lb. Weigh again in morning and maybe wait one more day before watering.
a year ago
Adjusted light heights and arranged plants to get my light LED readings under control. My DLI and PPFDs were way to high. Adjusted and now must monitor. Fed Foop this morning at Week #2 + 2ml Cal/Mag + 2ml HydroGuard + 2ml Fish Shit. Runoff 6.5. Girls were droopy and appear to have perked up a little but are bleached like crazy.
a year ago
Fed all girls, looking droopy and weighted 3.5lbs. Pots weigh 4.5lbs wet. Gave 20oz each of 40ml/g Rev, 2ml/g Big Bud, 2ml/g Bud Candy, 2ml/g B-52, 3ml/g Fish Shit. Monitor closely for signs of nute burns or lockout. Runoff PH 6.5 First time any synthetics have been added so monitor closely and may need to flush next watering depending.
a year ago
Weighed ~3.5 lbs day after Foop feeding. Tomorrow would be Rev/Fish Shit Feeding. (20oz) tomorrow. Weight pots in morning. Each plant got a heavy defloration for final time today.
a year ago
Fed 20oz each of FOOP Bloom Wk2 + 2ml Cal/Mag + 2ml Hydroguard. Raised humidity back to 53% and temp to 77f to keep VPD below 1.6. Monitor all plants for nute burn as I've been feeding heavy and next days off I want to add other 250w and reverse intake and exhaust fans.
a year ago
Today I'm going to just let girls dry out. 24 hr since water/fish poo. I think I will fresh water feed tomorrow. We will see.
a year ago
Dropped the CHPS to 26" and left LED @ 💯. Check plants after work and watch for signs of light burn and/or bleaching but I think they can handle it.
a year ago
Back two directly under CHPS a little droopy. Watch for overwater. Maybe let dry another day tomorrow.
a year ago
Added a Grsky 250w PRO full Spec LED next to CHPS. Swapped 6" Raxial Fan attached to light to intake instead of exhaust so it is pulling in cold air and is keeping temps perfect. Added CO2 Booster as well because now it is an enclosed system. Fed the girls 21oz each of water, 30ml/g REV, 2ml/g Fish Shit. Should monitor over next 24 hours for temps/nute deficiency/burn/light amounts. Tomorrow they will dry out and on Monday may give pure water depending on looks of plants.
a year ago
Photo shoot after adding LED.
a year ago
Took FOOP feeding Bloom Week 2 on 2/3/22 plus 2ml cal/Mag, plus 2ml hydruguard. Today I'll just let the girls dry out and tomorrow I'll feed water/Rev depending on dampness.
a year ago
Added TNB CO2 enhancer starting today 1/3. Fed the girls 21oz of Foop Bloom Week 2 + 2ml Cal/Mag + 2ml hydroguard. Observe over next 24 hours for signs of nute def/burn. Tomorrow let dry and Saturday will give Water/Rev Combo and maybe some of that "Fish Poo".
a year ago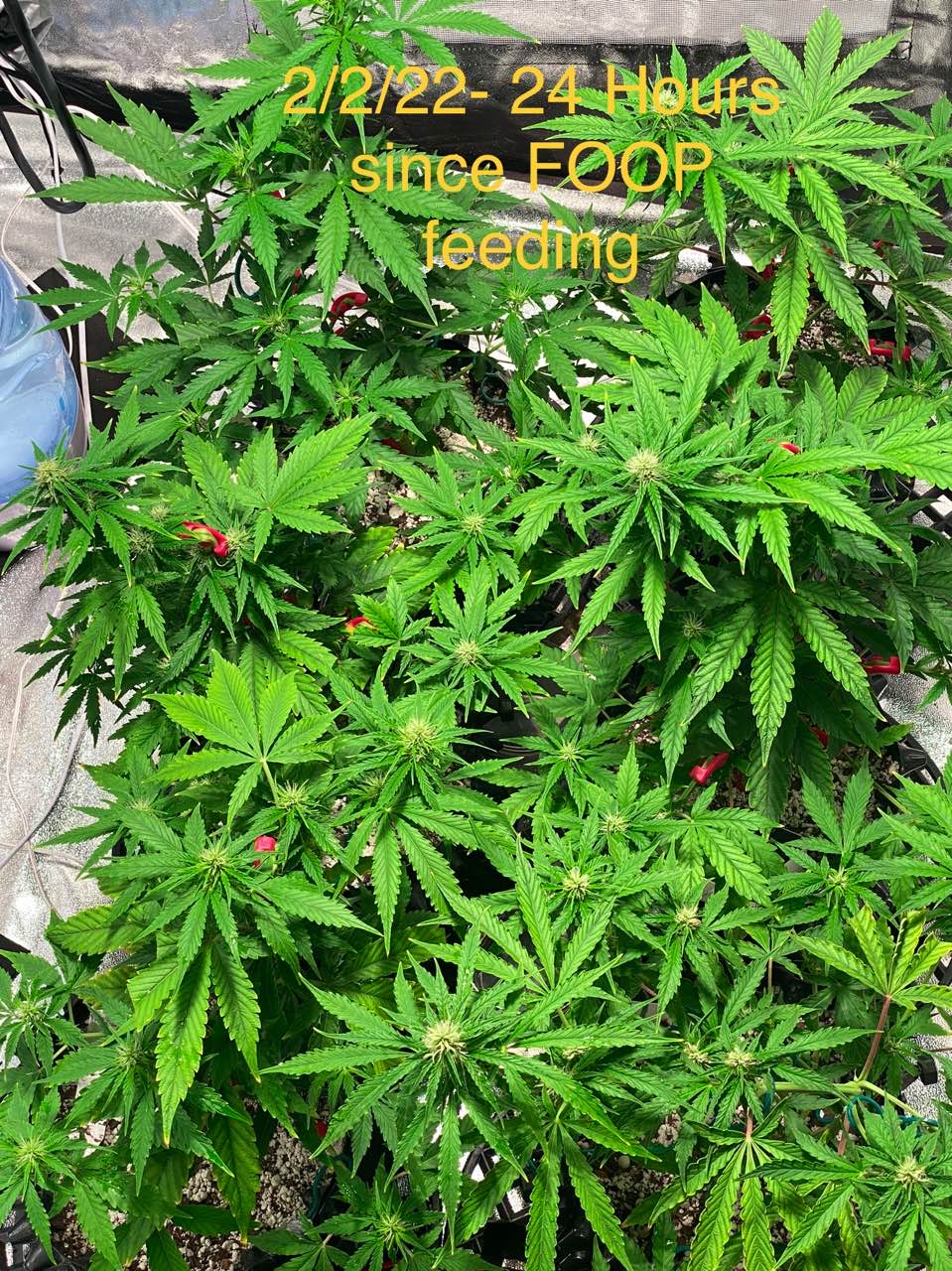 Girls seemed to have handled the feeding yesterday well. I light burned a few fan leaves when I added the 315cmh so need to watch out for that in future. Other than that the girls looks like the took the feeding well and have really sprung to life today. Wondering when and how I should start thinking about defoliation. Today I'm just going to observe and tomorrow I'll water with Rev/H20.
a year ago
Blasted the girls with about 10hrs of CMH during daylight. Tent got too hot. Today I fed each plant 24oz of FOOP Bloom WK#1, Cal/Mag 2.5ml/g and hydroguard 2ml/g and tested runoff at 6.5 ph. Today just let girls dry out and watch for signs of distress (nute burn), may add 250wLED with IR/UV in addition to CHpS but we'll see. Girls look good today, going to let dry out for 48 hrs then give freshwater/rev combo.
a year ago
12 hours since I fed the girls this morning and I feel like they have already grown an 1" since then.
a year ago
Gave each 500ml h20 w/25ml of Rev and plants look like they handled it well. Today am going to let dry out and give FOOP feeding again tomorrow.
a year ago
Yesterday I gave all the girls their first trimmings and chooped the underbrush out and added a few more clips. Today gave 500ml of water with 25ml REV/g. Still looks like 500ml is little too much but we will see.
a year ago
48 since LsT and FOOP flower feeding and Rev. Topped each pot with 1-2" of fresh FF Ocean Blend. Going to just observe today and perhaps Rev feed tomorrow.
a year ago
1 minute after lights out and 7 hours after first lst and feeding and these girls have exploded like a mf.
a year ago
Gave each girl 500ml of Bloom Wk 1 with 2.5ml of Cal/Mag per gallon. Was first Bloom feeding so monitor closely for signs of nute burn/def as well as each plant was clipped with LST clips and some stems were broken so monitor those closely as well. Fingers crossed 🤞 that the girls are pointing toward lights by mornin. Observe closely over next 48 hours. These next 2-3 days will be critical. Girls were definitely thirsty/hungry. Last 6 pics are right before feeding m/watering and look at how droopy even compared to few hours later.
a year ago
Yesterday I have Rev/Cal-Mag combo and foliar spray night before for all essential micros. Tomorrow I will top fill and give a week 1 Flower Blend.
a year ago
Preparing for soil topping and first bloom feeding on Thursday. Gave each plant liquid Rev/Hydroguard and CAL/MAG foliar spray to provide all the micros for first full Bloom feeding on Thursday.
a year ago
Gave the girls 250ml of pure water for second time in a row to prep for first Bloom Foop Feeding next watering. Hit with FOOP foliar spray Needs to be top dressed next day off. Still need bigger humidifier. Explosive growth.
a year ago
Yesterday moved girls under CHPS and flushed with 250ml pure water. Girls have explosive growth under CHPS for one night. Going to let dry out today and reassess tonight. Maybe FOOP foliar, maybe not.
a year ago
Finally have the girls in the 4'x8'. I believe I'm going to need to get a bigger humidifier to accommodate such a large room. Temps seems to be holding good. Light at 36". Monitor leave temps, VPD, and if by morning R/H is still low I may need to add second humidifier until I can get larger one.
a year ago
Girls were looking a little droopy and probably hungry. Fed final FOOP VEG 3 mix, next feeding will be Bloom 1. Tested runoff PH @ 6.2 and PPMs at 1340?so just monitor plants for signs of nutrient burn or lockout during transition. Leaf temp still around 83f on high side. Moving them to bigger tent in 48hrs under CHpS. Just monitor for after feeding effects tonight.
a year ago
Gave girls Cal/Mag Watering (250ml) last night and (250ml) Foop Feeding 48 hours before. Tonight I will give Rev/Hydroguard foliar spray at lights out.
a year ago
Fed the girls this morning 250ml of FOOP Veg Week 3 mix and all plants are looking awesome. I think today may be day 1 of flower. Lowered humidity to 58% and temp 77f.
a year ago
Gave the girls 250ml of water with 5mg Cal/Mag. Keep eye on water level and nutrients burn. Girls have definitely entered day 1 of flower I'd say.
a year ago
Room temp has been a little low while leaf temp has been high. Dropped R/H to 58% and temp to 78f and closed flaps to tent. Fed the girls foliar cal Mag before lights out last night and then gave them their first Week 3 Veg FOOP mix. 250ml each @ 40ml veg canna 1/2 + 15ml Sweetner. Fingers crossed didn't overdue it with the nutes. Monitor closely for signs of nute burn over next few days. Some of the girls are beginning to flower slightly.
a year ago
Girls were looking extra droopy this morning so checked leave temp and it was 78f. Too high. Moved light to 18" from canopy and adjusted to 100% keeping PpFD ~600. R/H 63. Temp 75.5f. Leaf temp was 78@ 16". Adjusted now to 73f. Reassess after work.
a year ago
Girls have perked up and are looking better. They are outgrowing this tent and need to be moved on Thursday. Today I'm going to just leave them alone and keep monitoring VPD. Lowered R/H to 60%. Got VpD within acceptable range. Keep monitoring and check leaf temps. Tomorrow morning they need feeding and water.
a year ago
Drenched all plants in Rev/Hydroguard foliar spray at lights out and turned up light to ~650-750ppfd. Girls got minor trimming yesterday so today I'm going to leave alone completely. Gonna try to finish setting up tent today and get these girls under the CMH.
a year ago
Moving to new tent and CMH tomorrow and wanted to wait to water until tomorrow so I could feed but humidifier has been malfunctioning and plants were very dry so we're given 250ml of pure water and sprayed with FOOP foliar. Keep eye on humidifier and cross fingers.
a year ago
Girls were looking a little droopy this morning and felt very dry. Gave each 250ml of pure water each. Tested runoff at 6.5ph. Tried to open up some of the new growth a little by some minor strategic trimming and rotated each pot 180 degrees. Need to let dry out and potential foop foliar tomorrow.
a year ago
Morning after first trim and heavy watering of pure h20 and rotating pots 180 degrees. All girls are looking perky and happy. Going to Foliar Spray (Rev&hydro guard or FOOP, haven't decided yet.) will reassess at lights out.
a year ago
Girls are lookin a little droopy today. Gave each 250ml of pure water and will hit with Foop Foliar at lights out. Turned root fan on high to help dry these girls out a little. NO WATER FOR 3 DAYS!!
a year ago
Adjusted my lights based off my best plants. PpFD @ 650~@18" with a DLI of approximately 40. Gave 150ml H2O w/Cal/Mag @5ml/g yesterday and today am just going to continue to let dry out and maybe hit with Foop Foliar Tomorrow before lights out. Still readjusting light PpFD. Took leave temp at 10pm with other thermometer and it was 77f so check with that thermometer in morning.
a year ago
Plants are looking strong. Still working out kinks with overnight humidity. Fungus gnats problem seems to have gone after letting soil dry and adding fan at roots. Rotated pots to prevent leave overlap. Turned up PPFDs to 650 average @18". Leave temp is still low at 72f so I've adjusted R/H to 61% for now until I can raise temp in order to keep proper VPD. Will water with 1/4 spray bottle each with a 5ml/gallon Cal/Mag feeder mix.
a year ago
Moved 2x4 tent and setup frame for 4x8. Would like to have them in new tent within 72 hours. Gave each girl 150ml of 5ml Cal-Mag/gal feeding and plants are looking strong. Tomorrow dry out and potential foliar spray. See what they look like in 24 hours.
a year ago
Girls are looking strong after yesterdays feeding. Adding fan around roots appears to have helped fungus gnats problem but is also going to dry soil faster. Plants looking really good, some leaves are starting to overlap so I need to adjust pots/clios to spread and need to get moved to 8x4 asap. Today just going to let dry and grow. Everything in good range and lights at 550-650ppfd @ 18".
a year ago
Fed 1/4 spray bottle of foop veg week 1 mix. Also lowered the PPFD to 500 to get my DLI to ~37 which is very high but these are autos. Need to work on dialing that in. Still having trouble getting leaf temp warm enough although ambient holds at 77f leave temp is still 71|73f. Still battling the fungus gnats which I'm sure will be worse after this feeding. Maybe need to bottom feed going forward if roots are long enough. Would be good for prep for Autopot system anyways. Keep an eye on plants next few days to look for nutrient imbalances/burns and continue to monitor the PpFD/DLI and adjust accordingly. Watch the fungus gnats as well as soil dampness and VPD.
a year ago
Girls are looking excellent 12 hours after FOOP VEG Week 1 Mix @ 1/4 spray bottle per plant. (60ml). Leave temp is still around 73f @ ~550ppfd @ 18" (20/4 schedule with DLI of 38). Dropped R/H to 63%, ambient 77f and leave temp ~73f keeping VPD in acceptable range. Added weak fan on low to blow air around bottom of pots to help dry out soil and get rid of fungus gnats and provide extra oxygen to roots. Watch in morning for any color change and let dry out and next watering apply foliar or feed Cal-Mag depending.
a year ago
First day since LST clips applied and my 6 survivors are looking good so far. Thinking of waiting one more day to feed/water.
a year ago
Everything was looking great. Have nothing just left alone to work on getting rid of bugs. Thinking of applying LST clips tonight.
a year ago
Killed one of my favorite plants by snapping clean in half while applying clips. Might be too young. Rootball is looking much stronger and healthier and white.
a year ago
Girls are looking good today. Still having slight problems getting leaf temp higher than 73f and noticed a few tiny flying bugs that look like fruit flies. Going to keep an eye on both. If I can't get the leave temperature high enough I'm going to have to drop the humidity 5%. Will reassess tonight. Next watering I will give the girls the FOOP Veg mix. Soil is still moist so today I'm going to just let them dry out and watch the temp/bugs. My DLI is still around ~40 but am still giving plants 20hours of light. PpFD and DLI are higher than recommended but since they are Autos I'm guessing ~20% increase in PpFD/DLI may be ok. Will keep eye on it.
a year ago
Gave the girls about 8 second squeeze of bottle of straight pure water around the stem and root ball. Should hold until next feeding where I will give FOOP Veg Week 1 Mix. Turned down light to 80%@18" to ~550 PpFD. Was previously at around 700-800 and seemed a little too intense even tho leave temp was only 68f. Need a way to get leaves warmer. Either lower light and intensity or maybe raise light and intensity. Need to get leaves warmer.
a year ago
Yesterday I gave each about 40ml pure water and cal-Mag foliar spray @ 5ml/gal. Thinking about how I can open these up with a little LST. Today I will give them nothing and tomorrow I will follow with a FOOP VEG week 1 mix.
a year ago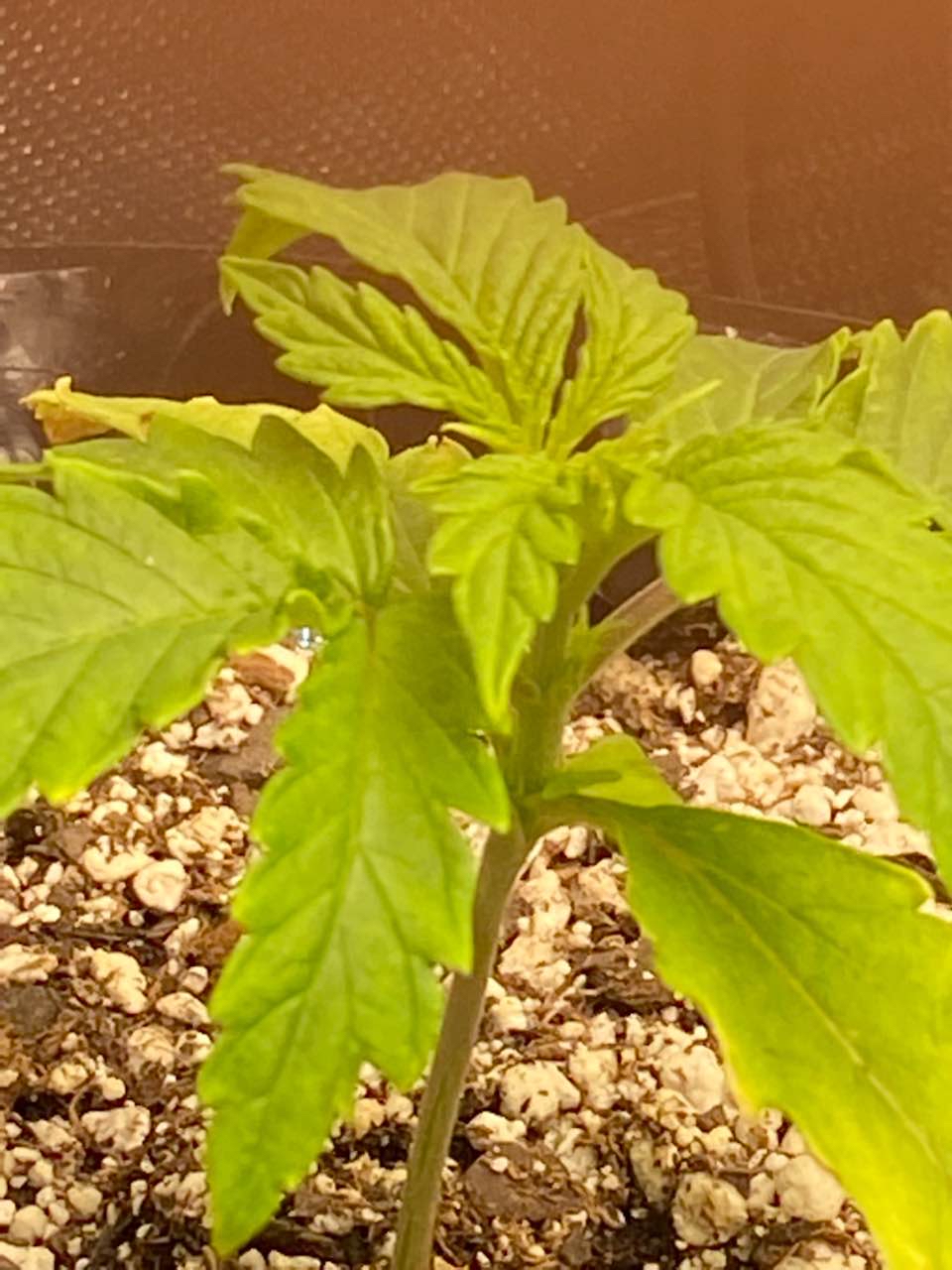 Been 48 hours since first feeding and girls seemed to tolerate the FOOP Veg week 1 combo. Watered until runoff, tested runoff at 6.5 ph. Yesterday, I spritzed each plant with the FOOP Cal-Mag foliar spray and have them on a 20/4 light schedule. I dropped the PL-2000 to 18" and centered in the tent and removed the 100w Cob Cree. Pl-2000 is now at 18" and 100% power giving each plant approximately 650-750 PpFD. Vpd is good. (See Chart). Today I'm going to let plants dry out and tomorrow give each plant about 20mls of nutrient solution applied at base of stem. Plants are only 3" tall but working on 4th Node. Going to reassess in the morning and feed if necessary and then 3ml Cal-Mag on off days. Today I'm going to just let them dry out. Depending on looks in morning I may give pure water or nutrient solution. See what they look like in the morning.
a year ago
Girls are looking sad. Plants have been drying out last cpl days since transplant and today got first feeding. They got one full gallon of water with 20ml Canna Veg 1/20ml Canna Veg 2 and 5ml canna sweetner by FOOP. Soaked each pot all the way through. Tested runoff at 6.5 ph. PpFD 500. Lights still @24/0. May give 4 hours of sleep today depending on how they look at night tonight after initial feeding. Fingers crossed.
a year ago
12 hours since getting their first FOOP VEG WEEK 1 Combo and heavy watering. Plants look like they are perking up a little. Be careful with clip fans that they don't blow directly on your babies too powerfully. Am going to keep 24/0 for one more day for one more today. Tomorrow I'm going to give them some sleep. Next time keep air flow consistent and constant but not too powerful directly on your girls leaves. Vpd is perfect. Temp 77* ph runoff was 6.5. I aligned the Cree with the PL-2000@ about 18". PpFD is about 550-600. Reassess again in the morning.
a year ago
Been a full 24 hours since girls were transplanted. Gave each plant 2 light spritzes of FOOP foliar spray and will need to give them a veg 1 plus sweetener or advanced nutes for next watering. Still under 24. Tomorrow I will give themv4 hours of sleep. VPD still acceptable. Fingers crossed.
a year ago
Definitely germinating in 3 gallon pot next time. Tomorrow I'm going to assess the looks of plants and am thinking of giving first Week 1 Veg Canna 1 Foop Nutrients and sweetner. Will reassess in morning. Definitely looking yellow.
a year ago
First 12 hours in their new homes. Soil is already dry feeling but am going to let dry out for day or 2. Turned on intake fan 1/2 power to keep fresh air flowing around root pots and plants look like they are adapting so far. Still on 24hr lights but thinking of cutting it to 20/4 after today. No nutes given, still under PL-2000/50w full spectrum Cree cob. Ppfd ~ 500 u/mol. Leaf temp 73*f. VPD ~ .70
a year ago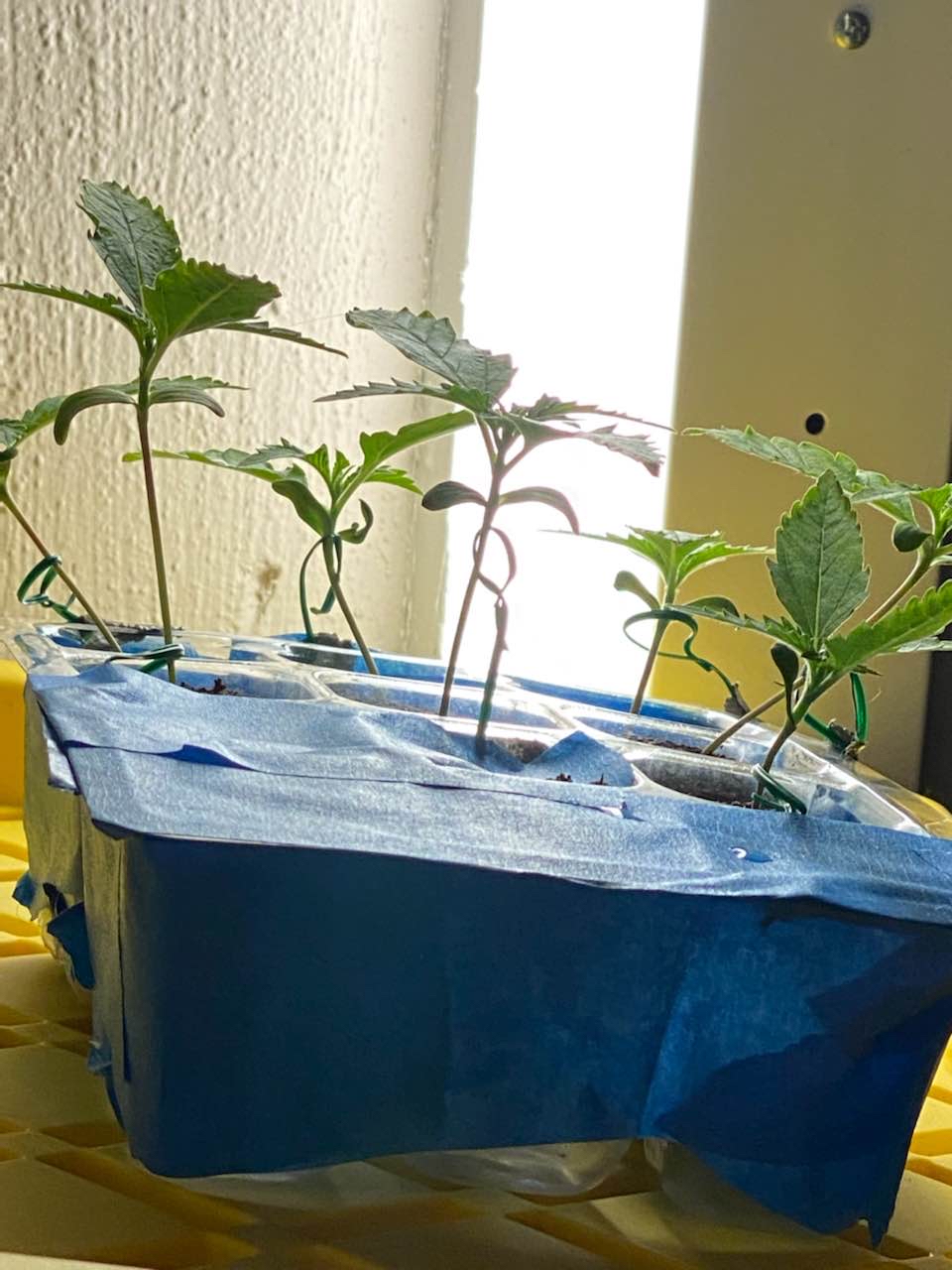 Must transplant in the morning. Gave plants small doses of 1ml Cal Mag/G during waterings. People are saying NEVER USE CLEAR CONTAINERS, THESE HAVE BEEN OVERWATERED PROB CAUSING LACK OF NUTES, and next time must use different light. Also started to tie stems down slightly to start LST.
a year ago
Finally transplanted to 3gallon root pots with half perlite/fox farm ocean blend and a little mycelium around root base. Roots were underdeveloped but now should have room to grow. The next 72 hours with be crucial for these girls survival. Under Philzon PL200w full spectrum led with single additional cob Cree 50w full spectrum. Have PL @ 18" and 500Ppfd on each plant for 24/0 for now and reassess tomorrow. Fingers crossed.
a year ago
Added 1ml Cal Mag/Gallon and have been using as foliar spray yesterday. Today added 1/2 ml REV to the foliar spray and gave the leaves and pellets a spritz. Fingers crossed.
a year ago
Am concerned with minor yellowing and some other minor discoloration. Looks like potential light burn so I turned off fhe 50w Cree and dropped the light 4 inches to 28". Am worried root ball had been too wet so am leaving tray dry overnight to see what happens by morning.
a year ago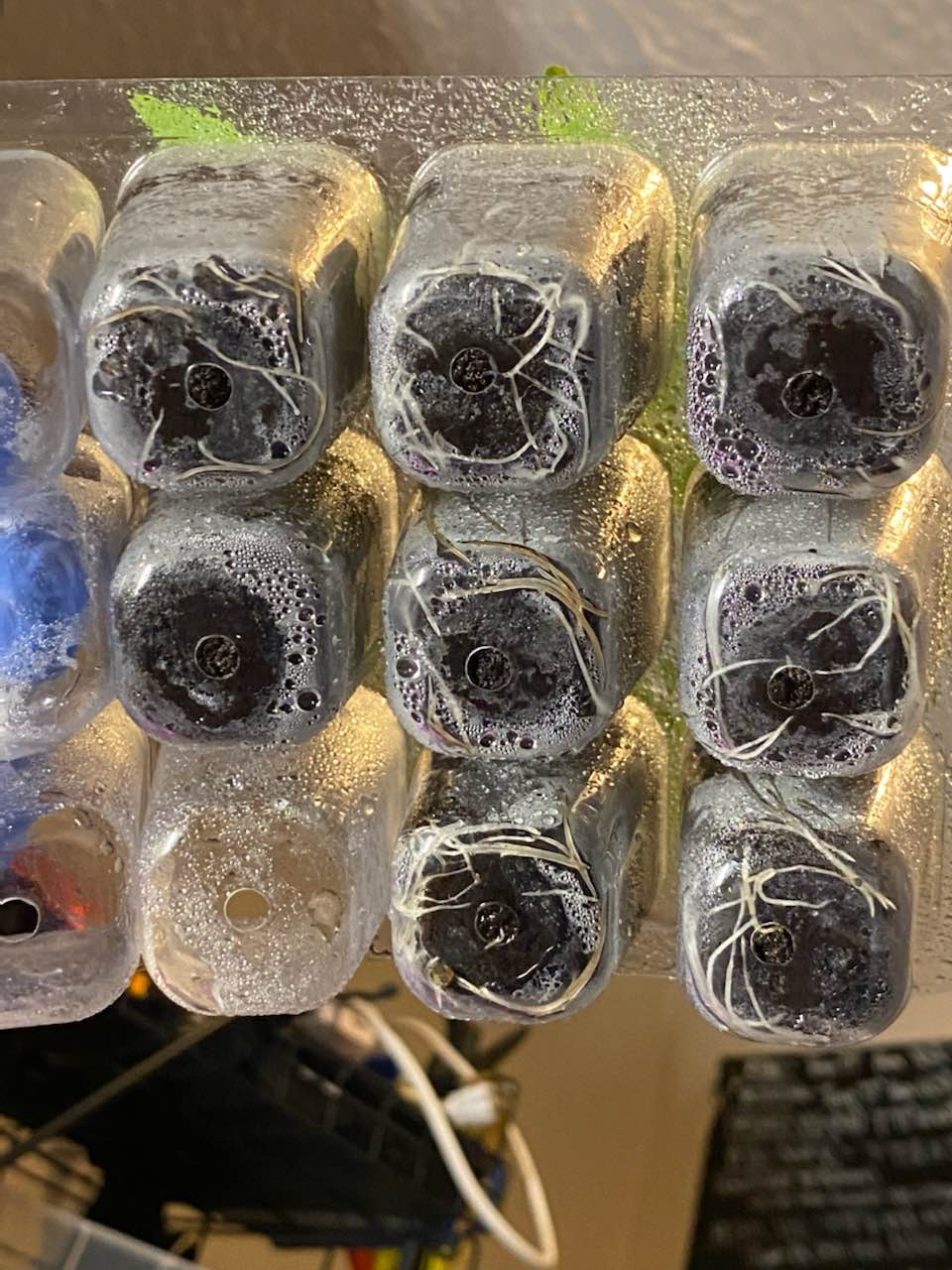 Concerned that the Philzon 100w LED with the 50w Cree Cob full spectrum maybe be to much at full power even at 30". I believe my tallest seedlings are either suffering light burn or early nute deficiency because of the Autos tenacious appetite so I also added 2ml of Cal Mag to a gallon I'm using for feeding and foliar spray right now and I'll recheck in 48 hours to see if the canoeing and brownies tips and yellowing are getting better. Fingers crossed. 3 more day until transplant.
a year ago
7 girls looking healthy. Need to repot to 3 gallon root pot in ~5 days for VEG. Philzon 100w Cobb Cree still at 38" from canopy and canopy temp is 77*f. Maybe begin gradually lowering light in upcoming days before repot.
a year ago
My biggest girls are looking a little yellowish and I can see tiny browning at tips. I believe I have been keeping rootn zone too moist. Going to try to harden and dry out try a little and stop daily watering. Could also be light burn but leave temp is only 76.7*f. Almost looks like mute deficiency.
a year ago
What a difference 12 hours makes. End of day 5 and I just wanted to check the root situation for the first time and can see almost all 7 have reached bottom of peat pellet and some of my stronger are already looking good. May need to transplant to larger container sooner than I thought.
a year ago
7/8 viable plants. 🌱 Would have went 8 for 8 if thermometer didn't break one. 😢
a year ago
Broke one but others look good so far
a year ago
jjpooch44 Once sprouted turn on the full 100w Philzon Cobb Cree.
Starting to sprout
a year ago
Root Riot Cubes dipped in mycelium
a year ago
jjpooch44 One used 50w full spectrum Cobb Cree bulb until germinated.