forum stomper auto #2 hurrican Ida survivor edition
July 2021
5 gallon bags with mix of ffof and HF with sunshine soil on top. Plain water.
Made some dry ice hash/kief from the trim I had left over. Question, can I use the dry ice that is no longer needed to put in my grow tent and dissolve in there?
2 years ago
8oz total yield after drying. I'm ok with that
2 years ago
I don't wanna wait for my life to be over I have to try this uncured bud right now. I know I will choke and my throat will be over but I have to know right now will it rip….dododododo
2 years ago
You can rest now and dry
2 years ago
Harvest tomorrow here's what it says about darkness first for you Peng-Darkness helps marijuana plants replenish THC and terpenes. During the day, THC partly degrades and terpenes partly evaporate. So the best time for harvest is early morning. And if you extend the night before the harvest to at least 2 days, you can (arguably) get more flavorful and potent buds.
2 years ago
She woke up like this. All droopy and sick looking. She's ready to harvest should I just go ahead and harvest her? Is this natural death?
2 years ago
Watered with recharge and molasses. Maybe another 10 days max.
2 years ago
Terrible trich pics taken by me. Get yours while I'm hot.
2 years ago
No amber trichs yet but having a hard time getting quality pics with the loupe. Hopefully the new microscope will be decent
2 years ago
Nothing to say. Trichomes turning cloudy so I say that. Will I want to smoke this?
2 years ago
She's still alive. Not happy about it I figure and me neither. She will be recognized for outstanding hurricane Ida
2 years ago
She aight I guess. Pretty impressed she's still doing stuff.
2 years ago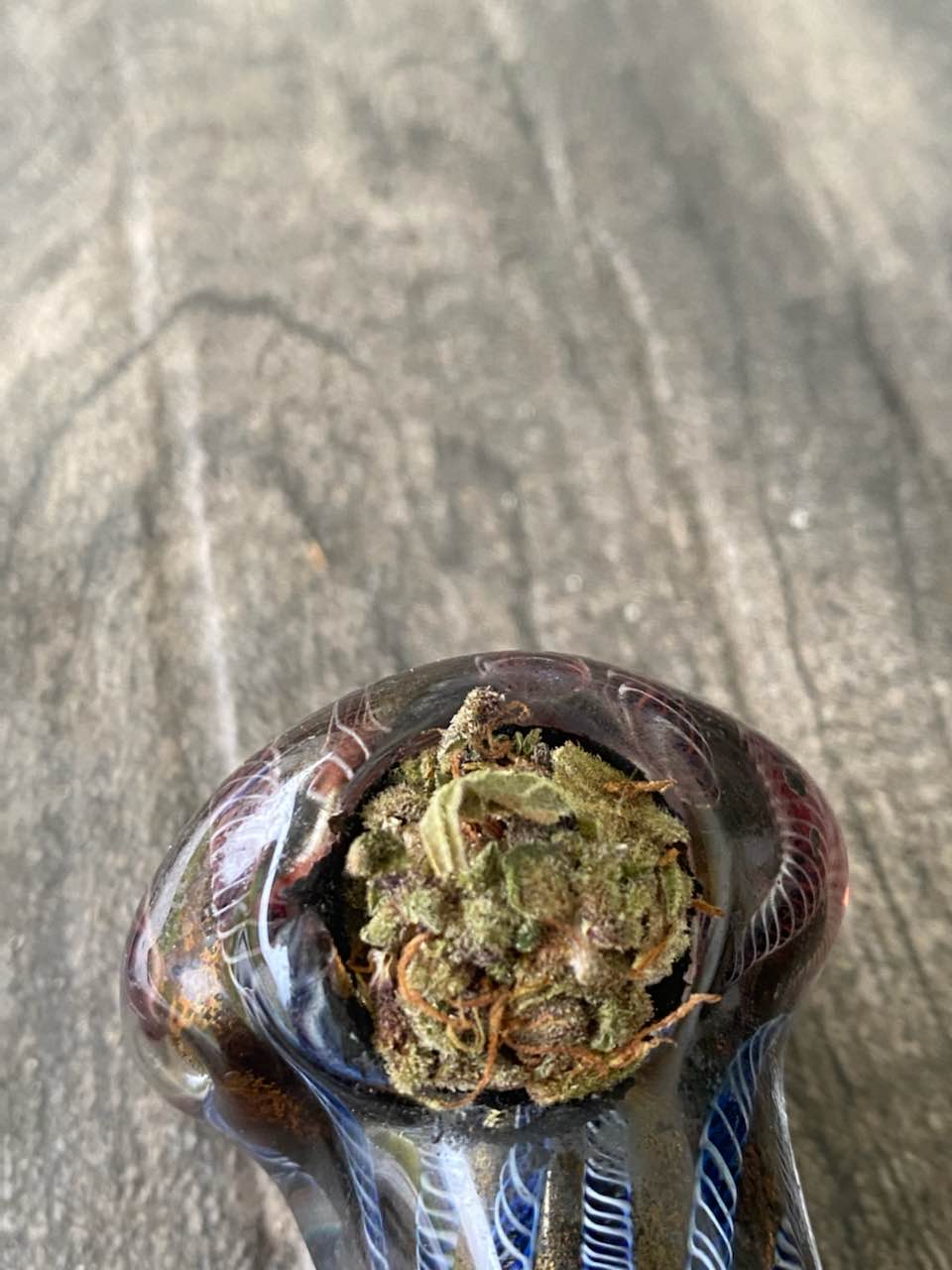 Off work very early so I'm headed to a local hydroponics shop I've never been to. Everything I've ordered on Amazon is taking extra long to arrive bc of that fn hurricane Ida, still cleaning up her slime trail. 🤞this place has goods or is actually open. Side note my piece is ugly
2 years ago
The fan just blew this guy off her. Seems harmless but that's probably what it wants me to think. Any ideas gromies?
2 years ago
Seems a tiny bit happier today. I realised the weird smell was not coming from the soil but from the C02 thing hanging from the top of tent. Phew
2 years ago
Peng I hate weird smells you can't locate and it does your nut like there is ROT somewhere 🤯 til you do and find out it's something normal and calm
It feels like she could die before she finishes (the smaller one), I'm telling her to stay with us
2 years ago
Added OF and EWC to top soil and watered with PH'ed water with kelp and molasses. Hoping she makes something out of herself but not expecting much considering
2 years ago
Peng I haven't got much to say about the plants, but that woolen dog is everything right now.
Herban That's Gram, he's our boy. I love dogs as much as weed maybe more but they certainly don't mix.
Peng That is a perfect name for a woolen weed dog, I'm high and well on a level with Gram.
View 4 additional comments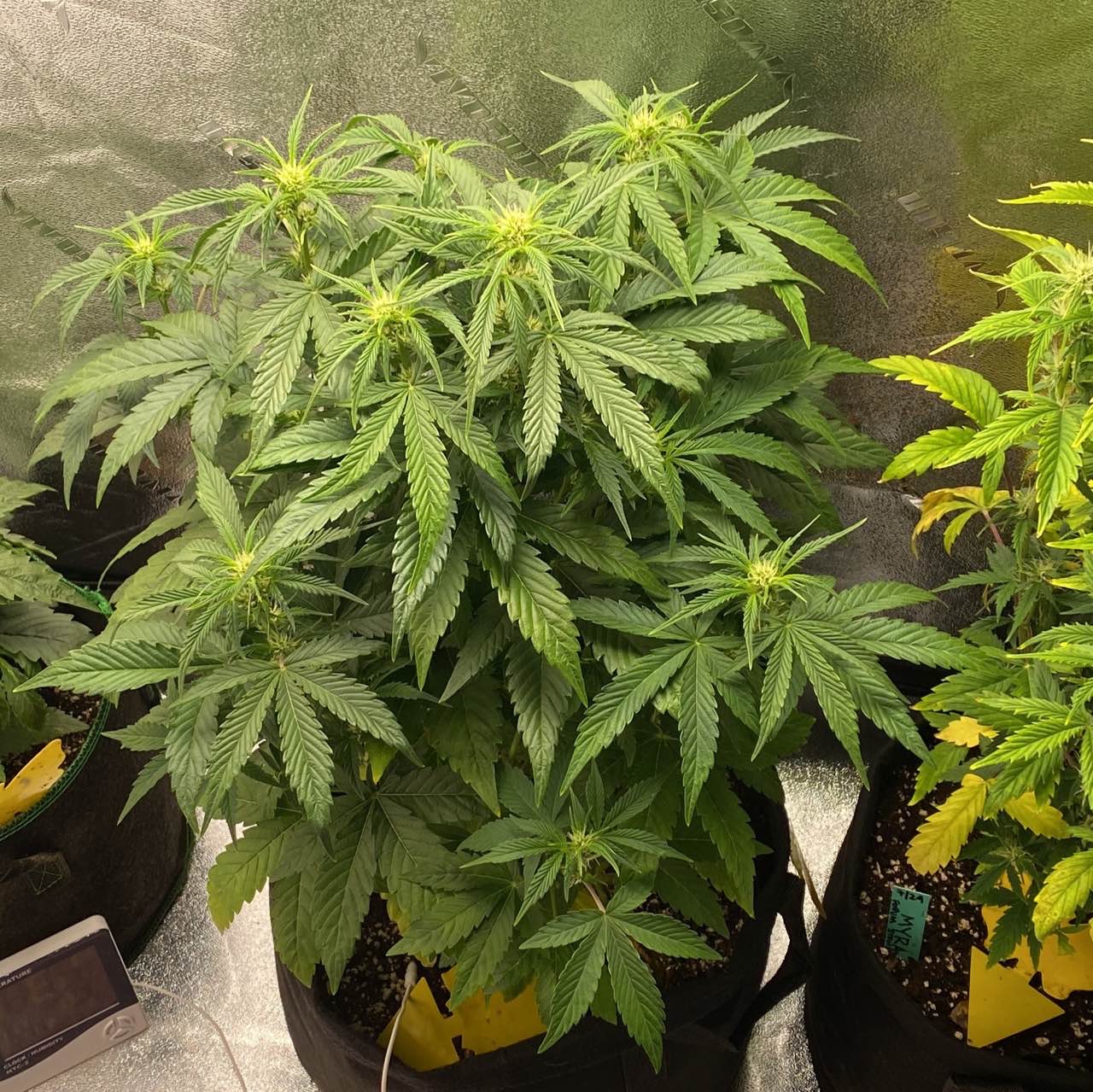 She looks good to me. I'm getting nervous since this tropical shit is looking like a hurricane coming for us. 👎
2 years ago
She seems happiest of the group. She gets plant of the day award. Looks like. Storms a brewin in the gulf. We almost made it out the woods until now....wait n see game
2 years ago
Peng Pick of the litter 👌🏻😎
Doing ok recharge and molasses yesterday
2 years ago
Same bugs same tent. 🤨 plants seem ok but more sticky traps going up
2 years ago
Getting close to her sisters height even tho they're 6 days apart
2 years ago
day of watering looking healthy
2 years ago
Looking more cheerful
2 years ago
Added some bio bizz soil to the top and Fed 1 gall water/1 ml molasses ph'ed to 6.2 with organic lemon 🍋
2 years ago
Bit wind chapped from fan moved her away she seems upper, uppity but in a good plant way
2 years ago
How come she has leaves on one side but not the other? Have they just not come in yet?
2 years ago
She's just blah
2 years ago
Meh 😕 she woke up like this
2 years ago
Sevenleafs 72% humidity? Isn't that too much? I thought we should keep it at around 60 at most..
Herban It's temporarily up after I open the tent. it'll fall back to 50% after a minute with the tent door half open
Watered no molasses
2 years ago
Watered have a lil of the molasses water to her too
2 years ago
She's kinda leaning wit it not in a good rock wit it way tho
2 years ago
She chose her own name
2 years ago
Spring water yesterday
2 years ago
Spring water 💦
2 years ago
Herban Thanks Power, same! Also same to you as well gromie!
she's got good bones
2 years ago
Well hello! You good or you need help with that helmet?
2 years ago
power of the flower The helmet will fall off, don't worry it's a plant it wants to grow but when she's ready the leafs will pop it off.
Herban You're right! Totally popped off this morning and she's an I-n-d-e-p-e-n😂
putting her a 5 gal bag today. She will be lil schmoopy that I pamper to see if she does better than the others. Wondering if using a higher pH water like a pH 9 to help neutralize the hotness of the FF soil? I guess I'll find out soon.
2 years ago