hman2853
Indoor #3 White Widow Auto DWC
Summer 2019
In a 33x33x60 inch tent. HLG 65 veg and HLG Elite 360 for flower
3.77 ounces yield from this one plant. also my first grow. success!
3 years ago
CBD I call that success!! Congratulations. Let us know how she smokes
Harvest! Main cola
3 years ago
Flushing now.
3 years ago
Getting close
3 years ago
Really looking good now!
3 years ago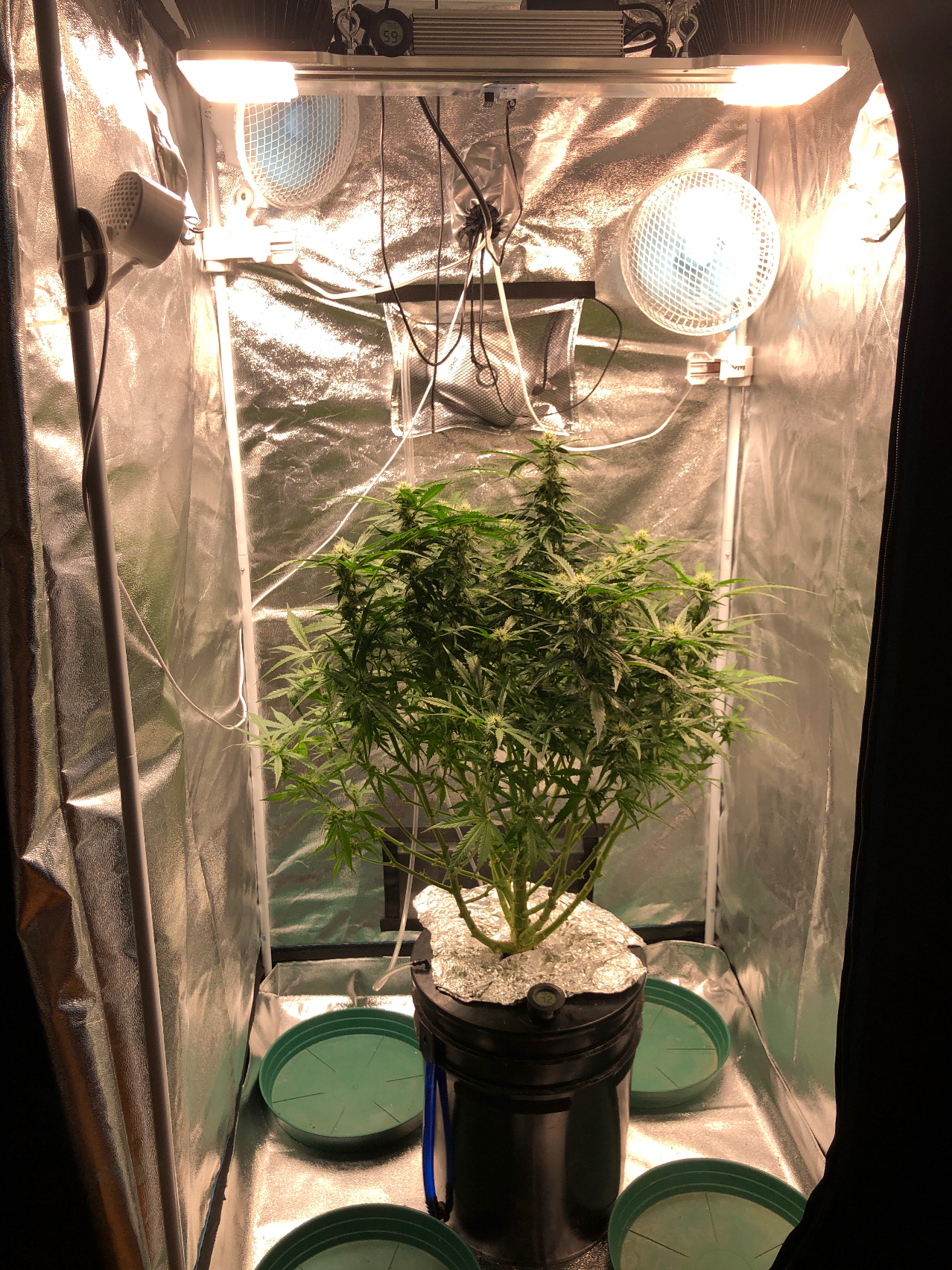 Watered the other plants today so here is a clear shot of the DWC mid flower. Everything is stacking up and super sticky, I can tell this is gonna be dank bud!
3 years ago
Gettin frosty...Heat stress is only issue but isn't too bad only affecting a few top leaves
3 years ago
Upper sugar leaves began racking a few days ago. Nothing too bad, I think plant has grown too close to the lights... 16 inches under an HLG elite 360. Defoliated today, buds are forming well
3 years ago
Growing! Defoliated a few days ago. First brown hairs spotted today
3 years ago
Bud party goin down!
3 years ago
Tent update. DWC (this grow) is in the middle surrounded by some nature's living soil 2 gallon smart pots. 5 plants in this photo: center and front two corners are all white widow auto, back left is Amnesia haze auto and back right is northern lights auto. All from ILGM
3 years ago
Ok I am continuing to defoliate. It's growing good!
3 years ago
Drinkin lots of water now. Pretty much abandoned all training plans and just going to let it go while keeping it pruned
3 years ago
Big defoliation yesterday
3 years ago
Side branches finally coming out. You can barely tell it was defoliated a week ago. It's about 8 inches tall at this point
3 years ago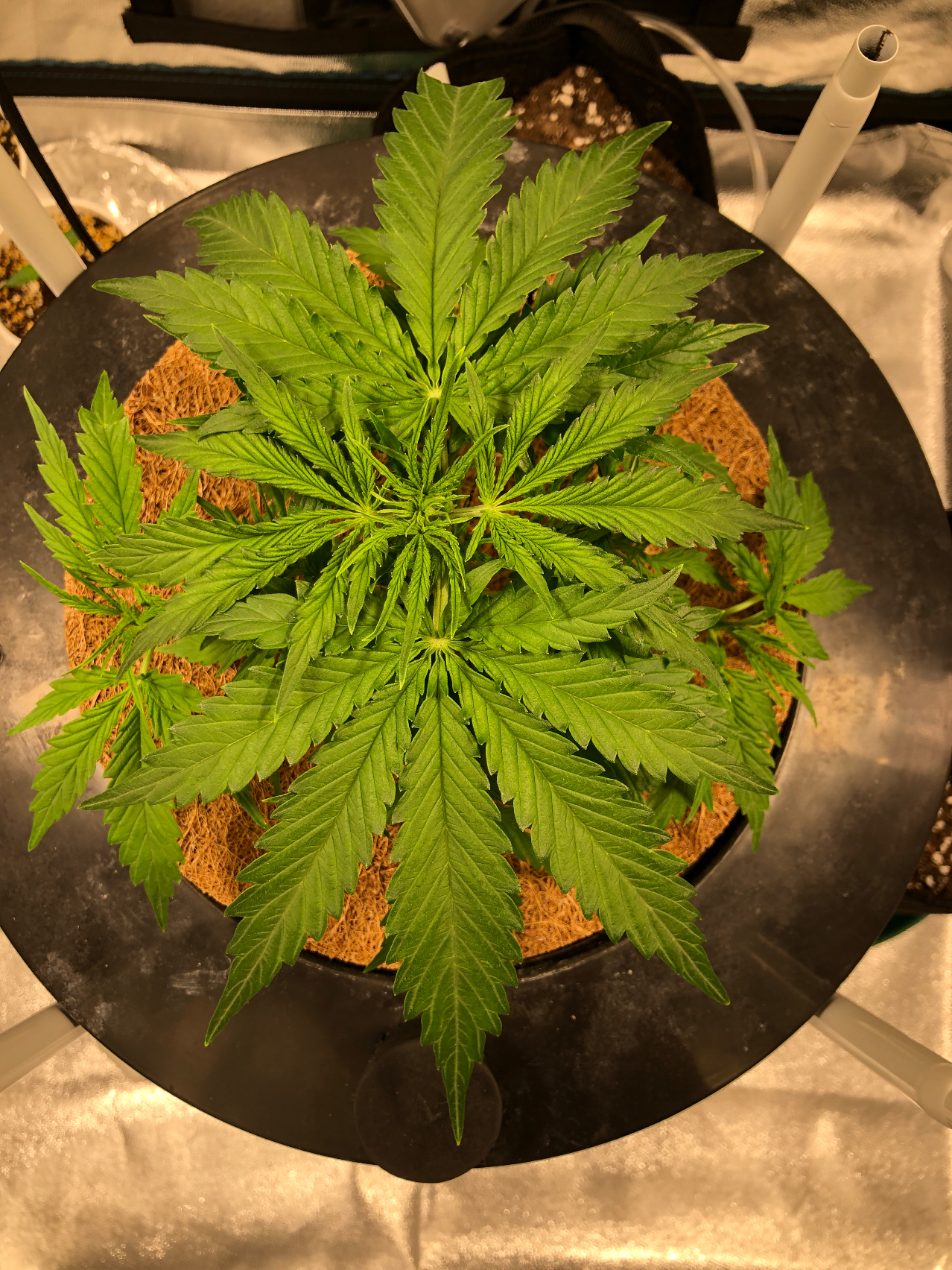 Flowering. All the bud sites were getting blocked by fan leaves so we did an intense defoliation over the last three days and added the Scrog in.
3 years ago
Added 1 inch air gap yesterday, another dose of hydroguard the day before. Growing...
3 years ago
Rez change today. Turning into a monster. Trimmed 2nd node off as it was way down in the bucket not getting light. 1st and 2nd node gone, going to LST it under a scrogger screen now
3 years ago
Growing faster
3 years ago
We have liftoff. Multiple roots are in the water. Growth has become rapid. Hopefully we can keep it up and everything's stable!
3 years ago
One week old today. We have one root in the DWC water. Just fed 15ml of micro, grow, bloom, voodoo juice and b52. Also fed 8ml of hydroguard and 4ml radix and a 1/2 tsp of great white If this works and the plant gets going we will keep the DWC alive. Otherwise I'm pulling it and running 4x 2 gallon super soil in my tent
3 years ago
Hman2853 I'm running a 4 gallon reservoir in the 5 gallon DWC bucket. Just FYI for those mixing nutrients - i used advanced nutrients calc and 1/2'd the doses for this week
Checked roots, there are some long ones, several going down and a few going out to the sides. Raised water level to where the roots should be in the water now. Ph is 5.5 rising to 6 each day
4 years ago
Looking much better overnight. Was running very light nutrients but seedling did not like it. Flushed to ph'd distilled water about 18 hours ago and plant looks to be back on track. Used aluminum foil to divert water near root system.
4 years ago
Just popped overnight. Into the DWC she goes
4 years ago
Agar After it sprouted did you put it into the dwc immediately?
Hman2853 Yes and it took about 5-7 days to get going. Look through my pics and comments here. Doing it again I'd try to let the seedling get going a few more days in the rapid rooter and make sure to place it where a root is near or in the water
Agar Ok because I just started growing mine in a starter cell. The one started to stretch out and I'm considering just moving them into my DWC bucket. Not sure if it's too soon or not.
View 1 additional comment