dankskids
2nd grow! The best + re-veg GSC clone
June 2020
Started big The Best from a seed, and cut 2 clones when mature enough. Also started a re-veg clone of GSC from the 1st grow the same day I planted The Best seed.
The Best Fem + GSC re-veg fem
72-74/66 and 68 when lights off to induce colour. 5.5L to main, 4L to others. 5L to GSC. Fed 4-4-4 and 2-8-4 to front 2 plants. 2-8-4 to GSC. Week 6 day 1
3 years ago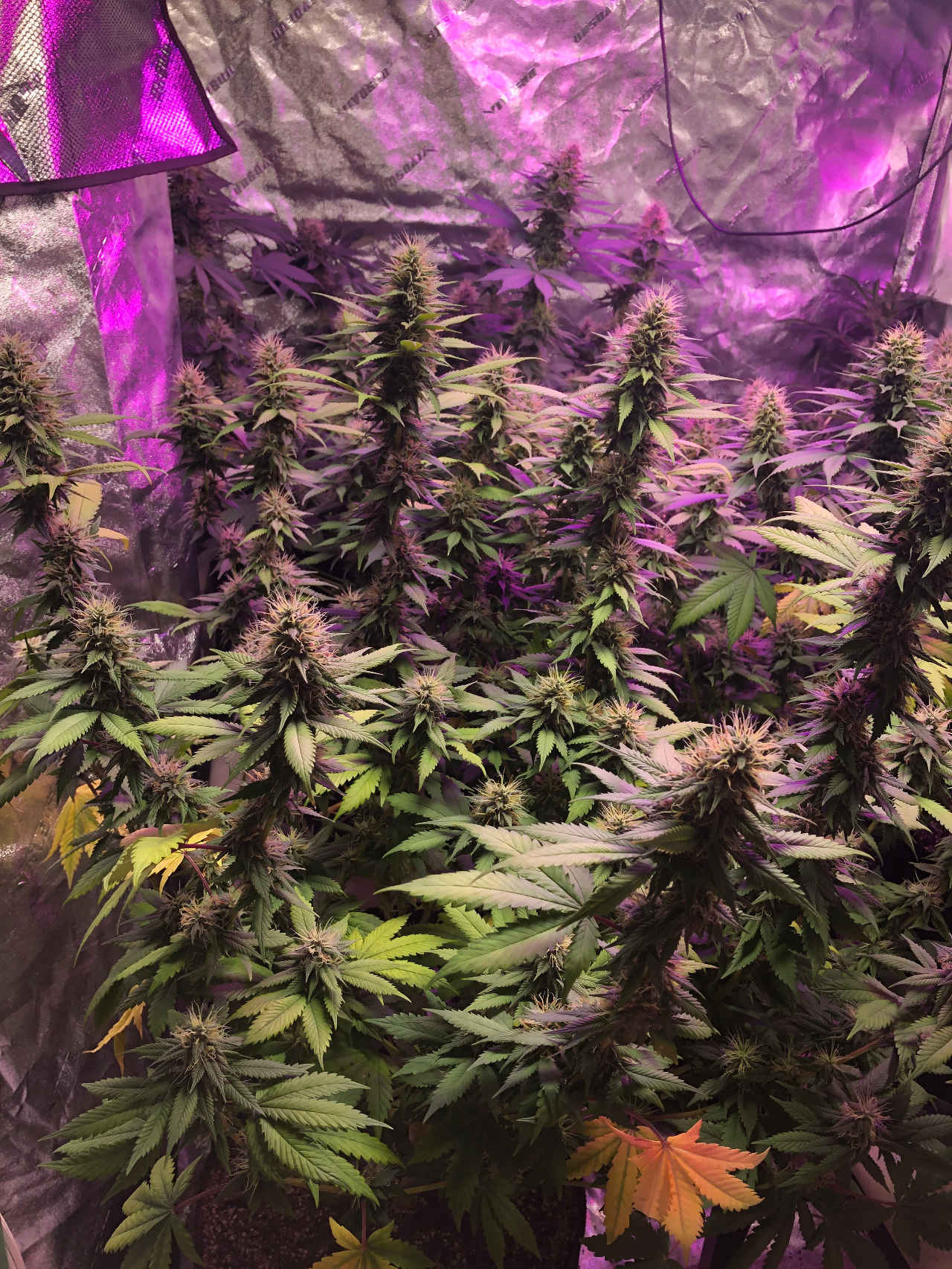 Week 5 day 2. Main the best plant is yellowing, Not sure if having a defiance or otherwise. Buds look good. Fed nutes today. 78/60
3 years ago
Week 4 day 1. Plants growing well, slight yellowing on main but fed to compensate. 78/55
3 years ago
Fed nutes and watered today, 83/45
3 years ago
Big leaf trim last night. 83/50 day 15
3 years ago
Plants are almost at 2 weeks of flower and looking fantastic. Canopy kept to an even height during the stretch and wow these puppies grow. 75/45
3 years ago
Day 5 of "flip" and plants are stretching hard. Raised the two clones to even the canopy. 72/60
3 years ago
Plants were lollipopped and are now in 36 hours of darkness prior to flower. 75/60
3 years ago
GSC tied down again. Clones have been tied down. My clone (top left) has been super cropped and will be tied down again and FIMd tomorrow. All plants looking fantastic. 74-81/60
3 years ago
All 4 are happy in their new homes and growing vigourously again. The best is showing many new mains from tying over side branches, and the clones are growing well. 75-80/55
3 years ago
Tied the plants down yesterday and supercropped the stems on the best. Topped the clones. 79/55
3 years ago
All 4 plants transplanted to 6 gallon containers on day 50. The Best + my clone (left) were topped today, and the re-veg GSC and Courtney's clone (right) have been left alone. 78/55
3 years ago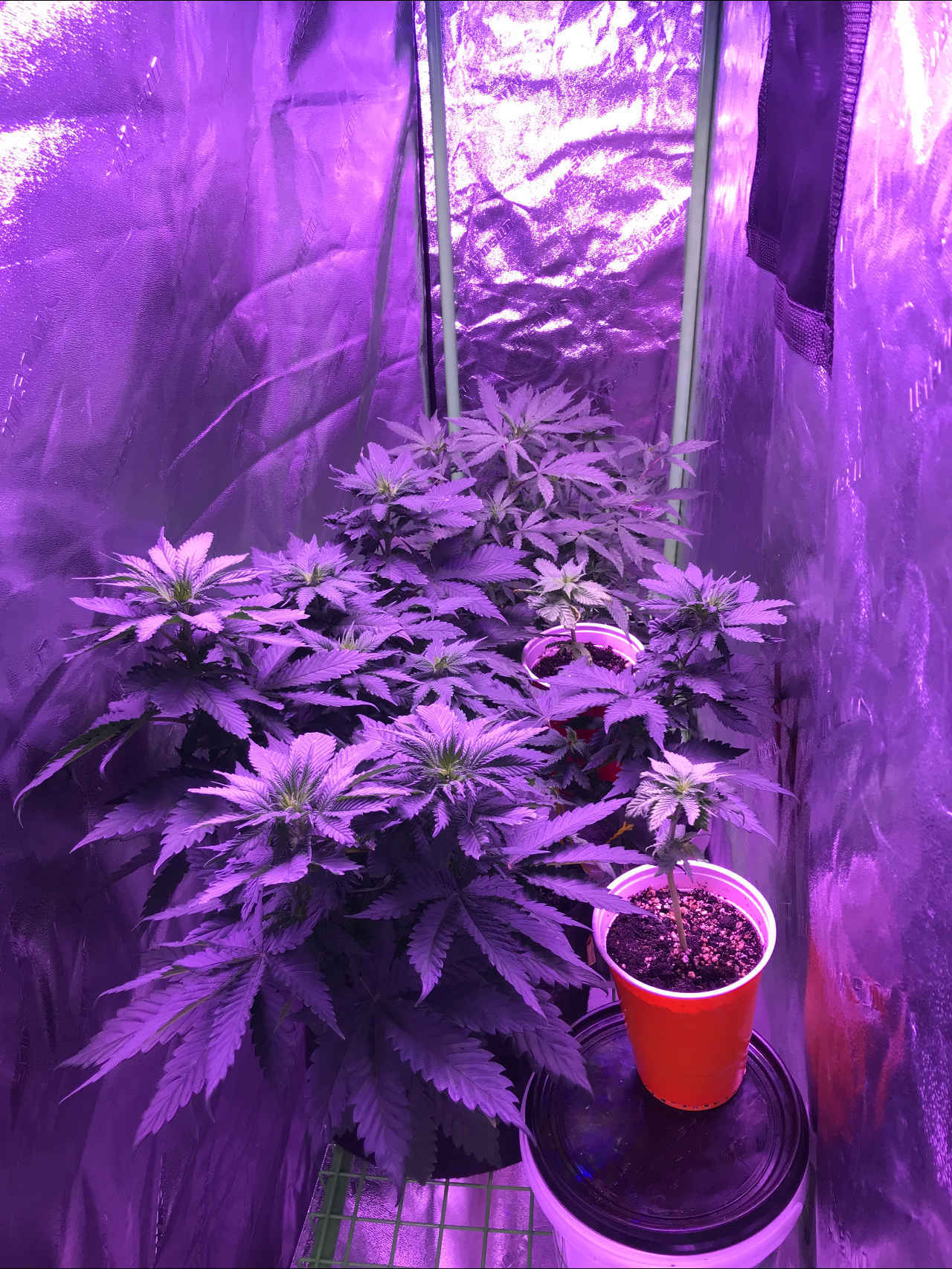 Clones are fully rooted! Transplant will occur when we can swap them to the bigger chamber. Plants are all tied down. The best doing nicely as well! 20/4 light schedule, feeding 1L every 2 days and 250ml every 2 days to clones. Re-veg going hard
3 years ago
Watered 500ml today. Cut 2 clones yesterday and FIMed tops. Mine is orange, hers is red. The best is brushing out nicely! 77/55
3 years ago
Closest Clone is showing regular growth and the best is full send. Growth tips are coming up strong. Far clone may not take. 85/55 added nutrients + coffee yesterday
3 years ago
Topped the best to 4th node + fed 650ml yesterday. Far clone is showing full growth. Close clone is a little slower but chugging along.
3 years ago
Plant fed 750ml yesterday and given nutes. 82/55
3 years ago
The best is growing strong! Clones are doing well. 82/55 watered yesterday
3 years ago
The best is growing well. Clones are continuing to root and grow. 80/55
3 years ago
Both clones appear to be rooting. 500ml fed today and misting every other hour. One doing better than the other. The best growing strong! 77/55
3 years ago
Currently running 24/0 to promote growth and will switch over to 18/6 soon. 1/2 clones took well! The best is growing away. 79/55
3 years ago
Plant just came through the soil! 24/0 fed 500ml today. 82/55
3 years ago