nottheface1337
Birthday Bean Bonanza
Spring 2022
90% FFOF 10%Coco A bit of extra perlite. Mycorrhizae soil additive and FF Bush Dr added at seed planting. FFOF Nutes. Planned topping at node 5/4>3
2 SODK 1 Skywalker 1 Double Grape / Sky Mephisto
Getting close!
6 months ago
BAU. Just water watering yesterday. Cleared out some low foliage where I could reach.
7 months ago
Light defoliation. Water and bush doctor only. 1L each
7 months ago
Have begun increasing water to each plant 1.5L. Half dose cal mag every water. Bush Dr every other. In preflower/flower. Beginning nute adding to every other watering. Tiger bloom 1/2 dose starting today. Front SODK still struggling with clawing
7 months ago
BAU. Looking like a bit too much N from minor clawing
8 months ago
Major LST and leaf tucking
8 months ago
ThatGuy671 And at how many nodes? Sorry for the questions. I just like how your plants are growing and I want to train mine the same way. Take a look at my page… maybe you can give me some advice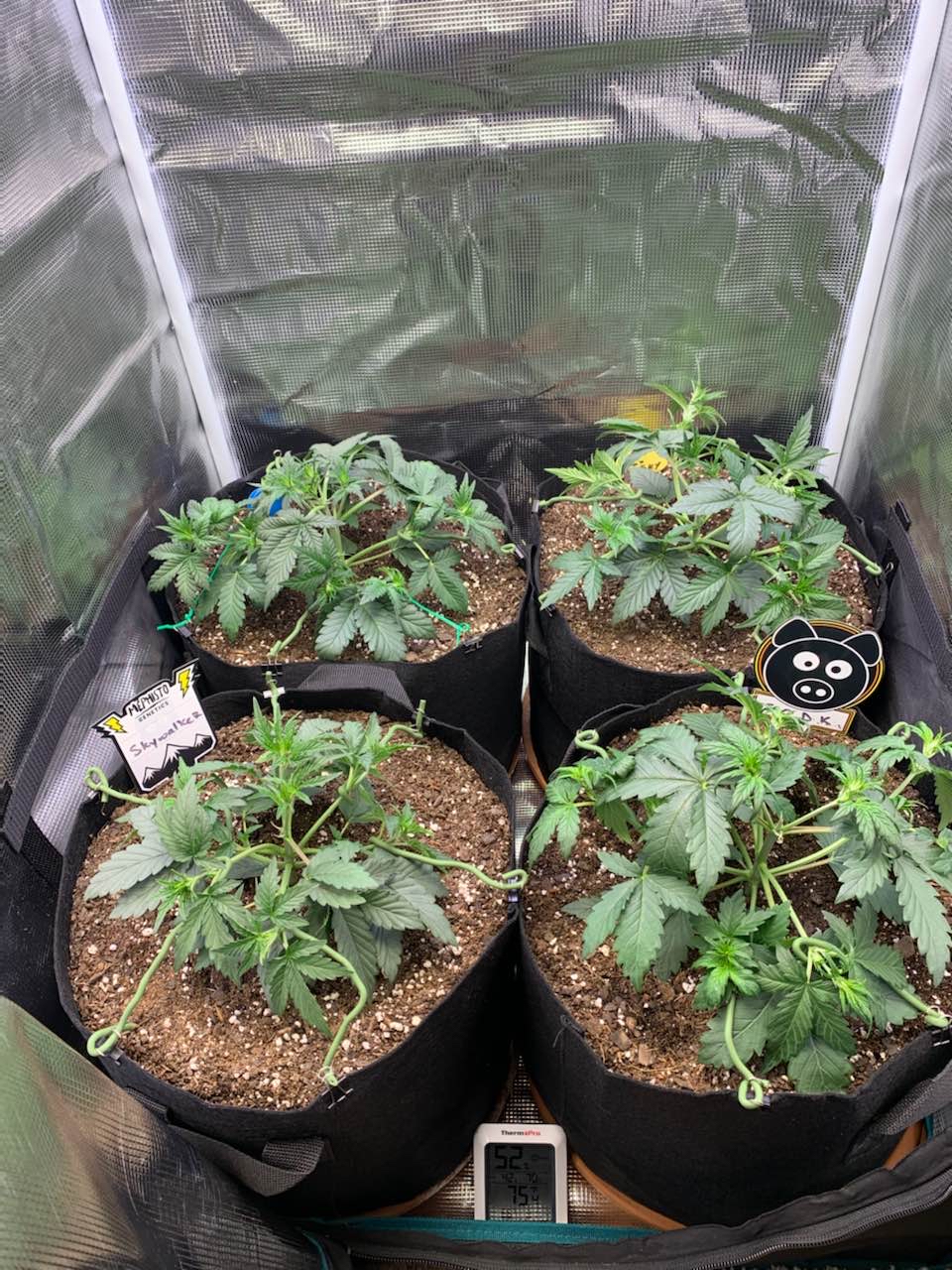 Major Leaf Tucking and LST
8 months ago
meggerz007 Love the training. I need to get on my training game.
BAU. Every other water with bush doctor.
8 months ago
Have been watering daily circulating around the plant. Lowest 48-65%
8 months ago
DaGr8estEv3R Question why are you watering in that circular pattern just wondering I just started growing 2-3 months ago thanks
Danny Bravo Dagr8est, it will make all the roots expand looking for the water getting a nice root system.
DaGr8estEv3R Ok cool I figured that but didn't want to make a ass out of my self by assuming lol but have you done this in the past and does it make a big difference when you do it to when you don't sorry for all the questions just trying to learn
View 1 additional comment