Nite Blood F3 V1
Winter 21
3 gal pots, TS1000, The Green Sunshine Co dry amendments. Mainline + 24/7 light schedule.
Nite Blood by Magic Strains
Drying in the tent in darkness with 52.5% RH. Picked the lowest and smallest bud and gave her a try 🔥 💨
7 months ago
Chronic King Well I flash dried it on top of my hepa air filter first. Still had a little moisture in it but it was still 🔥
View 2 additional comments
Now to dry and cure.
7 months ago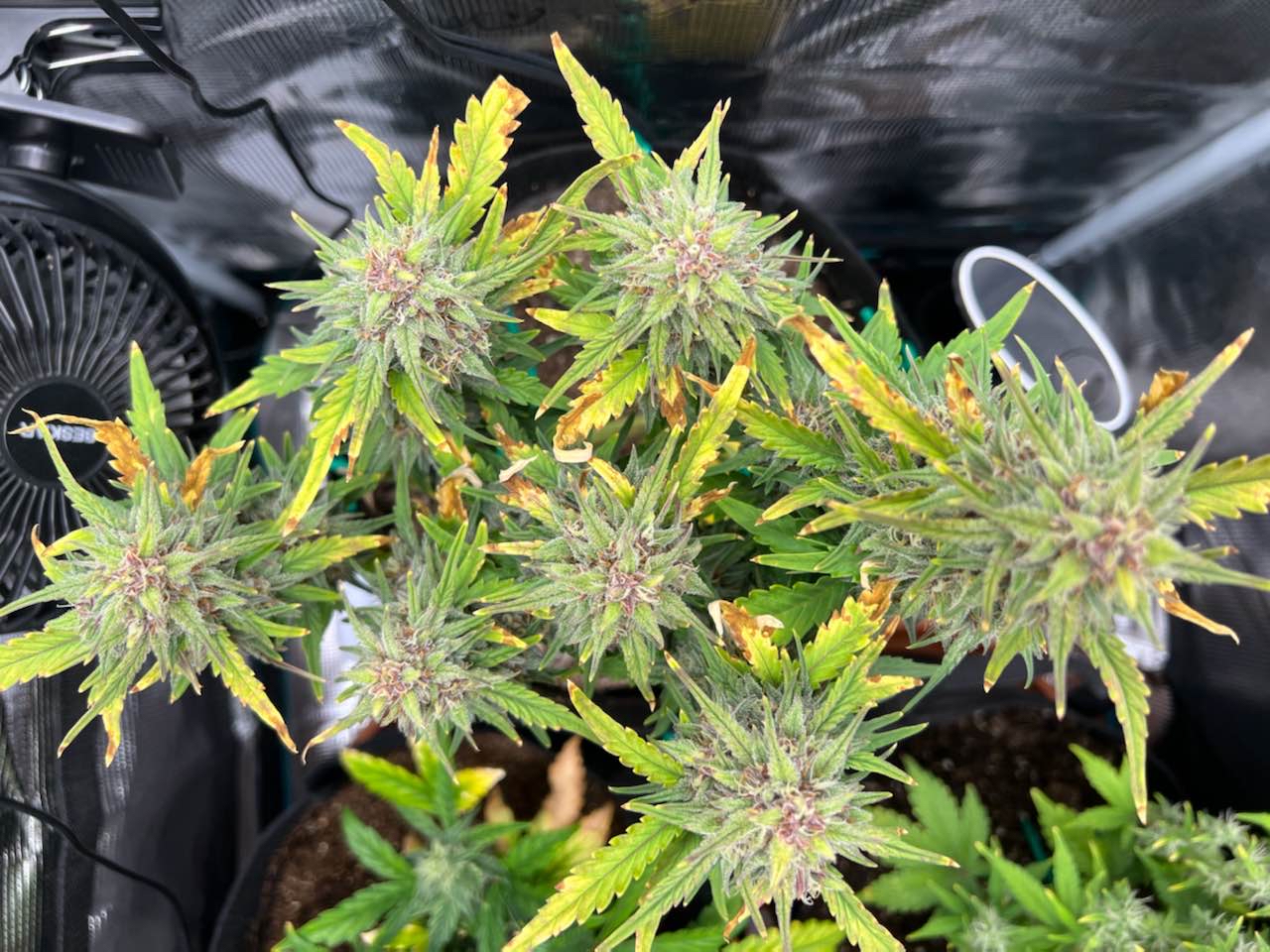 Im like 99% positive I'll chop her down this afternoon.
7 months ago
I honestly cannot believe she is still alive but this girl keeps trucking on. Getting closer and closer to my very first harvest.
7 months ago
Chronic King Thanks. I'm definitely happy with what I grew somehow.
Starting to see an amber trichrome here and there.
7 months ago
My first plant ever and I've learned and continue to learn a lot. Hopefully the smoke will still be alright.
7 months ago
piperboy007 Not bad for a first grow man! Its all about the learning experiences 🤟🏻🔥
Caliban Nice finish! The journey is the lesson
Chronic King Thanks 🙏. Hard part is deciding when to pull the plug. I'm not sure if she'll make it to being fully mature before all her leaves rot away.
View 1 additional comment
She still is pulling from those leaves so question is how much longer does she have in the tank? Still some green foliage on the lower nodes so we'll see…
7 months ago
stick e fingerz I like to make sure the pistols are darkened and curled back into the buds and always checking trichomes cloudy w a touch of amber works 🙌🙌
Chronic King I'm so worried about it eating through all the sugar leaves though.
Plant is dying quickly. I'm almost positive it is because I was feeding my living soil distilled water. Sad but lesson learned. Will most likely be picking premature buds.
7 months ago
Caliban Well pause a second. Let's see what we can do. What is your ph going in? Do you add cal/mg? What do you feed? Don't give up… never give up.
Caliban Distilled water is fine if you have correct ph and you are supplementing the micro Nutes. Epsom salts are something you can do like now. Foliar and soil. 1 tsp / g. And you need N and probably K. Hard to tell…
Chronic King Oh I haven't given up yet. PH runoff was 6.8 last watering. Used 1ml/gal CaliMagic for a few waterings and now as of the last 2 have used TPS Organic CalMag at 2ml/gal mixed with 40%tap and 60% distilled phd to 6.2. I didn't supplement any nutes with the distilled water until about 4 waterings ago.
View 9 additional comments
Gotta sweet deficiency issue going on. Switching from CaliMagic to TPS Organic CalMag.
8 months ago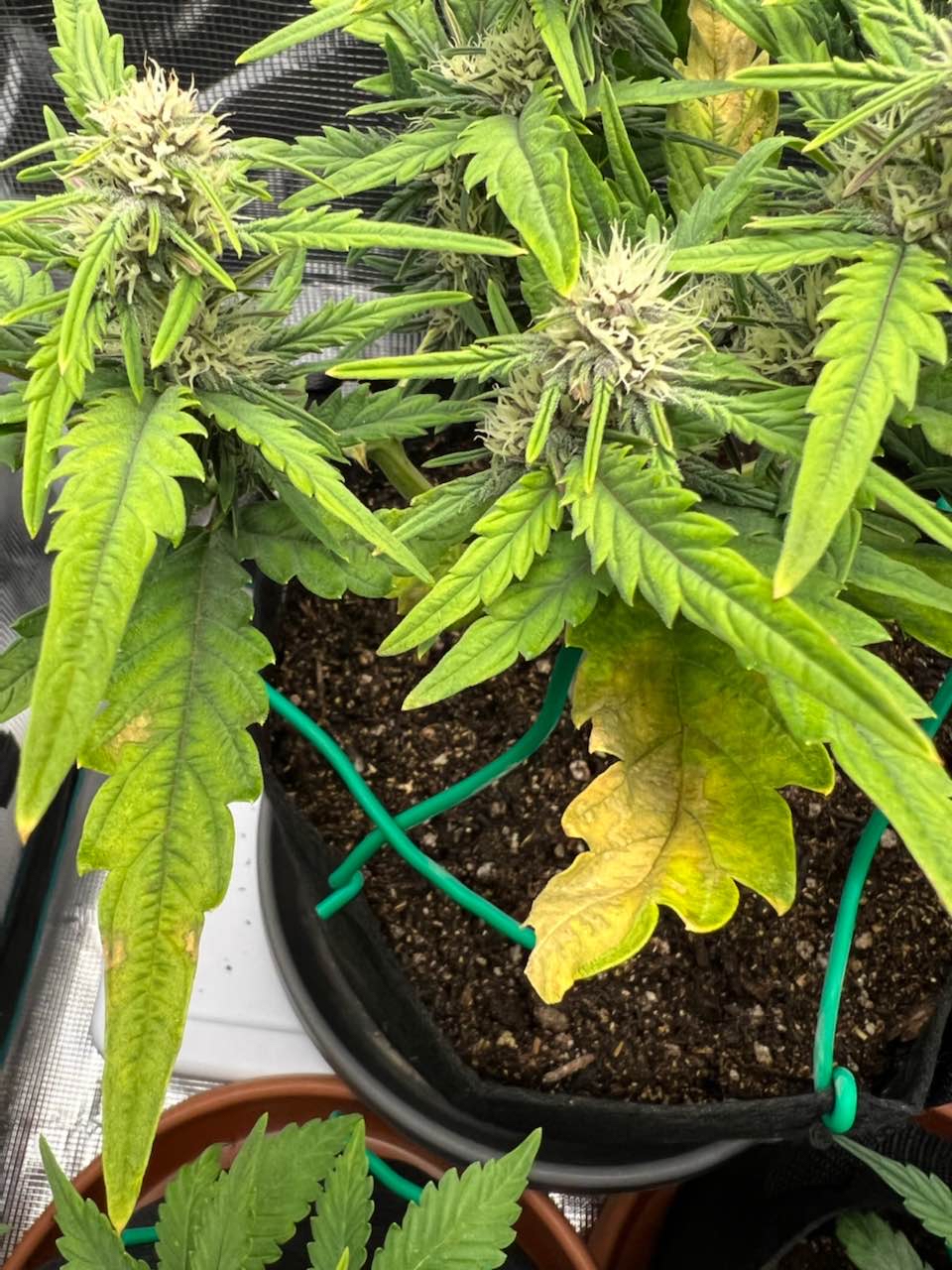 Anyone know the cause/issue?? TIA 3gal, The Green Sunshine Co. nutes, RO/ distilled water, TS 1000 light on 80% at 15"
8 months ago
Fed 9 Tbsp of Boost nutes and watered with CaliMagic. Her last feeding and hopefully she'll have enough in the tank to get her to the finish line. Depending how this goes in the next few weeks I'll feed some Boost tea.
8 months ago
Started to water with CaliMagic.
8 months ago
jim69million Hey I have 16 days with my plant and its still small like half your size what I did wrong
Chronic King Honestly maybe nothing? Couple things though… could be too hot/cold or over watering. Those would inhibit early growth.
I love the look of a mainlined plant. My first attempt and I can't wait to see how all 7 colas turn out 😂 Also fed boost tea
8 months ago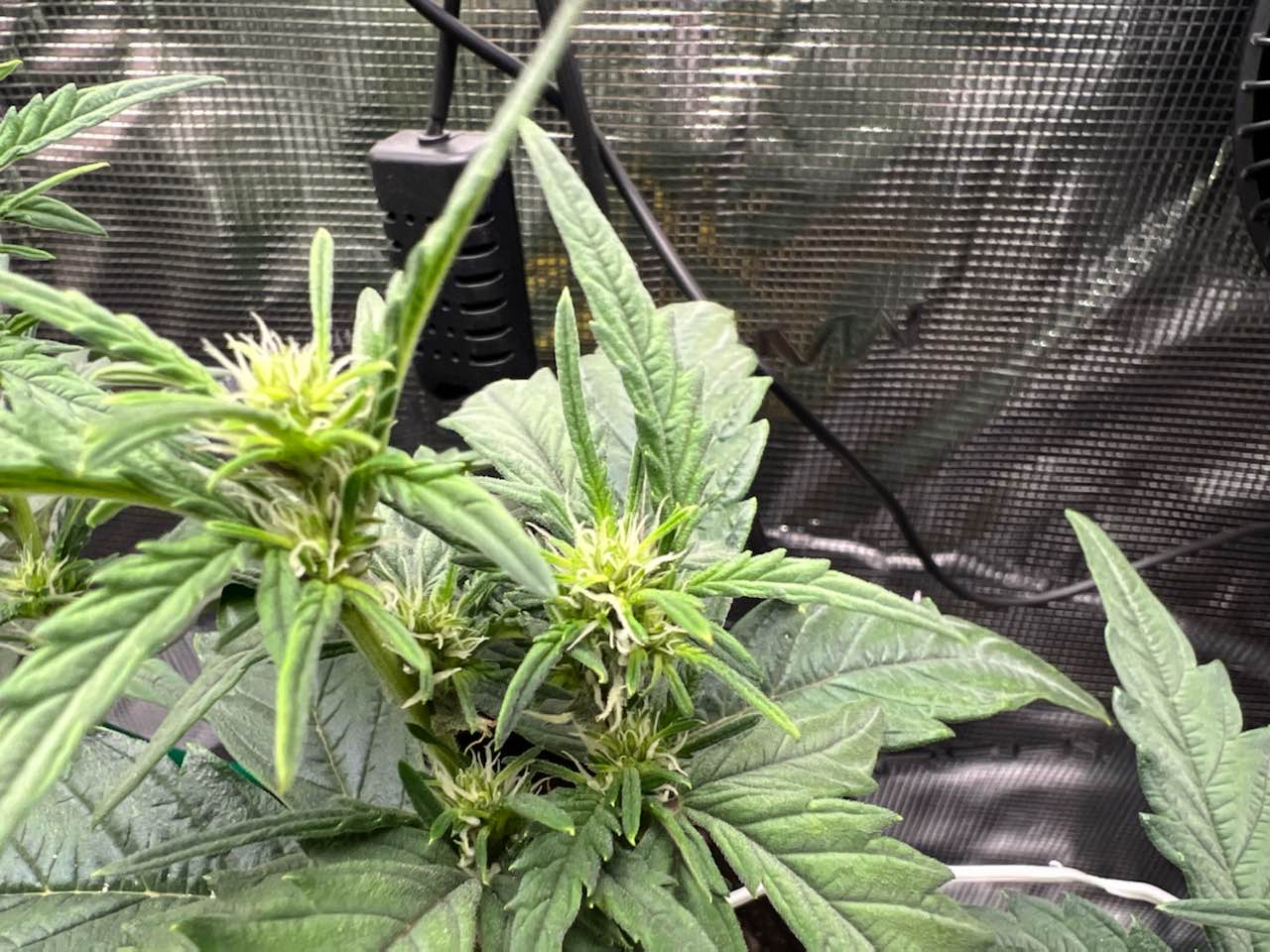 I'd say she is doing pretty well.
8 months ago
My only mainlined plant is growing perfect! Got a nice even canopy of 7 colas.
8 months ago
Chronic King I accidentally nicked the 8th one when I went to top em 😝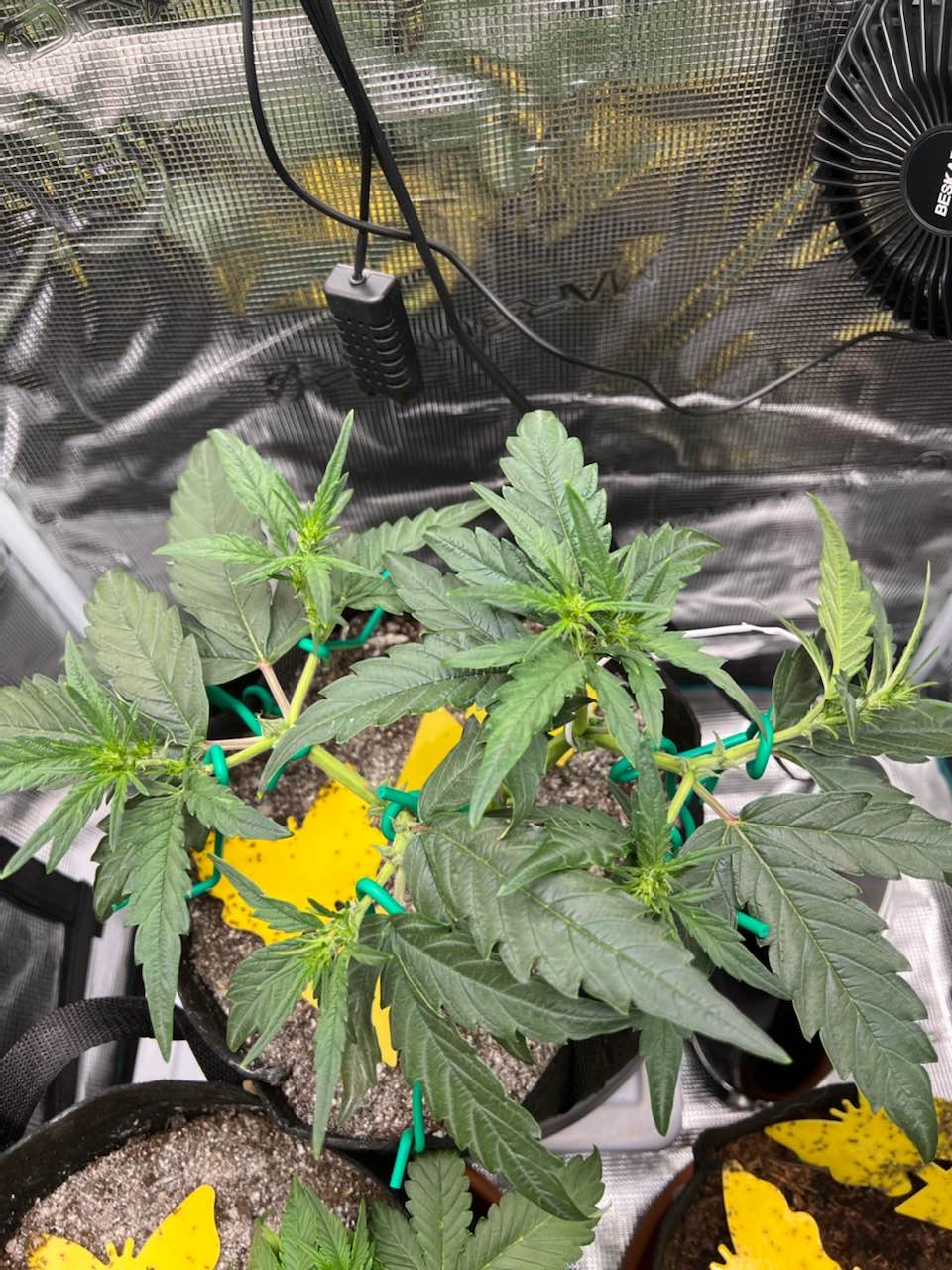 Definitely less bush mass to worry about when you mainline :). Curious on yield vs LST. Also added diatomaceous earth to all pots.
8 months ago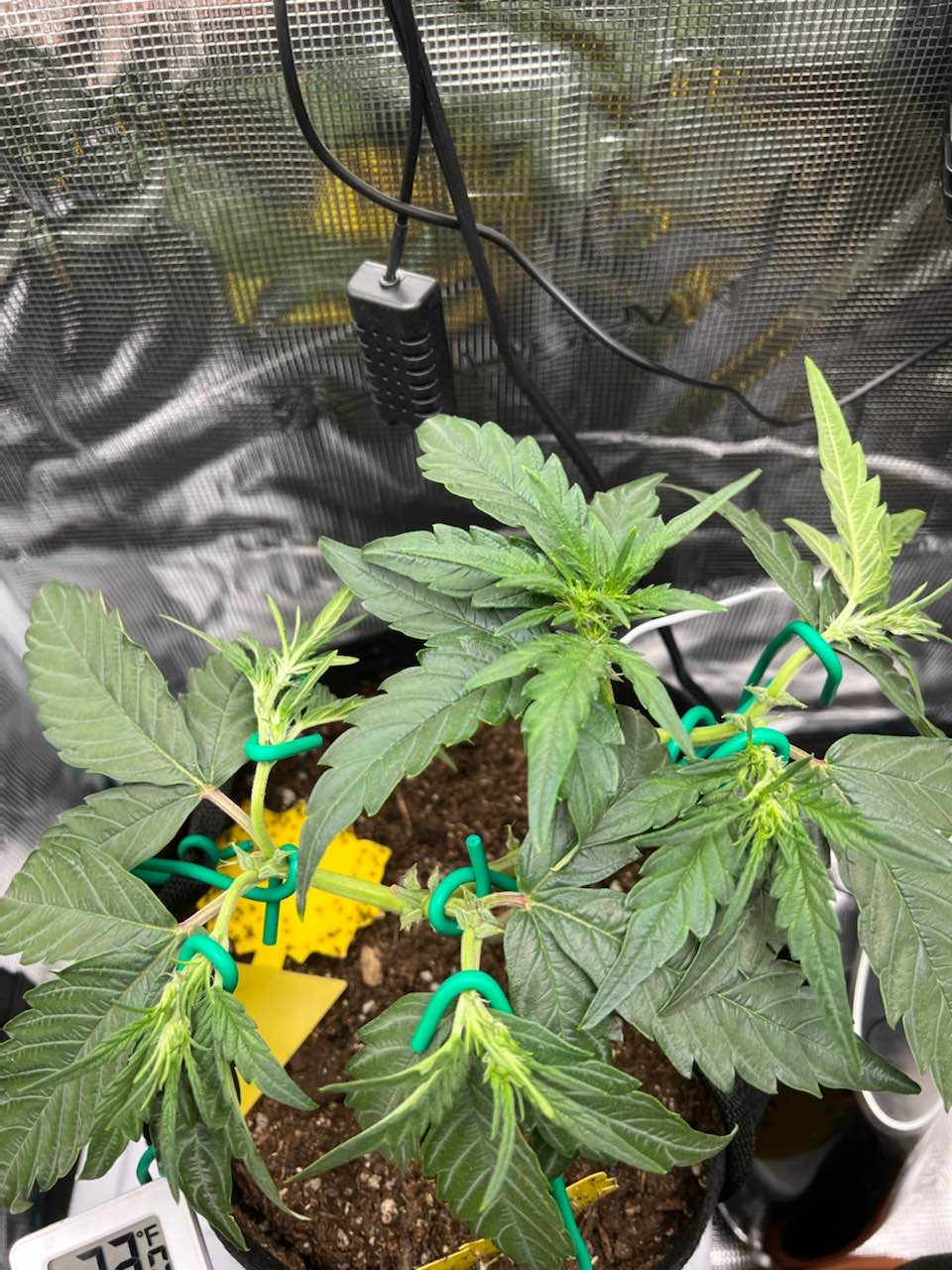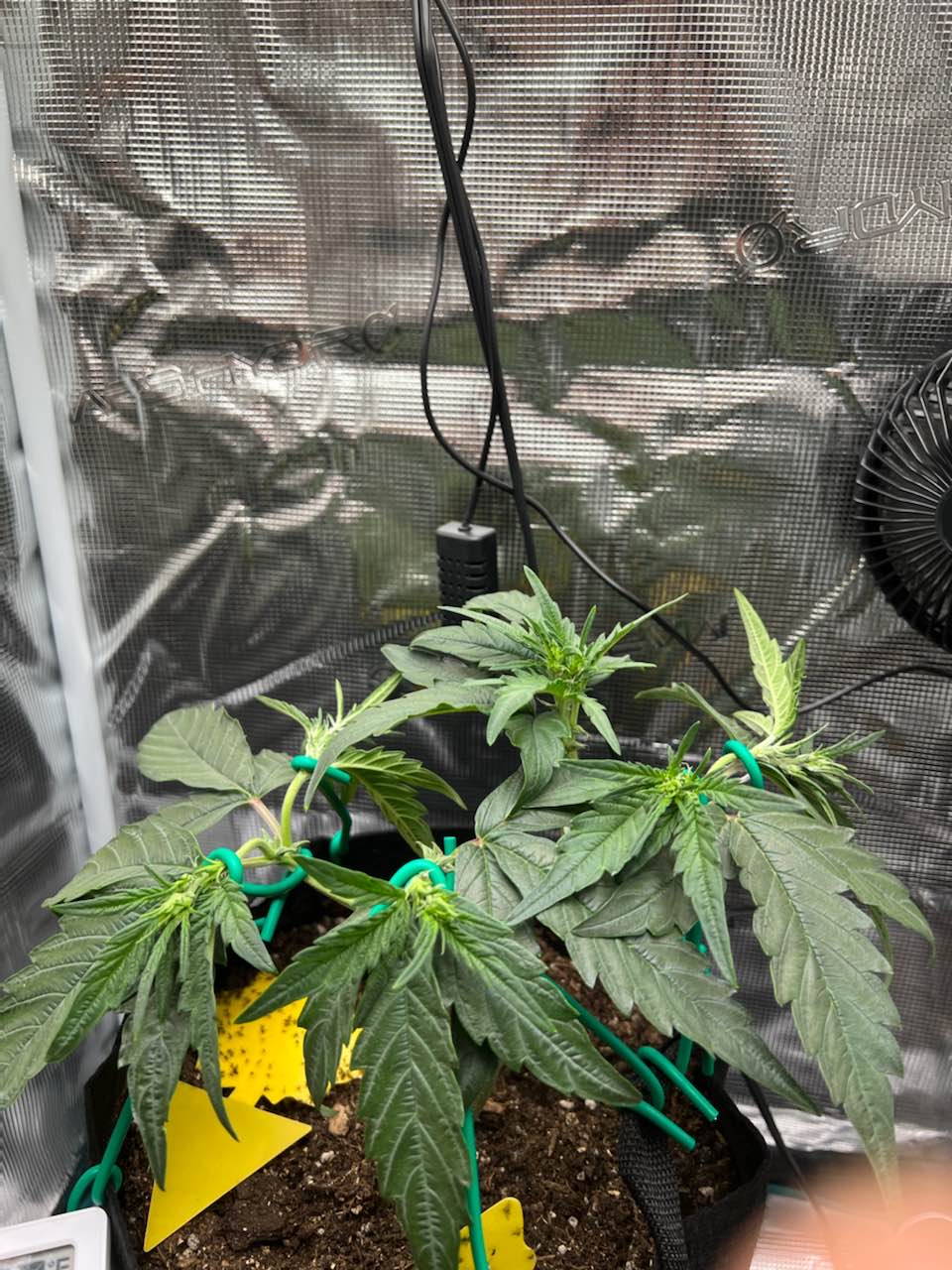 More LST work
8 months ago
Still trucking along. Broken branch is healed and I'm curious how it will effect the flower.
8 months ago
Broke a branch
8 months ago
Accidentally nicked a node I hadn't meant to cut. So now have 7 colas haha
8 months ago
Moving along nicely.
8 months ago
Topped again and light increased to 75%
8 months ago
View 2 additional comments
2nd topping and subsequent training.
8 months ago
Took the topping like a champion.
8 months ago
Alright.. they said she could handle topping so we're going to try mainlining for 8 colas.
8 months ago
Still leaf tucking. Good growth so far with the tea and boost added.
8 months ago
Things are getting hairy
8 months ago
Stopped LST to let a few branches grow out. Still doing some lst leaf bending and tucking though. Top dressed 3 Tbsp TGSC Boost.
8 months ago