loopylu
First grow purple bud auto
August 2018
First ever grow, 5 weeks in slow start without the right stuff and low wattage leds, now in bio bizz all mix under 300w led light to start with then upgraded to 450w led
Purple bud auto - sensi seeds
So after I spent weeks pulling bits off it I'm left with this main cola drying out, gonna weigh it tomorrow. All in all quite good for a first grow. That bit there was 8grams, and I think I've had that much already here and there. So half ounce off my first grow which is not bad and what I expected with the light deprivation early on, happy days
5 years ago
Still giving it some time cos white pistels sprout up, that main colas nice and thick but I've been attacking the rest
5 years ago
Think I'm chopping her down today, not sure she's ready but I've pulling branches off her all week to vape.
5 years ago
Won't be long now, been picking at the branches and the bud is good. Just hope I can hold out long enough to let that main cola finish
5 years ago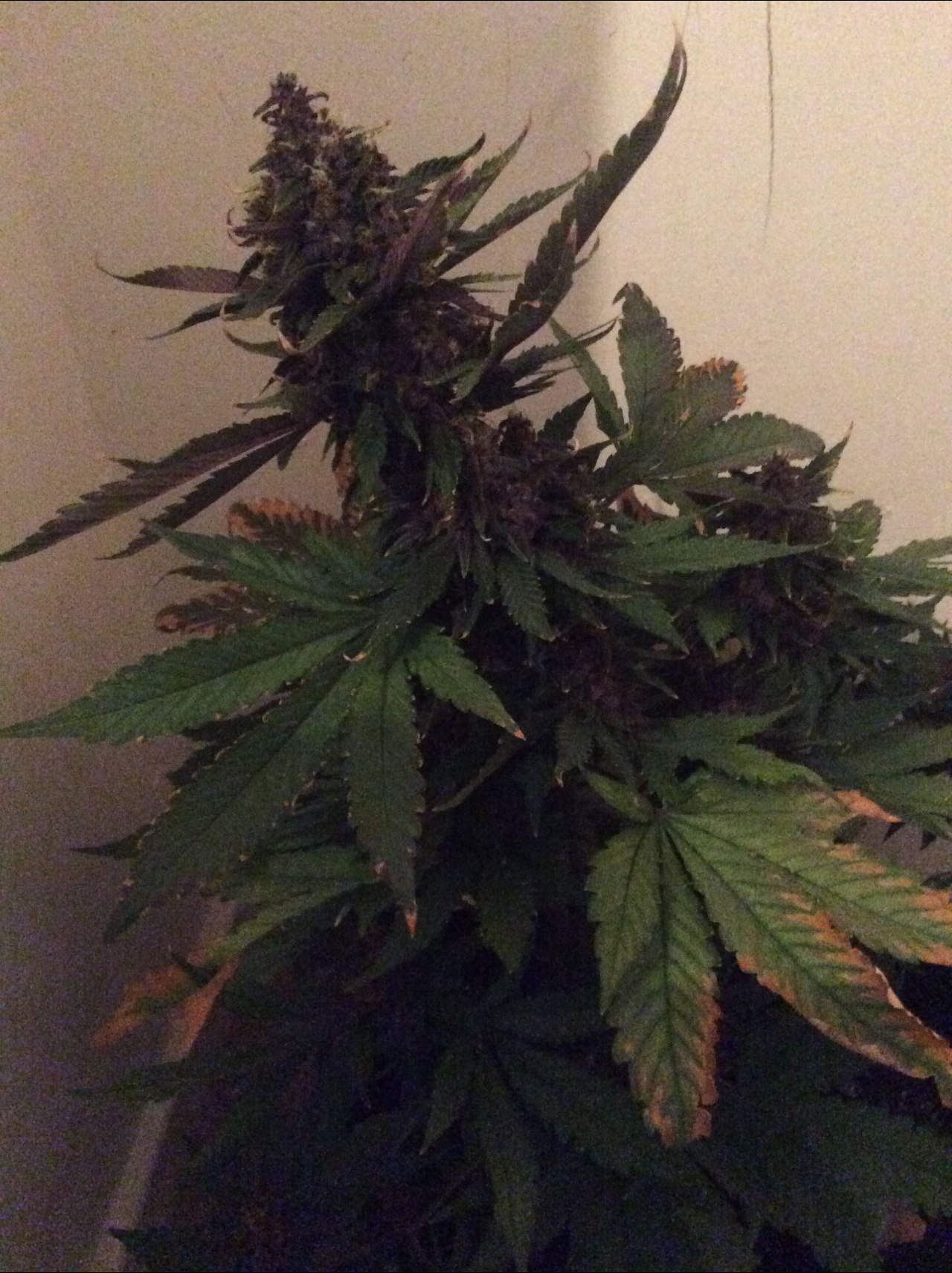 Just waiting for her to mature, putting her in bed (dark room) a few hours in the day cos that's supposed to speed things up. She's much smaller than the new one I've got going but still that main colas fat. Been picking bits of the bottom which is getting me a bit high but I shouldn't do it. Will have much more bud a few after this little one so not worried. My first baby nearly ready
5 years ago
Just waiting for my buds to mature
5 years ago
Can't wait to harvest but I have too
5 years ago
Steady away, possible bit of nutes burn, on Plain water now then
5 years ago
Ducatiboy Def fucked up keep on trying brother! Take it easy next round and dont over water/feed! Keep up the hard work!
Loopylu Yeah I knew it soon as I'd done, my first Eva grow though so reasonably happy
Ducatiboy Dont be happy i'd say be more determined to get it right. You got this buddy! What soil are you using?
View 5 additional comments
Fattening up, thinks she's stopped growing in height at 20inches, this down to the low leds at the beginning
5 years ago
Looking very budding now, some leaves started yellowing ready in 3weeks
5 years ago
20inches tall, think most the stretch has stopped now working on those colas
5 years ago
20 inches tall, on top max nutes blooming up nicely
5 years ago
Started top max nutes this morning, buds coming along nicely
5 years ago
19 inches tall now, on bloom nutes
5 years ago
Those colas are going for it, 18inches tall now, very healthy, on bloom nutes
5 years ago
17 inches tall now, on bloom nutes and upgraded to 450w led. Can't wait to try
5 years ago
Going into full flower now starting to see the main colas, 14 inches tall continuing with bio bizz bloom nutes
5 years ago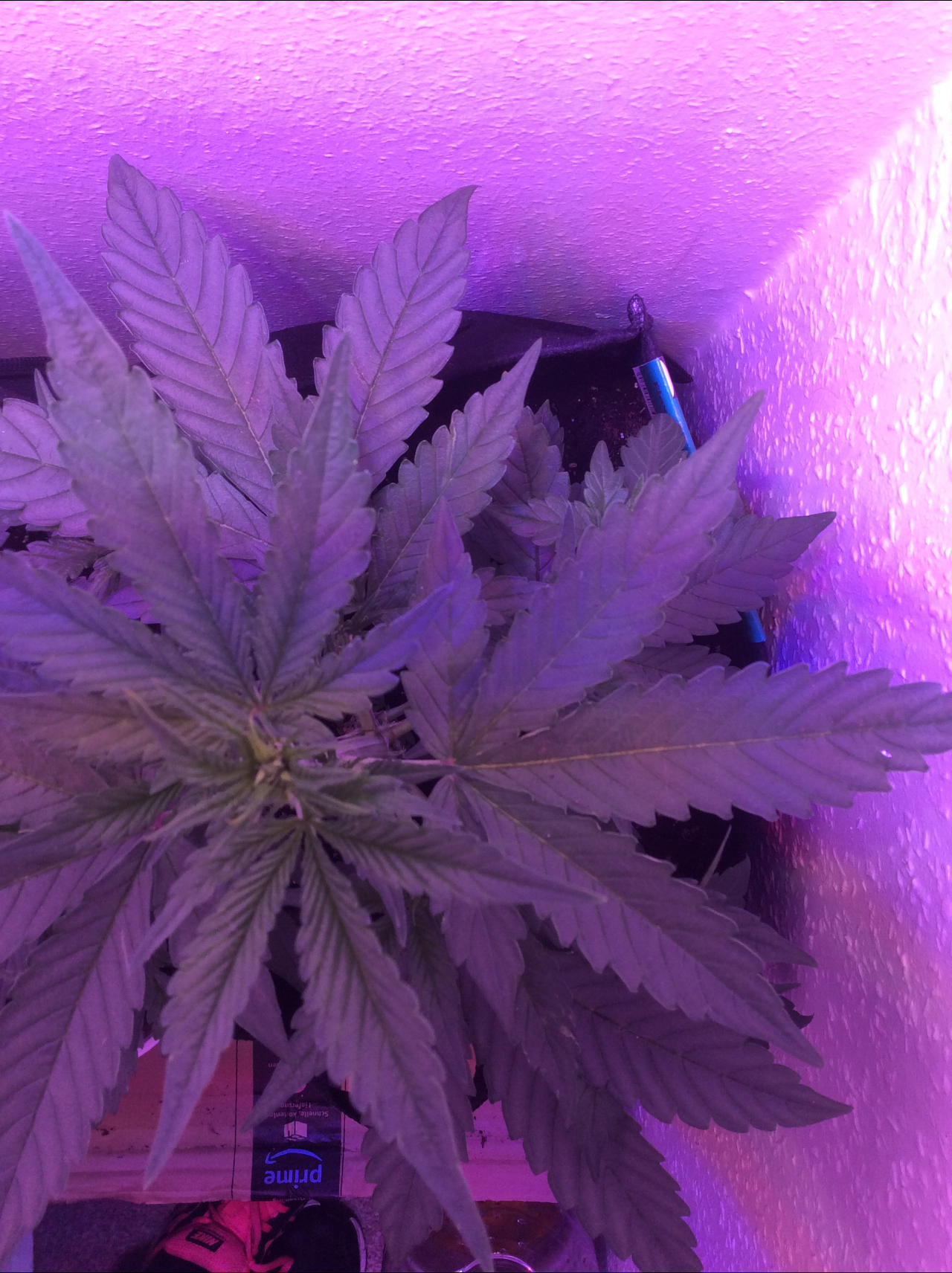 She's 12 inches tall now, giving bio bizz bloom nutes now, quite a few tiny buds forming,
5 years ago
10 inches tall today and doing well, may transfer to a 5gallon square pot later and this will be her final pot. I don't anticipate her getting too big for that one
5 years ago
She's 8 inches tall now, I think that's an inch since this morning! Mature plant, sprouting leaves with 7 leaflets, and plenty of pistels, I couldn't be happier
5 years ago
Plant is 6 inches tall now, in week 5 and getting its first pistils. Has a poor start under low wattage led but been under 300w led for a week and repotted in bio bizz all mix on Saturday
5 years ago