Bruce Banner photos
Fall 2021
Two Bruce Banners, 5 gal bag each, happy frog soil, great white mycorrhizae. Not sure which nutes for this round but maybe Gaia Green

Decarbed. Should I eat it all?
a year ago
Girls are drying. I started trimming after I chopped but couldn't do as much as I'd like since I'm really sick and feeling shit. Is it dumb to trim more today or should I leave alone to dry then finish the trim job?
a year ago
It's time for the tent of darkness
a year ago
Getting tired. So far dry and half trimmed weighing in at 16.4 oz. I won't be able to finish this tonight by myself. Does putting the trim in the freezer right away stop the cure
a year ago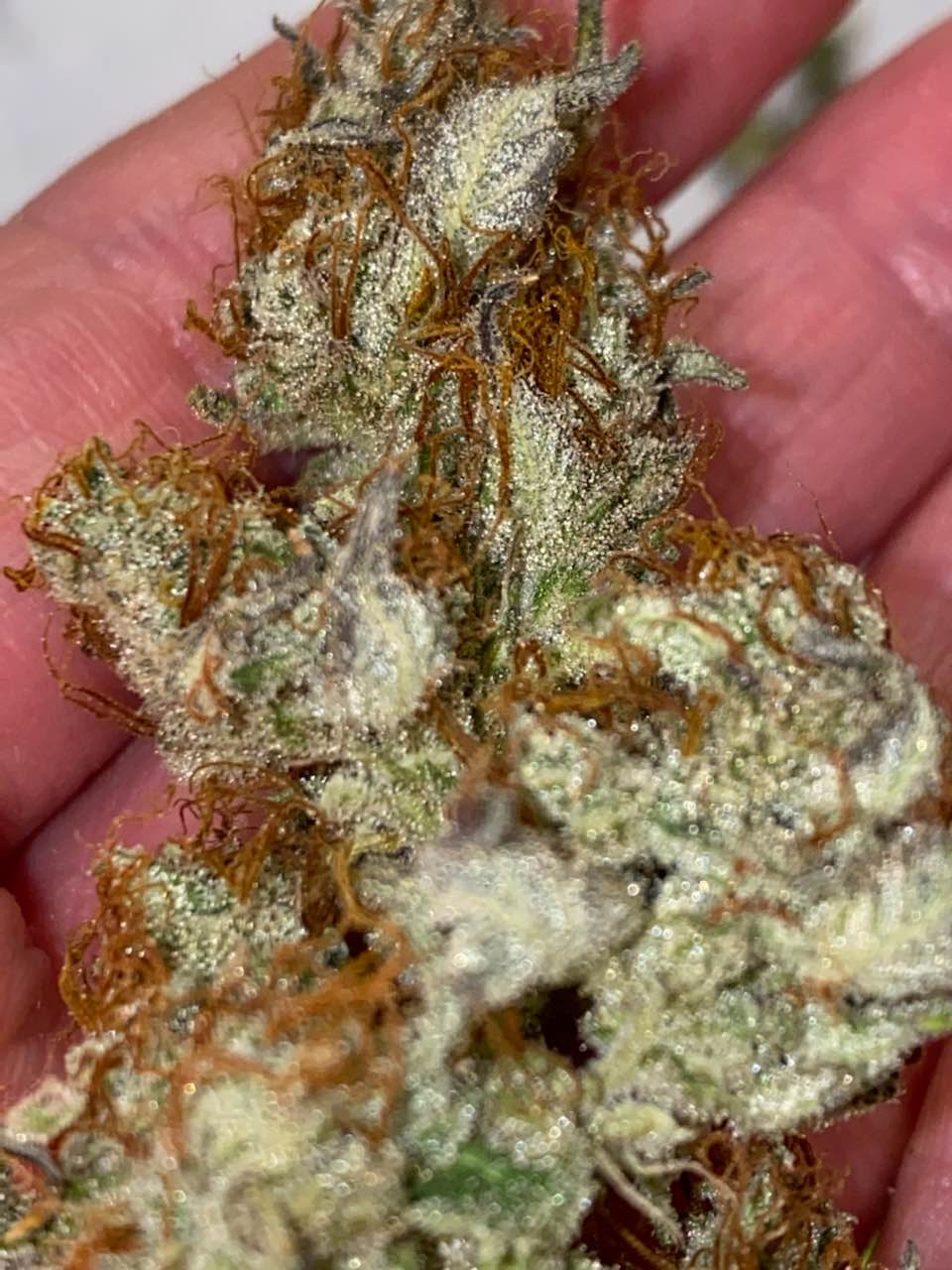 Trimming up the girls. Frosty not PM right? ☃️🥶
a year ago
Plain watered ph adjusted. Tied up Caitlin since she's drooping to one side
a year ago
Watered with nutes yesterday
a year ago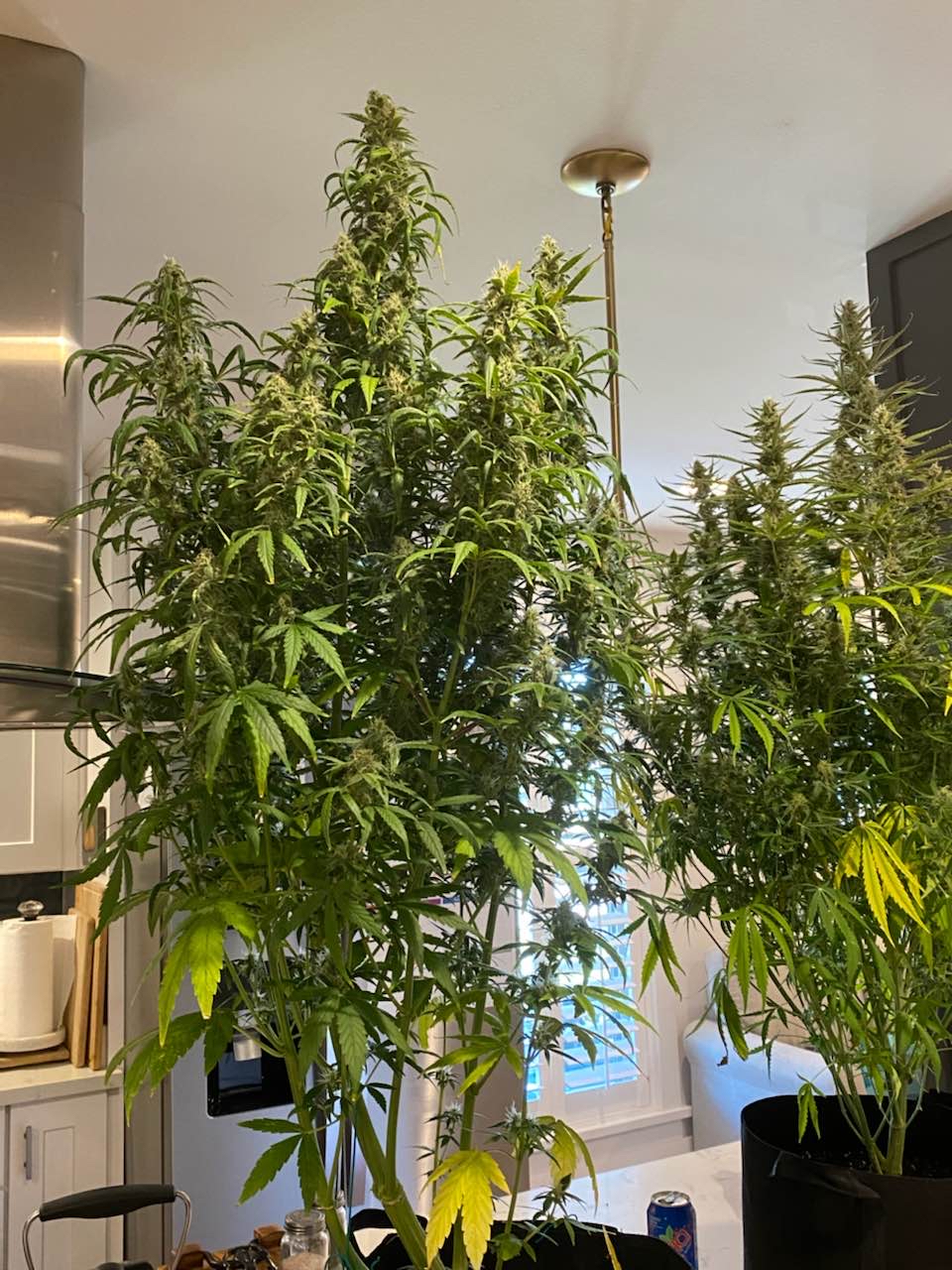 She woke up like this. Watered with nutes will see if it helps. Last water was 3 days ago without nutes so I'm thinking that's why the drooping
a year ago
She's not drooping today but turned mostly yellow on her leaves. Ayyy. I gave her a lot of nutes yesterday and I'm wondering if this is a deficiency or an excess thing. Maybe an end of the road thing
a year ago
Moving along well. plan to water this afternoon
a year ago
Not much to update letting them do what they do.
a year ago
They're doing pretty well. It's just weird not knowing what they truly are and they have totally different needs.
a year ago
She is not happy. I'm not sure if she wants more nutes or she's had too much…unfortunately had to leave for a business trip until Friday so anything needed will be done by my plant sitter aka wife. Other plants doing well. Watered yesterday with nutes and small bit of flower power to soil for the big girls and molasses for the lil girls 👯‍♀️
a year ago
watered ph'ed water flip to 12/12 tomorrow
a year ago
Can I confirm these are autos or could they still be messed up photos? They seem especially big for autos and the stem is pretty thick already. I'm just surprised at the size and confused. Any ideas growmies?
a year ago
Water with nutes yesterday for the 2 photos ph water/recharge for autos. Fruit gnats or whatever they are keep coming over. Got some more traps coming. Friday is flip
a year ago
They're getting pretty tall so going to attempt bending them over and hanging lights higher. Anyone is welcome to come over and help me out. I feel a little lost today. Watered on Thursday with nutes and top dressed soil. They are hungry af
a year ago
Ok got one bent and left the other since she's much shorter. Broke one major side branch but hopeful she will heal. Ended up removing 100 watts of led's, I'm going to put those in a smaller tent to use on autos while the photos are in the dark. I guess. I hope I didn't hurt the yield by removing the wattage. Total of 320 watts now. All advice welcome
a year ago
Noticed some stems seem more bent than others almost unnatural looking but I'm not sure. Is it some kind of deficiency or am I looking to hard 👀😶‍🌫️
a year ago
Watered yesterday with recharge and added flower girl to the soil. Do they look like it's time to switch to 12/12? They make 6 weeks of veg today.
a year ago
Any growmies here using either of these products or similar? Wanted to know how it's going for you
a year ago
Another week to flip to 12/12? How long should I go?
a year ago
Hey growmies, do these look like the same plants to you?
a year ago
Watered with full nutes and recharge. Got a green light headlamp and used it to water them since they needed to be in dark simultaneously. I hope I didn't stress them.
a year ago
Hey growmies, the dead limb is looking like she might have some life in her. Frankenweed. Anything I should be doing for her in her time of need?
a year ago
I accidentally almost took her arm off. Should I tape and let heal or take this and try to clone? That's mycorrhizae on there
a year ago
I just checked the grow cam and the broken branch is not looking ok 👀 Will she recover? Will she remember who did this to her? Next time on Plants of our Lives
a year ago
Hey can y'all stop fighting for a few and focus on my plants. 😂 serious questions tho keep in mind I'm high af and stupid so here goes, does these mean she's flowering and I need to switch to 12/12 now or is this early flower and she's showing her sex or other?
a year ago
Going to water and feed today. Caitlyn has a hole in her leaf but pretty sure I must've done that. Wondering if these 5 gals will accommodate them until they're finished. Also probably need to lst and top them but super nervous about it
a year ago
Watered with 1/4 dose nutes added humidifier got down to 38% while they were sleeping.
a year ago
They look bigger to me today. Must be that rock 😂
a year ago
Caitlin and Bruce getting some size
a year ago
Will water today before lights go off
a year ago
Watered both with ph 6 water
2 years ago
They're so small compared to autos at day 9 but that's a given.
2 years ago
Getting bigger
a year ago
They said they like here so far. Im not gonna tell them about hurricanes 🤫
2 years ago
did I mess up by planting them in 5 gals this early? Since I thought they were autos I put them in but now I'm reading and hearing that's going to possibly double my veg time by starting off in a big bag. Can anyone shed a big ass spotlight on this ? Also that lizard look pregnant to y'all? She told me she was on the pill 😂
2 years ago
combatmedic81 Don't know too much about autos , but that lizard is either prego or just ate a big meal
Pushit I put my autos in 7 gallon of coco no problem and they're going nuts. My understanding is that autoflower has an internal timer so theoretically it should follow that as long as you don't stress her out.
Peng They ain't autos, @pushit!
View 2 additional comments
This is going to take forever
2 years ago
Here they come, Bruce and Caitlyn
2 years ago
Just found out these are not autoflowers and idk if I'm pissed or excited. I'm pissed for now it's my fault and idk what I'm gonna do really. I guess I'll run autos with them and have to fix the light schedule and learn about growing photos 🤞🤨 I hope I have enough room. Advice welcomed and needed
2 years ago
Seed swim meet. If you zoom in it looks like a cat with fangs. Weird.
2 years ago
I think adding the great white mycorrhizae helped them germ but maybe that's what I want to think 🧐
2 years ago
Herban Going to plant as soon as I get home from the car shop. It's always something needing repair and attention and if it's not my plants or pets I'm not that interested so being here pisses me off.
Peng I don't think microbes aid germination, it's cytokinins and gibberellins that do that, I've never thought about it
Herban Me neither but I saw it being done and without doing any research I tried it. I'll do my research later and see if there is anything to it.
View 15 additional comments
In their forever bags. Dog approves so much he almost ate it up.
2 years ago
Herban My luck the seed probably stuck to his beard! He's a great boy he'd never chomp my seeds or plants 🤞
View 14 additional comments
Typical, the bags I wanted to use came in shortly after I used the bags I didn't want to use
2 years ago
Peng I'm going to hell anyway, but would it be disrespectful to call your Bruce banner Caitlyn?
Herban Caitlyn it is. Now for the other name…
View 37 additional comments
Nothing to see here not with your eyes at least
2 years ago