clearlynude
Wedding cake
Winter 2020
Veg with same conditions as GM. Will eventually go under scrog.
Plants doing well. Temps fluxing to 80ish
3 years ago
All light power turned down to lowest.
3 years ago
Plants swelling nice. Going to run to butter end! Lower lights lower temps to 77ish. Making environment more desirable.
3 years ago
PPFD around 500-700
3 years ago
Plants look well and thick. Temps 82 PPFD adjusted to 400-600 all thru canopy
3 years ago
Lights turned down to 40-60% Temps 73-81 Looking good 👍🏽
3 years ago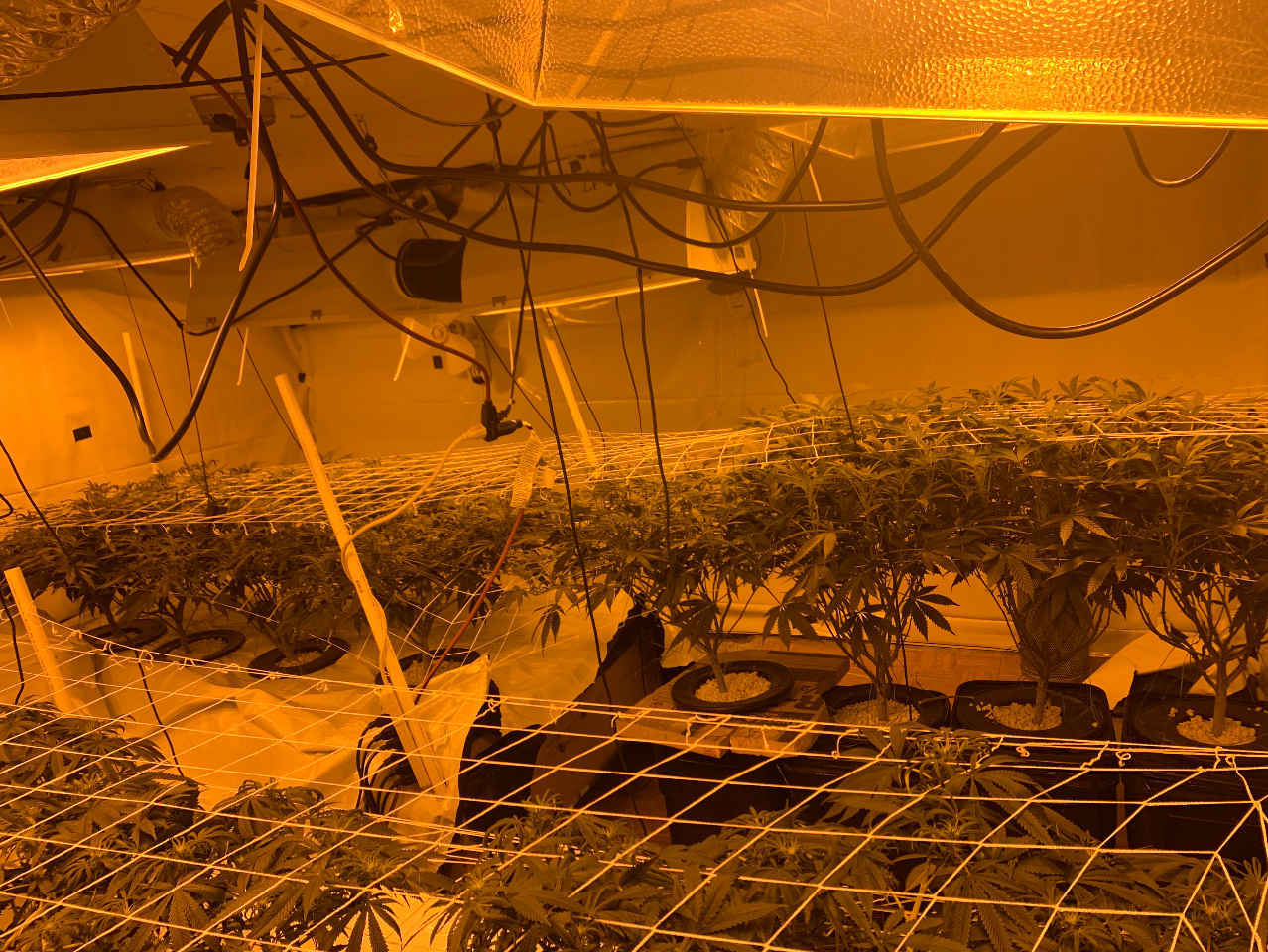 Plants looking well. Lights should be bolted to ceiling all the way thru and power adjusted.
3 years ago
Wedding cake on right. Day one of flower.
3 years ago
Plants rocking. 🤙🏽
3 years ago
Wedding cake Scroged. 3/4 lights running MH 40%. Ph 5.9 Green cleaner/FL+ sprayed. Heater running. One fan on.
3 years ago
Plants love 600watt setting. Temps cooling at 72-81 Transplant today
3 years ago
Plants defoliated, green cleaner sprayed. Gonna ride out until transplant for flower. 🌺
3 years ago
Plants look decent. Was hit with heat wave about 90degrees for a day. Plant lights lifted to about 30in to decrease heat bubble and humidifier filled to keep temps more consistent.
3 years ago
Plants getting stiff. Ph 6.6, topped off with water set at 5.0 to equal ph out. Final PH 5.7 🌙 Temps 79-81 Humidity 25-36
3 years ago
Going out of town. Plants topped and defoliate then sprayed with green cleaner to help with last of bugs. Saw bugs on TWO leafs, one mites, one aphid larve. Will have N spray M. Lux 600-900 (x100) Temps 77-86 Humidity 31-81% * spike from green cleaner
3 years ago
Temps 75-81(been struggling with cold last few days 🥶 Lamps at 100%(24in above canopy) About 3 weeks before flower 🌺 Super cropping ✊🏾
3 years ago
Lights at 60% Humidity 21-38% Ph 5.6-6.1 PPM 750-950 Foliar FL+ (1ml/L) Plants beginning to straighten leaves 🍁 Roots still Snow White Top off 1 gram/gallon maxi, Root tonic 2m/ gal, cal mag 4ml/gal. (Next res fill should be cal-mag/root tonic. No maxi; return to 1g/gallon afterward)
3 years ago
No more spraying at all
3 years ago
Twoheads666 Cant overwater with dwc, make sure your ph isn't fluctuating or nutes too strong, or water too warm or cold
Clearlynude Nutrients 2grams per gallon MAXI gro, PH 5.9 Temps 75, I run UC roots, roots are SNOW white ❄️, no slime no brown. I Suspected I over foliar sprayed with Green cleaner. The mix may of been too strong and closed up the stomata, that plant can't transpire. Going to lay off spraying anythingother than fresh water.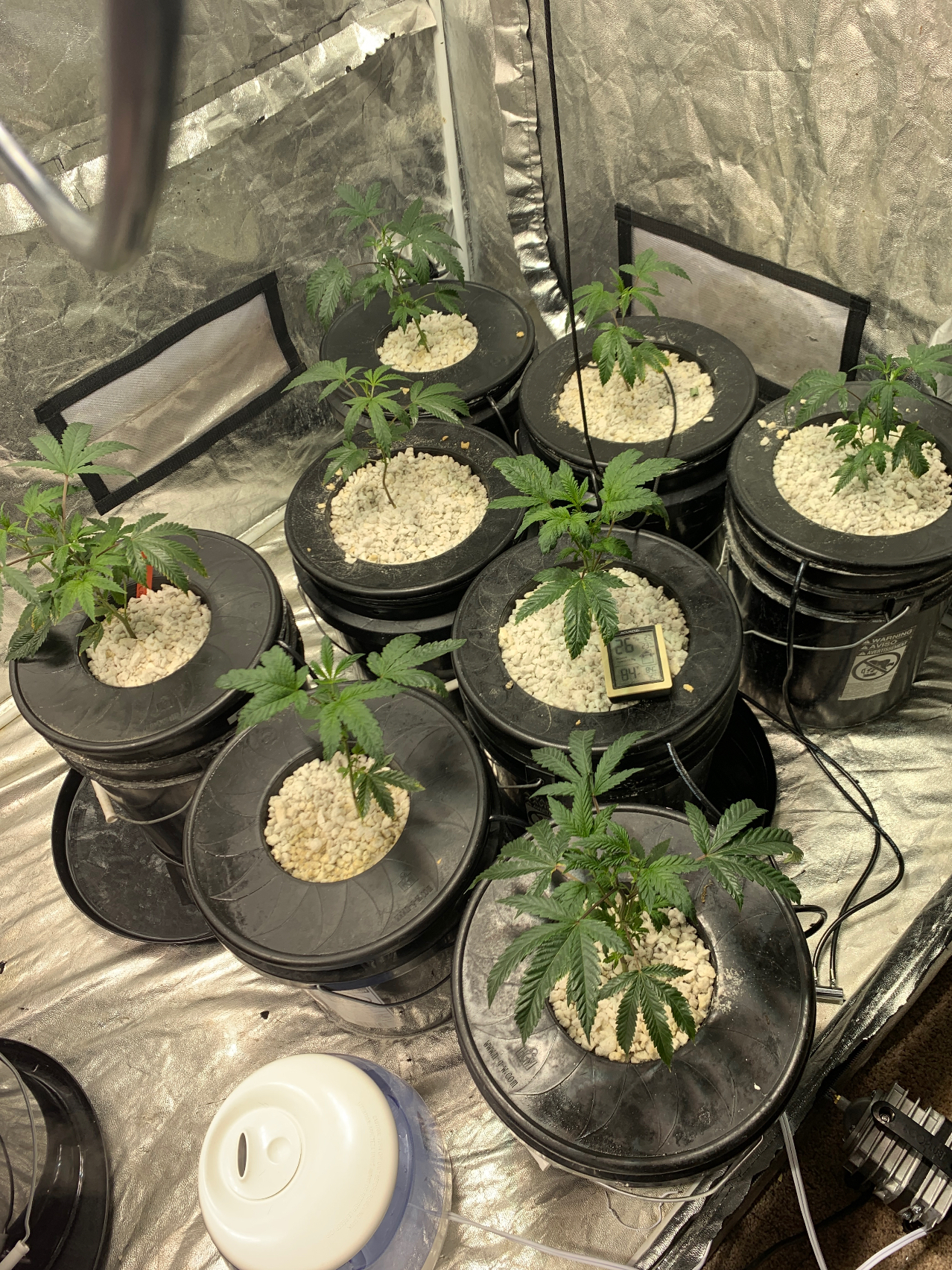 Plants are 6 in y'all, dropping, draining water to help with oxygen in roots. Suspected over watering - lights at 40% (400 watts) - lights lowered to increase intensity -6 in exhaust General Hydroponic, MAXIgro. - Temps : 80-85 - humidity : 30-45%
3 years ago
End of day update. Temps 81-82 Humidity 29-31% Lights 60% Lights 24 inches from canopy Lux : 232-304 (x100)
3 years ago