ckdrouin
Night Owl Seeds Tropical Wiz
2nd Grow Feminzied Autoflowers
This is our first experience with autoflowers so we are very excited to see how she grows! We will be planting two of these seeds. 1200 Watt Full Spectrum LED grow light (Amazon) 2X4X5 ft Grow tent Styrofoam cups (first week) 2 gallon fabric pots 1 Gallon Multi purpose sprayer
F1 Hybrid Wizards Apprentice X Zamaldelica Express
These plants sent themselves into flower way sooner than we were expecting. We are using Peak Harvest Bloom nutrients and still using the Dyna Gro silicon solution for the roots. Both of these plants seem to be doing pretty well. Re-tied them both down a few days ago to expose more of the bud sites to the light. Pistols are rapidly forming at all of the bud sites.
3 years ago
Temperature 64.6* Humidity 61% Haven't been giving the girls as much attention as they should be getting this past week. Not sure if they should be a little bigger than they are but they are showing pistols and seem to be starting to flower.
3 years ago
Started low stress training!
3 years ago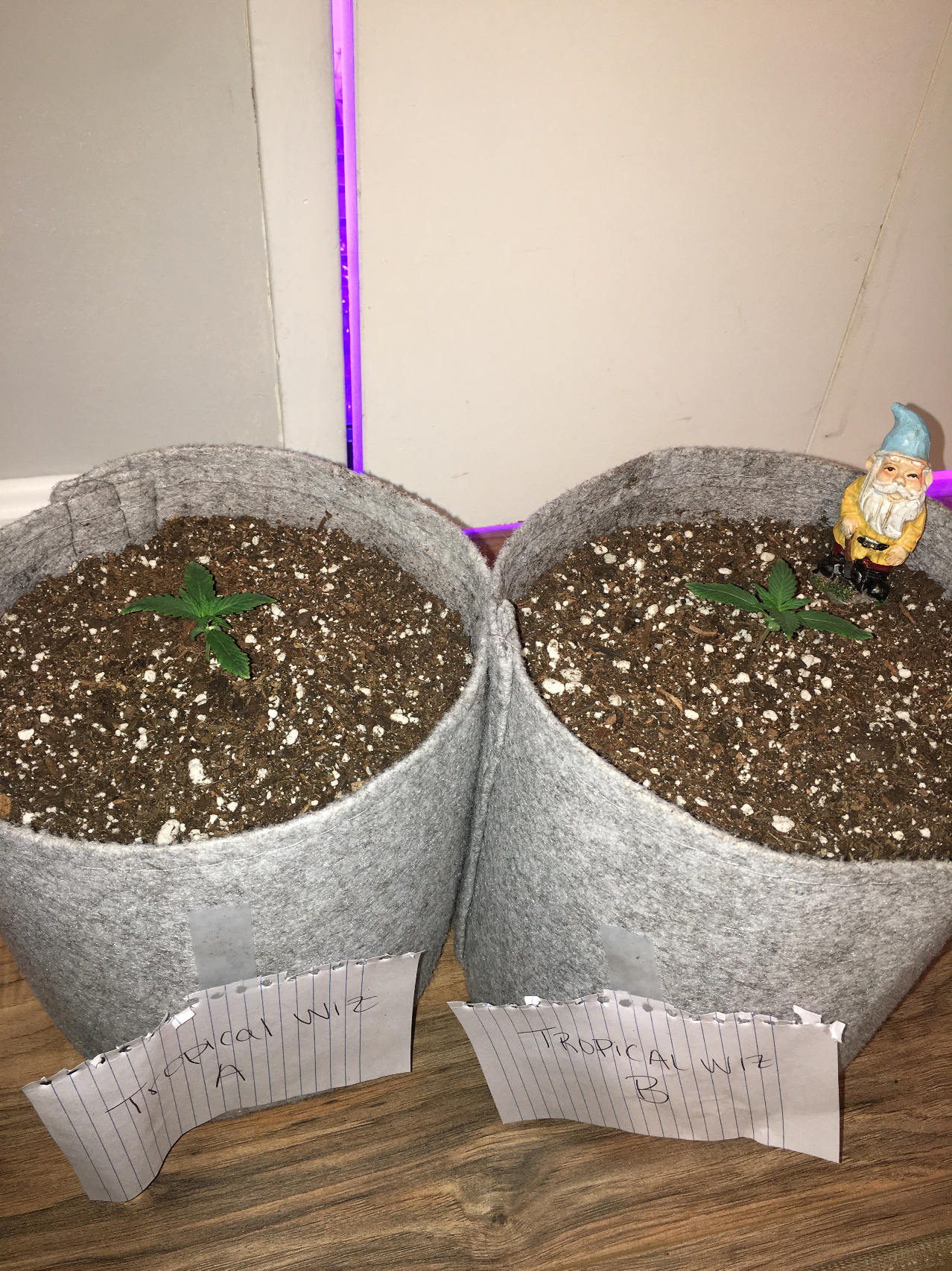 The girls are getting their first dose of nutrients today. 24 fl oz split between two plants 1ml Peak Harvest Grow 1ml Pro-Tekt Silicon Solution
3 years ago
Temperature 71.1*F Humidity 55% Transplanted into 2 gallon fabric pots yesterday!
3 years ago
Temperature 79.7*F Humidity 47% -End of seedling stage -Getting ready to transplant these into 2 gallon fabric pots where they will finish out their life cycle -Have been getting 24 hours of light so far using a 1200 watt full spectrum LED
3 years ago
Spiky leaves are getting bigger!
3 years ago
Popped through the dirt in 1 day. The girls are in a soil mixture made of 3 parts seedling soil and 1 part Fox farm Ocean Forest.
3 years ago
Germination day! Using the paper towel method to germinate two of the seeds in this pack.
3 years ago
Germination successful! 2/2 4 days of germination
3 years ago