Master Kush- DWC
First 2022
Master Kush fem seeds from ILGM in a shitty 4 site RDWC i built in a 4X4 tent under a 300 Watt Mars Hydro bar LED.
😅 well I cut the plants down around day 108 and over mothers day weekend I got covid and it was extremely bad I literally almost died, it was a wild few weeks but I'm all healthy now. I still have a little bit more to trim but basically done I have plenty of B-buds to make a bunch of pre rolls and trim to make edibles. Pretty happy with the harvest and I have a new group of seedlings and clones for the next journal coming up
a year ago
Peng Congratulations on swerving the reaper 😎
View 2 additional comments
Week 13 Flower day 51- I'm getting a great citrusy smell from tent and the buds keep swelling up
a year ago
Week 12 flower day 43- nothing new to report buds getting bigger everyday
a year ago
Week 11 flower day 35- still moving along refilled the reservoirs with a healthy dose of bloom nutrients and additives. Almost there a few more weeks till harvest 🙌🏽
a year ago
Week 10 Flower day 28- Still going still growing bud sites still developing, everything's good. The flush didn't remedy the problems I wanted it to so who knows 🤷🏾‍♂️🤷🏾‍♂️🤷🏾‍♂️. It's also been getting too hot so I got a portable ac for the room, I'm pretty excited for it.
a year ago
Week 9 flower day 22- I'm seeing Nute burn so I'll need to flush tomorrow I'm too busy today
a year ago
BoofMaster You don't need to flush with DWC, just dilute your mix with some water👌
Week 8 flower day 14- Nothing really new to report just growing.
2 years ago
Week 7 Flower day 8- I was hoping for a more intense stretch to fill up the net but it's just a short and bushy strain. I'll let them do their thing for another week and reset the net and do a very big defoliation.
2 years ago
cowboy85 That sure is a funny looking flower
Week 6 Day 1 of flower- I had the plants in 36 hours of dark, and I see they are starting to stretch and the some of the branches are starting to stagger. I set up a trellis net and cleaned and refilled the reservoirs now with the bloom recipe, does 830 PPM seem high?
2 years ago
Week 5 - I'm gonna put them in flower next week 🤪 I did want to flower them fast but 1 more week isn't gonna kill me. No real problems the past couple weeks just growing happily.
2 years ago
Caliban Heat? With maybe some mg deficiency? Can you share more details?
Caliban Do you have pics of the entire plant? Are the leaves lower or upper that are affected?
CoryTrevor @Caliban the rest of the plant is fine only these leaves were affected at the bottom two nodes
View 4 additional comments
Week 4 - Some decent growth this week, the two smaller ones are coming into their own. I have the bigger ones tied down nicely. I cleaned the reservoirs and gave them fresh water. Also it only took me 4 weeks to figure out how to maintain a constant and good temp and humidity in the new tent 😅. Hopefully i can flip them next week.
2 years ago
Week 3 nothing new to report.
2 years ago
Week 2- Ricky isn't gonna give me any new seedlings so i gotta finish these out, he said I have to learn for how to be a man. Plant 1 and 2 look pretty good and i have high hopes for 3 to recover, but 4 is completely fucked it will be funny to see what it becomes. I emptied out and cleaned the reservoirs and put fresh water back in, i'll probably try and do that every two weeks. Also i painted the lids black because i was worried too much light was able to get through and it looks cooler.
2 years ago
mystrain420 _@eaegifts The damaged leafs on the bottom won't stop it from growing. It'll do just as well as the others but you should cover her rockwool with hydroton vs leaving it exposed to the air 👍🏾
Drewfus23 Be careful with the rdwc and bacteria are you running the same 1 plant (are these clones ) or all different seeds?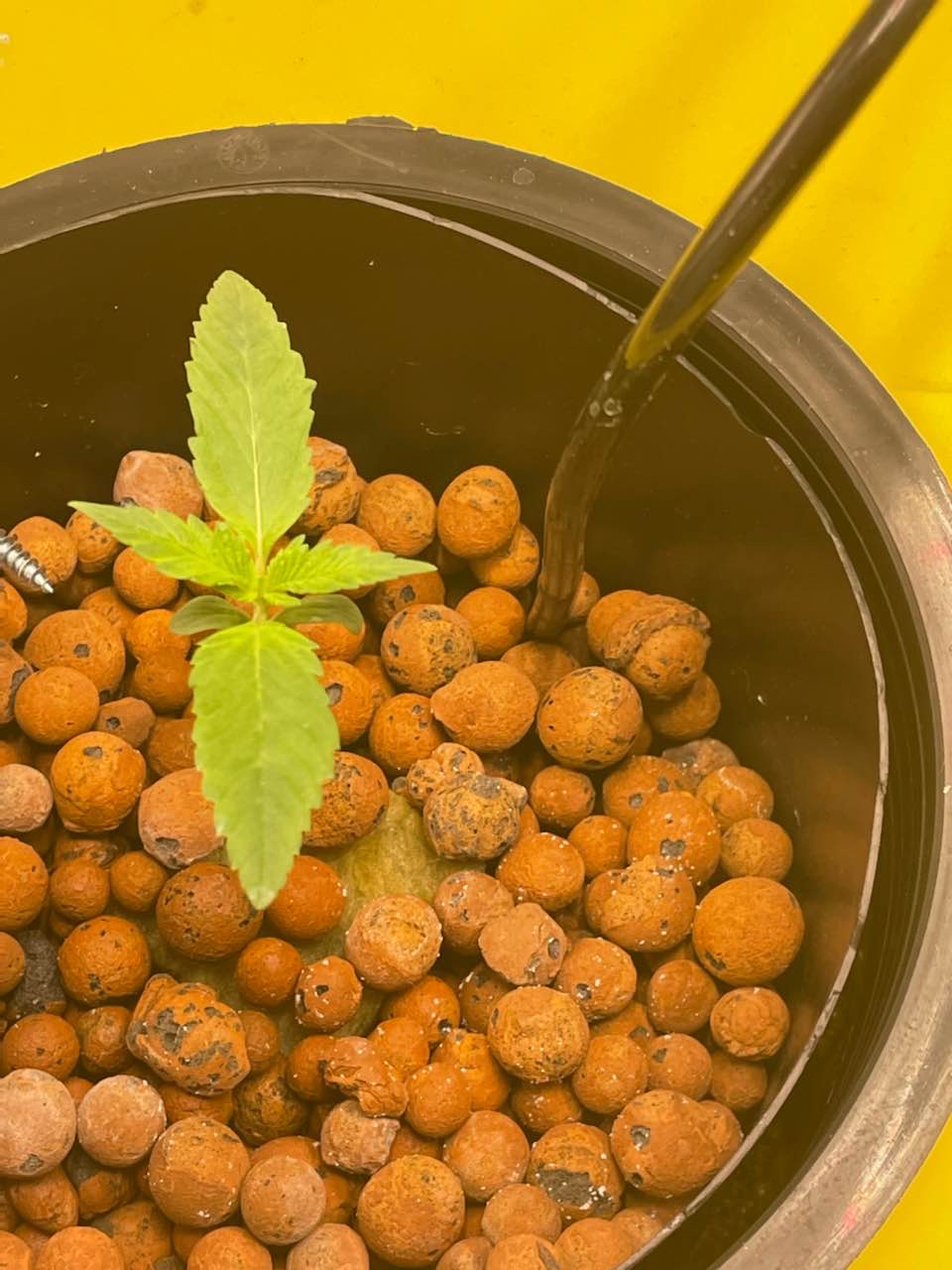 Tragedy struck already in week 1 the exhaust fan randomly turned off one night and i left the humidifier running and it got pretty damn humid in the tent for a few hours. The seedlings were all noodly and slumped over. They seemed to have recovered but they don't look healthy, i might just hit the restart button and toss these.
2 years ago
organic_grower Ya man that's alot of stress for the little ones.. at least your not to far
Peng It's shitweed boys, I am the liquor
Ill just count this as day 1
2 years ago