seadub1979
Cowboy Kush and Alien Star Cookies
Second tent - local clones
Picked up two clones from some good friends. These clones are honestly not in the best shape I've ever seen, but they were given to me, and I think they are good genetics, so I'm going to see what we end up with. Cowboy Kush is a cross of Hells Angels OG and Stardawg and is a 70/30 indica dominant plant, while the Alien Star Cookies (ASC) is a cross between Alien Stardawg and Monster Cookies and is a very evenly balanced indica/sativa hybrid. Both are clones, as stated earlier, and I have grown from clones from this source before, and ended up with amazing results (Monkey Mintz/Chocolate Chimp). We'll see if that continues here… I'm skeptical, they aren't in good shape, and have been pretty stressed recently… I will report with progress!
Cowboy Kush clone and ASC Clone
My first post of 2022! I'm feeling much better about the ladies now, after having a week or so of really cold temps and snow, we are finally getting warmer! I was very concerned about how cold things were out there, especially the root zones, but they seem to have made it through pretty well. I changed the lights to 12/12 on December 23rd, so it's been about 1.5 weeks and I'm starting to see signs of flowering. The plants were very sparsely covered in leaves to begin with, but have now filled out really nicely. I did some manipulation of the branches and bent a few places to allow knotting and to get them to fill in symmetrically, and that has also worked pretty well. Overall things look pretty good.
a year ago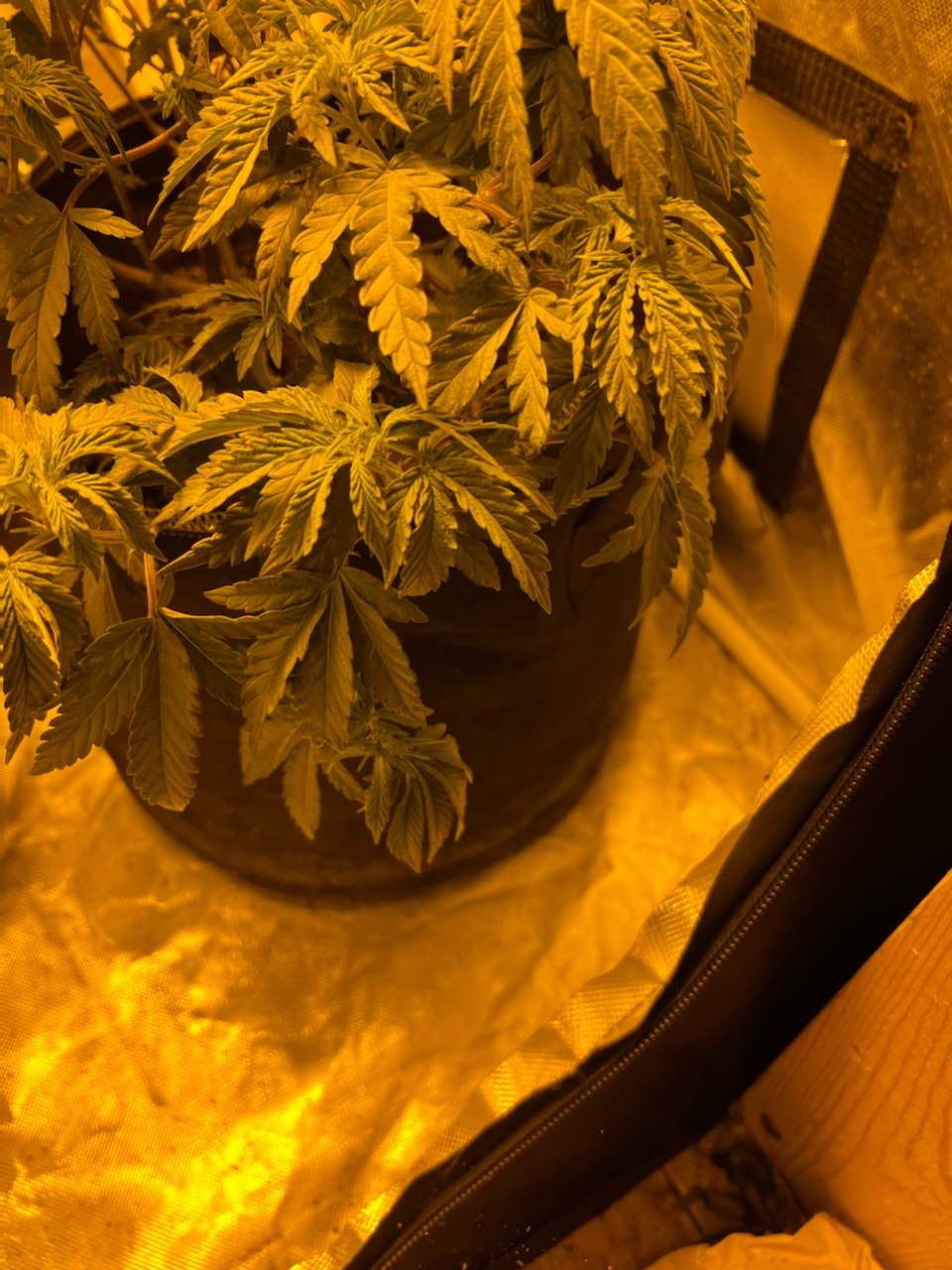 I have two tents going at the moment, and posted a similar update for my other plants (Rainbow Kush by AMS), but my area got hit with some snow and really cold temps since just before Xmas, with highs in the 20s. That's causing my plants some stress and I think their root zones may be very cold. I'm going yo get some soil thermometers to keep track of the temp. I think that they should be staying above 56 or so ideally, but I'm nearly certain just from touching the roots that they are well below that. I'm wondering if I should potentially put a heating pad (like the one I have for seeding) under the pots or something to help these ladies get to a more comfortable temperature. I realize that this may cost me my entire grow, which sucks, but I'd love any advice folks have for keeping things warm in weather like this. I suppose I should add that my tent is inside of my shed/garage in my backyard, which is a detached building with very little/no insulation. I don't own the house, so can't just go add insulation to the area, and it may already be too late for any of that stuff in any event. I'd love advice if anyone has it.
a year ago
Peng I have heard growers in colder climate areas using heat pads under their pots before, google it
alawishes86d Yep heating pads and they also lifted the pots off the ground since the cold ground is what's cooling the pots off
Peng Raise them with something insulating like polystyrene or wood otherwise the heat will be lost, maybe wrap the pots in some garden fabric as well like you'd overwinter a perennial
View 5 additional comments
So… I accidentally left the lights on for several days in a row. I think the ladies were slightly stressed because of it. They've been growing some really weirdly shaped leaves that are strangely wrinkled and gnarly looking. A buddy that owns the local grow supply store said that it might be TMV - tobacco mosaic virus, as there was a very noticeable pattern on the leaves which seemed fairly distinct. From what I gather, it can be transmitted if someone smokes cigarettes in close proximity to the tent, which in my case did happen. I've quit smoking cigarettes (hopefully for the last time this time) since then, but it's entirely possible that I caused this problem. That said, it sounds like there is very little… basically nothing… that I can do about it.
a year ago
Quick update… not much aside from a bit of floppiness in the leaves has changed.
a year ago
Wow, I can't believe that I've had these ladies for 3 weeks now. They are finally starting to look like they have recovered well from topping; they've got several new branching sites and I plan to top again before shifting to the flower period. These are both 50/50 hybrids, and it is really interesting to see how the leaf structure and general plant structure has characteristics of both I/S. I will likely give these ladies another week or so after topping and then flip em over to 12/12.
a year ago
I've employed some LST and the ladies are responding well. They've also done a great job of recovery from topping, and seem to have put off several more sites. I'm hoping to achieve some level of bushy-ness and looks like we are getting there. I'm not sure at all what to expect from these ladies, both of them are pretty middle of the road hybrids, which is something I haven't grown yet.
a year ago
These girls are a rather interesting lot. I picked them up just about 2 weeks ago from a local collective that I am a member of, and they are quite tall and scraggly, and not overly healthy. In order to try to get some even growth, I've employed some LST, and have the main cola on both plants bent over in half. That has done somewhat well since I've employed it, and the plants seem to be responding positively. I was out of town for thanksgiving and came home to find them super dry. I think that stress may be somewhat good for these ladies, and I'm hoping that they will respond to being topped with some additional lateral branching.
a year ago
Here are my homely ladies. Let's hope I can nurse them to health.
a year ago