growbate
Bubblegum ILGM scrogg
First Time
2x4x5 tent 5 gallon fabric pots 75% Fox Farms Ocean Forest Soil 25% Perlite 2 - 300w Galaxyhydro LED lights (131w actual watts each) Fox Farm Trio nutrients and CalMg LST through out and 2 rounds of topping
The bud dried faster than I wanted so I jarred it up today. I have 3.7 oz dry! I was thrilled! I think if I had grown it the full term I would've had 5 oz. oh well this is plenty for now. I tossed in some 62% humidity packs and will burn the jars every few hours for the first day and then over the week taper down to once a day.
5 years ago
Time to make dry ice hash. This is my first attempt. I am thrilled with the results. The 3 types of hash are: 73 micron which hits like a fucking truck in my vapcap m. It's the tanish one in the pictures. I have more of this than the 160. 160 micron which I haven't tried yet. I'll probably just use it the same way as the 73. It's fine but a lot more green. 220 micron plus anything that fit through the holes of a kitchen strainer. There was a lot of this in the big jar. I put it all in a jug with a bottle of 151 proof Everclear. I'll be shaking it every day for the first few days and then letting it sit for a few weeks. After that I'm hoping for some potent green dragon tincture. The process of making the hash was messier than I thought. I think I'd rather do smaller bowls and process smaller amounts at a time. I don't think I got near as much as I should have so that's why I'm hoping for a stronger green dragon.
5 years ago
Due to visitors coming we decided to chop it early. I was about 85% Cloudy and 1% amber on the trichomes. I would've preferred 30-40% amber. I think they would've thickened up more too and yielded about to 50% more. Oh well I'm still thrilled with the results. 12+ wet ounces will hopefully yield 3-4 dry ounces. Plus the hash and green dragon I'll get out of this should more than hold me over until the next harvest.
5 years ago
Getting close to flush. I'd like to run them longer but I have a summer trip coming up.
5 years ago
Medtent23 Nice SCROG grow, I'm about one week to flower cycle on some Bubblegum from ILGM. Cheers!
Still going strong with a clean water run today. No nutes just a slight ph balance.
5 years ago
Things are going smooth, no bumps this time around.
5 years ago
Things still going good. Staring to smell the first hints of sweet sweet bubblegum
5 years ago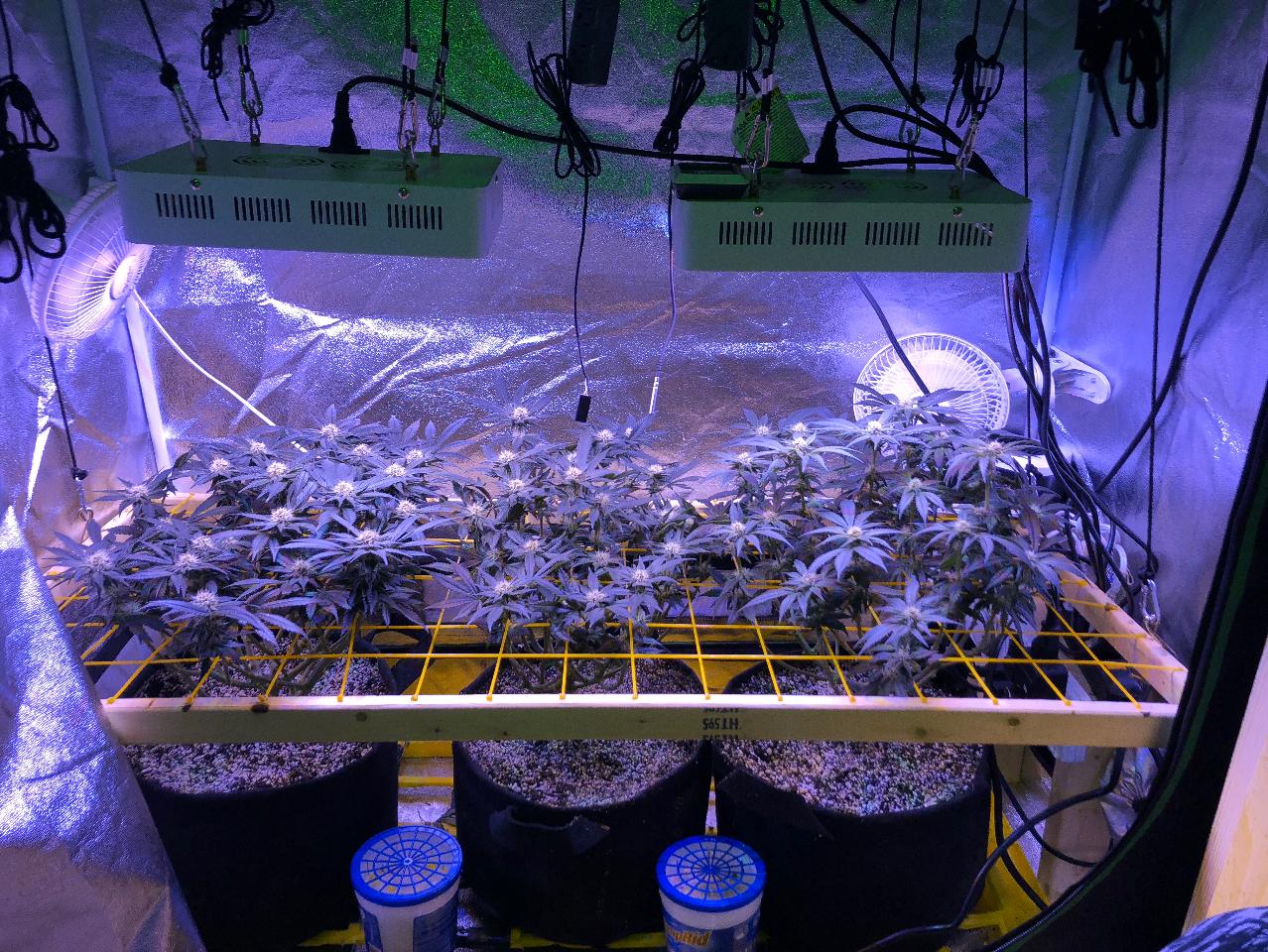 Putting those damp rid containers in the tent really helped bring down the humidity. Some of the pistils are getting darker. The left side is moving faster than the right side. Might have to harvest them separately.
5 years ago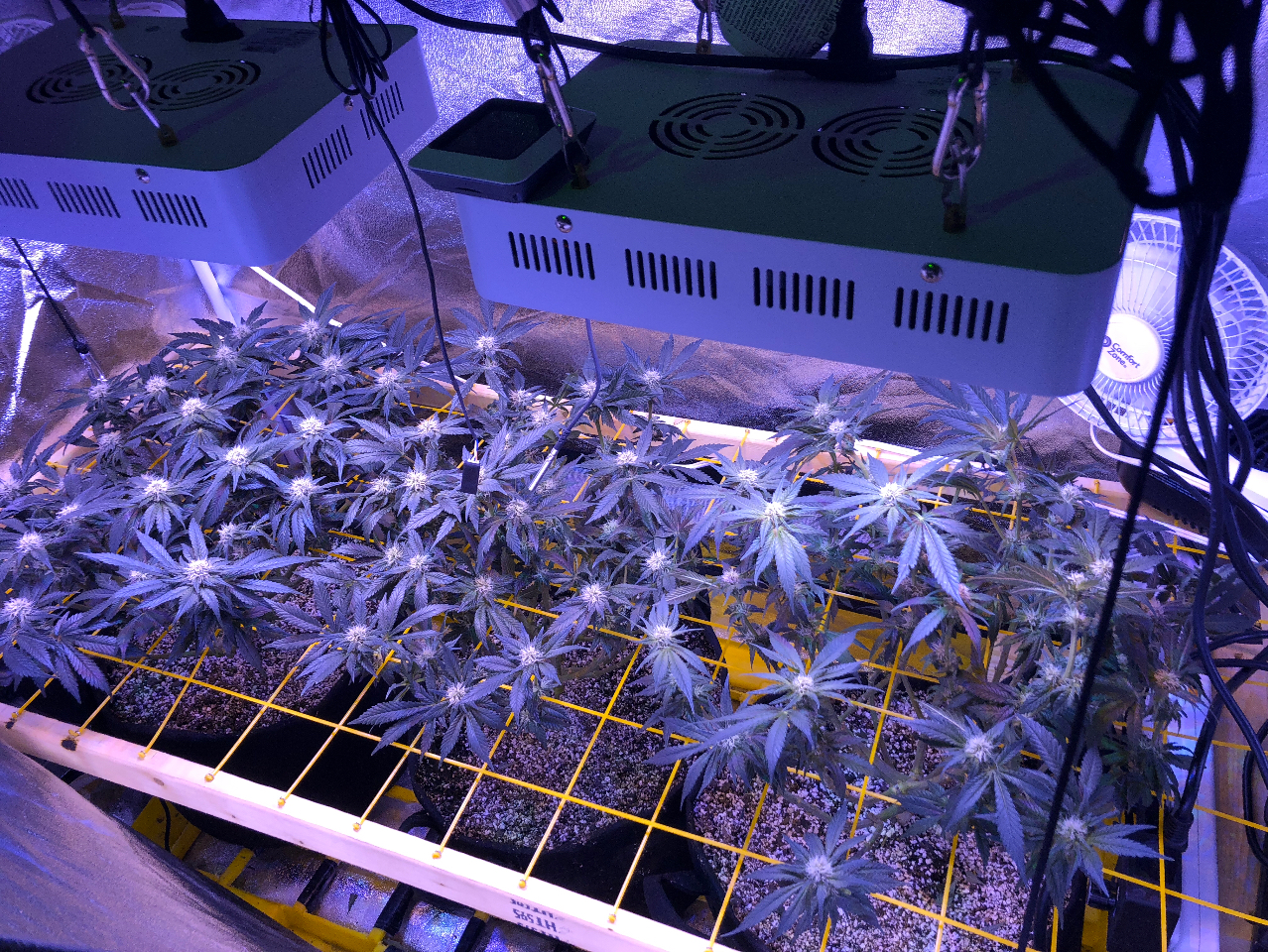 Struggling with the humidity again. I'm pretreating with neem oil just in case.
5 years ago
growbate Did some reading and decided 1 more defoliation of the large fan leaves that we're covering bud sites was appropriate.
SuperiorGardens Looking good dude , I never had the Patience to do a screen style. Good choice
growbate Thanks! It makes things take a little longer but I'm glad I did it.
Day 69, nice. Starting to see it frost up!
5 years ago
Canopy is crowded again, not sure what to do.
5 years ago
Got all my new gear installed. Inkbird Temperature and Humidity controllers. Hooked up to my dehumidifier and heater. This should help me stay in that magic range and not have to worry about mold or mildew anymore.
5 years ago
growbate I think my first flowers are starting to form!
Bit of a panic here. My humidity had been consistently 68-80% and I found some WPM on the plants. I wiped down everything I could with a damp paper towel. Then I panicked and decided to just do a heavy lollipop.
5 years ago
Going okay but I think kind of slow. I've defoliated 2 times since the 12/12 switch
5 years ago
Day 3 of 12/12 light schedule
5 years ago
Bigbzkidd Is your tent a 2x4x5 if so I am using the same size. Also what's that yellow piece on the floor?
growbate Yes that's the tent size. The yellow thing on the floor is a diy drainage rack. It's made from some old tent poles and storage crate lids. It just keeps my fabric pots off the floor so I can vacuum up the runoff after I water them.
Bigbzkidd Gotcha that's dope. One other question do you have any issues with you temps and if so how do you control them
View 4 additional comments
Day 1 of 12/12 lights
5 years ago
Started LST and gave them their first topping.
5 years ago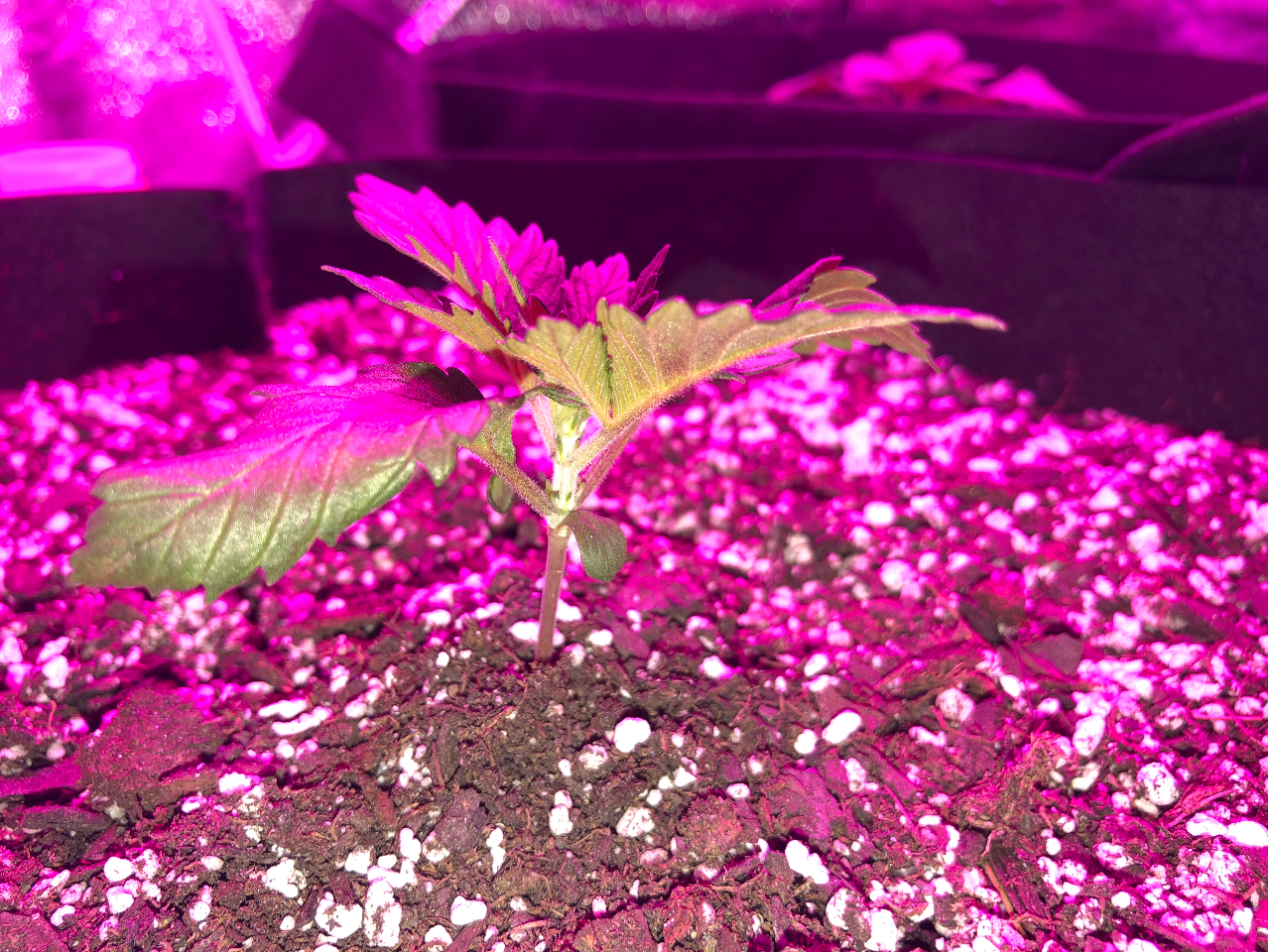 I was concerned about the lower leaves curling and dying. It stayed on the bottom leaves only. I cut them off and the problem didn't return.
5 years ago
Still running all 5 plants but only room for 4 pots in the tent.
5 years ago
Transplanted to 5 gallon smart pots. Careful not to over water. Next time I'd wait a little longer for the transplant.
5 years ago
Since germination the plants have been on a 18/6 light cycle.
5 years ago
Mint plant friend.
5 years ago
1st day in tent with humidifier, heater, and lights.
5 years ago
Day 3 from Germination
5 years ago