Blueburry Diesel #5
First grow 9/1/19 Day 1 flower 11/10/19
5 blueberry diesel seeds planted in airbags. Growing under 18/6 and 150 W light in 3x3x6 tent On day 41 moved plants to 5x5 tent with 2 Mars Hydro 250 lights, 6" AcInfinity vent fan and charcoal filter.
They are delicious. 75G total not much but didn't expect much considering issues with this grow
3 years ago
Today was harvest day. They are currently hanging on my 3x3 tent.
3 years ago
Buds are getting large. Very little amber trichomes. Like only see 2 or 3 at a time.
3 years ago
Graveyard9 Thank you. They came out amazing. TIGHT buds, great smoke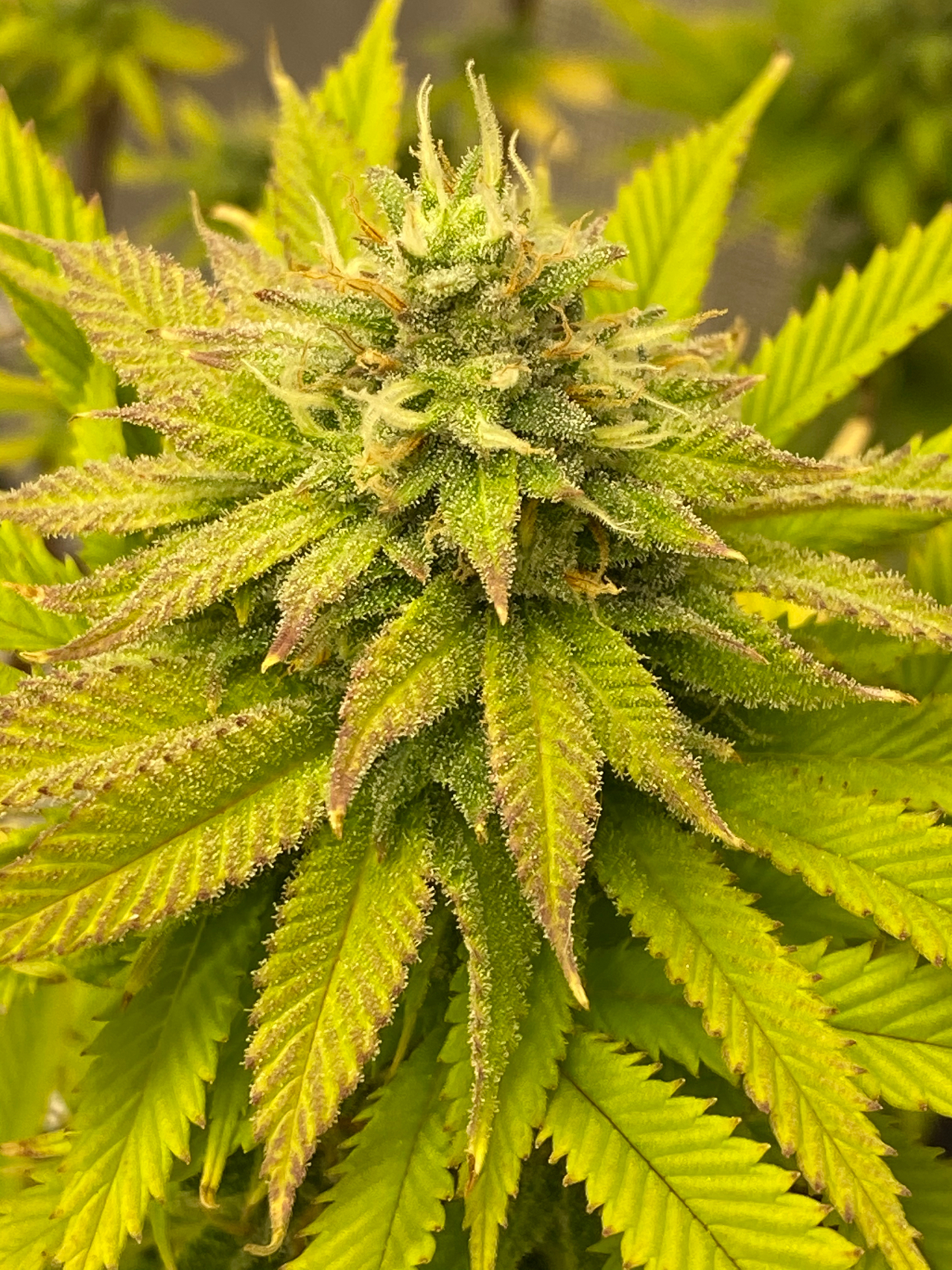 They are looking great.
3 years ago
She's beautiful
3 years ago
Getting close. About 2 weeks left. Very slow grow.
3 years ago
Less yellow today. But hairs are starting to look brown.
3 years ago
Looking beautiful.
3 years ago
Day 2 week 4 flower
3 years ago
Still very yellow but looking good Flower Day 1 week 4.
3 years ago
Week 3 day 6. The girls were looking healthy until I watered them 2 days ago. It seems when I give them their scheduled nutrients they get yellow. Next feeding is gonna just be water. Buds are starting to grow. Looking nice
3 years ago
Day 3 week 3 flower.
3 years ago
Day 1 week 3.
3 years ago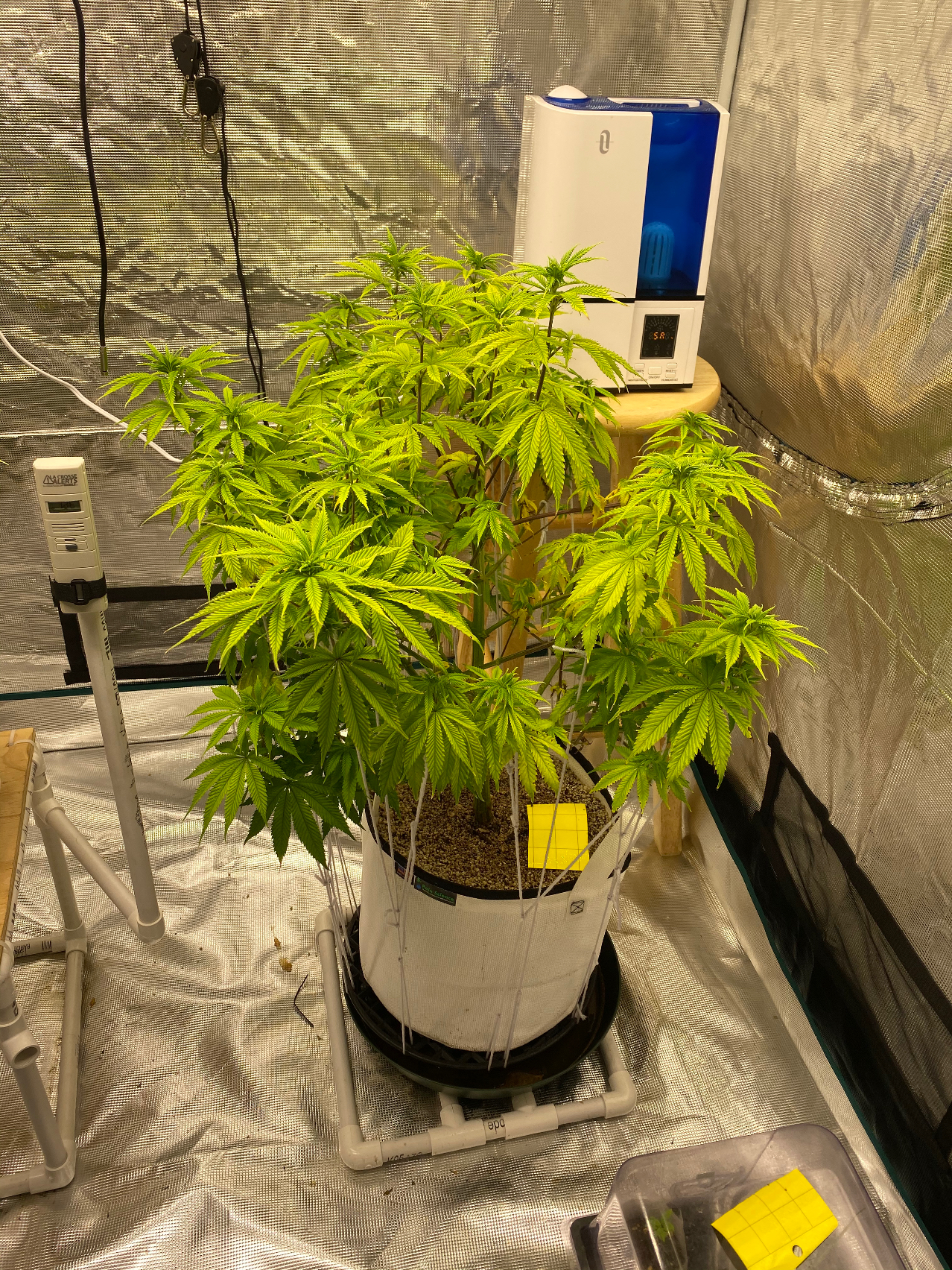 Fed today. Bugs still under control. Very little left.
3 years ago
Day 5 of flower. Lots of new growth and bugs are almost gone.
3 years ago
Day 3 of flower. Still battling root aphids but very little of them. Hopefully I can get my baby's healthy again
3 years ago
Day 1 of flower.
3 years ago
My mini split air conditioning system died so I have a hard time controlling temperature in the room and tent. Hopefully get it repaired soon.
3 years ago
Sprayed with Switch today. Will be flipping switch this weekend. Would do it now but my ac broke. Need it working before I can switch.
3 years ago
Prepping for the flip. Tomorrow clipping off a few clones,
3 years ago
Fed both plants today. 1 gallon with 3ml Fish Shit, 1ml Mammoth P, 1/2 tsp Recharge. And 1 bag lobster meal each. Today I came home to realize Kushberry Og is 27" tall. From my reading they usually grow 3x the size when flipped to flower. Which will outgrow my tent. So I did an aggressive tie down to lower her height to 21". And starting her on flower nutes on the next feeding. So flipping to flower within the next week
3 years ago
Temp and humidity has been steady for the last three days finally
3 years ago
Mystrain420 I like the structure of the first one they look good
Graveyard9 Thanks. Unfortunately I probably have to scrap this grow. Fighting Root Aphids. A loosing battle. Giving it another week for the fight. Don't wanna loose these 2, 2 clones and 6 baby's. But it's easy enough to just start again.
Nothing new just trimming off fan leaves that block light.
3 years ago
Graveyard9 I believe I finally have a handle on the temp and Humidity
Nothing new other than can't get temperature under control
3 years ago
Today watered both plants (water on flush) trying to fix nutrient burn. Have to do for 2 weeks.
3 years ago
Plant has some deficiency. Trying to get it under control but not working
3 years ago
Plants were moved to new 5x5 tent, with 2 Mars Hydro 250 lights. Low stress training started yesterday.
3 years ago
Blueberry diesel got a trimming and fed today
3 years ago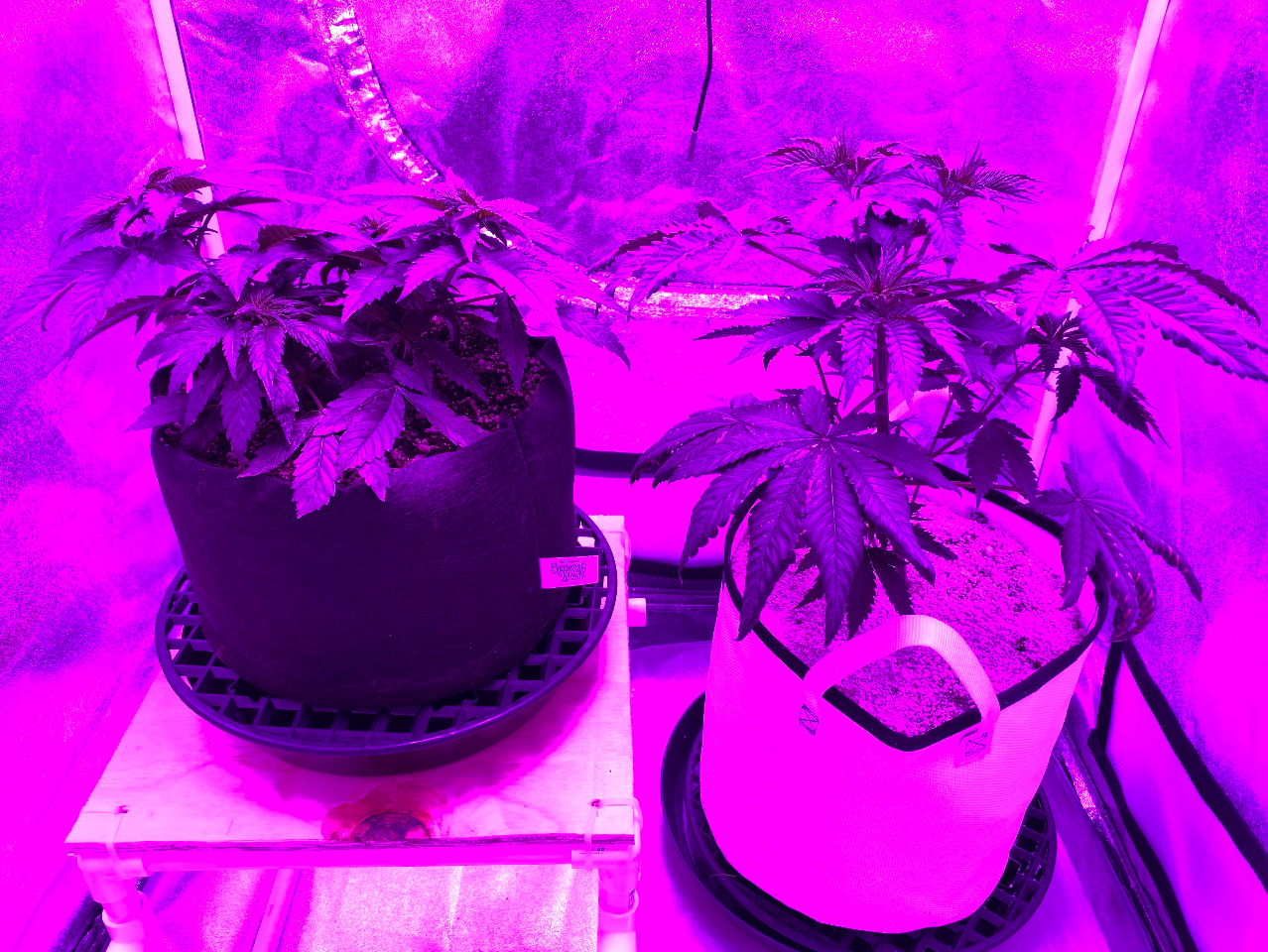 So yesterday I made a riser for the smaller plant to match the height of the other one, I raised light to 18" again. Moved vent fan out of tent to give me more room (running out of room to life light). And trimmed a few fan leaves off my Blueburry Diesel. It liked something I did. Finally grew a little taller. Over 1" (I know that's nothing. But for this plant it's a lot. It has only been getting thicker not taller.)
3 years ago
Ok today I could use some help/ advice. I acquired a second plant on Saturday (9/28) it looked very healthy. And soil was dry. Was told that it was the plants water day got it home and gave it 1 gallon of water before it drained any. Ok good it's watered. :). We it's now been 5 days and plant looks sick. And my gauge is showing pot is still soaked. I think it's over watered. Is there anything I can do.
3 years ago
Graveyard9 Is doing good. It's Still a dwarf lol. But growing think.
Mystrain420 I'd let it dry out but I'd also take a clone in case she doesn't make it. And I would ask the person who gave her to me what's in the medium because certain things like soils with clay hold lots of water and there might not be much if any drainage additives like perlite
View 1 additional comment
Still no new Growth for topping. But lower node is growing good
3 years ago
Nothing now just growing a little. Feeding tomorrow
4 years ago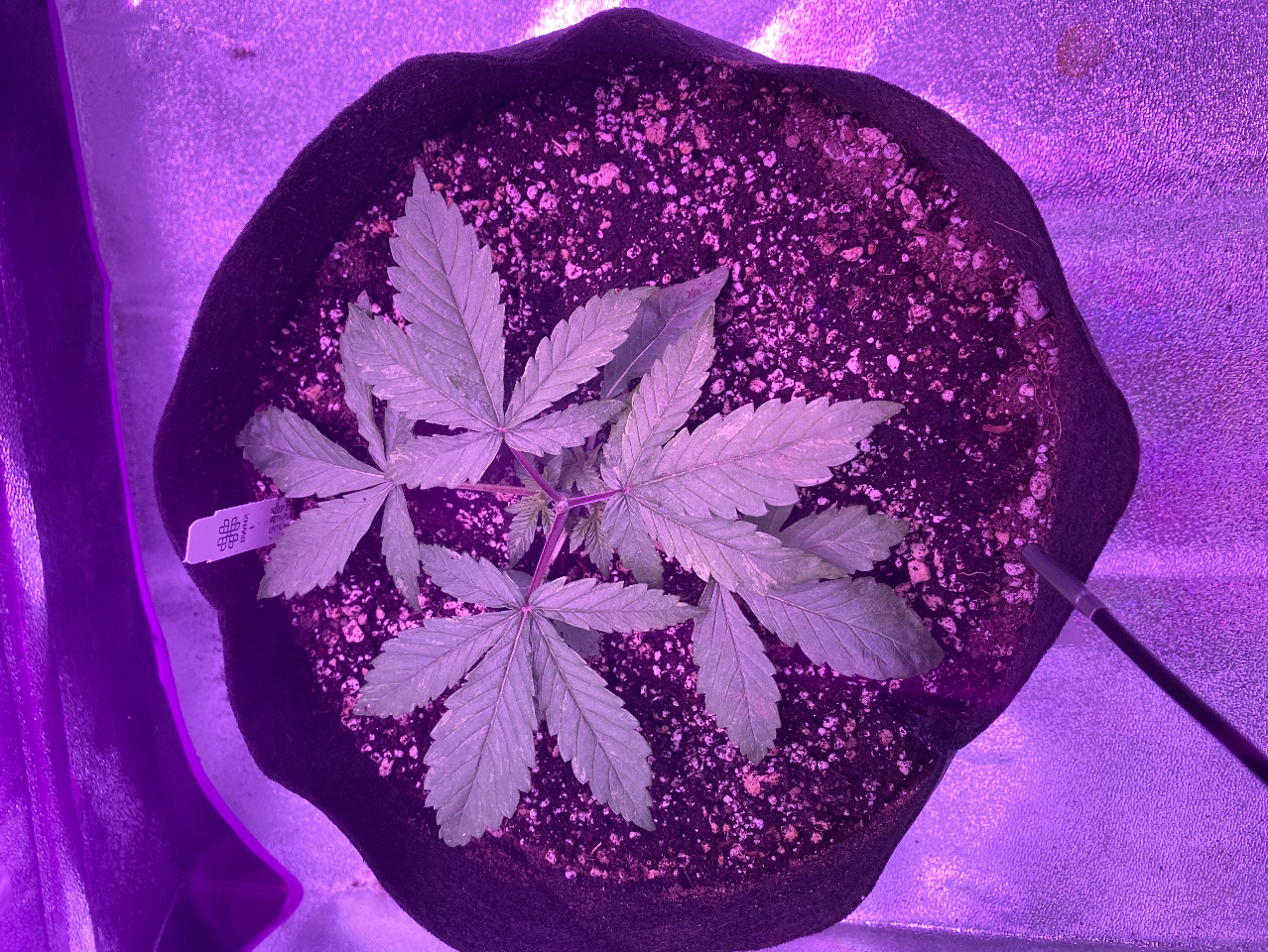 Today sex test came back plant 1 is a Female :) but plant 2 was a Male :(. Plant 1 got fed Mamoth P. And tea
4 years ago
Mystrain420 Where do u get the sex test and can ppl do it in any state?
Graveyard9 I bought it at my local hydro shop. But you can get them from many online sources. The one I use is https://phylos.bio/plant-sex-test But you have to mail from a state that is legal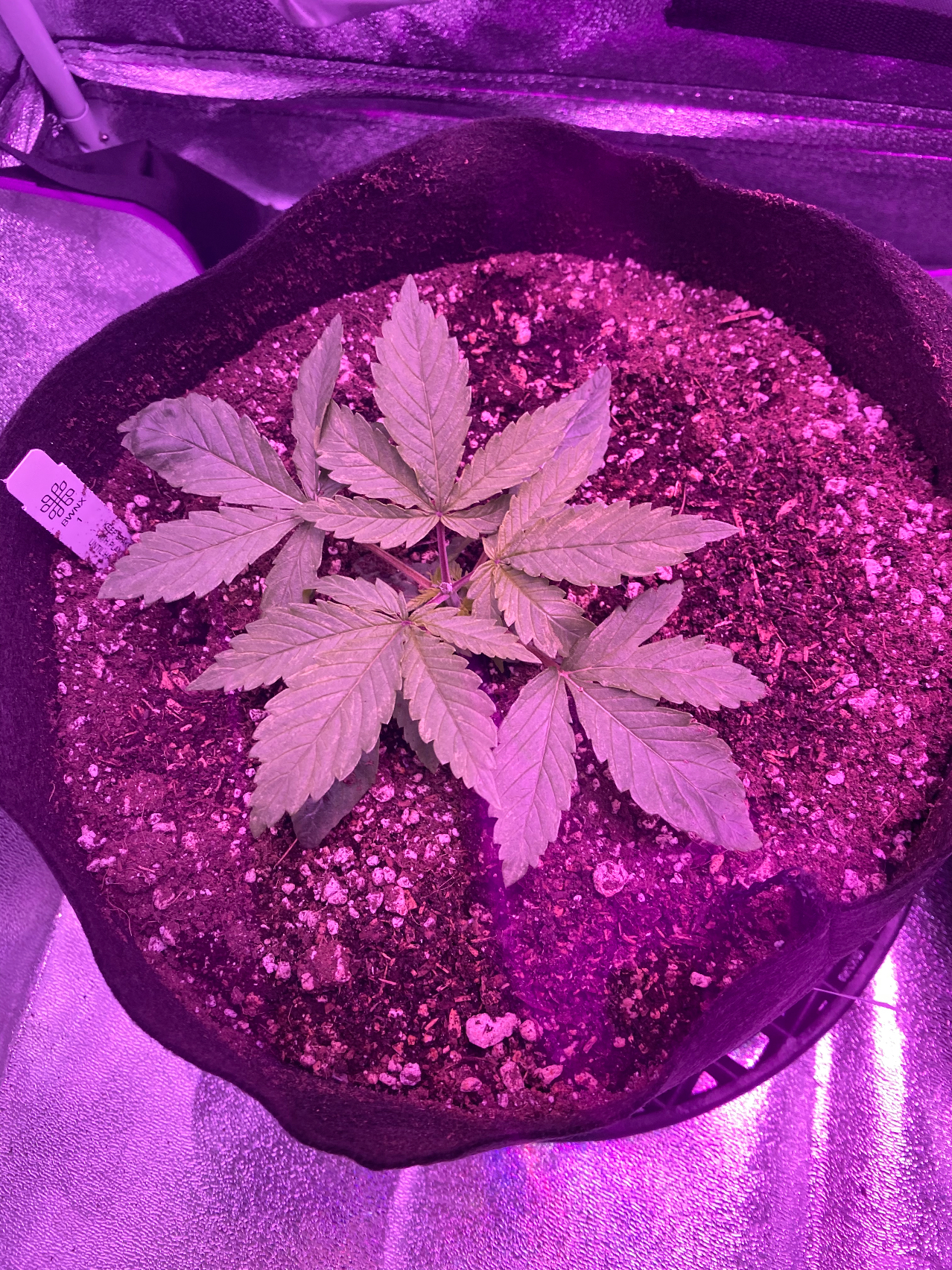 Day 17 added word castings and topped both plants. (Forgot to update app)
4 years ago
Nothing new today.
4 years ago
Added humidifier
4 years ago
Today the 2 larger ones were ready for pots so I planted them in 3 gallon bags. Nectar for the gods #4 soil. Roots Organic Teya Tea Roots Organic Trinit. Temp was dropped again to 78° Humidity was dropped to 64% And plant 1 and 2 samples sent for sexing
4 years ago
Nothing new. Going into soil tomorrow
4 years ago
Today changed water from 5.5ph to 6.5ph. Plants look a lot healthier than they did yesterday
4 years ago
Only changes today, I raised light to 3' as I believe they were getting too much light. And I put plants on a rack, they kept too much moisture being on the tray. 2 are looking good, roots are to the bottom. 2 I think are dying.
4 years ago
Some changes today. Upgraded light to "Mars II 900 Full Spectrum Grow Led Light - Mars Hydro" Added Cloudline T4 vent fan and carbon filter 85° and 75%. 18/6
4 years ago
No changes yet, 81.2° and 65% humidity
4 years ago
No changes. Under 18/6 150watt led, under humility dome
4 years ago
Under humidity dome, 150w led 18/6
4 years ago
Day number 5, 4 seeds have broken soil
4 years ago