Critical purple
January 2022
1 critical purple in 3 gallon pot. Using mars hydro ts1000. Roots organic lush and dr earth nutrients. Growing in a 2x2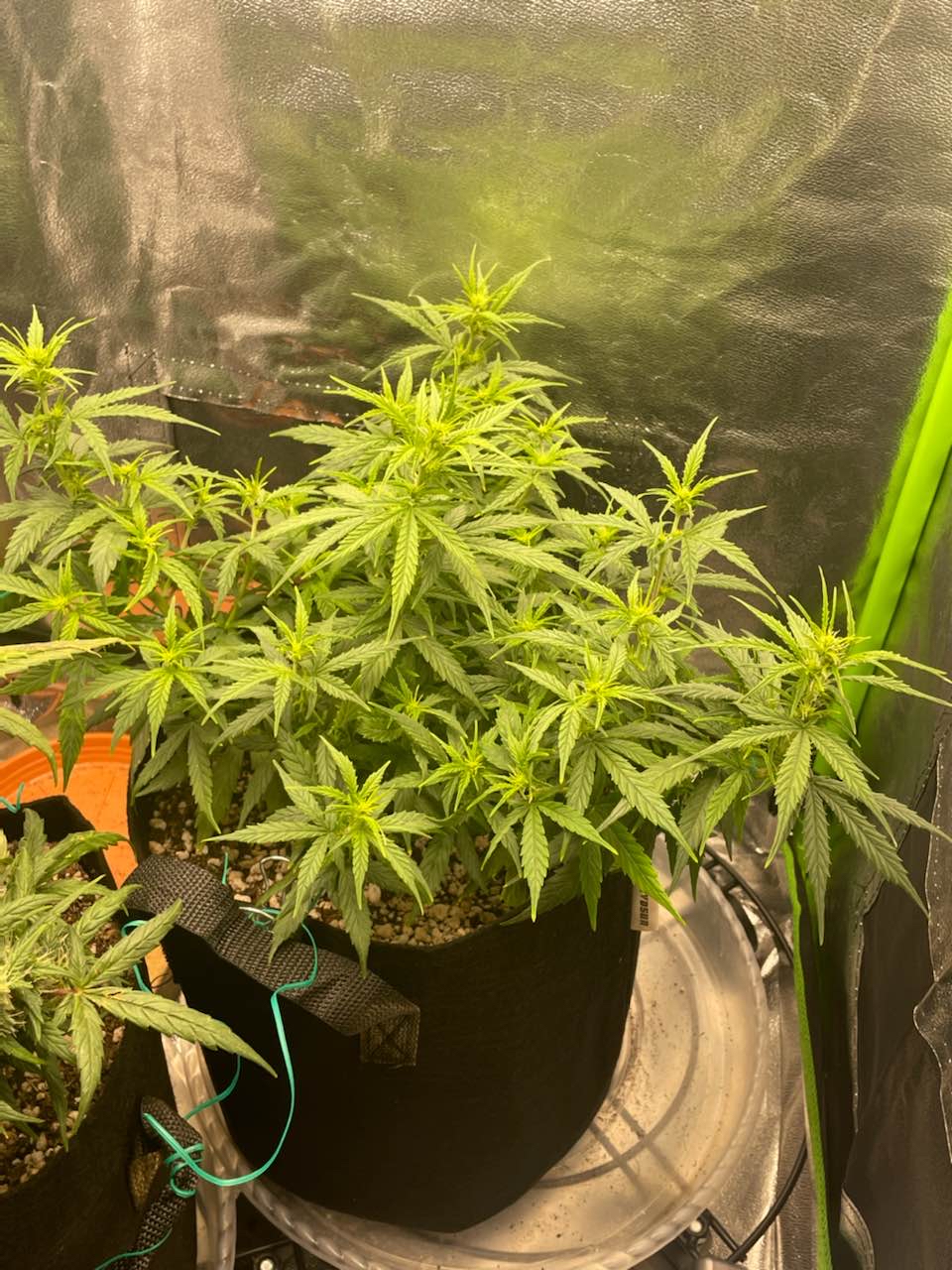 Look at how many colas. The LST has been working great. Going to water today and do some selective defoliation
a year ago
She's bushing up pretty nice. The LST has definitely been working. She hasn't started to flower yet which means she's gonna get big hopefully 🙏🏾
a year ago
She's really starting to stretch and bush up now
a year ago
colby_moore Yeah baby! Those are gonna turn into a nice couple of colas
LaFinca Yea she is without a dout going to be a pretty lady
Watered her today. Added some cal mag and molasses to her watering. Seems to be enjoying it. Did notice some yellowing on tips of new leaves. 😒
a year ago
I sure i stunted her but I flushed her and she's been doing ok. Over did it with the nitrogen.
a year ago
Well the weird leaf is not that weird anymore. She continuing to grow. Tomorrow she will get some water ph 6.2-6.5
a year ago
Seems to be growing nice and strong. That weird leaf is starting to form itself. 🙏🏾. Just been misting her with water. Will be increasing her water take in by day 8
a year ago
Gave her a lil mist this morning, seems to be doing ok but I do think I have a deformed leaf coming out or am I bugging? Lmk
a year ago
D B It's alright the first couple true leaves can be weird looking. Don't sweat it.
LaFinca Appreciate it. Thank you. I'll just keep my eye on her
colby_moore Hey brother! I've got one with a funny looking leaf too I'm about to post pics in a minute. I'm pretty sure they'll pull through I guess it's normal idk lol.
Not much change
a year ago
A little blurry but here's day 1. Everything seems to be going well. A light drizzle of water around perimeter of seedling
a year ago
GrandpaJohn You should be good on water for three days, Depending on your first watering. It's so hard to do, just waiting and not over nurturing
LaFinca Yea I'll leave her alone for the next couple days and let her do her thing