intelligent_progeny
1st grow
Spring 2022
Two west coast OG in 5 gallon pots. One using Detroit nutrient soil and the other using sohum living soils. Third plant( west coast OG or possibly OG kush; mixed up seeds while germinating)grown in 7 gallon pot with a mix of DNC Ann's Sohum soils.
Not much longer. Figure within the next two weeks. I need a better loupe cause the magnifyer is crap. Flowers have filled in most spaces between sites and pistols are changing.
2 years ago
I started with three in soil. Only two survived. This one actually had the shell stuck for the longest so I switched to a DWC. This is Kali OG. From the sites that have formed if the flowers mature like it growled, the end should be very rewarding. Using the small 100 watt AC Infinity brand LED and General Hydroponic nutrients.
2 years ago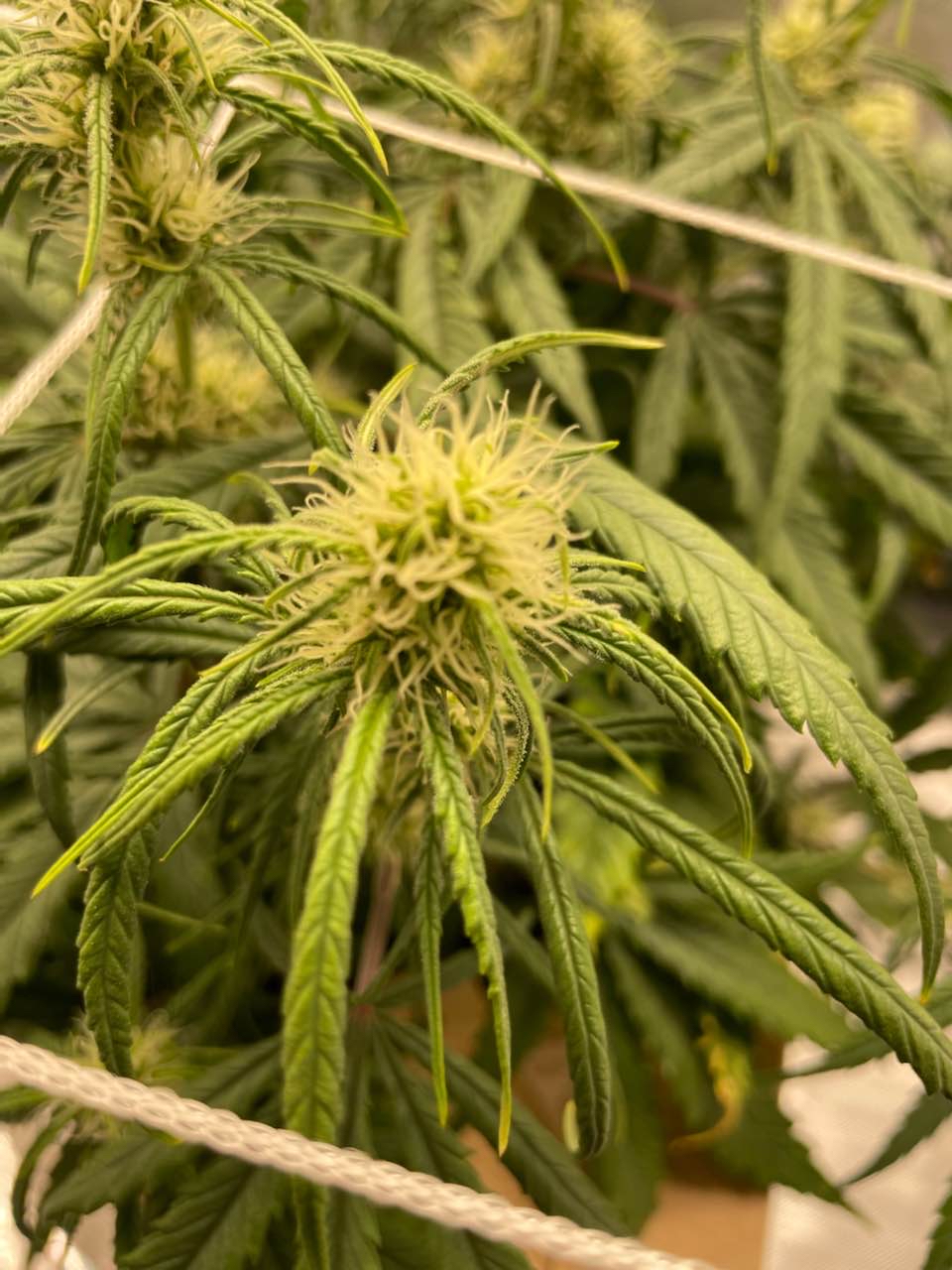 Coming along nicely.
2 years ago
Been busy with other stuff. Here is my progress on this educational journey. Before she was watered. Plain water Phd at 6.3 runoff was 6.2. Will give her nutes next feeding.
2 years ago
Coming along nicely. Nutrient deficiency cleared up. Learning about mobile and immobile nutrients was very rewarding and interesting.
2 years ago
Need advice. Had an unexpected last minute trip. Left instructions with what to do but it happens. My girl is sick. First thought was PH. Watered with ph water at 6.2. Runoff was about 6.4. Affected leaves are sporadic and mostly at bottom and kind of spread. Using roots organic nutrients at about 1/4 strength. Calmag at 50%. Any suggestions. Temp average 75-80 and 45-55% Rh.
2 years ago
Caliban I'll take a shot. Looks like K deficiency or some micro. Look online at leaf deficiencies and try to match. Lower leaves mean mobile usually.
Caliban Also that is low RH unless you are late flower. The plant might be pulling in too much from the soil and causing an overdose of N, which could cause a deficiency in other areas I think.
Giving her her morning look over. Tucking leaves
2 years ago
Getting her weekly feeding of fish shot today. Pruned off two old fan leaves that showed some problems earlier in the week. Flushed and she seems to be doing better. Tucked a few leaves and just letting her grow.
2 years ago
Had some burn going on on the lower two fan leaves so I pruned them. Bought some 90 degree plant benders that I'm thinking of putting on her. Being my first grow might just let her do her thang as I learn.
2 years ago
Really enjoying this 1st time journey. Gonna give her weekly fish shit feeding tomorrow.
2 years ago
GiJoey About to finish up my first journey & it's been a blast!! You're looking mighty fine so far, keep it up!!
Slow and steady. My girl is doing good so far. Going to add CO2 this week and start LST.
2 years ago
Amazing to watch the growth. Still learning and educating myself. Today I gave her some fish sh!t with her feeding which I plan to do weekly.
2 years ago
Gave her her first water to runoff. Learning as I go.
2 years ago
Slow and steady. Definitely seeing a difference between yesterday and this morning
2 years ago
Plant 1 in DNC. 18/6 schedule with sf2000 at about 40inches from light at 75%. Maintaining 70-75 temp and 45-55 in humidity.
2 years ago
Moved light closer due to stretching. Added some soil and a plant tie to support stem.
2 years ago