Third LED grow
Changed watering system Flora Flex to Alien RDWC
After my first two runs with LED I realised there was a lot of room for improvement. As I wasn't battling with keeping the  temperature down & the issues that accompany it. I had already upgraded my watering system to a hybrid Flora Flex custom set up, after my first initial LED run. Nutrients were being fed much more evenly & consistently across the board. I still had some issues with certain pots not receiving the same amount of nutrients as others. Also as the grow went on, some Flora Flex shields would get blocked, easily unblocked just annoying that it kept happening. Brilliant system definite upgrade from what I was using before. But I think with it's lack of full control, I would ultimately not be able to achieve what I wanted. After some research, I have chosen to go with a Alien RDWC system. A full hydroponic set up, as opposed to the hybrid ones I have used in the past. The plants will be suspended over the reservoir, in a net pot for the roots to grow down directly into the nutrient solution. This will give me full control over what they are receiving & I can make changes pretty much instantly. There was a bit of additional equipment I needed to purchase, other then the Alien RDWC system. To have the full control I was after. Hydro Logic, Evolution reverse osmosis unit, I needed this because I live in a hard water area. So would be limited to how much nutrients I could add, because of the high EC level my water starts off at. This filter effectively brings my EC down to 0.0 a blank canvas. One of the other reasons going for this unit was its ability to handle large amounts of water. Some of the smaller units would've taken all day to filter the amount of water I required. I have everything set up on float valves, my main tank 280L holds fresh RO water, for refilling the system & top ups. The System itself holds 350L, so it's a close match. Although it doesn't matter as everything just refills automatically with the flow valves. A added bonus of this unit is my filter tap water not only comes out EC 0.0 the PH is 5.8 Bluelab Pro Controller & PeriPods. I've always used bluelab controllers to monitor my PH & EC. Excellent controllers as long as you don't let the PH probe dry out. I went for the Pro & PeriPods because of the auto dosing, to save myself having to constantly check & adjust it the values. I set everything up with the software that came with it for the entire grow. I just make adjustments as & when I need to. It takes about a hour to get the PH & EC to what I have set it to, from a fresh tank 0.0 basically every time it doses it changes the value by 0.1 then waits for 10 minutes before dosing again. To ensure the nutrient solution is thoroughly mixed, this time can be adjusted to whatever value but I find 10 minutes works well. Also I'm not there when this is happening, so the actual time it takes doesn't really matter as long as it stays within range. I also had to remove some of my Rhizo System components. Pump, float valve & control unit. From the brain bucket & install it into a smaller bucket. To collect my dehumidifier water & pump it out to my waste tank. The bigger brain bucket with the waste outlets, was far too big to fit into my grow space with the Alien RDWC system. Hoping to achieve that elusive 2 grams a watt with this LED run. To match/better my HPS runs in terms of yield, in the same gross space.
Week 11 - Harvested some good result overall, considering this was not one of my smoothies grow cycles. Few factors played a part in the final results being what they are. Only feeding part A in veg & then again in flower for a few weeks. Not anticipating the rapid growth in the vegetative phase & them ultimately them getting too big in flower. Will keep more of a stricter eye on these things & hopefully have a better outcome next time. Still chasing that elusive 2 grams a watt goal. Yield is staying relatively consistent with the numbers of my previous LED runs. 1.76 grams a watt (2580) or 8.12oz a plant (20) this run. Next time around I will be doing a shorter vegetative stage, that will hopefully reduce the growth more in those first few weeks of flower. I prefer it when they grow almost like Christmas trees & I don't have to super crop & weave them through the net too many times. The light just seems to penetrate down the plant better, as opposed to netting them & completely covering the canopy 🍃
10 months ago
HammertimeAZ Looks great to me! How many plants and how much production per plant?
Gavita Jay Did you read the second paragraph 😅 all info in there
View 8 additional comments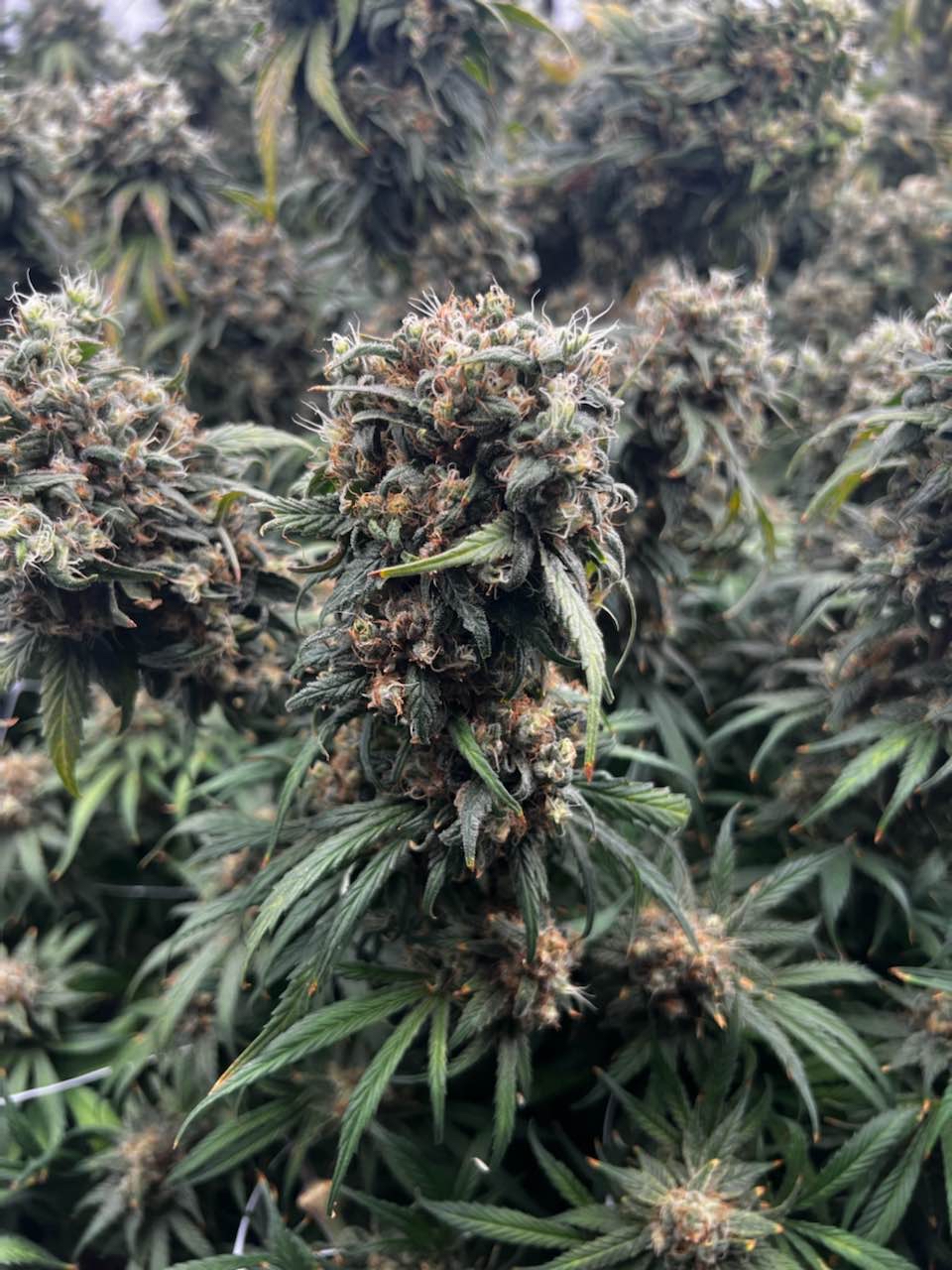 Week 10 Flower - Last week before harvest, changed to just RO water a few days ago. To give them a good flush of the reminding nutrients. They look like they could have went a bit longer. I got some more size & hardness off of them in the last week for sure. Quite a bit of fox telling due to how close they are to the lights. Something I'll have to address next time around, looking forward to harvest 🌳
10 months ago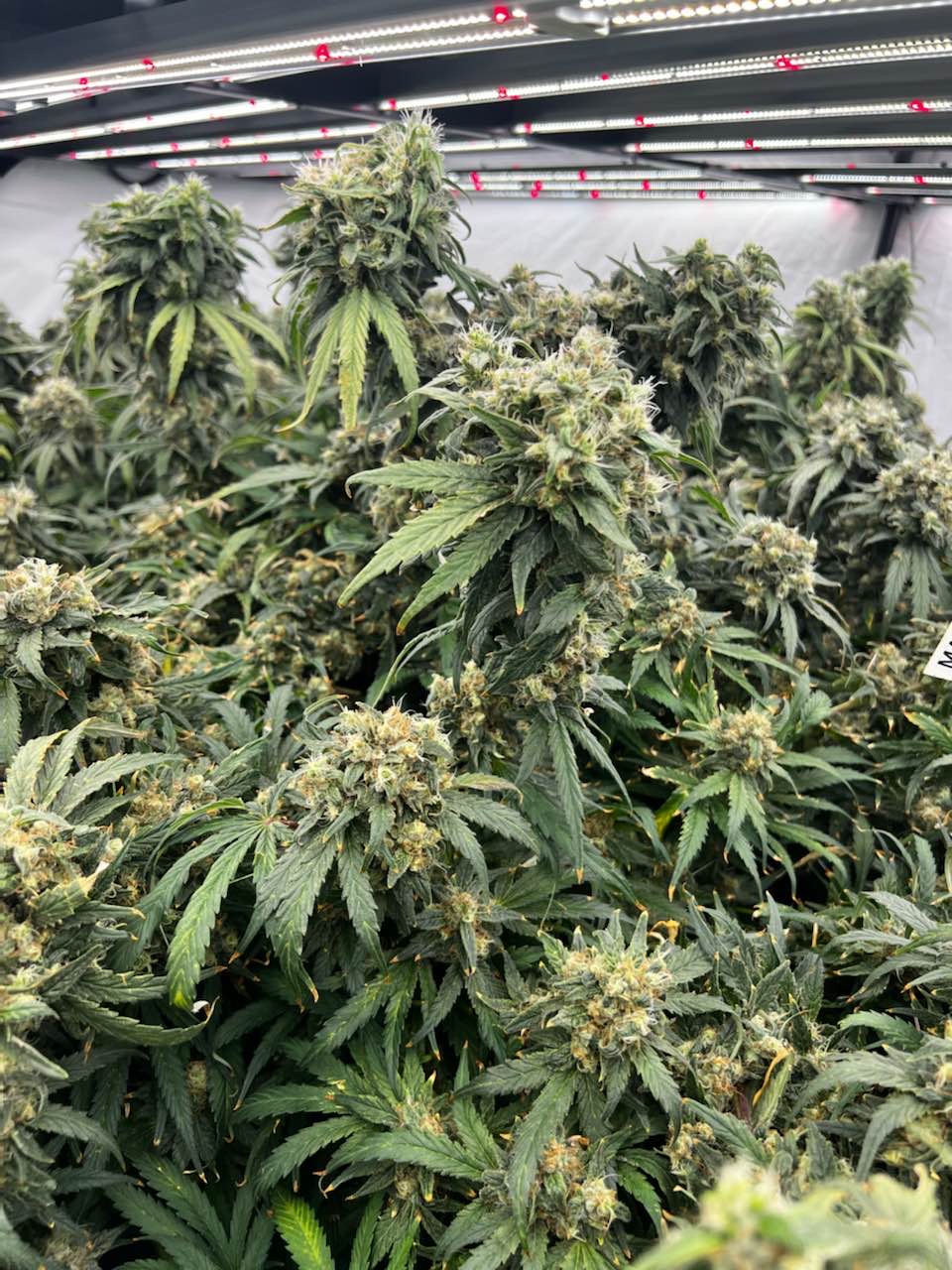 Week 9 Flower - Starting the final week of flower tomorrow. I've been ripening to 2.6 E.C for the last week, going to do 10 days in total. Then RO water for a few days before harvest. They have definitely filled out more, haven't quite got that rock hardness to them yet. Hoping they harding up in the final few days of RO water. Overall I'm happy, don't think it's going to be the result I'm looking for in terms of yield. But we are definitely making steps in the right direction 🌳
10 months ago
mofolord How many people for trimming this shit. 🤣 going to get biceps on your fingers.
Gavita Jay Thank you & 1-2 should take maybe half a day. Got a Trimpro cuts the time it would normally take in half at least 😅
mofolord Good work dude. Keen to see how much u harvest.
View 1 additional comment
Week 8 Flower - Things are looking promising, did the other half of the defoliation in the week. Has really opened up the canopy & give some of the buds sites further down. More of a chance to develop into something substantial. I have started the ripening process E.C 2.6 for 10 days & then plain water for 4 🌳
10 months ago
Week 7 Flower - Starting week 7 of flower tomorrow, bit controversial but I did a defoliation a couple days ago. There was just too much growth in the canopy, lots of the buds sites in the middle weren't receiving any light or air movement. Subsequently since opening it up a little bit, by removing a lot of the bigger fan leaves. I can see they are starting to get more colour & are not the light green they were. This should help round out my yield, no one like popcorn buds. I'll take this run definitely as a learning curve, did not expect such explosive growth. Hopefully I can dial it in & take advantage of this next time 🌳
a year ago
youcanthavethat1 Good grief bro, shit is banging and it's Indica I'm so jealous🤑
View 1 additional comment
Week 6 Flower - I boosted with PK 3 days ago. I'm starting to see some new growth coming through from it already. I'll defoliate lightly at some point this week. The canopy is just too thick, I want to try and expose some more of the duds sites underneath. Wouldn't normally take anything off at this stage, but removing some of the older, bigger leaves shouldn't do any harm. The but sites right at the bottom could definitely do with a little bit more direct light. Although they are pretty impressive being completely in the shade. I've been watching closely to see if they are showing any signs of light stress being so close to the light, things seem to be okay at the moment. Although I am expecting some fox tailing later on unfortunately 🌳
a year ago
Week 5 Flower - Things are starting to pick up, the bud structure is coming on. Tops are starting to join up, the canopy is totally overgrown 😅 having some issues, some leaves are going brown & dying off a little earlier than expected. Got a bit of spotting on some of the leaves as well. Few more weeks to go, looking out for the signs to start boosting with PK in the coming week. These plants are monsters look at the stems on them, 4" cube for reference🌳
a year ago
View 1 additional comment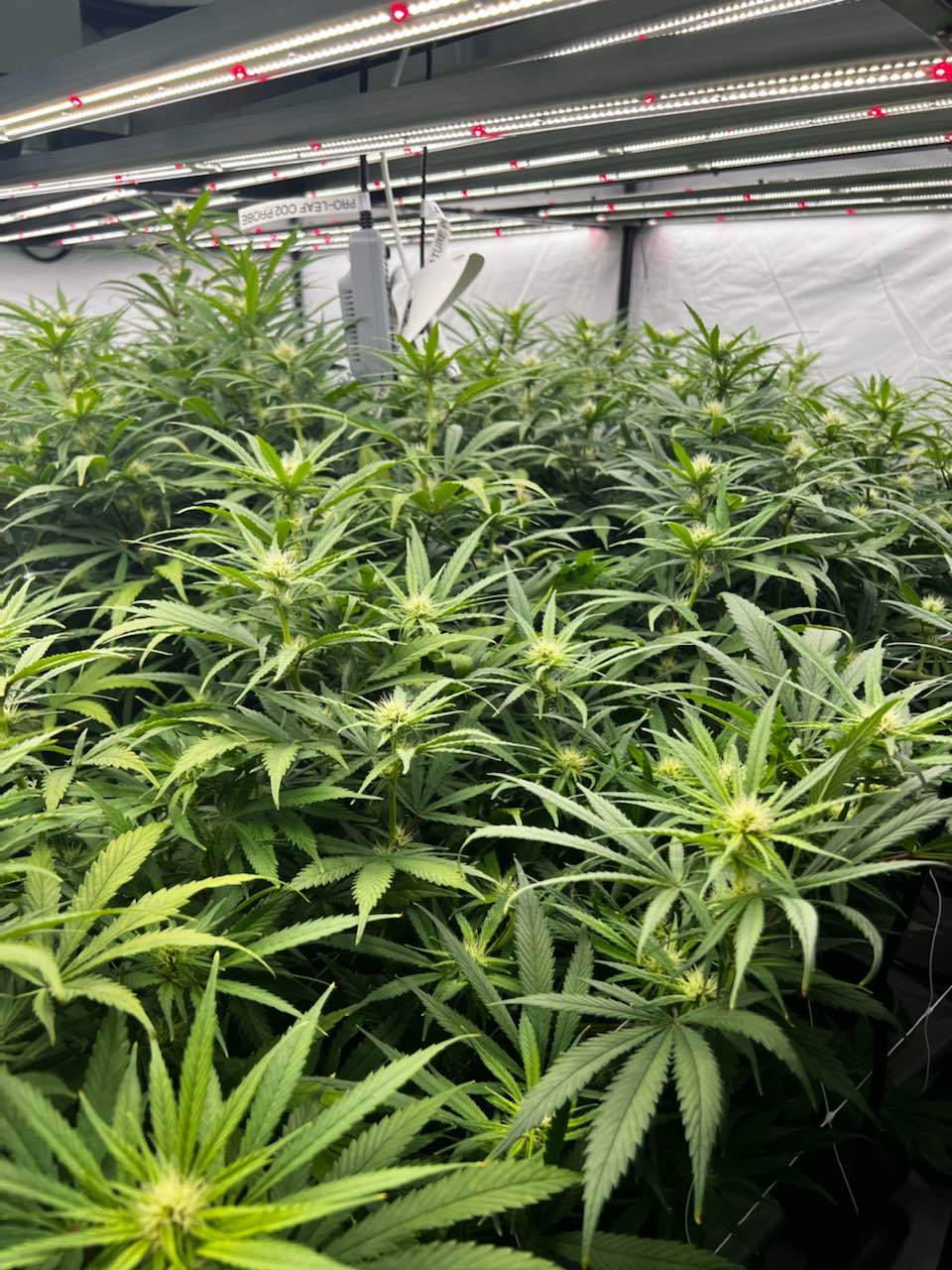 Week 4 Flower - I have massively underestimated how much these would grow. My previous grows with LED everything stayed short & didn't really stretch much. I did a 4 week veg, 2 weeks down from what I normally do. They have easily tripled in height, quite shocking as I'm using similar genetics to what I've previously grown. Lesson taken from here, definitely 2-3 week veg max! I am generally amazed at how they are performing in the RDWC system. Bearing in mind for the whole of veg I haven't fed them the B part neutering. An most recent for at least a week, they haven't been getting the A part neutering in flower, because the tubing fell out. despite this it definitely hasn't slowed them down. The main trunks on them are massive, I'll have to use a saw on some of them. As I'm sure the trimming scissors I have, won't be able to snip them off. I defoliated, lollipop, netted, super cropped & basically cut half of each plant off. But I doubt you'll be able to tell 2 weeks on I did any of that, looking at these photos. As you can see they are touching the lights again. I've never experienced this before but somehow the secondary nodes are performing like main tops. They have fattened up, like the main stem. Initially I thought somehow they had worked their way out of the net, but after going in to try & tuck them back underneath. I realised it was the secondary nodes growing off of the main stem. I can't really access the ones in the middle, so I'm just going to have to leave them & see how they turn out. In terms of bud production they are coming along okay, at this point I would normally expect a little bit more structure to them. But they are much bigger plants this time around. I'm sure over the coming weeks they will fill out to what I'm used to seeing. It's going to be one hell of a take down, come harvest time 🌳
a year ago
Week 3 Flower - Coming to the end of week 3 of flower. Defoliated, lollipop, thinned out the middles, netted & super cropped the space earlier on in the week. Lost quite a bit to the plants being quite brittle & just snapping off too easily. Wasn't too bad overall, as I was cutting away at least one third of the plant. To only keep what was going to develop into something substantial later on. The plants being so brittle, could be something to do with not feeding them any of the B part nutrient during veg. Things have moved on quite a bit over the past few days, the appearance of bud sites all over is definitely a step in the right direction. Hopefully over the coming few weeks, things will start to develop & fatten up nicely 🪴
a year ago
Week 3 Flower - Started the defoliation & netting on Monday. Finished it today, few photos of the processed. Usually I like to wait 21 days before doing anything like this to them, but they was outgrowing my space to fast. Definitely noticed that they was not as sturdy as usual. Could be something to do with not feeding them any of the B part nutrients the whole of veg. Have finally switched flowering nutrients now. Few days of recovery & they should start to pick back up where they left off 🪴
a year ago
organic_grower We're these plants already flipped when you started this final defoliation? I'm always worried just break the stock. I like those last final pictures looks like it turned out awesome! You gained a lot of space 👍👍
Gavita Jay Yeah I was 14 days in to flower, I like to do it after 21 days. Because they would have finished most of the stretch & achieved their final height. Doing it before they will still grow up a little bit & the canopy won't be as even. I will tuck underneath the ones I can reach, but unfortunately the ones in the middle will just have to stay as they are. you will break quite a few stalks accidentally, but I cut way more off, to thin them out and open up the middle. So I don't really worry about that, as I'm cutting away at least one third of the plant anyway 🌳✂️🪴
organic_grower Thanks for the info man. It was always scared to do a bunch of trimming that far into flowering I thought it would stress them out too much. I have alot to learn thank you. I will be watching for your updates👍👍
View 1 additional comment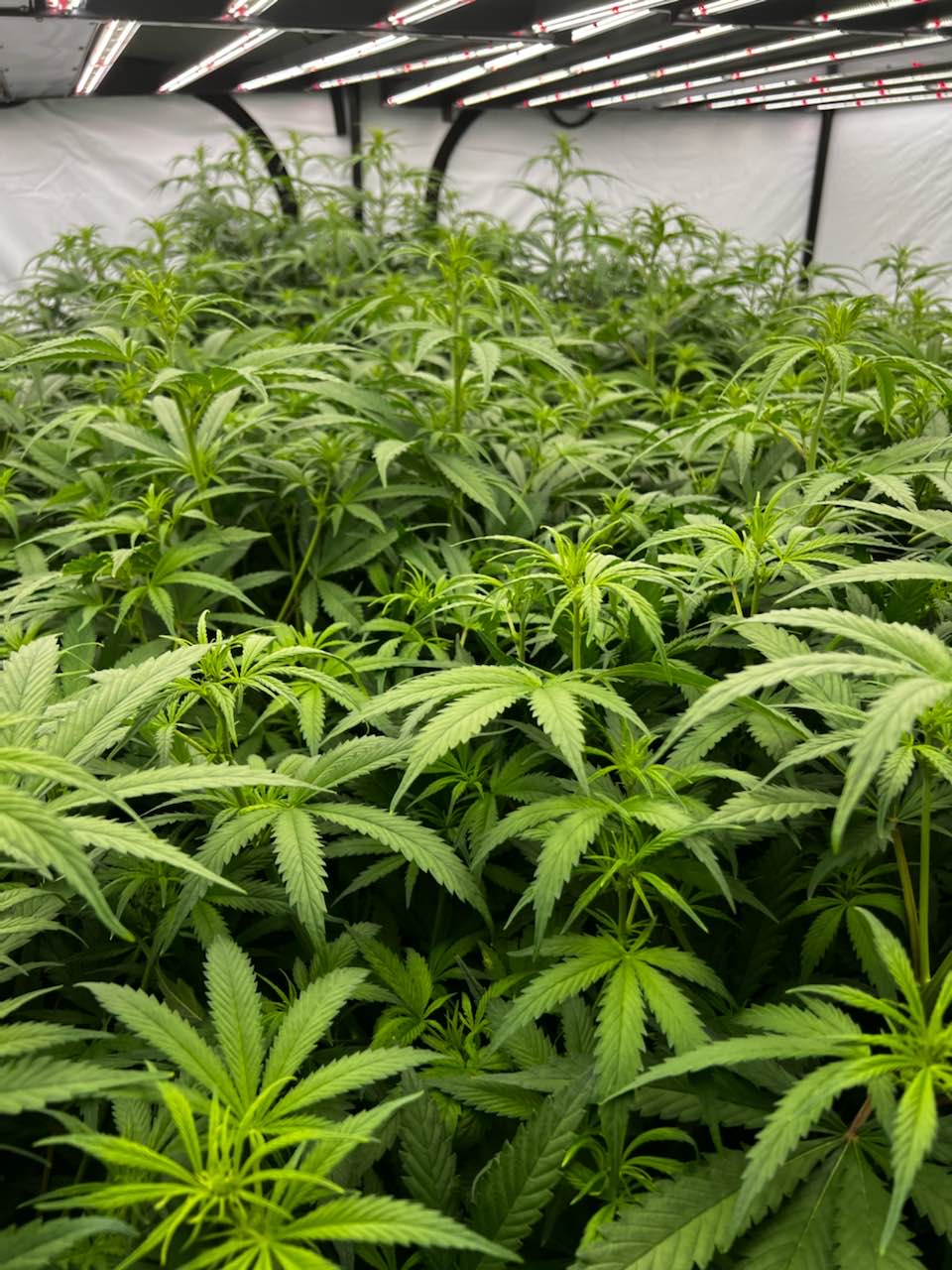 Week 2 Flower - How things are looking before the final defoliation. Almost touching the light, definitely time to do a defoliation, lollipop, super crop and get these back under control ✂️
a year ago
Week 2 Flower - Mid week update, things are moving at a much faster rate than I previously experienced. My first two LEDs grows the stretch was very minimal. This time it looks like it's going to out grow my space, can't wait to see how things will look in a few weeks. Spacing seems quite close together currently, lots of additional branches & bud sites. One bad thing I did discover this week, was my Bluelab Pro controller hasn't been dozing part B of my nutrients. Seems like the pump wasn't primed correctly, I have sorted it out now & hopefully they will start benefiting from that part. Although they don't seem like they have been lacking. Not much light is penetrating to the bottom of the canopy, I was hoping to do a defoliation 21 days after switching to flower. May have to do it before then, if they don't slow down. The roots are pretty much filling up at least half the pots, definitely didn't experience anything like this when using grow media in the pots. Hopefully this translates into bigger & denser buds 🪴
a year ago
organic_grower That's very impressive the way you pruned everything and how it looks now. That growth is very impressive! 👍
View 1 additional comment
Week 1 Flower - End of week 1 of flower, I think the update photos speak for themselves. Things are moving along at a fantastic pace, I am still on veg nutrients 1-2 weeks more & I'll switch to flowering nutrients. Humidity has gone up quite a bit, my dehumidifier is working pretty hard. Trying to stretch it out 2 weeks before I do the final defoliation and netting 🌳
a year ago
Week 4 Veg - End of week four, did a defoliation on Monday. Stripped them back, cleaned up the bottoms & only kept the tops I wanted going forward. Unfortunately my nutrient EC was a little too high 1.7 had some left over nutrients in some smaller bottles, emptied them both in thinking it would be okay to reach EC 1.3 I got some nutrient burn. Growth slowed down for a few days. After the EC came back down, the growth pick back up. In the last three days they have doubled in volume easily. The two smaller ones have started to catch up as well, could have done with one more week, but the rest would get way to big for my grow space. I'm going to switch to flower tomorrow, I have one more week of vegetative nutrients, then I'll switch to my flowering nutrients. Anticipating them to maybe double in size, but my experience is they won't stretch much 🪴
a year ago
Gavita Jay Thanks, yes they seem to love this set up 💚
Week 4 veg - Defoliated, lollipop & cleaned up the middle of the girls today. I was really impressed with the growth over the last week, so many secondary branches. I usually defoliate quite aggressively anyway, but I had to take off a lot more then usual today. Which is a good sign, hopefully in flower they will stack up well. I'm only looking to keep the top 3 to 4 sets of nodes. Anything below or looks like it won't be in direct light has to go. It will only rob the plant of energy. In the long run it would be to better focus that energy on the tops in direct light. I got an interesting shot of the plants transpiring, but where I have defoliated. The nutrients are literally dripping out of the open stem. Week of recovery & I'll switch to flower 🌱
a year ago
Week 3 Veg - End of week 3 veg things are generally looking good, growth has been aggressive in all but two of them. They are growing a lot slower then the rest, the roots are showing the same slow growth as well. I'll do a defoliation & lollipop early next week. Then look to switch to flower by the end of the week, depending on how well they pick back up. Still have not been able to do the corrections to the pipework, I'm hoping that will help with the two that are growing slower. Once I receive the parts I'll get in there & sort it out. Happy despite this, the rate of growth is phenomenal. Just a few issues with the PH drifting up & then down. Maybe after it will stabilise better 🪴
a year ago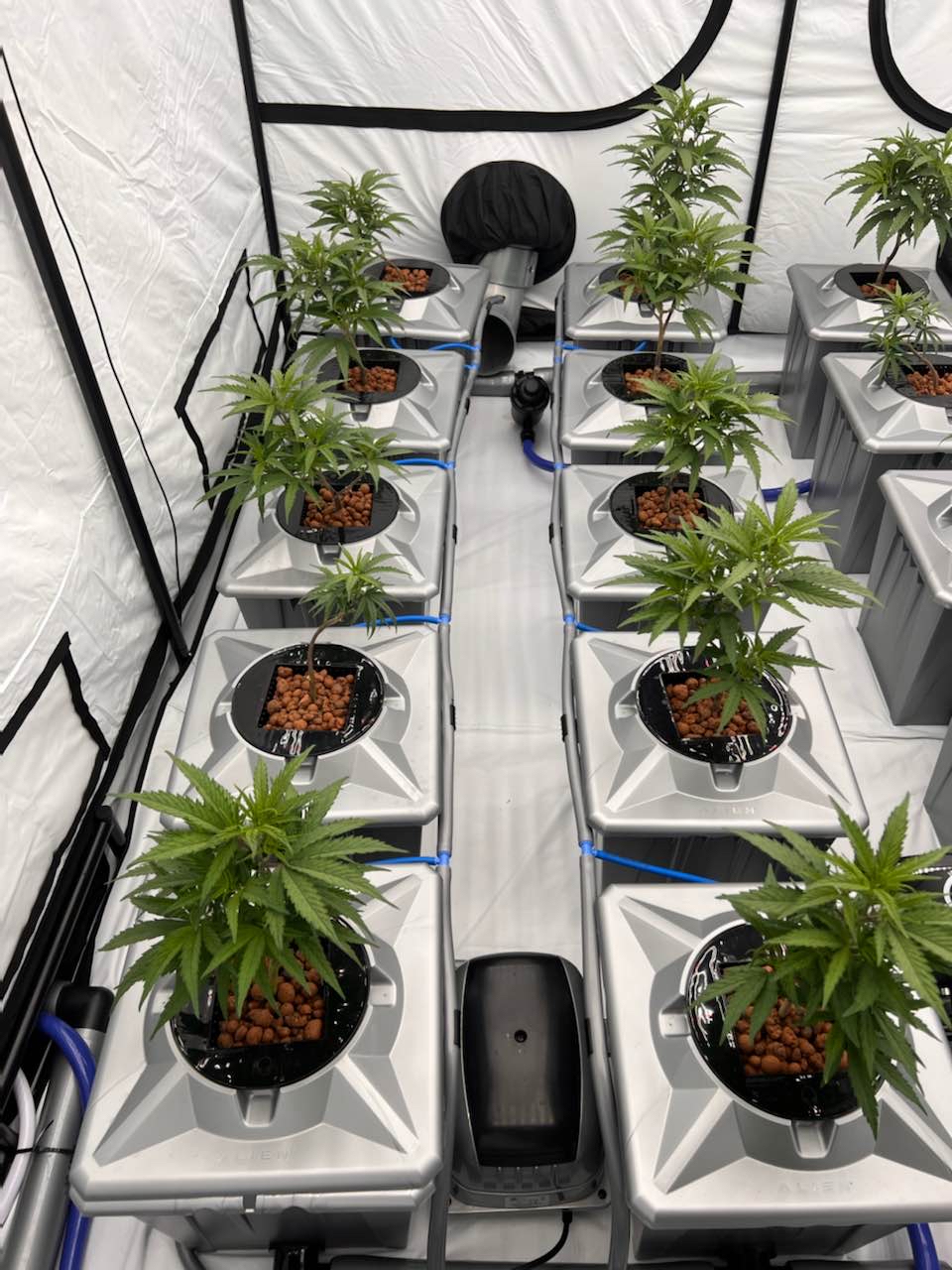 Week 2 Veg - End of week 2 of veg, I did a defoliation earlier this week. Cleaned up the bottom & created the tops I want to go forward with. They have responded really well to it & look like totally different plants. I have two that are struggling a little bit, very slow growth. I'm hoping they will pick up in the next week or so. I have been getting a air lock in the system, that has been causing my circulation pump not to actually mix my nutrient feed. Considering this the rate of growth across-the-board has been remarkable. I will have to take a bit of the system apart, as I have identified why the air lock is being caused. Will do that in the coming week at my next nutrient change 🪴
a year ago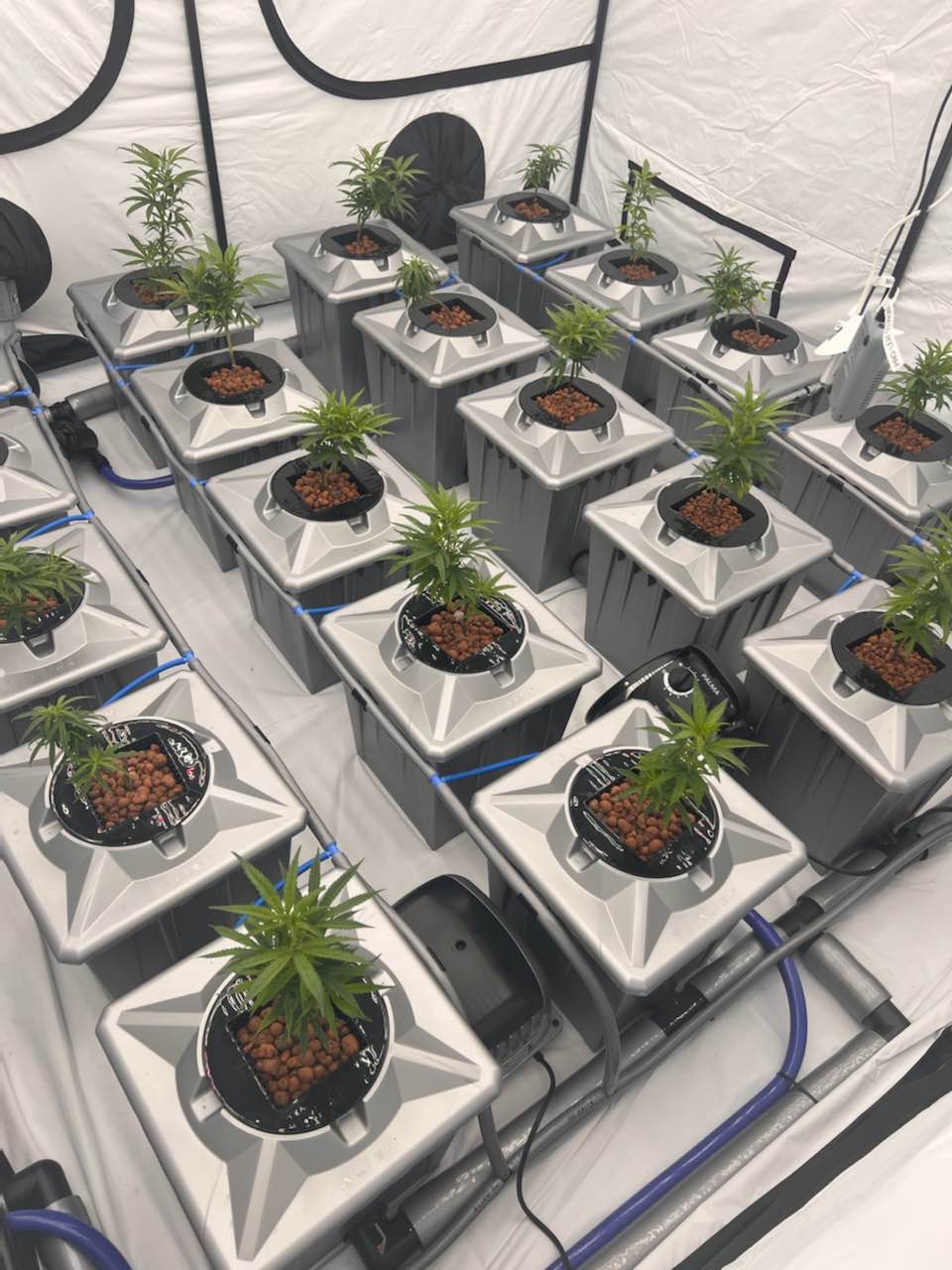 Week 2 Veg - I did a quick defoliation today, cut out a lot of the mutated growth and tidied up the stems. So they can start concentrating on the main tops that I want going forward. I have also included some photos over a 24 hour period, the rate of growth is really outstanding. I didn't top anything today as I want to see how they grow over the next few days, I may have to top some of the taller ones to slow them down 🌱
a year ago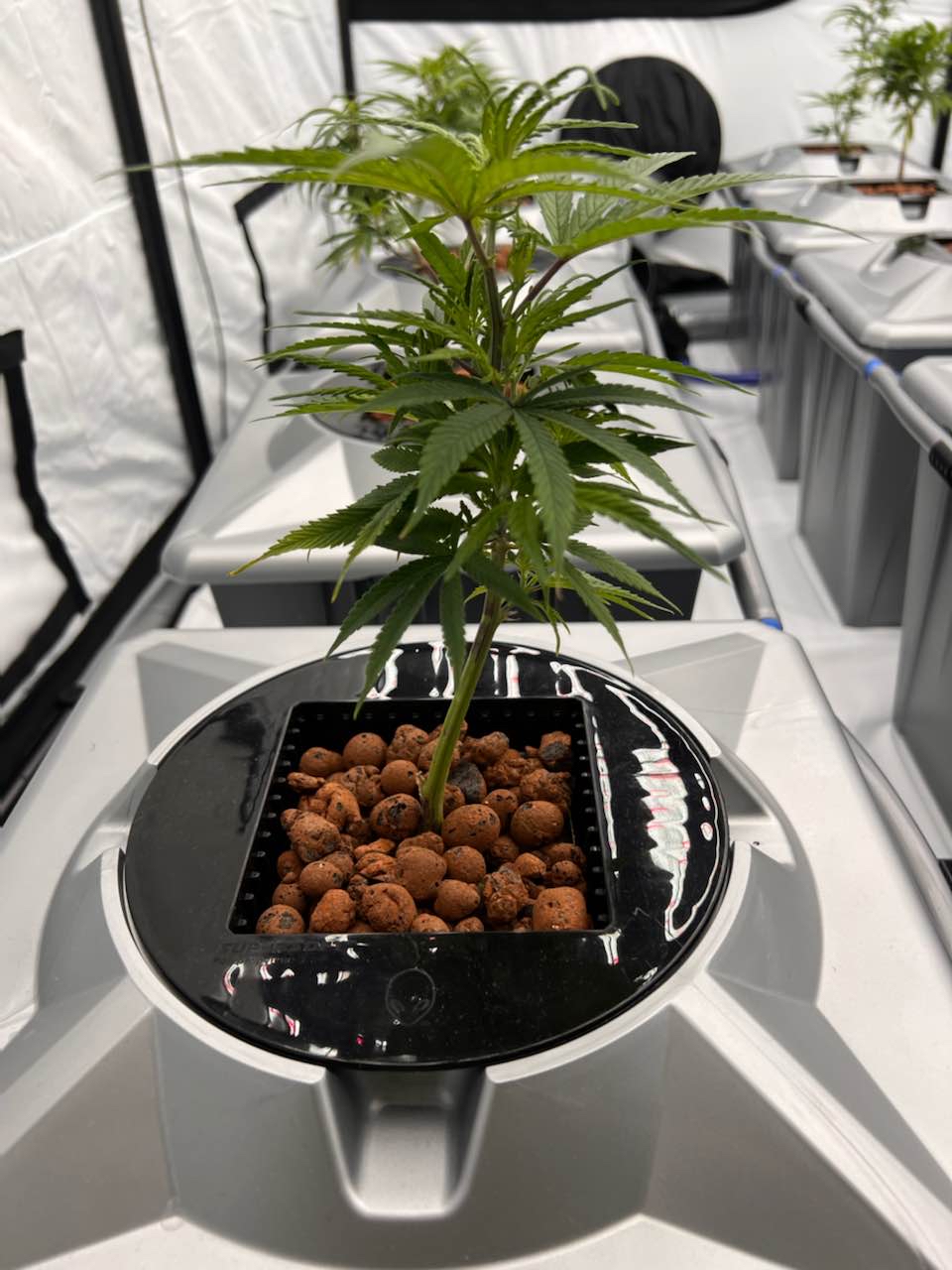 Week 1 Veg - Working out the system this first week, getting all the parameters set so the system can stay in the required PH & EC range. Learnt the hard way not to mess with the float valve level while the system is full of water. Ended up having my 280L tank empty onto my tent floor. Cleaning that up was not fun, but I did get a chance to make some changes while having to take apart the system to clean the floor. Sorted out a few leaks I had & adjusted the pot positions slightly. The roots system took a few days to settle into the four inch rockwool cubes. But now they are growing at a much faster pace, stretching down into the nutrient solution. I did a mid week defoliation of all the yellow leaves, from when I got them and cleaned up some of the bottoms. It really helped focus the growth back to where I wanted it. I'm going to do a next one probably within the next three days to establish the tops that I want going forward. Maybe create a manifold with some that have the structure for it. Note about the Bluelab Pro Controller, i'm having to set the EC to slightly lower (0.1 lower) then required to achieve what I want & the PH is set to higher (0.1) as it seems to drop quite a bit mid week. In terms of system top ups I would say maybe every couple of days the water level drops about a centimetre. Quite interesting as I didn't think it would drop at all in these early stages.
a year ago
mystrain420 _@eaegifts Dropping early their loving the system already. Very interested to see this, your last grow was amazing. Is this a new system?
mystrain420 _@eaegifts Pic 15 airflow looks freaking great so I'd definitely attribute that to the fast drop also, their uptake should be great
View 2 additional comments
Week 1 Veg - Potted the smaller rock wool cubes into bigger 4 inch cubes & added a layer of clay pebbles to the top. Hopefully this will prevent any algae & the roots getting exposed to light. The cuttings I'm using this time are OG Kush, they came rather tall & some of the stems seem quite woody. Maybe they have been sat around for quite awhile, the root system underneath was very impressive for such small plants 🌱 need to defoliate some of the older withered looking leaves 🍁 & I had to tape one of them up as it was bent half way down the stem. It's looking much better now, as of writing this update. Nothing has really happened over the last couple days, but will just wait for the root system to grow its way down into the nutrient reservoir & hopefully this explosive growth rate I've been reading about will start happening…
a year ago