9 Clones Autopot Indoor
Coco Perlite 50-50
3rd Grow. First Autopot. 4x4.Flora Series, Autopot, MARS HYDRO FC-E4800
OG Cheese, Bubba Kush, Gorilla Zskittles, Blue Berry, Blue Cheese, Trainwreck
Closeup shots just before harvest.
7 months ago
Okay. Last week to go. Still flushing. Starting to see some darker trichomes. 🤘🏻
9 months ago
View 1 additional comment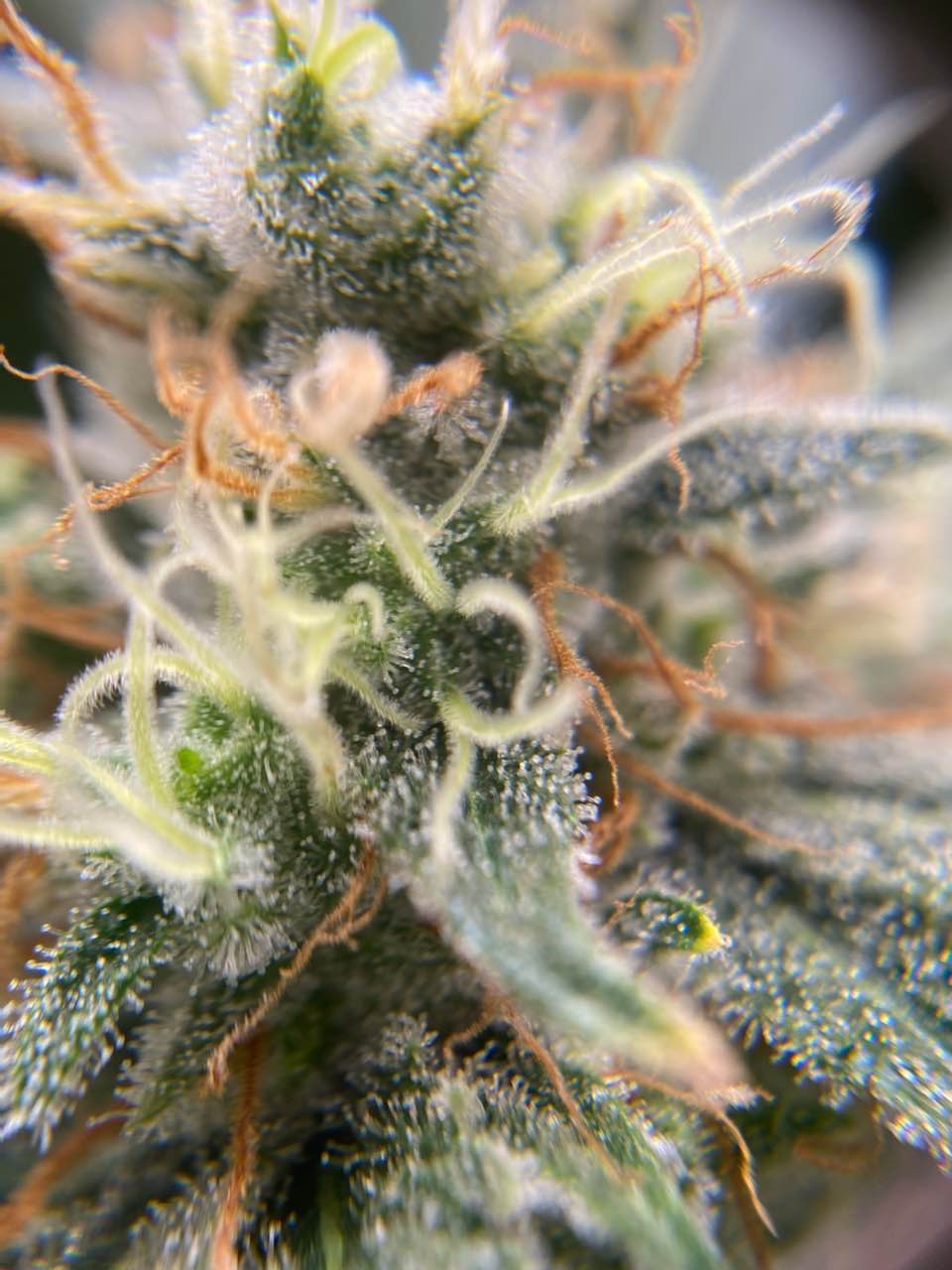 Crystals are still milky all the way. These can still go for couple more weeks. Mid week 8.
9 months ago
View 3 additional comments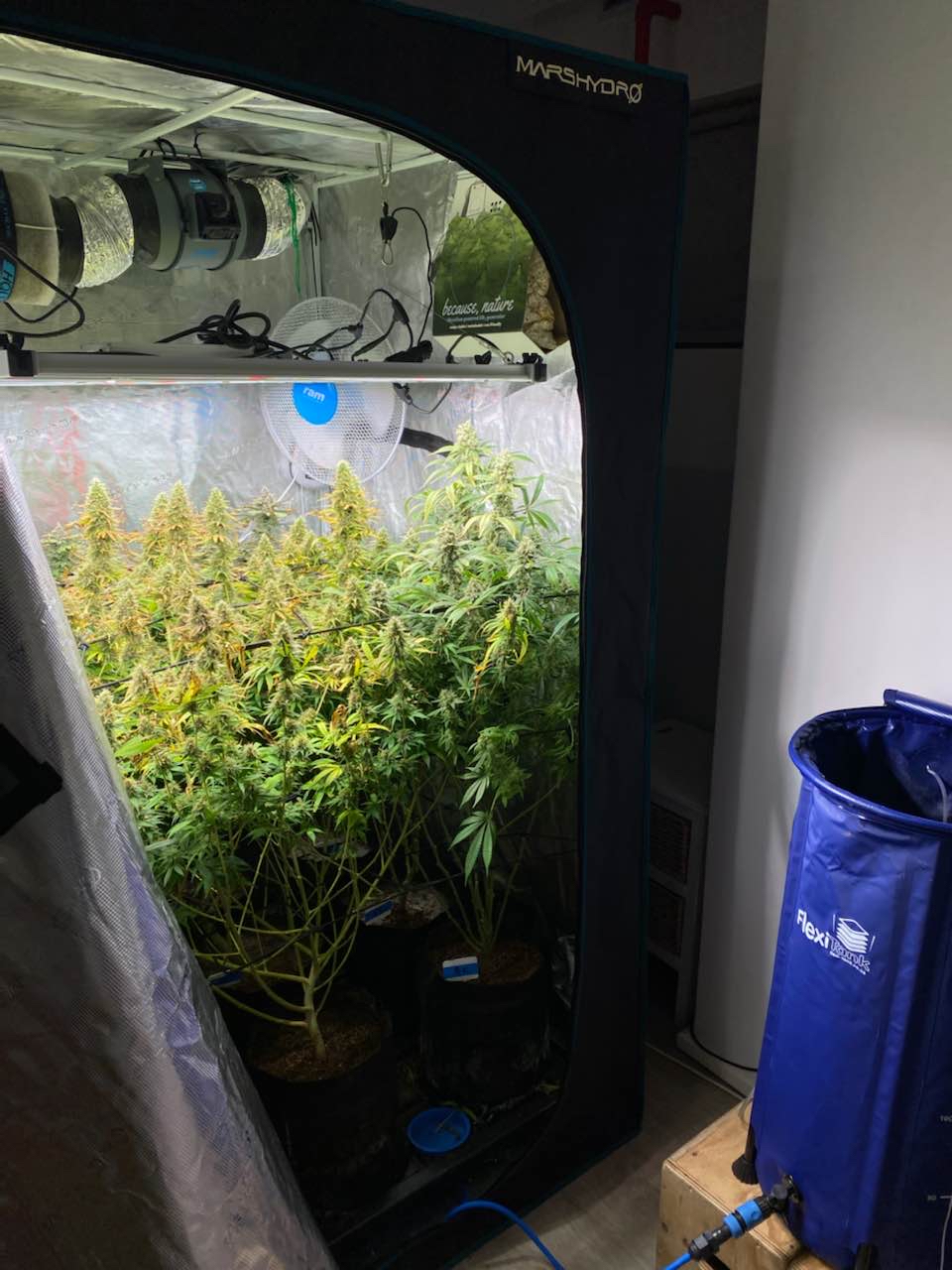 End of week 7.
9 months ago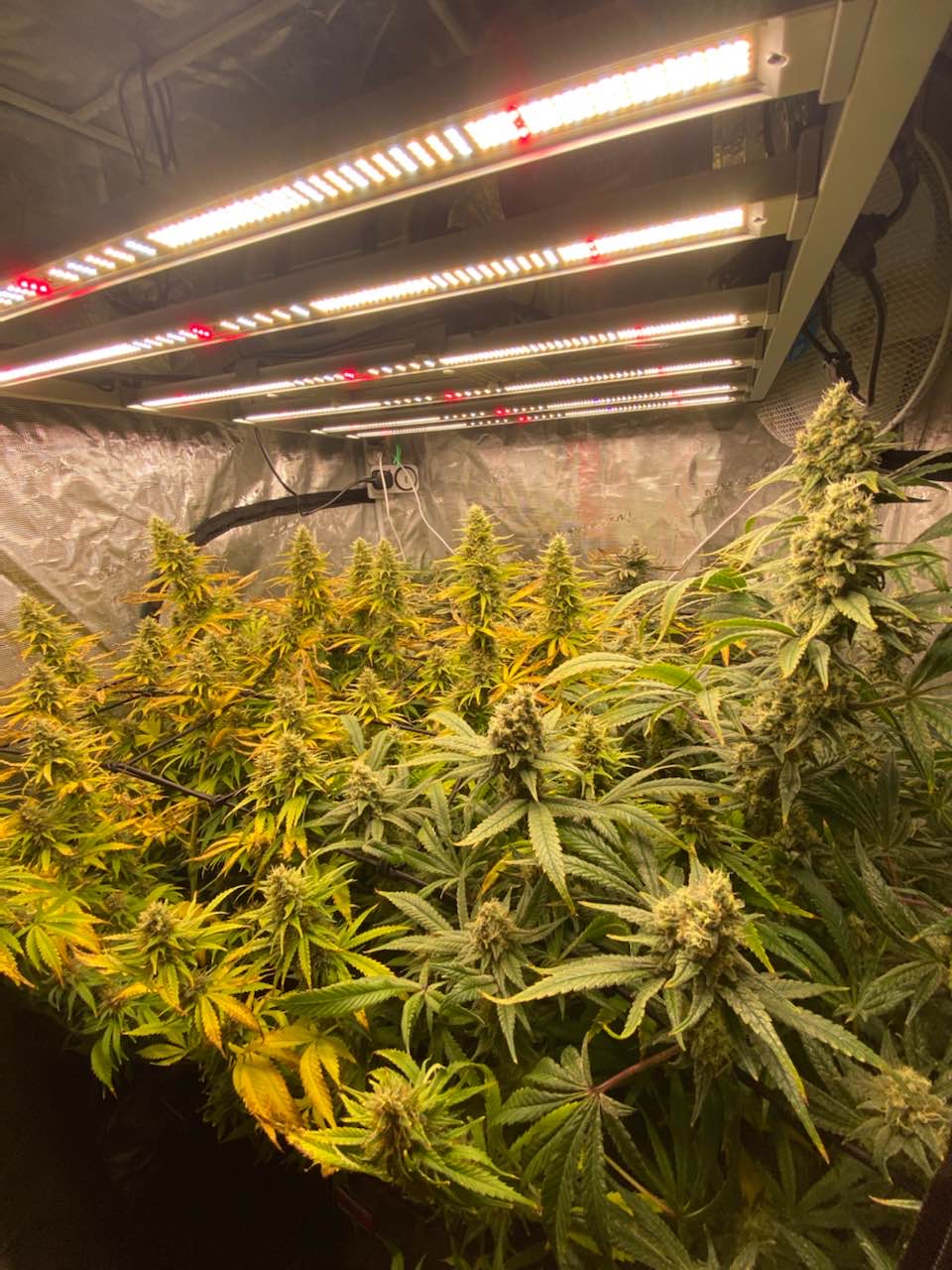 Week 6 flower. Gorilla has taken a big beating from the overfeeding. Even when i saw it coming and scaled down my nutrients, its still not happy. Other plants are fine tho and looking good.
10 months ago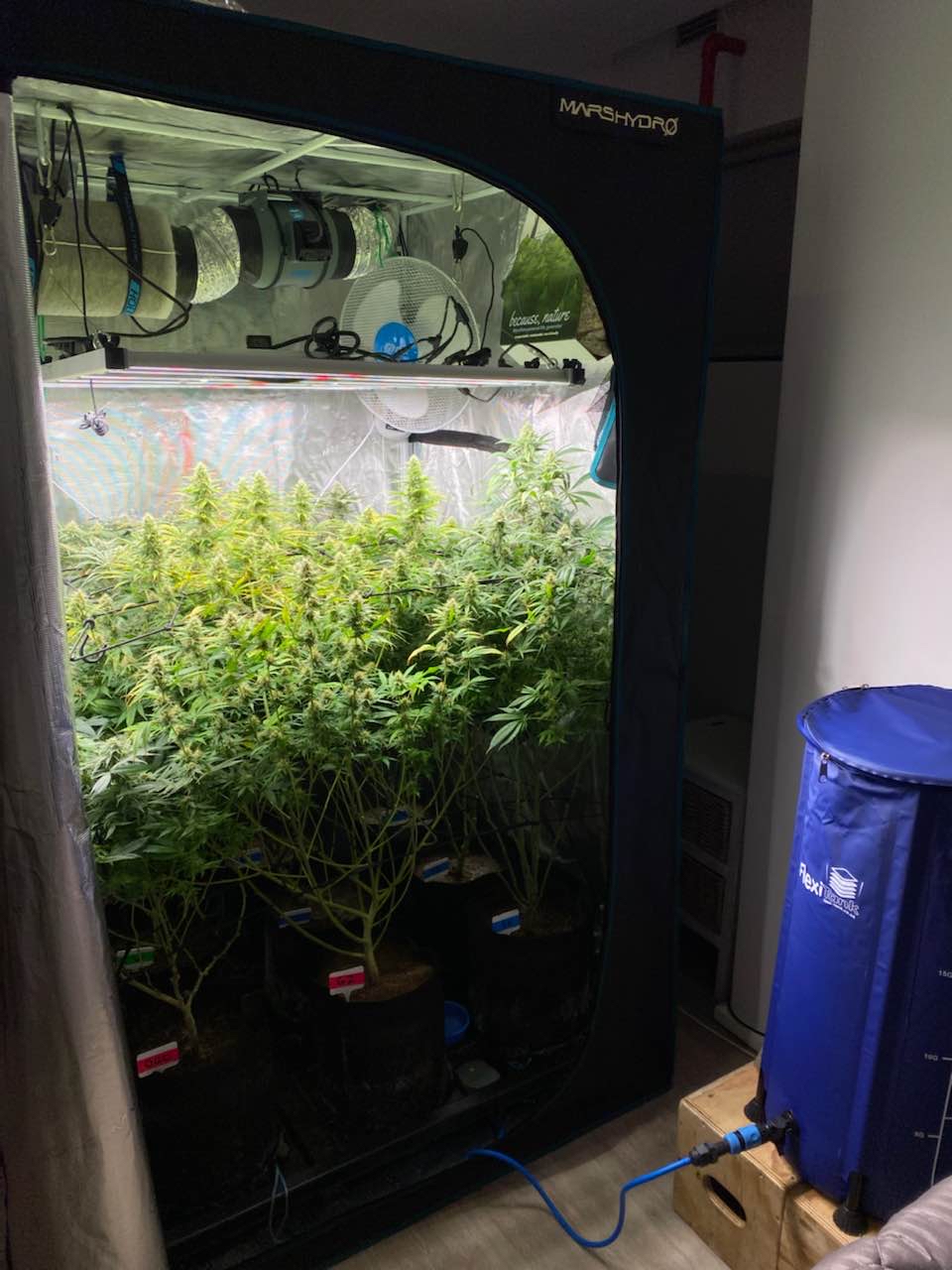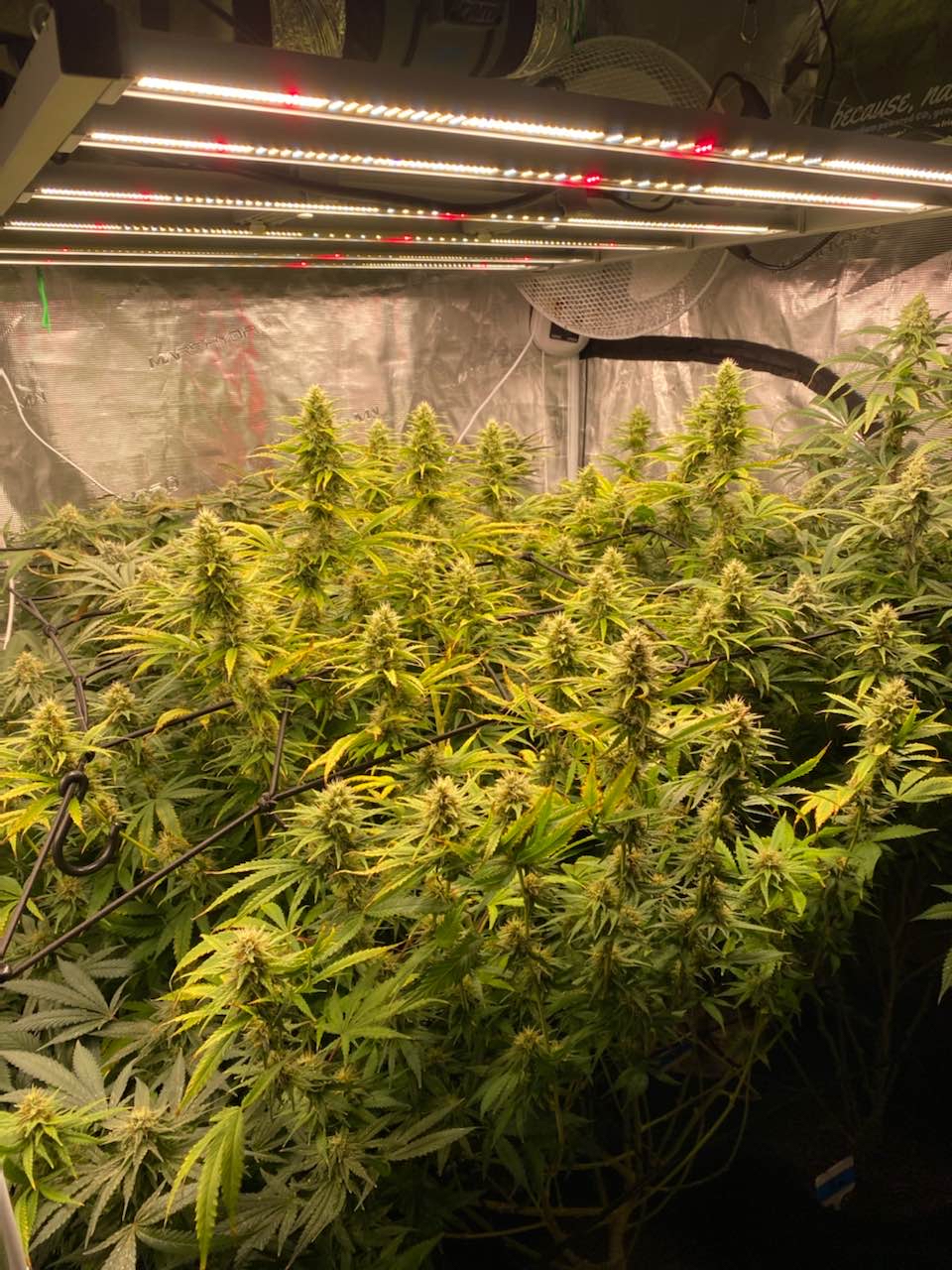 Day 40 flower.
10 months ago
End of week 5 flower, having some issues with overfeeding so scaling it down majorly. And also watering less. For now.
10 months ago
CBoX669 They looks great! Can I ask what medium you're using? And you're able to adjust the autopot feed amount/schedule? Seriously considering getting a autopot system but I use coco so I want the high fertigation. That's what I'm not sure about at the moment. The idea around high frequency fertigation in coco is to replace the water/nutes with fresh and to flush out the salt build up, I don't know how that would work with a bottom feeding system. Thanks
mofolord Thanks 🙏 its coco-perlite yes 50-50 ratio. The auto feeds accurately. It waits for the roots to soak up the water before it will water again. So there is no underwater of over watering its great. Yeah this is my first run on the autopot. Bur so far so good. You may be on to something there but not sure dude.
mofolord You can manually lock the pipe if you want to stop watering and manually open it up again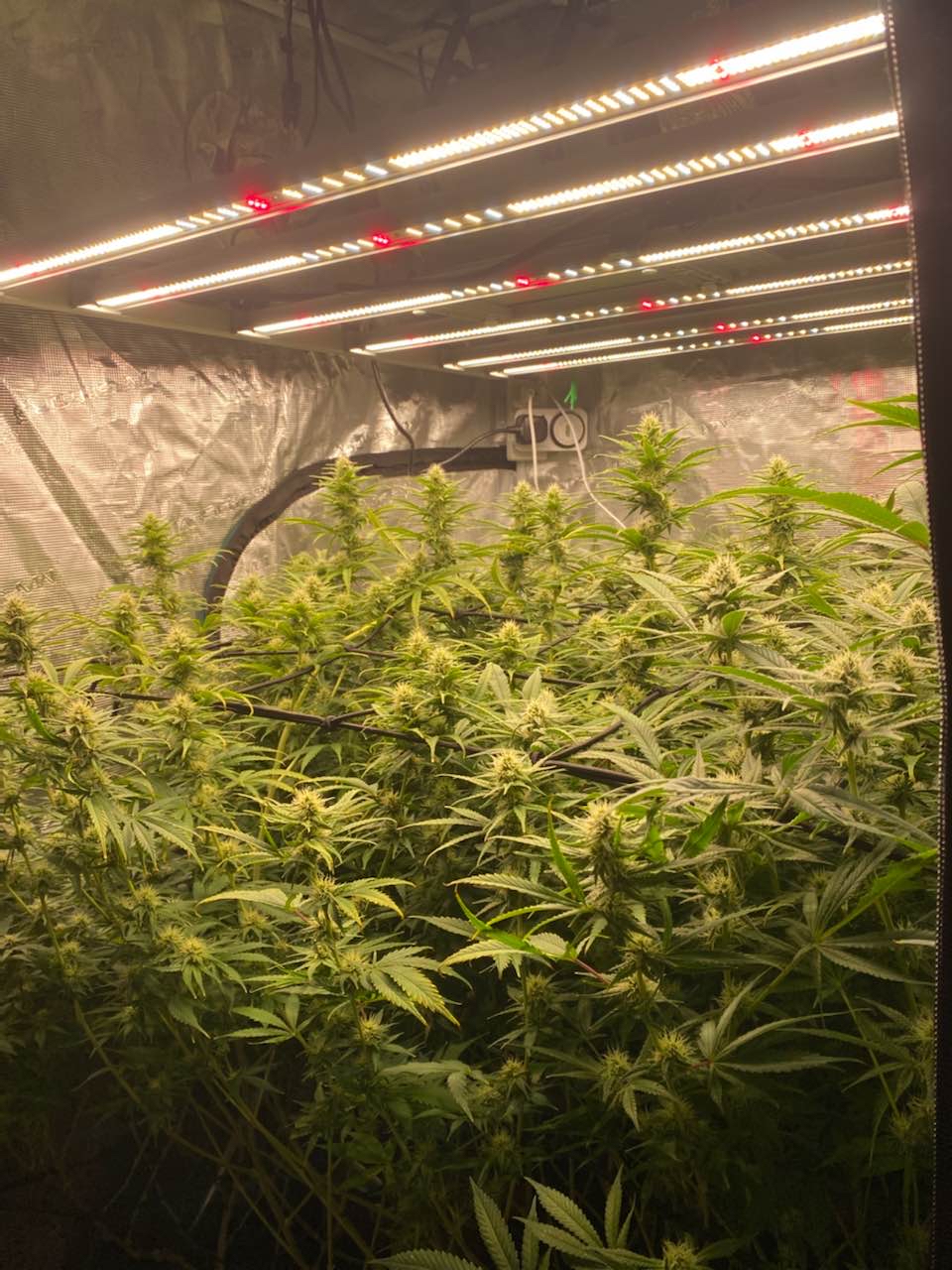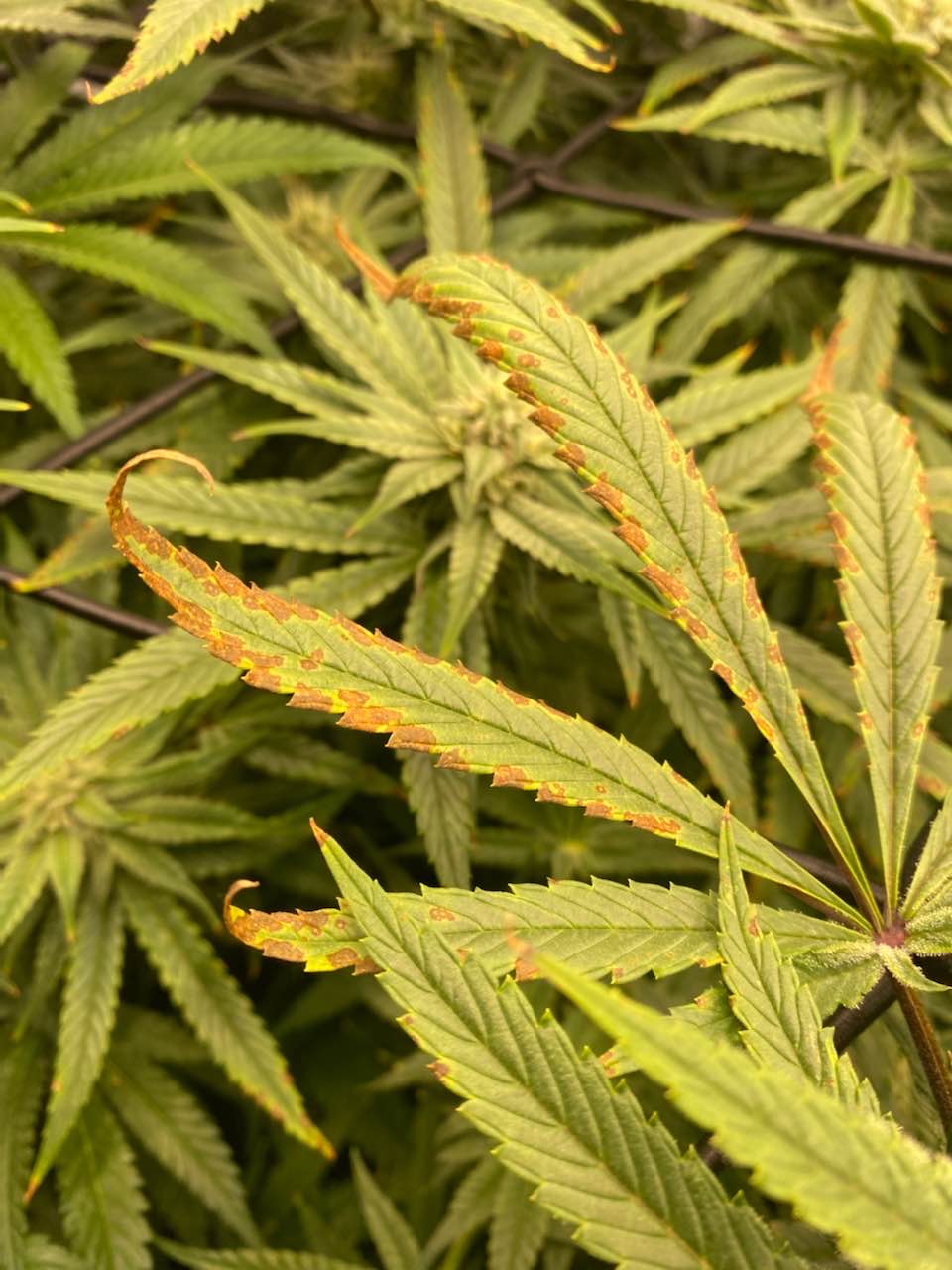 Smelling amazing. Looking good. Some leafs are showing some signs of deficiencies or overfed not 100%.. if anyone knows perhaps.. to me looks like late stage nitrogen deficiency.
10 months ago
organic_grower Is it all over the plant? Bottom to top of just on top?
mofolord Its on the blue cheese. And the other leaf is the gorilla zskittles
View 7 additional comments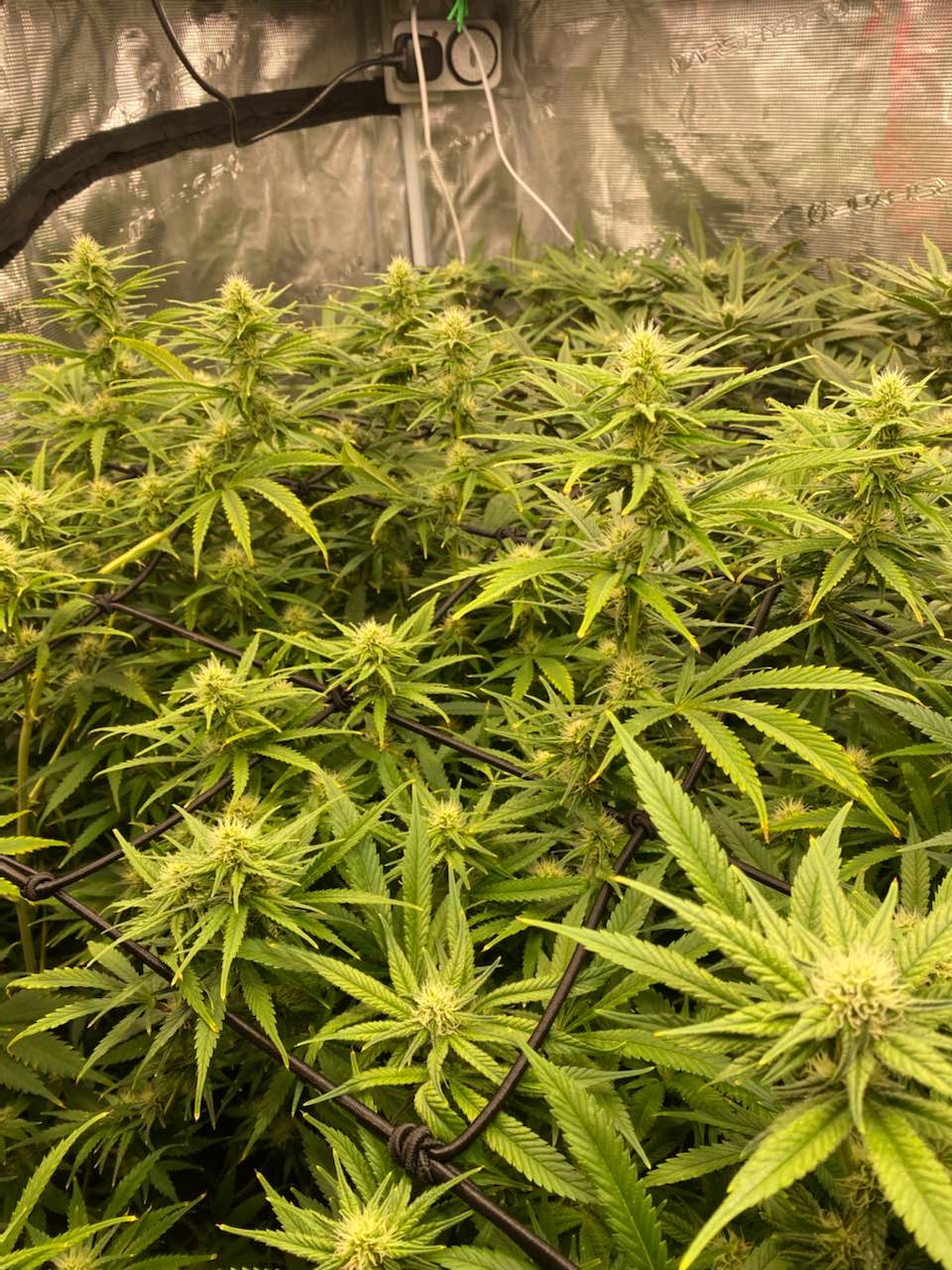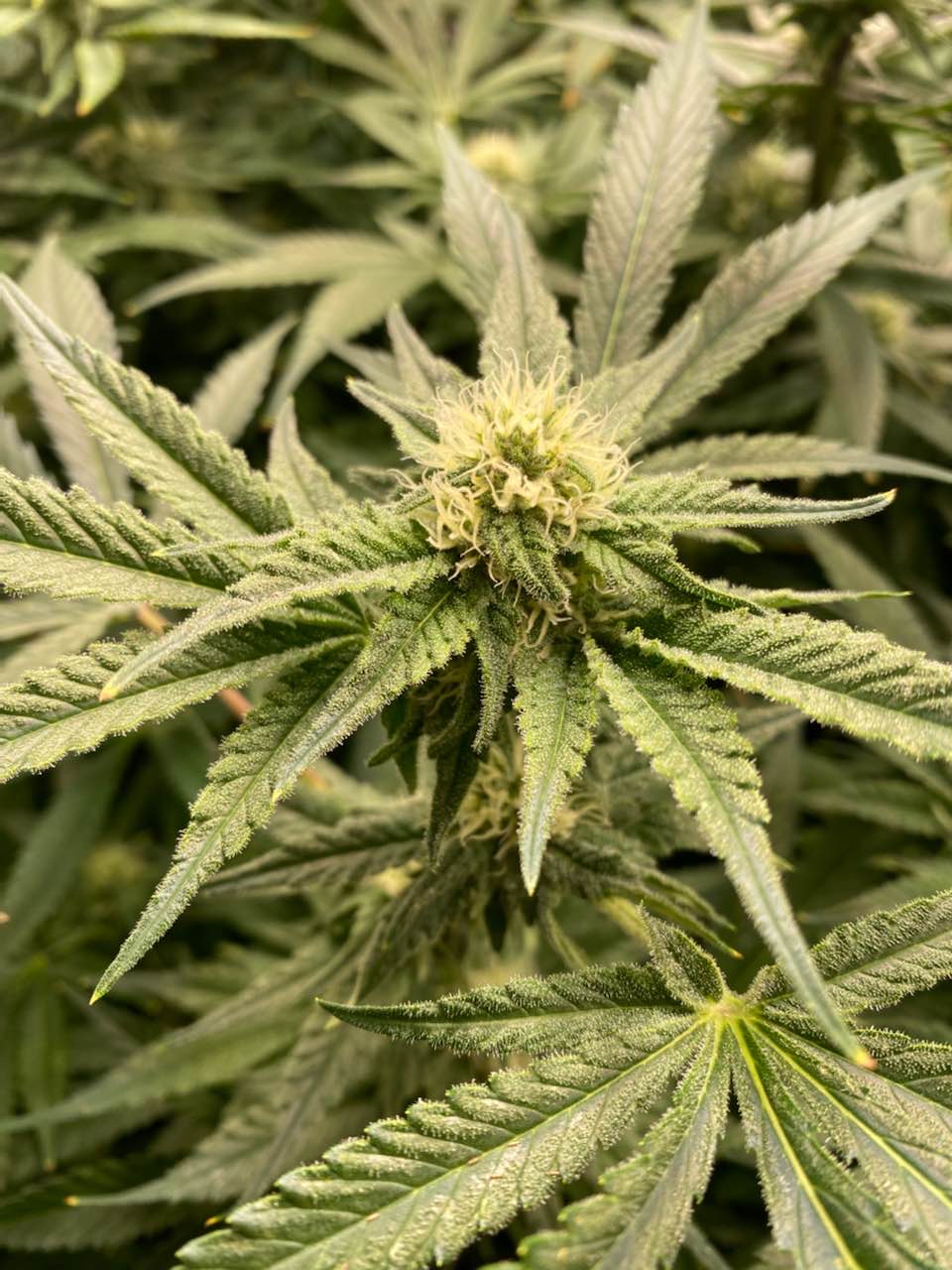 End of week 4 Flower.
10 months ago
View 12 additional comments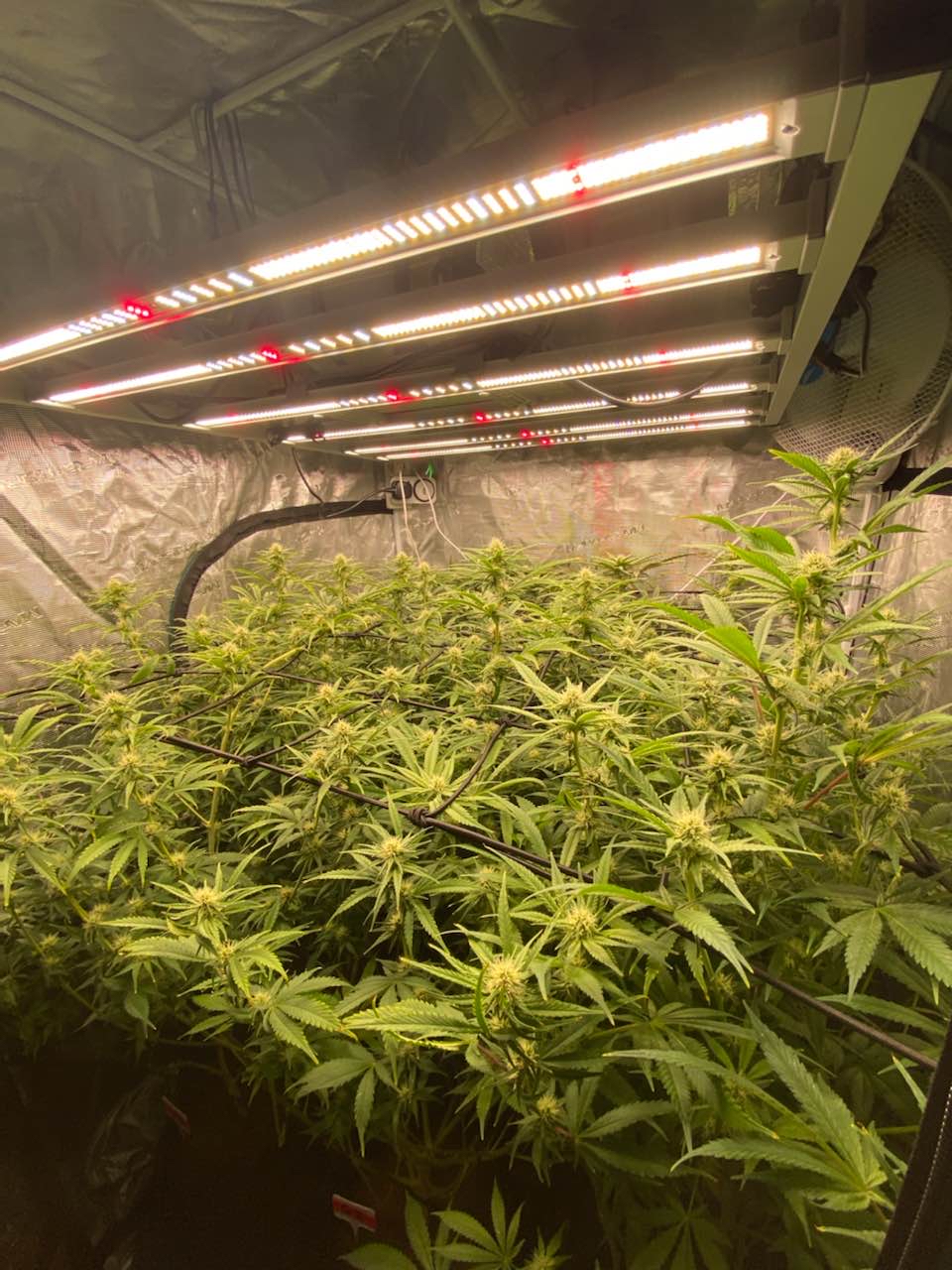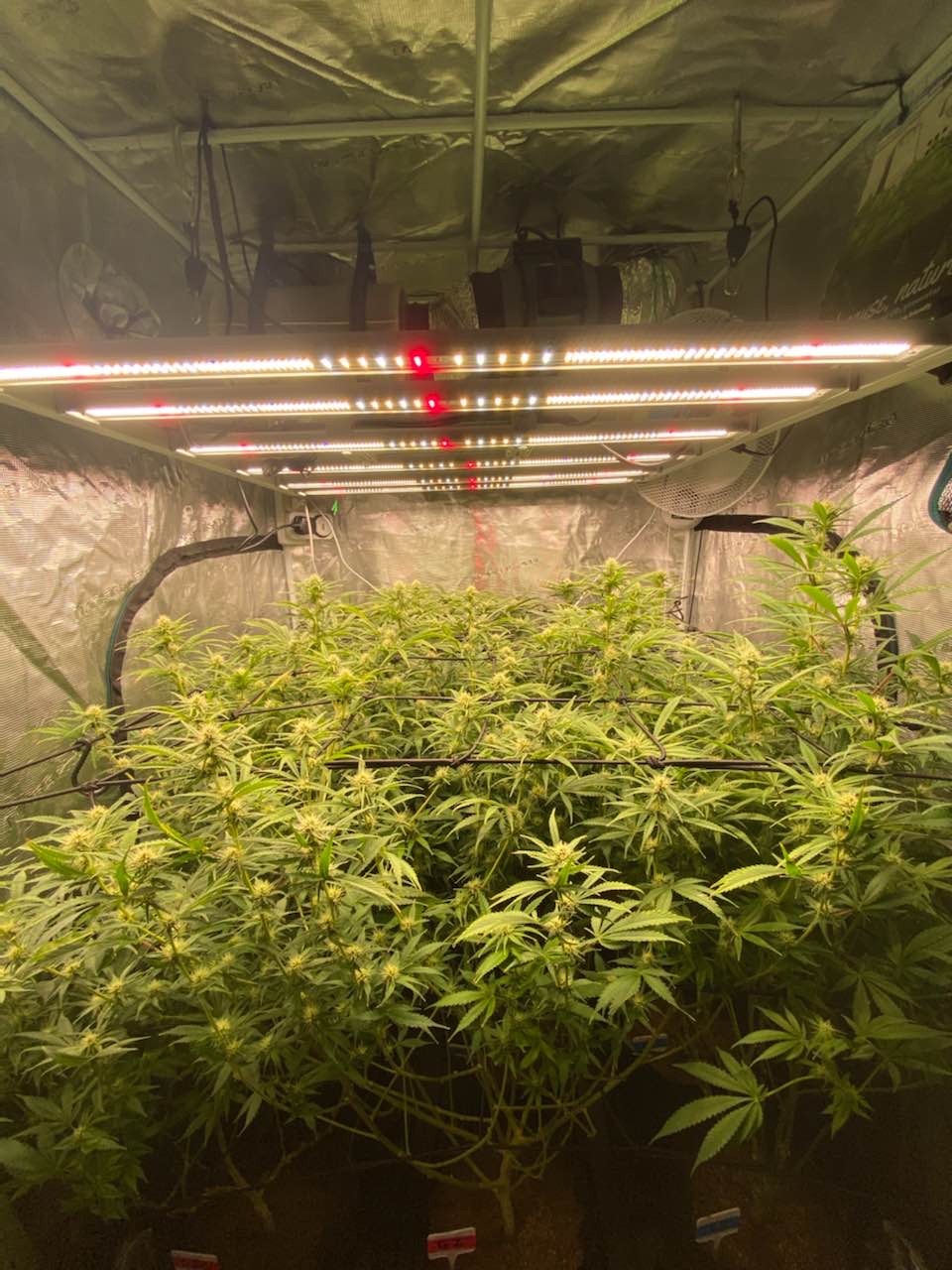 @eaegifts Great job, max use of the light footprint 👍🏾👍🏾
Flower day 23. Looking good. Trimmed some big fan leafs.
10 months ago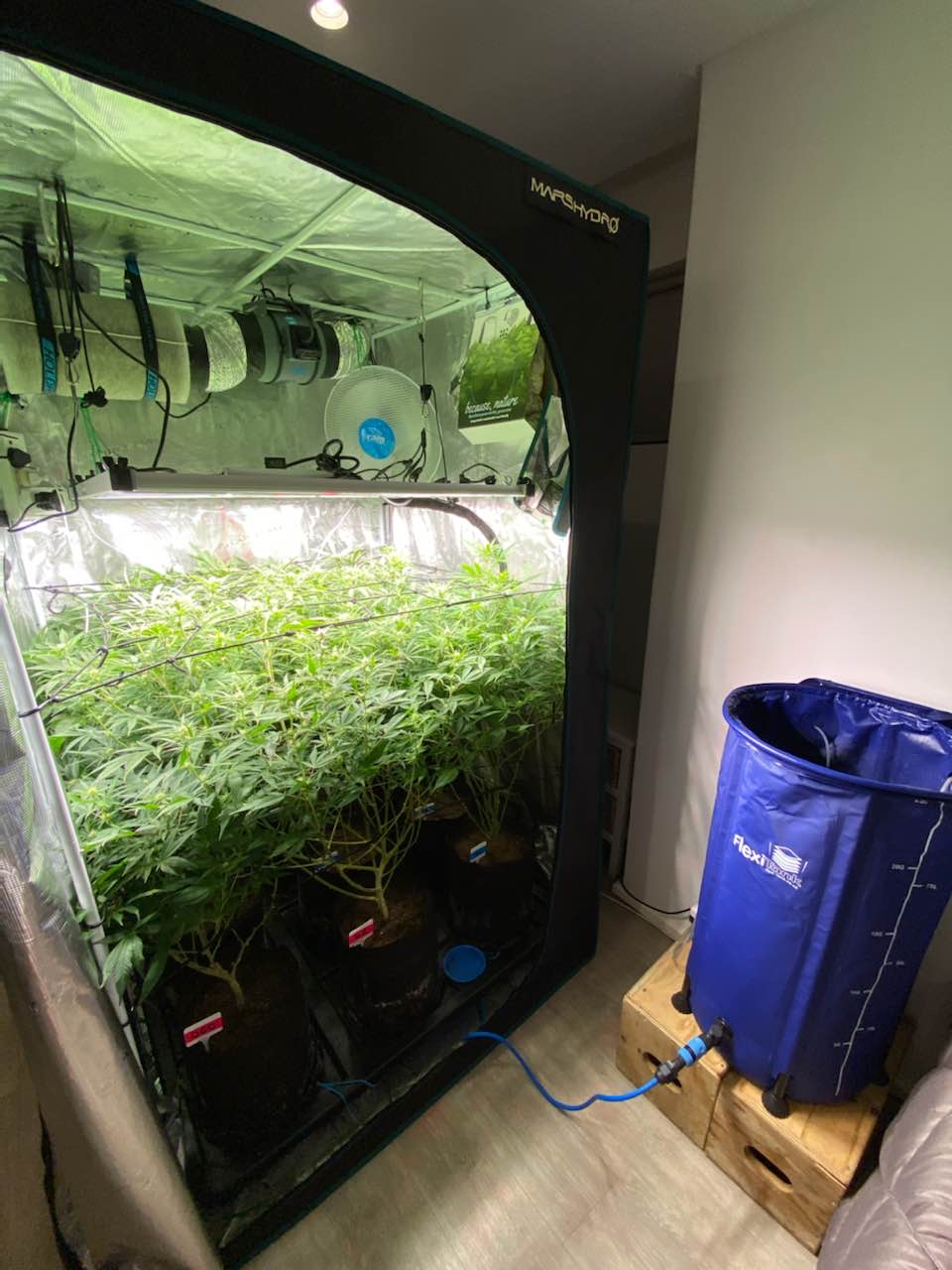 End of week 3. 3rd net I added helped a lot to keep canopy even once again. Gorilla was stretching wild. Added bat guano once again 120ml top dressing per plant watering ph 6.5
10 months ago
rascoe82 What brand and model is your watering system?
View 6 additional comments
Flower Day 17. Gorilla Zskittles stretching wild. May add another net
a year ago
mofolord Damm hope so 😂 what u rate should i add another net? They can flower through net so should be ok.
View 4 additional comments
Added bat Guano. 150ml top dressing for each plant. Will add each week of flower. End of week two flower.
a year ago
Big trim downstairs. Two weeks Flower. Going to add bat 🦇 droppings as flower fertiliser tomorrow.
a year ago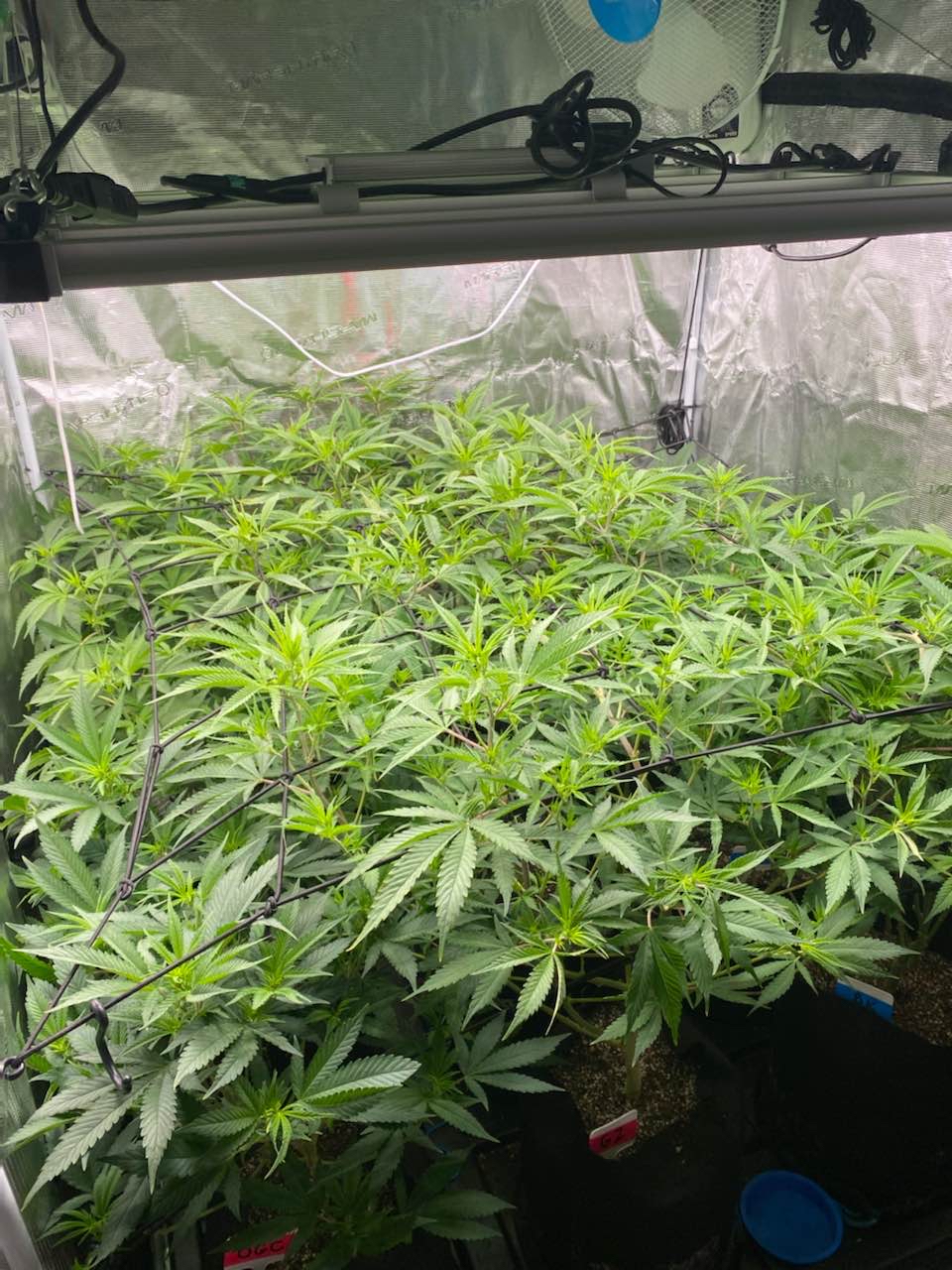 End of first week of Flower.
a year ago
Flower day 2. Added second net. Trying to keep that canopy even. Going to keep putting them under net until other plants catch up. Big stretch time now. Going to let them go and then big trim in week or two or so.
a year ago
First day of flower 🌺 did a massive top trim all the bigger fan leaf's to make way for light to hit lower growth.
a year ago
Tomorrow starting Flower 🌸
a year ago
Installed new light. Mars Hydro FC-E4800
a year ago
Pre flower nutrients
a year ago
mofolord Thank you sir. Sorry only saw your post now 🙏
Topped + low stress training
a year ago
Bouncing back 💪🏻
a year ago
budman0211 Looking like seeds to me but could be wrong. Hard to see, but seeds grow there stems parallel to the other. Clones do not
Got these two days ago. Was in really bad shape. Planted them in new homes. Looking a lot better already. Keeping RH above 70%. Light at 60cm above canopy and 50% dimming. Going to wait until they bounce back before doing any topping or training.
a year ago