brola
Zkittles Fastbuds Autoflowers
January 2020
Dropping 5 zkittles autoflowers by fastbuds. Will keep however many I have room for lol. Growing in a coco/perlite mix and using general hydroponics nutrients for feedings. Growing under two 600w cob led strips. I have a mist humidifier connected to a RH controller. Have a small oscillating fan moving air around.
Duncan How much was your dry weight?
These ladies ready to go, harvesting them tomorrow for sure
3 years ago
FweedomReefinery Just started 2 of these from same co. Any advice, tips or suggestions? Cheers
Fed week 11 nutes (ripen), ph'd to 6.1. Most likely the last feeding, will start to flush before harvest
3 years ago
Straight H2O today, ph'd to 5.9-6.0
3 years ago
Week 9-10 nutes (late bloom), ph'd to 5.5-5.6. These ladies starting to stank
3 years ago
Week 8 feed (mid-bloom), ph'd to 5.7
3 years ago
Dazz82 Id up your ph to 6.0-6.2 during flower the get the P and K into your buds
Straight water today no nutes ph'd to 6.1
3 years ago
Brola Ladies getting FROSTY 🥶
Fed week 7 nutes (mid bloom) ph'd to 5.7. Hit these ladies with some defo as well
3 years ago
Fed 2/4 of the ladies straight h20, ph'd to 6.3. Will water the other two ladies tomorrow
3 years ago
Fed week 5 early bloom nutes, ph'd to 6.0
3 years ago
Fed with straight water with calmag, ph'd to 6.4. Lookin pretty GREEN still 😁
3 years ago
Fed week 4 transition nutes. Ph'd to 6.1. Added a few tie downs to the branches that were getting too tall
3 years ago
These things kicking into high gear, growing like crazy! Added a few more additional tie downs. Will most likely feed in the next day or two 👍🏼
3 years ago
Straight water for the ladies today, ph'd to 6.4. Continuing with LST
3 years ago
Growing and growing. Continuing my LST on these ladies as they're starting to grow FAST. All showing pre-flowers already as well. Some giant fan leaves on the biggest one, might cut one off and save to wrap a cannagar later 🤷🏻‍♂️😁
3 years ago
Fed week 3 nutes, ph'd to 6.1.
3 years ago
Put the first bend on the two taller ladies
3 years ago
These guys are boomin, startin to think about putting the first bends on them
3 years ago
So far so good after the transplant. Gave one of the babies away, don't have the real estate. But everyone all happy now I believe 😍🌱
3 years ago
Transplanting today. Tried a technique where I cut the bottom 1/2-3/4 of the cup off and plant the cup into the new container. Did this with two of them and did a regular transplant with the other two. I left one in a cup as a don't think I have room for it and would have to rehydrate an entire new coco brick. So unless I find a home in the next day or two I might have to commit murder lol. Roots look really healthy. Watered the soil around the outside of the pots with just RO water and calmag. Fed the transplants in the cup with week 3 feed, ph'd to 5.6 with ppm of 690. Well see how quickly this tent gets crowded 🤷🏻‍♂️
3 years ago
Hit em with some regular RO water with calmag (no other nutes), ph'd to 5.28 Probably gotta start planning to transplant these into bigger containers 🤔
3 years ago
Brola These guys a little farther from the lights than I want them so I used an extra tray as a "step stool" to get them a little closer, they're about 12" away from the lights right now
Brola My RH controller was set at 57%, dropped it too 53% as my two blue dreams are entering flowering stage and don't need as much humidity . Prob try to keep it at around 50%RH to cater to both the blue dreams AND the younger zkittles
Current nutrient lineup I'm using for this grow
3 years ago
First nutrient feeding for these guys. Seedling strength nutes, ph'd to 5.8
3 years ago
Looking good, about ready for some nutes 💪🏼
3 years ago
Next set of leaves growing in 🌱
3 years ago
Throwing this feed schedule here so I have it for reference later
3 years ago
Dee.buddy314 I'm looking for a feeding schedule for some clones
Hit em with some plain RO water ph'd to 5.8
3 years ago
These guys stretching a bit so I moved my lamp a bit closer
3 years ago
Brola Because of the stretching I went ahead and put these babies into the tent. They're way shorter than my 2 blue dreams so hopefully far enough away for light not to be too intense for them.
These guys takin off!
3 years ago
A few popping out of the soil already. Lookin good under the dome right now
3 years ago
BAM! 5 out of 5 popped. Rehydrated the coco brick that I had (Canna Coco is the brand in case anyone is wondering). Hydrated coco with RO water with CaliMag supplement. PH'd to 5.9-6.0 (380 PPM). Mixed coco with perlite and transplanted seedlings into the mix in red solo cups. Keeping them on the warming mat, under a humidity dome, under a single 300w cannagrow cob led light. Let's get growing!!
3 years ago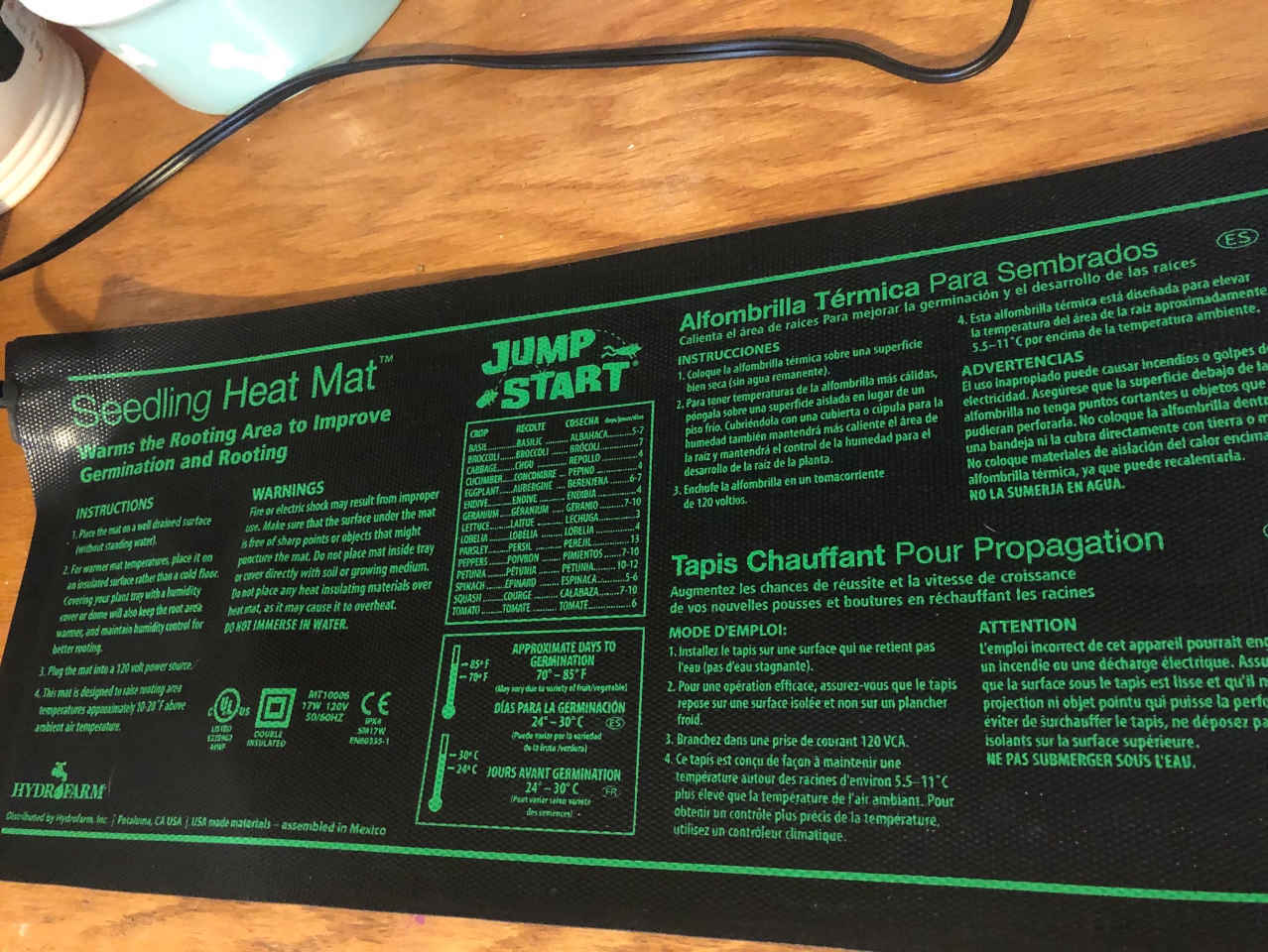 Let the seeds soak for 24 hours in water, moved them into a damp paper towel today. Have them sitting on a heated germination mat and a tray (so it doesn't get too hot). Hopefully have some popped this time when I get home from work tomorrow 👍🏼
3 years ago
Just dropped this 5 pack of seeds into a shot glass of spring water. Will leave here for 24 hours or so then move to paper towels.
3 years ago