rhinousmc
First grow, AGG#4
Summer 2020
Four Auto gorilla glue #4, 1 lemon haze, 1 mystery female photoperiod
Harvested 9/20
2 years ago
Some of the massive ones bulking up. Not time for a flush yet. Another week or 2
2 years ago
jayu Saw you comment on my post. — looking good brother. (I'ma veteran too) Just wait until those beauty's changed color. Mine are turning purple now. This can happen around day 90+
jayu After looking at the pictures harder! It does look like they are changing to purple haha!
GeneralBulbous Beautiful. Just logged in and the first grow I see is from someone in the military 😂 I can see I'm in good company
View 2 additional comments
I can't believe the aroma that's coming from the tent, up close these things smell so fruity and delicious 😋 I can't WAIT! 3 more months until I can try it 🤙🏻👍🏻
2 years ago
Since I found out my mystery plant is a photo period I have been on a 12/12 since week 4 or 5. In this grow I have 4 auto flowering Gorilla Glue plants, 1 Lemon Haze and 1 Mystery beautiful purple plant. We are on day 73 and here is a close up. Still good from feeding yesterday will show meter used that tells me when to water. I use nutrients every time because coco does not retain nutrients like soil does and I'm 70/30 coco perlite. 5 gal of water almost every 2 days increased bloom yesterday and here is day one results 🙏🏼🤙🏻
2 years ago
RhinoUSMC Only use the "THREE-WAY METER" for the "MOIST" setting. Use other accurate PH & PPM meters when mixing nutrients and know your amounts to put in for what medium you're growing in.
The plant is currently in flowering stage and looking more beautiful by the stage. I doubled my Bloom supplement and am 30ml of Micro (N), 30ml Bloom (P), 15ml Gro (K), 30ml CalMAG, 30ml Rhizotonic in 5 Gal of water PH'd at 6.2 between 6 plants 🌱
2 years ago
Smells amazing. Buds are forming and bulking up by the day. Will increase bloom for multiple more feeds and flush on week 12 possibly
2 years ago
This jungle keeps looking more beautiful by the day. 1224PPM 5.98 PH
2 years ago
Noticed leaf curl on top of one of the plants. Possibly wind damage or too much nitrogen. I'll be honest here I've been feeding them TOO MUCH 😬 will lower amount for feeding tomorrow.
2 years ago
RhinoUSMC The little green guy is a main I found HIDING under fan leaf 😱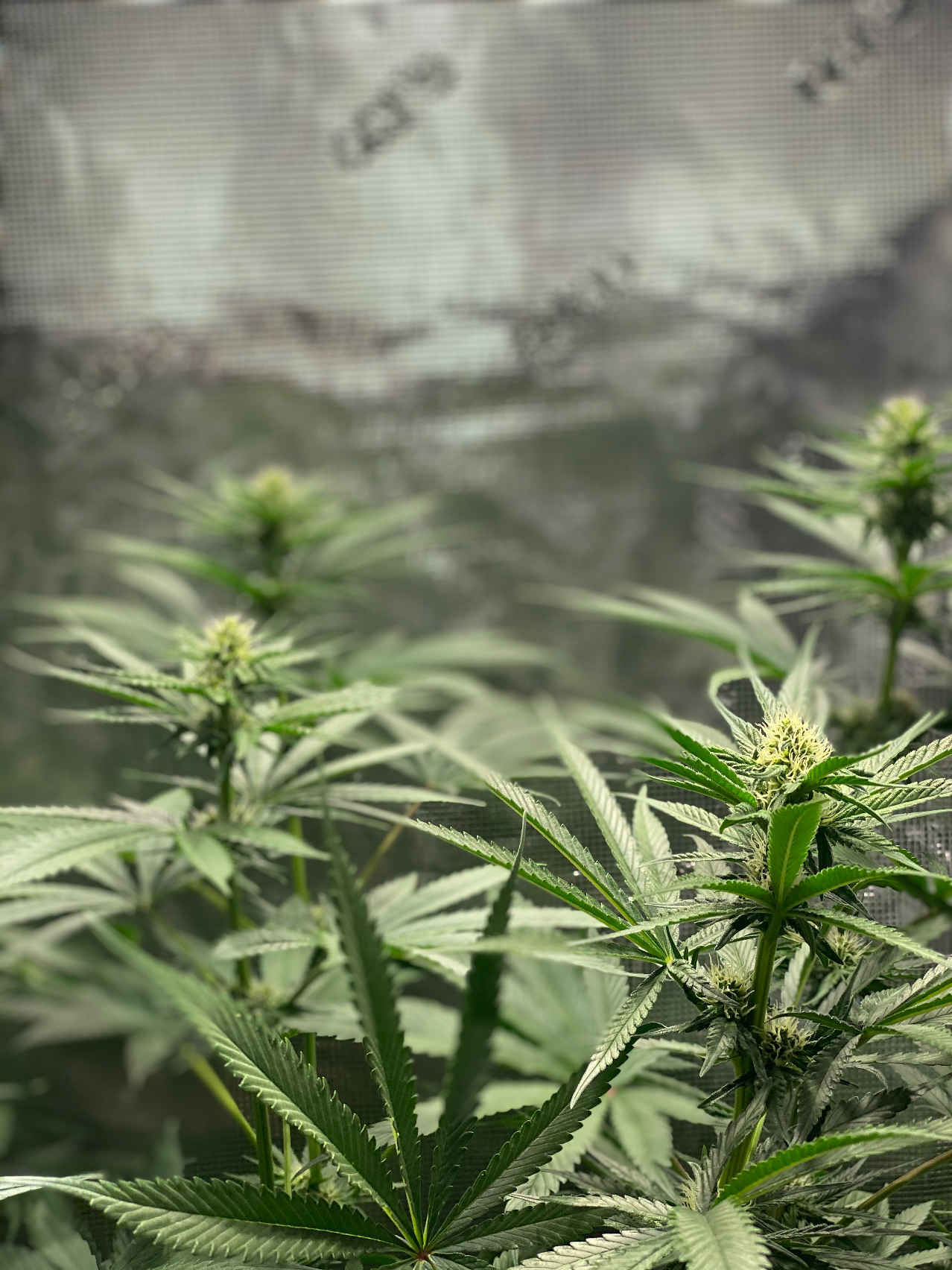 Getting MASSIVE. On a 12/12 for a few weeks now.
2 years ago
Getting fluffy and beautiful will update tomorrow.
3 years ago
Just watered today. 5 gallons between six plants. PPM 1273 PH 5.67 amazing for my first time 🤔 started with 8 and now we have 6 flowering plants 4 AGG#4; Lemon Haze; Mystery Photoperiod 🤙🏻
3 years ago