wiffybead
Solo cup grow
Keep em tiny
Bagseed. Bad ass ineffective cannabis. Stuff came out of the bag looking gorgeous. Heavy dense nugs, smelled and tasted great, covered in trichomes, and absolutely no high whatsoever. Lol. Found a seed in the bag and decided to grow it in case it is a high CBD strain. Very useful stuff that CBD. 😁. Growing in solo cup all the way.
Flower Day 63 That's all she wrote! This battered babe is gettin the axe. She's been through a lot and now we are going to kill her and dispose of her corpse in a series of small fires! She's been without water for 3 days and is ready to dryyyyyyy
4 years ago
Flower Day 51 Drama in the tent. Roommate was fucking around in the tent and the exhaust fan dropped right on top of her. Snapped the stem in 3 places at the top. Taped up two and levered the other one in with a bent paper clip. Last one was right at the node so couldn't tape. It's been about a week and the top buds and leaves are still alive. Whew. She's coming along nicely and has about 2-3 weeks left. I think. Maybe.
4 years ago
Robibus My lord lol. Weed is such an amazing plant. Snap it, tape it, and it comes back stronger. Probably not good at your stage of flowering but I bet she pulls through
wiffybead You got that right Robibus! Resilient bastards and she seems to be doing ok. Some leaf death is starting in that top section but she seems to be pulling through. This girl is fucking the whole tent with her size and if she died because of this there would have been massive disappointment on my end. Looks like she'll make it though. Whew
Flower Day 44 She's got nice color change going on with her pistils and there's definate sugar production. Buds are pretty fluffy right now and that makes me sad. But there's still time to thicken up and that makes me glad.
4 years ago
Flower Day 39 This little bitch is responsible for pollinating my blueberry gal. Found one little opened nanner near the bottom of the foliage. Grrrrr. I'll keep her going though. Really want to see her finish Getting quite a bit more coloration on the pistils and the buds are filling out nicely. She's got about a month left, give or take a week.
4 years ago
Flower Day 35 She's getting leany. Had to hook her to the tent pole to keep her standing tall. Checked the roots today. So you squeeze the pot/cup to loosen its hold so you can pull the root ball and have a look. I'm not saying it's like squeezing a rock, but daaaaamn that's one firm root ball. Hoping she can make it another 30 days or so without having to do any root pruning.
4 years ago
Flower Day 32 Growth continues apace. Trichome production seems to be the most obvious form of growth at this point. Getting nicely crystalline. Roots are still looking good. Not root bound but definitely getting tighter in there.
4 years ago
Flower Day 30 She is about halfway through flower. No idea about this strain so I don't know for sure. Looks like she is Sativa heavy so may go longer than 8 weeks. We shall see. Buds are definitely getting bigger. Top bud is swallowing up the node below and will have assimilated it within a few days.
4 years ago
Flower Day 28 Bud development continues apace. Top bud may be showing the start of some burn, or the first hairs are starting to change over. I've been contemplating doing a minor lollipop on the down below but I haven't convinced myself yet.
4 years ago
Flower Day 26 No major updates to report. She's in the "paint drying" phase where nothing seems to occur for a week or two. Hate this part of the grow. It is what it is. Wait n see
4 years ago
Flower Day 24 She stopped growing!! 31 inches from top to soil. Buds are growing nicely and she's got a nice candelabra look going on and I dig it!
4 years ago
Robibus That thing is massive. I think your right about the coco doing it. I've done A Dixie cup grow also. Not intentionally, I had 3 extra clones I had no room for, planted in soil. They stayed in the Dixie cups the entire time but only got 10" maybe. About 4 grams very nice dried bud I didnt think mine had the big root system to push the big buds. Looking good though.
wiffybead From what I have heard soil grows tend to be smaller than coco grows for one scientific reason or another. I do notice that the roots on my coco grows are much thinner then when I grew in soil. May be the strain as well. Bagseed so unfortunately I don't know anything about her growth patterns.
Flower Day 22 3 weeks into flower and somehow she still wants to be taller. 31 inches from top of the bud to the top of the soil.
4 years ago
Flower Day 20 She's grown another half inch. She's 30 inches tall now. I've got a little pitting on a few leaves but not certain of the cause. Would really hate to supercrop her at this point, but it's better than a burned out top bud. She's back to watering every two days and her vertical growth has almost ground to a halt.
4 years ago
Flower Day 18 She's finally slowing down. Only grew half an inch in the last two days. Thank the great gardener on high! She's 29 1/2 inches tall now and only ten inches from the light. No signs of stress or leaf discoloration yet. Fingers crossed. Roots are many and vast but don't appear to be choked out yet. She's not yet three weeks into flower though so I gotta keep my eyes on them. Buds are looking decidedly pom pommy. She's a pretty cheerleader
4 years ago
Flower Day 16 And growth continues. She's just under 28 inches tall, so she actually accelerated her stretch beyond the inch a day she has been pumping out. She's about 15 inches from the light but not showing signs of heat stress or light burn so I'm letting her go for now. Checked her roots and while there are plenty of them there doesn't seem to be any root lock concerns as of yet. She is just cute as a button. Buds are adorable and growing. Not expecting a huge harvest due to her massive node spacing and minimal root zone, but if growth continues consistently she will produce some pretty decent weight for her situation.
4 years ago
Flower Day 14 2 weeks into flower and she's looking real nice. Buds are starting to really pop even in the down belows. Bitch keeps growin tho! 25 inches tall. Inch a day is killin me. I couldn't hold her anymore and take the picture. My arms are not long enough!!!
4 years ago
Flower Day 12 Hoping the stretch will end soon. She put on another 2 inches in the last 2 days and is up to 23 inches now. Light is pretty maxed out height wise so if this continues I'll be forced to supercrop. Buds are starting to flush out nicely in the top half. Lower ones are definitely smaller. She sure has a beautiful shape though. I'd love to let her finish naturally. I don't think she is going to be a major yielder but it's sure been a fun grow.
4 years ago
Flower Day 10 She just keeps growing. She is 21" tall now and shows no sign of stopping. I've got about 6 inches of play with my light and she's pushing into the red zone right now. Watering every day still. Only once a day though, we shall see if that continues. Went ahead and snipped the two bottom sets of nodes and sent them to the clone zone. Took the now bottom branches and tied up to the stalk. They are now at the same height as the next level up and since she is so sparse should get decent light.
4 years ago
JpNOTnice Favorite grow so far! This is awesome.
wiffybead Thanks JP! Mine too :). Had no idea what to expect with this plant or process but it's been pretty fun so far.
BlueDream2791 How have y-I been able to keep the roots stable? Want to try my first solo cup but scared plant won't have enough room to grow or I won't know what to do with it. Do you trim the roots or just let them be?
View 1 additional comment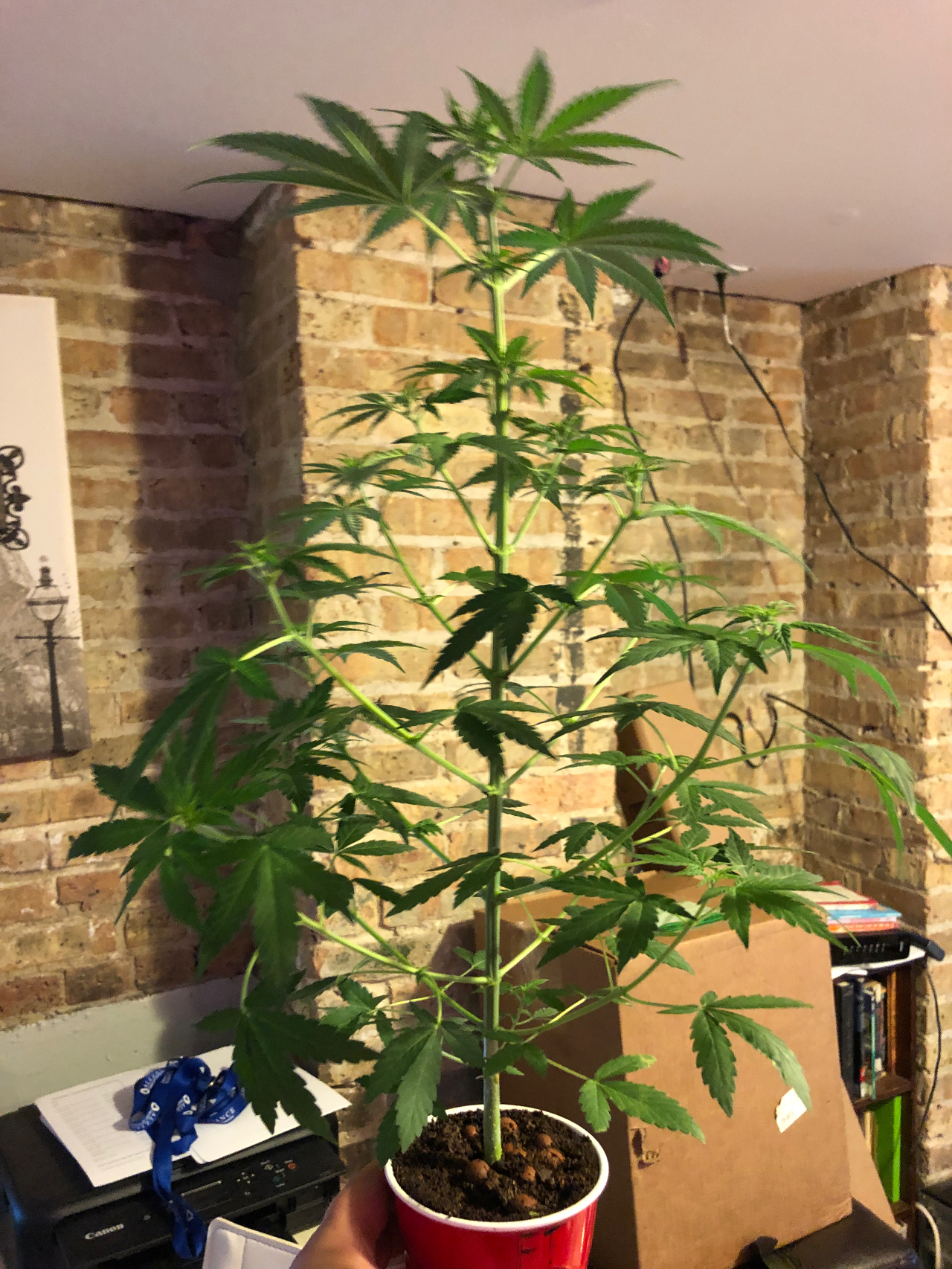 Flower Day 7 One week into flower and she's moving slowly. Pistils are popping up but not very quickly. Crazy lady put on two inches in two days. She's up to 18 inches now and I had to raise the light again. She is definitely lanky but I like it. Most of my grows are topped and trained low. I'll be letting her hopefully run a natural course
4 years ago
Flower Day 5 Man she is stretchy! She's already 16" tall from top of the plant to the top of the coco. She recovered from the defoliation and is starting to drink back to her pre defoliation levels. Roots look real nice and there doesn't appear to be any root lock concerns yet. Had to raise the light a bit as she was starting to juuuuust taco the top set of leaves. I've only got about 6 more inches I can raise the light so I hope she doesn't need to be super cropped. 🤞. Last picture is a side by side from the day I put her into flower to now - 13 days
4 years ago
Flower Day 3 Seems to have recovered from her defoliation and is perked up and ready to grow. She is now the tallest plant in flower ha ha. Other plants are purposefully stunted or trained low. She hasn't hit her stretch yet (unknown strain so no idea how that's going to go). So she may end up getting super cropped due to a relatively short tent. Don't want to and will work whatever magic I can to let her grow naturally, but you never know.
4 years ago
Flower Day 1 Pistils!!! Whew she's a lady! Looks like the little ball like items had lil tiny hairs inside!! To congratulate her on this milestone in her life I ripped off all her big leaves lol. Also fed her flower nutes for the first time. She is still drinking everyday. Very excited.
4 years ago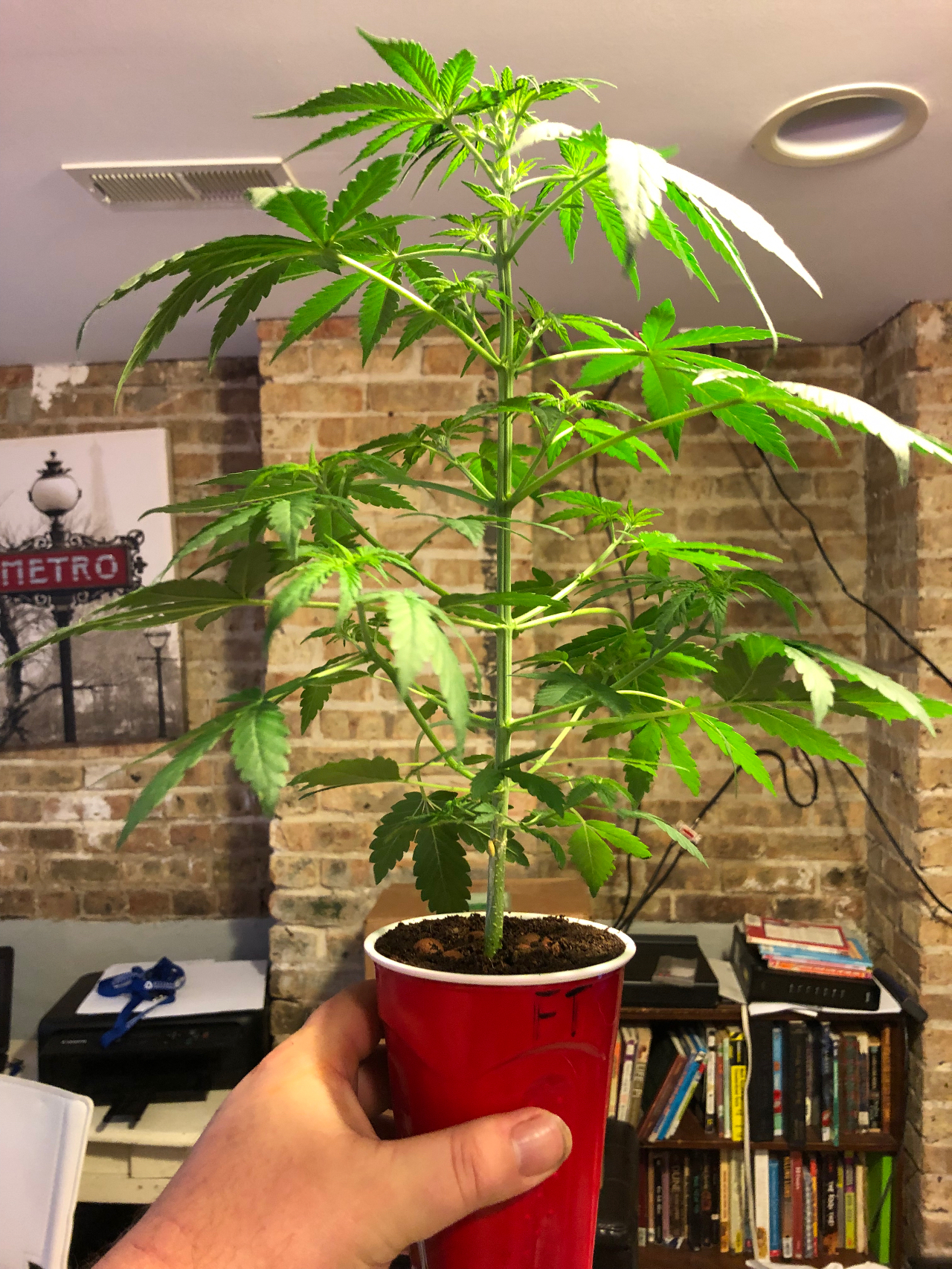 She's getting tall! But she might be a he. No confirmed sign of flowering yet but I did see a single growth that may be a ball. So tired of males this go round. If I have to sacrifice one more plant to the almighty house cat I think I'll scream. Loudly. And long. Wait n see I suppose.
4 years ago
Nothing new to report. She's thirsty a lot. She's fed daily now. Full veg nutes and still lookin nice.
4 years ago
No real progress to report. Still lookin good on the neighborhood. Due to her sparseness the undergrowth is really getting some solid light and the node branches are growing excellently.
4 years ago
She's in the flower tent! This is one if the most gangly strains I've ever grown. Also the thirstiest. I'm watering her every one or two days so far. For those thinking solo cup (or small pot grows) are going to be easy, you've got another thing comin. She's probably going to have to be watered multiple times a day plus fucking with her roots so she doesn't become root bound will require a lot of attention on my part. But I look forward to the challenge! Watering with full veg nutes until she shows pistils.
4 years ago
She's really poppin! Getting too tall for my little veg area though so she's moving to the flower side tomorrow. She's got some nice growth and good spacing on the nodes. Could be up to two weeks to determine sex but I'm hoping it's closer to a week. Really want her to be a girl :)
4 years ago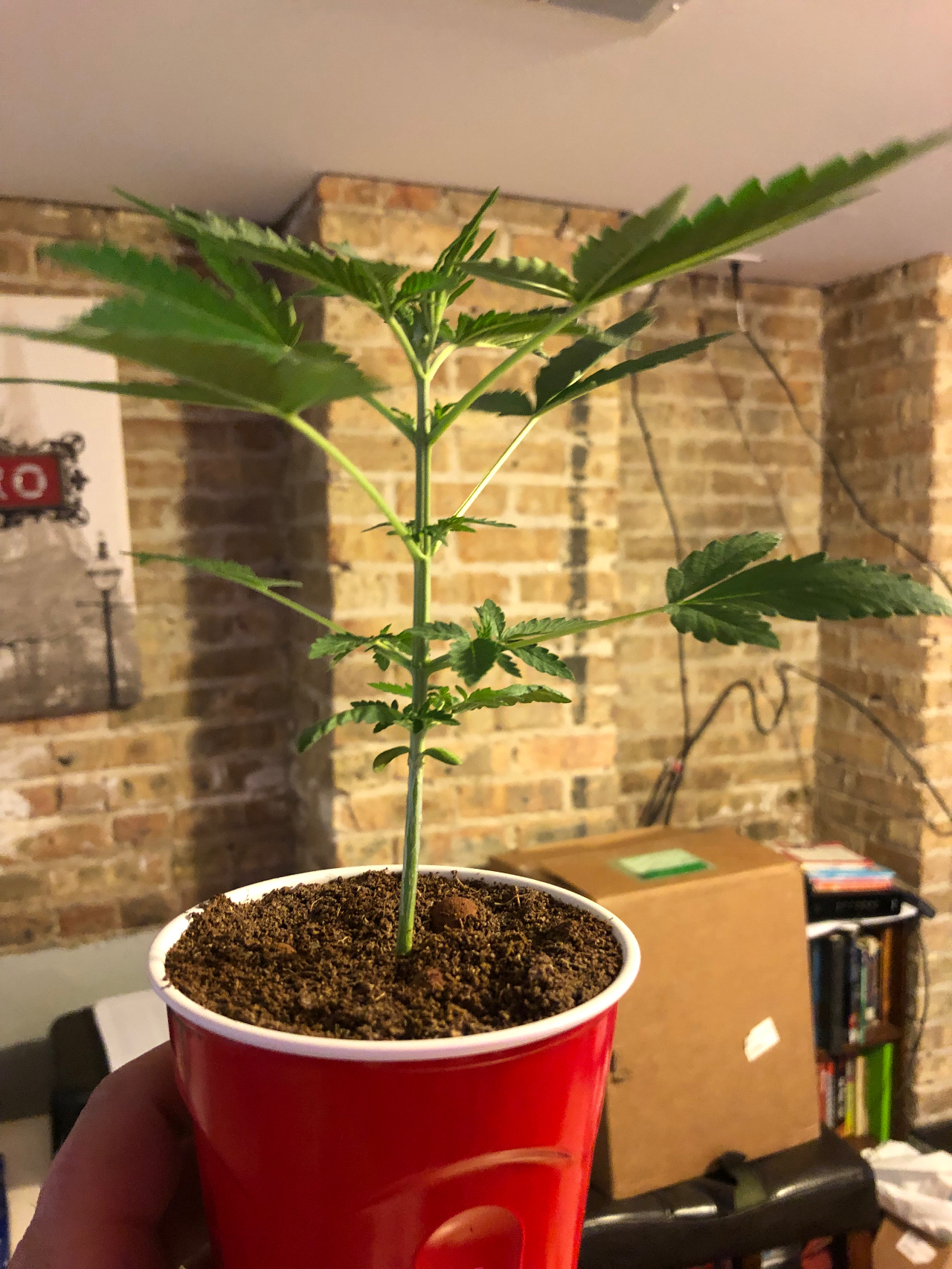 Lookin gangly! Pretty but gangly :). She's got just a few more days under 18/6 lighting then she's into flower land. I've never grown this strain and have no idea what to expect for speed, structure, or sex. Having already grown 4 boys this season I'm really hoping my luck will not give me number 5 with this one.
4 years ago
She's still growing :). Looking very nice. A bit spindly but healthy. By this weekend she will be moved to the flower tent. 3 weeks in veg and we should see the start of flower within a week or two after getting under the flower lights.
4 years ago
Nice consistent growth continues. Started her up on 1/2 strength nutes and moved her under more intense lighting. Once she hits 3 weeks in veg I'll move her into the flower tent.
4 years ago
She's looking much better after the light adjustment. She's spreading out nicely and is just about ready to get put under the higher intensity lights soon.
4 years ago
Ooooh she's getting too close to the light. Pretty confined space so I may move her to the lower chamber as those lights are a bit higher than the top. Other than some leaf twist she's looking pretty good. She's on half rations and will probably stay on that for another week or so.
4 years ago
She's growin. Not much to update. Will be hitting her with about half strength nutes in her next watering.
4 years ago
She's lookin good. Lights are in a weird place so her fans are tilted a bit but I'm not too worried. Second set of true leaves are coming in nicely. She's still on plain water.
4 years ago
Awww. She's waving hello to everyone. Adorable. Her leaves are stretching out nicely. She's getting plain phd water and is under two 23w CFLs.
4 years ago
Bagseed. Bad ass ineffective cannabis. Stuff came out of the bag looking gorgeous. Heavy dense nugs, smelled and tasted great, covered in trichomes, and absolutely no high whatsoever. Lol. Found a seed in the bag and decided to grow it in case it is a high CBD strain. Very useful stuff that CBD. 😁. Growing in solo cup all the way.
4 years ago