LA Kush Cake - Magic Soil Shootout
Summer 2021
9x5 tent, 8 bucket rdwc, 2x 600w led quantum boards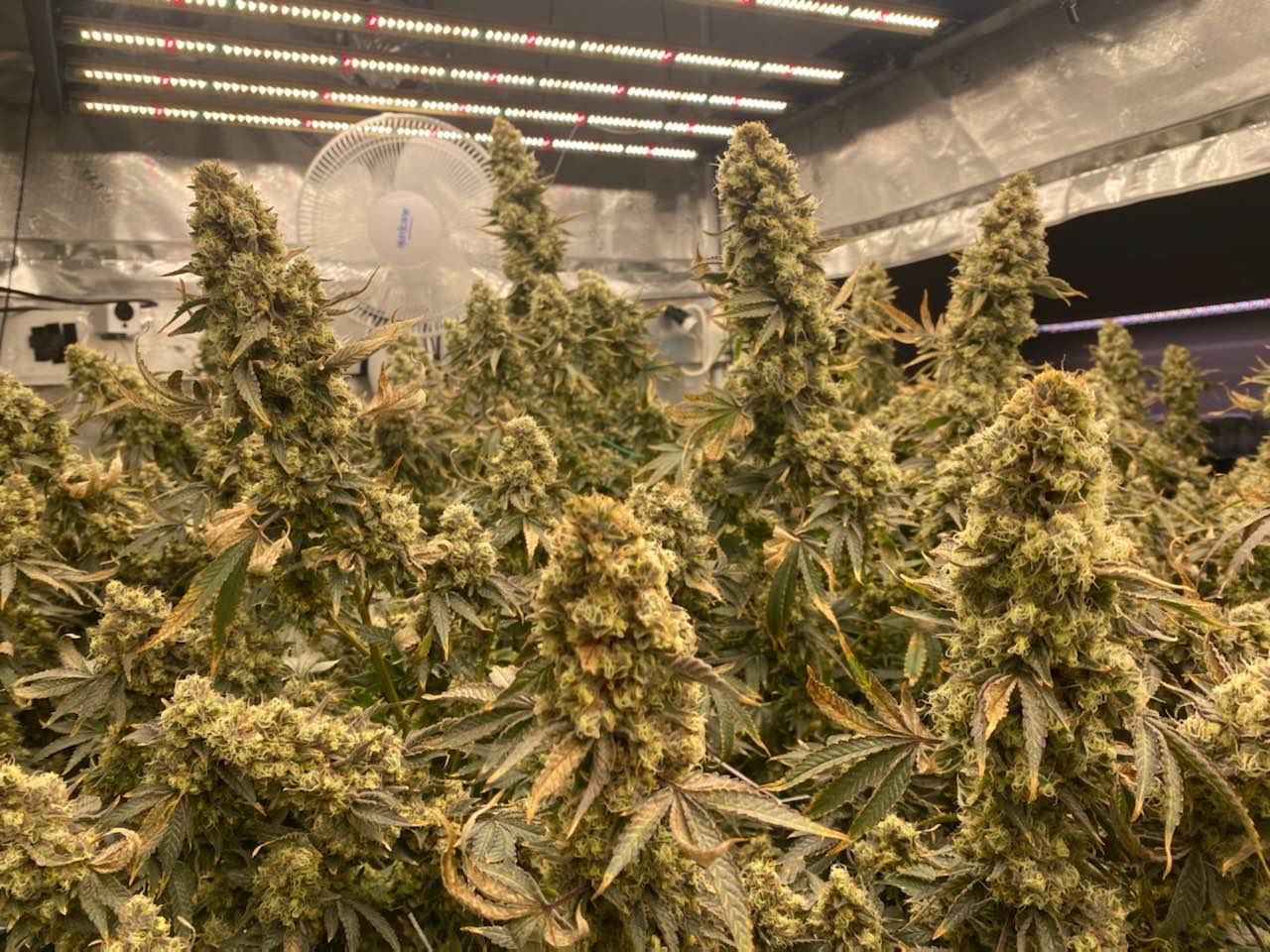 Ending week 9 . Last water feeding for soil plants. Flushing rdwc plants
a year ago
Week8. Fattening up. Still eating. PPM 1500. Pistils on frosty colas in the magic soil are starting to turn orange. All other buds still only have white pistils.
a year ago
Begin week7. Increased ppm to 1400. Added overdrive. Rdwc colas are filling in more than colas on soil plants. Some magic soil colas are super frosty. All others are much less frosty.
a year ago
End of flower week5. Increased ppm from 900 to 1200. Stacking, and beginning to fatten.
a year ago
Nearing end of week4 flower. Lowered the ppms in rdwc res. Added bud factor x and nirvana to the regime. Fed Dave soil plants res water at 800ppm. Fed living soil plants ro+big bud+cal mag+silica also at 800ppm. All plants are stacking nicely. Living soil plants much frostier at this point.
a year ago
Begin week4 flower. Heavy defoliation
a year ago
Begin week3 flower. Added second layer of trellis netting. One of the Dave soil plants was tossed out because it herm'd. Gave soil plants a shot of kelp also. Changed to growerhouse 720 led lights for more even coverage.
a year ago
Begin week2 flower. All plants stretching aggressively. Soil plants already starting to flower. Rdwc not yet. Rdwc Nutrient 1500ppm. Watered magic soil plants with 1600ppm bud blast + silica + cal mag + fish. Watered Dave soil plants with rdwc nutrients mix from reservoir then did partial res change
a year ago
Flower Day 1. Scrogged soil plants. Did full rdwc water change (ro+power si bloom+cal mag+sensi bloom A+B, voodoo, piranha , tarantula, hydroguard, great white, b52. Bud candy) ec 1580
a year ago
Cobe Trade me setups bro. Plants looks big af good job
End of week4 veg...scrogged rdwc and increased ec. Super cropped soil plants, watered with 1300ppm (veg vigor + powersi + cal mag + megafish)...defoliated some fan leaves. Gave away last two (extra) plants in 2gal pots. Rdwc plants much larger than soil plants. Soil plants are more 'woody'
a year ago
Transferred soil plants to 15gal cloth pots. Plants dried out too quickly in the 2gal pots. Transplanted into magic soil (added some worm castings) and also Dave soil (ocean+hydroton+bio char+worm castings+ neem seed meal+kelp meal) . Watered in with ro +cal mag + silica + super thrive + great white). Sprayed roots with more concentrated great white and super thrive. Super cropped the rdwc plants. Transplanted 2 of the magic soil plants into 10gal pots as mothers. One with magic soil , one with Dave soil
a year ago
Caliban Looking good. Do you top dress?
skunk2dave I top dress with organic soil amendments and water in with ro+cal mag+silica every other watering. For the alternate watering I water with ro+cal mag+silica+fish emulsion.
Mcmuzzy Just keeping the mothers under a t5 with no tent?? Thinking of keeping a mum just in the room next to my tent
View 1 additional comment
Replumb rdwc. Removed riser. Removed large fan leaves . Increased ec to 1.7. Lowered the temp and humidity slightly because the soil plants didn't like higher temp and humidity
a year ago
Increased ppfd to 850
a year ago
End of veg week2. Changed rdwc reservoir, increased ec to 1.4 (from 1.0) Watered magic soil plants with ro+megafish+cal mag+power si. Added extra cal mag. Magic soil and rdwc close to same height. Rdwc plant stems 1/8" larger in diameter than magic soil plants. Magic soil plants showing signs of cal deficiency...rh perhaps too high. Lowered rh. Ppfd @ 750. co2 @ 1400ppm. Vpd target @ 0.90-1.00 . Foliar feed with super thrive+cal mag+Mother Earth + power si + diluted nuts from res (ec1.4 /ph6.7)
a year ago
Watered Soil Plants today. Top dress with mega veggie then watered in with ro+cal mag+powersi. Other soil plants watered with water from reservoir. Lightly pruned dying original clones leaves , and weak growth near/touching the soil. Turned lights up to 650ppfd.
a year ago
End of week1 veg. Increased EC to 1.2 (from 0.8). Rdwc roots coming in nicely.
a year ago
Watered today. Magic soil plants received megafish, mega sea, cal mag, power si. 1/2 of fox farm ocean received the same, and other half received water from rdwc reservoir. Rdwc plants and magic soil plants growth on par. Magic soil growth far exceeds all fox farm ocean plants. Magic soil plants have better color (darker than rdwc), RDWC plants lighter colored green up until this point, but now darkening up suggesting roots are establishing. Co2 at 800ppm. Light turned up to 450ppfd
a year ago
After 2days Rdwc and magic soil plants already seem to be pulling away from fox farm ocean . Ppfd 450
a year ago
Week 1 Veg begin ...Transplanted all clones to 2gal. 4 pots of magic soil. Flushed with 1/2gal water (3gal to 1tbsp seaweed amendment) . Other clones transplanted into fox farm ocean soil and given same seaweed amendment. 4 rdwc gave seaweed amendment. Using 1/2 strength AN: sensigrow, piranha, tarantula, voodoo juice, b52, Mother Earth, and also added great white. Cal mag and power Si per bottle. Ph 6.1 . Ec 0.8 (ro water) . 350ppfd
a year ago
Roots coming in strong. Topped 3 days ago (was early ). Have some unknown brown stuff collecting on the roots, washes off, roots healthy. Maybe was from the dehu. Stopped recirculating dehu drain. Went a little too frequent in the foliar.
a year ago
Roots starting to grow faster
a year ago