jdbeach_2000
High CBD plants, Indoors, 1st grow.
Spring 2019
Closet grow, 600w led. 7 plants
Mountain mango hemp 0.03% THC, ACDC 2% THC, Hawain Dream 3%thc, plus Gold leaf with 21%Thc
Dried and moved into jars. I'm short a few jars but I'll get them when I get to the store. I got over 15 ounces. (448 grams). Not bad for my 1st grow. Hemp- 98g/3.45oz Hawaiian dream -80g/2.82 oz Gold leaf- 148g/5.22oz AC/DC-122g/4.3oz
4 years ago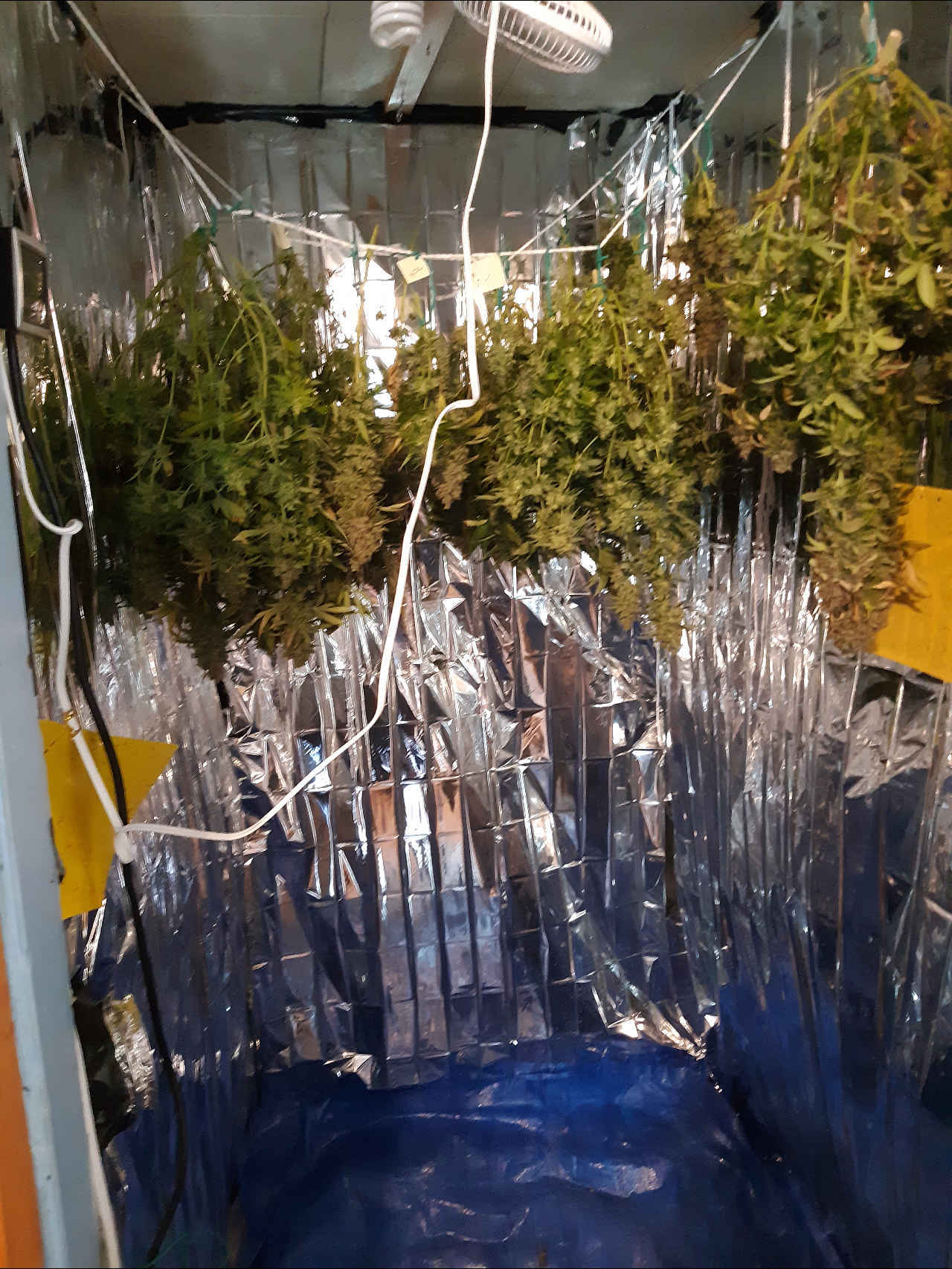 Day 82 of flower. Harvest day. Had some heat issues but overall happy with what I've seen.
4 years ago
Day 68 of flower and trichomes are still clear. I guess we still need another week or two.
4 years ago
Day 54 of flower. Plants are sticky but not frosty like many others I've seen online. I have a small microscope coming Wednesday so I can check the trichomes. My room has been to warm lately. 86 to 90 vs the 82 where it should be.
4 years ago
Day 47 of flower. Buds are starting to fatten up. Some are over 2" wide.
4 years ago
Day 40 of flower. Just did water this week. A few of the plants are a little yellow. I might have over feed last week.
4 years ago
Day 33 of flower. Grow room is warmer than it should be. 88 vs 82. Humidity is good. Plants seem to be fine but the left 2 seem to dry out quicker than the rest. Which is odd because they are different breeds and their counterparts are fine.
4 years ago
Day 26 of flower. Things seem well. Maybe should have watered yesterday.
4 years ago
Day 23 of flower
4 years ago
Lost power yesterday and the plants only had 6 hours of light. But they seem to be fine
4 years ago
Day 18 of flower. Moved all plants out of the room and adjusted and trimmed as needed. Added supports to some of the outside sprouts. Made the mistake of trying to force one under the plants support and broke it completely off. :(
4 years ago
Day 16 of flower. Plants are looking good. Getting bigger everyday.
4 years ago
Day 14 of flower. Everyone except the 1 hemp plant is getting lots of hairs.
4 years ago
Flower day 12. Weekly feeding today. Everyone seems happy enough. Temp has been about 86 in the grow area. Not sure if this is going to be an issue or not since I read it should stay around 82. Humidity is saying between 35&44 so I think that's fine.
4 years ago
Huge amount of growth after yesterday's feeding
4 years ago
Feed the plants today. Cleaned up some of the larger fan leaves so more light reaches the bottom. Helped some of the plants under the plant supports. I broke one of the stems. I taped it up so I hope I don't lose it. I moved the plants around because the one that was in the back left corner didn't seem to be getting enough light. I moved a taller plants there hoping it'll do better.
4 years ago
Day 3 of 12/12 light cycle. Also, 2nd plain watering this week. Plants are starting to reach the top of the plant supports. All seems well.
4 years ago
Plain water today. It looks like I should have watered another day this week. One of the plants in the back is looking sad. I changed the lights to 2700k CFL. Will change the light cycle to 12/12 after today's cycle ends
4 years ago
Starting to fill out fast.
4 years ago
Last day of LST before I flip the lights next weekend. Added some plant supports but I'll most likely need to add some more later for the outer stems. I know the plants are still on the smaller side due to not having enough light at the start. But this first grow is a learning experience. Next grow will 4 plants not 7. But so far I'm happy with the grow.
4 years ago
Feed the plants and did some LTS. I also removed some of the fan leaves and did some topping. The plants look healthy but I think I have fungus knats. I ordered some sticky boards and I'll have to do some research on getting rid of them.
4 years ago
Plants are doing well.
4 years ago
We added the carbon filter today. I'm seeing lots of new growth since adding the 2 CFL bulbs. I'm starting to feel a little more confident about this.
4 years ago
Add 2 CFL bulbs @ 65w. 6500k. Hopefully that will be enough light.
4 years ago
Looks like they just needed a good feeding. Some of the fan leaves are reacting over the side of the buckets. They really grew overnight. But I have a question on feeding and watering. How much water do you give each plant per feeding and watering? I gave each plant 1 liter. Is that enough or to much?
4 years ago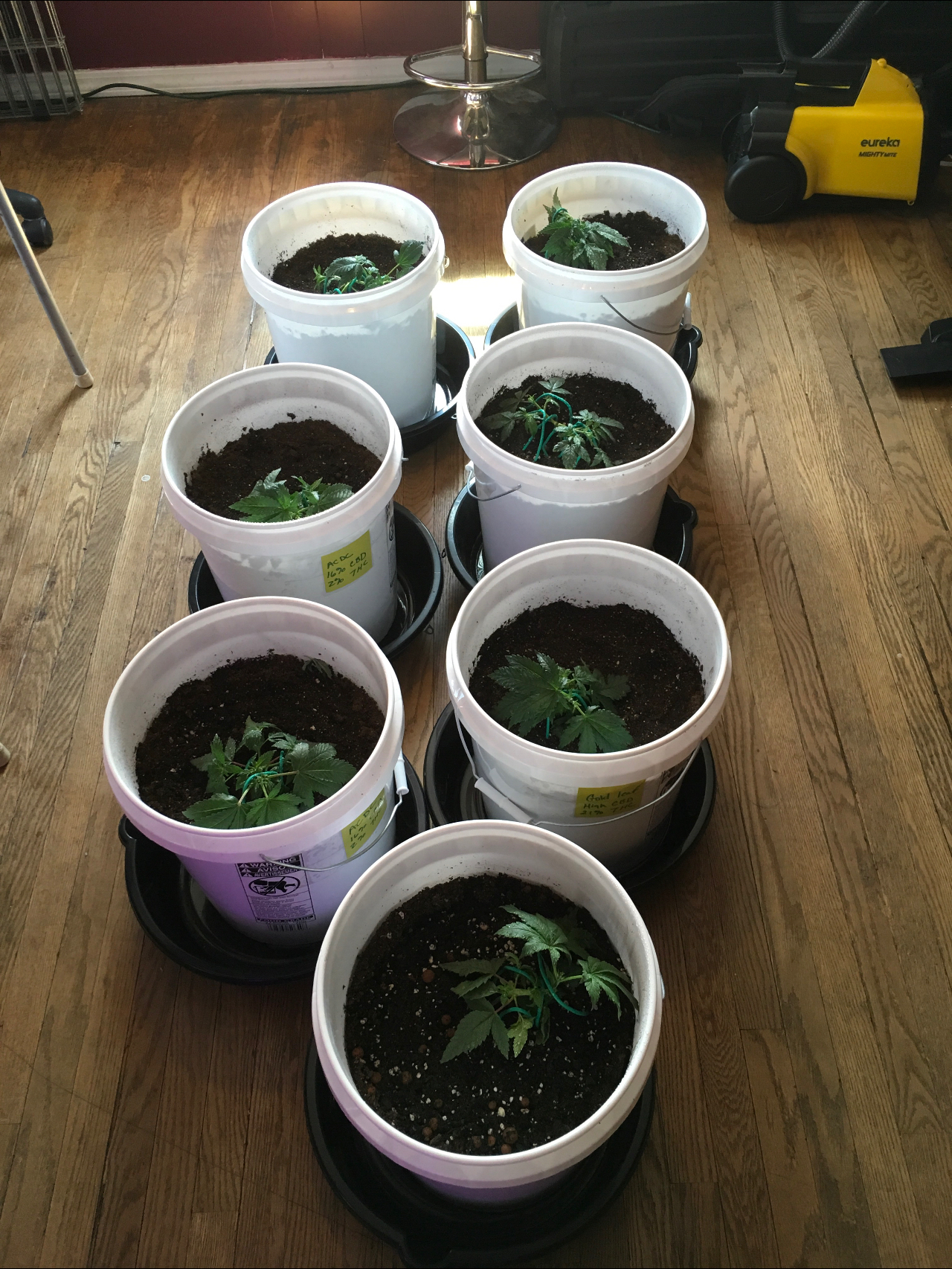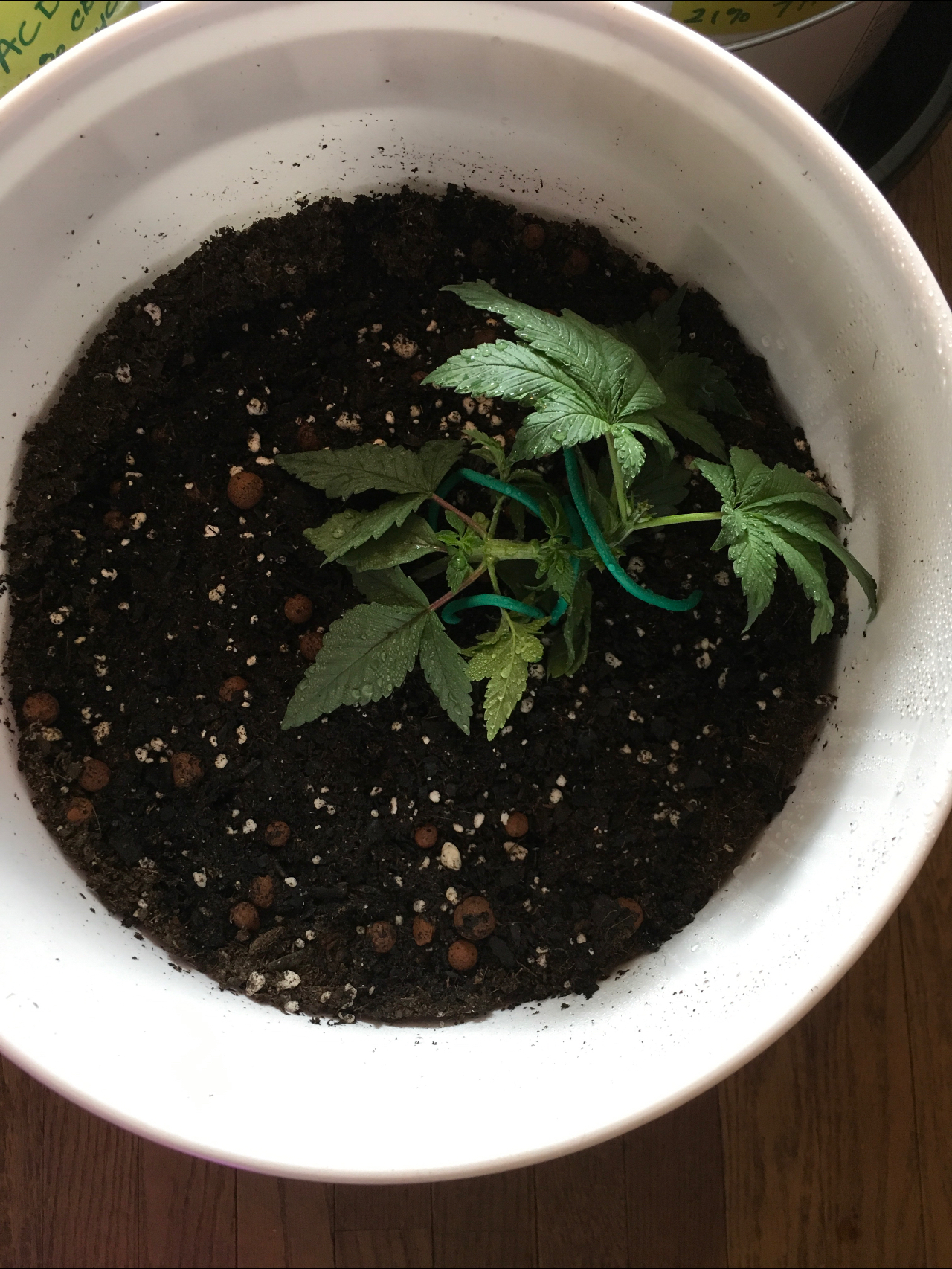 Pulled everyone out for a feeding and some more LST. I ordered some 65w CFL bulbs to hopefully boost growth. Also I think it's time to order a carbon filter. The house is starting to smell a little.
4 years ago
Topped the plants and started some LST. Hopefully I didn't totally F them up.
4 years ago
Greenhouseguy95 What do you have for lighting ? The way you have things set up would require a pretty high wattage led for vigorous growth. Your plants are a bit spread out
Jdbeach_2000 You don't think I have enough light? It was rated for a 4x4 tent and I only have a 3x4 area. I can't get the plants closer together with the drain pans. I thought about adding a CFL bulb for the one farthest away from the light but it's seems to be doing okay. How many LED watts is needed for a 3x4 room? Also thanks in advance for any advice you can give.
View 1 additional comment
Day 4 in the new pots with new soil and some of the plants don't seem happy. Yellowing of the bottom leaves which in nitrogen deficiency ? But the living soil should have everything they need? Maybe the coco coir isn't allowing it to be released? But wouldn't it be the same in all the plants? It's just 1 of the gold leaf and 1 of the hemps
4 years ago
Hemp plants with yellow middle leaves. This plant was damaged and split by itself
4 years ago
Gold leaf with yellowing bottom leaves .
4 years ago
Moved plants to 5 gallon buckets. Living soil, coco coir, Happy Frog potting soil, and clay pebbles. Had to add a little extra seeding potting soil to the tops of some of the buckets because I was only planning on 6 not 7. Need to adjust the light a little so it reaches all plants.
4 years ago
Plants are looking better after their first real feeding. The one hemp plant still seems to be struggling.
4 years ago
The broken leaf isn't looking good.
4 years ago
3" tall in potting/seeding mix. No nutrients yet. Just some coffee water. Hemp plants are struggling. The leaves feel dry. Just got a humidity and temperature monitor. Also just received my foxfarm nutrients and cal meg.
4 years ago