Irene Chem Kush
People Under The Stairs genetics
Updated grow space with same lighting as last grow. Created more headspace for girls to grow for a bit longer and hopefully grow a bit taller. 600w Roleandro LED + 2x 100w LED bulbs. I plan to water differently this time and keep closet door closed more often for added humidity in grow space.
Day 60 (mid week8) flushing 2 gallons. Ripening.
3 years ago
54 in flower. Flushing with 2 gallons each. Plumping up and mostly still clear trichomes.
3 years ago
Day 48 in flower(Starting week 7). Began flushing today with 2gal no nutes. No discoloration or signs of distress, healthy and happy gals. Right on target to finish up in 2 weeks!
3 years ago
Day 40 in flower. Healthy and forming many many tric homes. Smells great in here!
3 years ago
36 flower days. Fed 3tsp/1gal bloom nutrients. Happy healthy and stinky.
3 years ago
31 days in flower. 2 gal ph balanced for both, happy and healthy, fluctuating humidity but stays between 48 and 62 primarily. 2 fans going to keep from rising too high.
3 years ago
Nutrient bath 3tsp/1 gallon each.
3 years ago
25 days in flower. Happy girls still growing upwards and bulking up at the bud sites. No issues whatsoever ✌️
3 years ago
In full blooming phase, pistils and buds starting to really develop, very healthy and happy it seems. Nutrient bath 3tsp/1.5 gallons. 17 days in flower.
3 years ago
Day 11 in flower, 2 gallons no nutrients. Removed male plant from the grow. Much more breathing room for the girls now. 22" and 23" and still stretching!
3 years ago
One week into flower. Healthy, nutrient bath (tiger bloom) 2 days ago (2.5tsp/1gallon) 1 gallon each.
3 years ago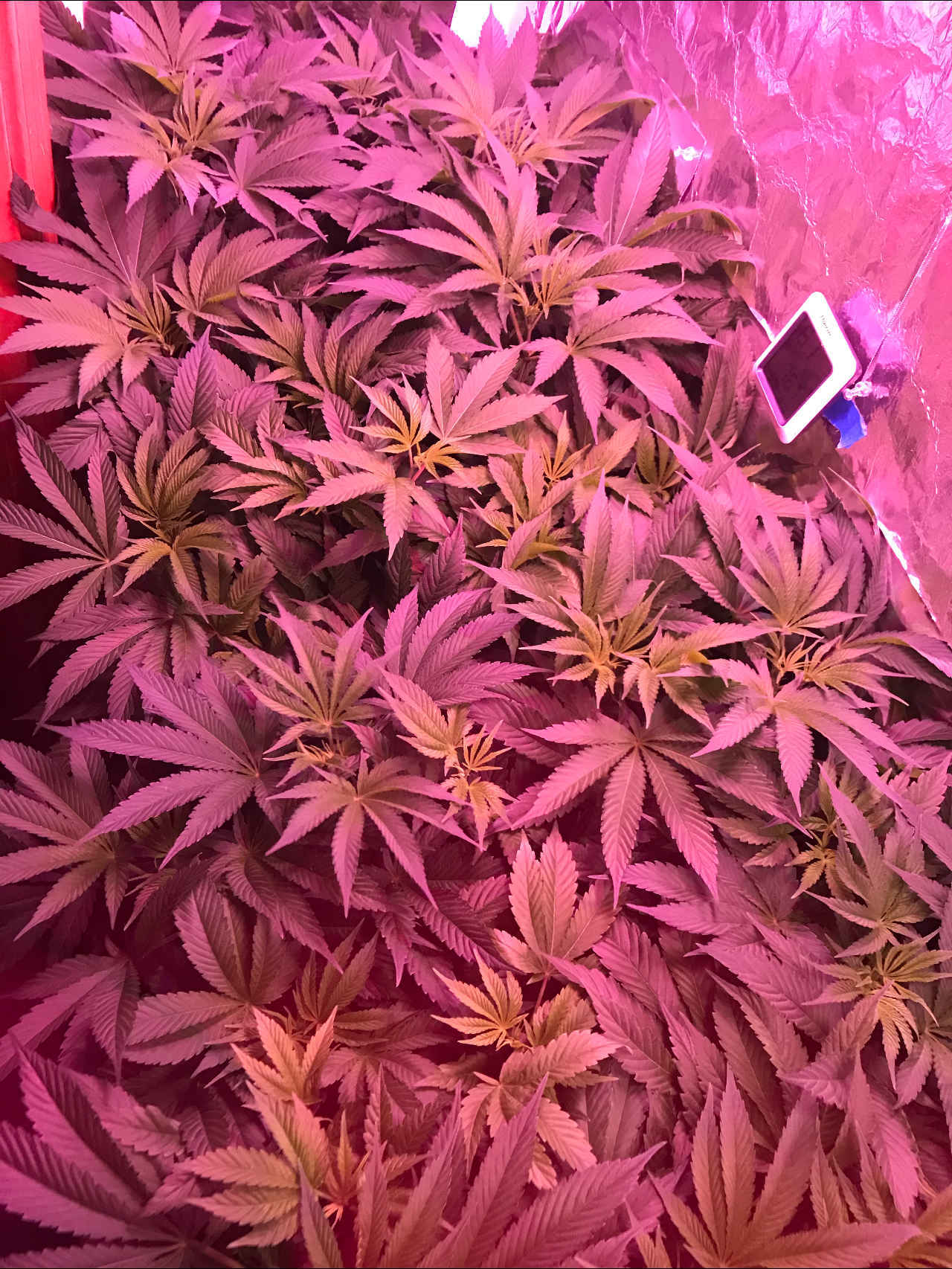 Day 3 in flower: Babes are happy and healthy. Growing rapidly during this stretch phase. How tall will they be?🤔
3 years ago
Watered yesterday 2 gallons each. Switching to 12/12 tonight. Yippeekayay!
3 years ago
That canopy tho...🤙 Nutrient bath 3tsp/1gal each. Training is going well and the girls (yes, I've spotted some pre-flowering on all three plants...I believe) are happy with new growth everyday it seems.
3 years ago
17" from light, LST beginning to form even canopy. Trimmed most large fan leaves for more air and light space 🙏
3 years ago
Full watering, 2 gallons ph balanced per, no nutrients. First watering in 6 days. Plants seemed thirsty. Also began some LST where able. ✌️
3 years ago
Growing. Temps hovering around 70-71 RH ~ 50. Happy.
3 years ago
Nutrient bath today. 1 gal / 3 tsp grow big.
3 years ago
Topped the first of three recently up-potted babies to the 5th node. 5 gal of FF OF for each.
3 years ago
Healthy and catching steam. Tallest is 4.5" tall and 16" from light. Foliar watering only the past 3 days. The shell bound runt has recovered as predicted.
3 years ago
Potted up to 1 gal. Plastic pots. Using SoiLite potting mix for this second stage only. Not sure how it will go 🤞. pH balanced water, not sure how balanced the soil is.
3 years ago
Halflings under 200w LED bulbs until they are stronger to handle the big boy. Had to remove a latched husk from seed 3, that sucker grew tall but head fully encased in the seed husk. Used a push pin and steady hands to gently break off the shell casing. No major harm done except a small hole on a sucker leaf. The leaves are behind in growth and slightly damaged but am confident they will recover quickly 😊
3 years ago
Freshly germinated ready for planting 🤗
3 years ago