chucknv
AFgKu Hydro/Soil comparison
2019
5 Afg Kush
Day 35 of flower
3 years ago
Lookin good but dealing with serious PH swings.
3 years ago
PH has been rising overnight to fairly high Levels over 7. I brought it back down but I can't imagine it's good for it to swing the way it is.
3 years ago
She's doing good. Filled up pretty much the entire 4x4. Been having an issue with the PH plummeting from 6.2 all the way to sub 5 ranges. Haven't figured out why yet but I have been readjusting it as much as possible.
3 years ago
For some reason the PH keeps shooting down. I think it has something to do with starting into flower. I think the nutrients have been too high and it's drinking just the water and leaving nutrients. Thereby there's less water and the same nutrients. The low PH caused a lockout for Potassium and Phosphorus among others. It didn't do too much lasting damage but it's slightly noticeable to me.
3 years ago
Starting to transition into flower next week. The hydro is so large that I can't wait for the soil to grow much more or I risk letting the hydro grow too tall in my tent. I noticed some very young fungus gnats. I pulled everything out of the tent and vacuumed every speck of dirt or sand. I suspect the "smart" pots are causing them. Every hole on them is a space for an adult fungus gnats to lay eggs in the soil. I won't use them again. The fabric pots are great though.
4 years ago
Chucknv Side note: I think I'll end up growing only 2-3 hydro in this tent in the future. 5 would be way too many based on this ones current size. Even with 3 they would fill out every bit of this tent and then some. It's a 4x4.
The hydro has completely taken over the tent. I will need to raise the plants in soil because they are being shaded by the tree/bush towering above them lol. The hydro is about 45-50 days old at this point from seed. It's absolutely massive and I'm afraid I won't have the height needed to flower it even at this point.
4 years ago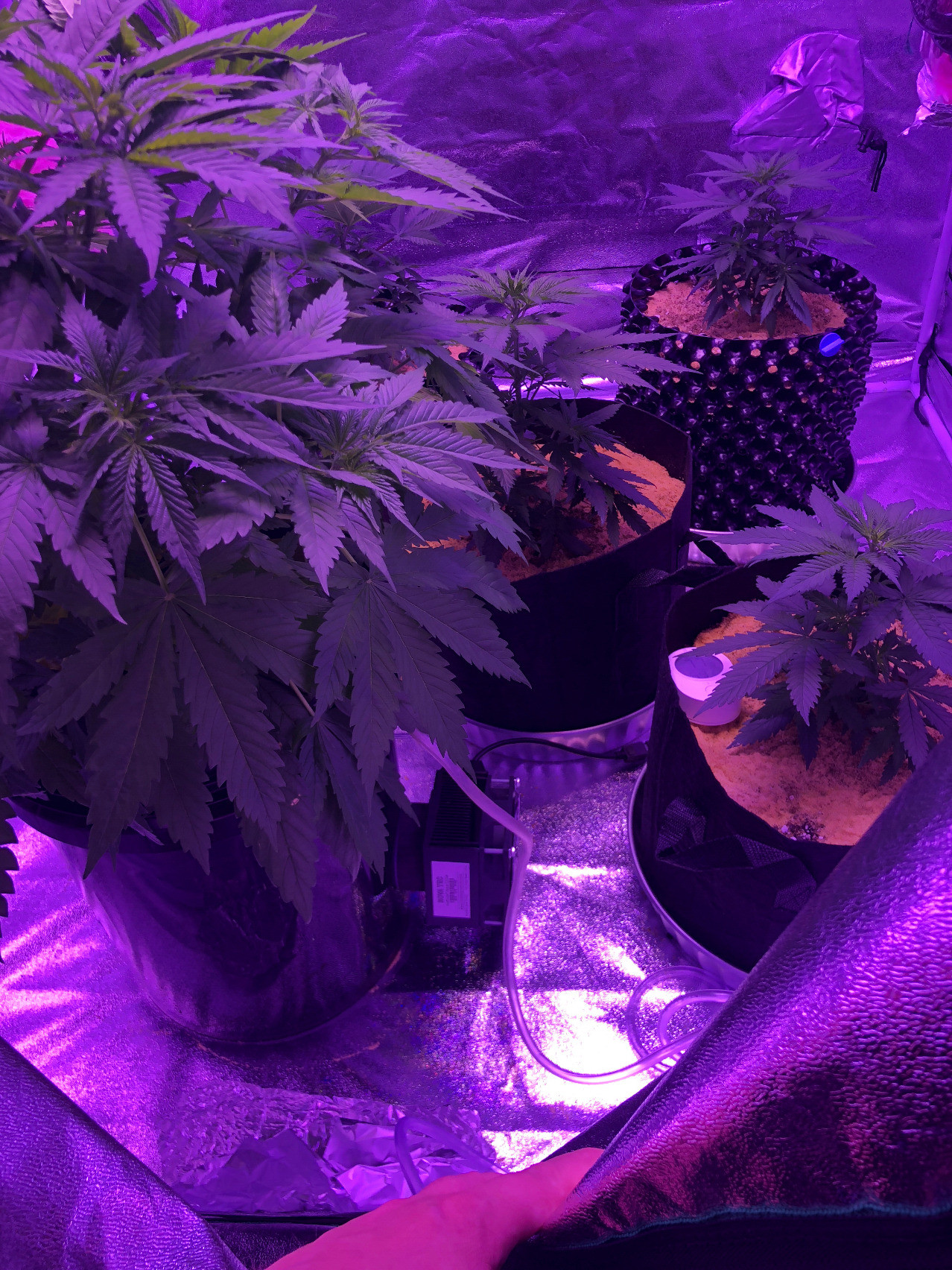 Everything's going well. Watered the today about 1/4 gallon per plant. I also top dressed my organic feed. They are loving it and pointing towards the light. I upped my light to 100%. They have about 5-6 more to veg. The hydro grew so much quicker than the soil that I have topped it once and am about to start cloning from it. It's just hitting 30 days old since it was started later and it looks like a monster.
4 years ago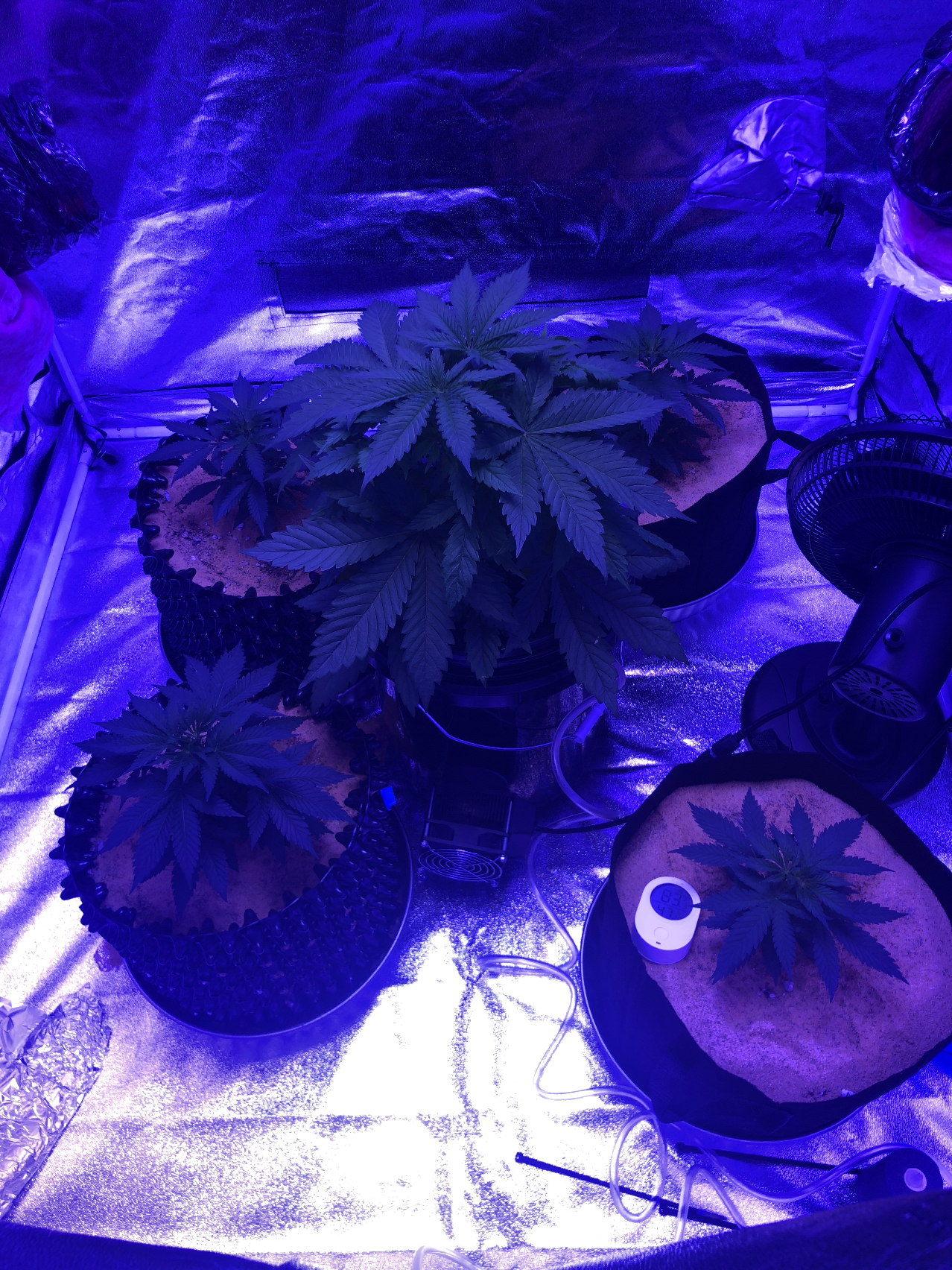 My AC has been out for a day now and will be another 3 days. I'm mostly concerned with the hydro because it's water has been over 80 F for days now. It's showing signs of stress and it's optimal for bacterial growth. Hope I can lower the temp very soon.
4 years ago
Looking healthy. About to get watered today a few hours before lights out.
4 years ago
Plant is only drooping because it was just about its bedtime. It perks back up about an hour before it knows the light is flipping on.
4 years ago
Looked a bit sad about something today so I went ahead and transplanted, watered, and fed its first first set of organic nutrients with seaweed extract PH to 6.4.
4 years ago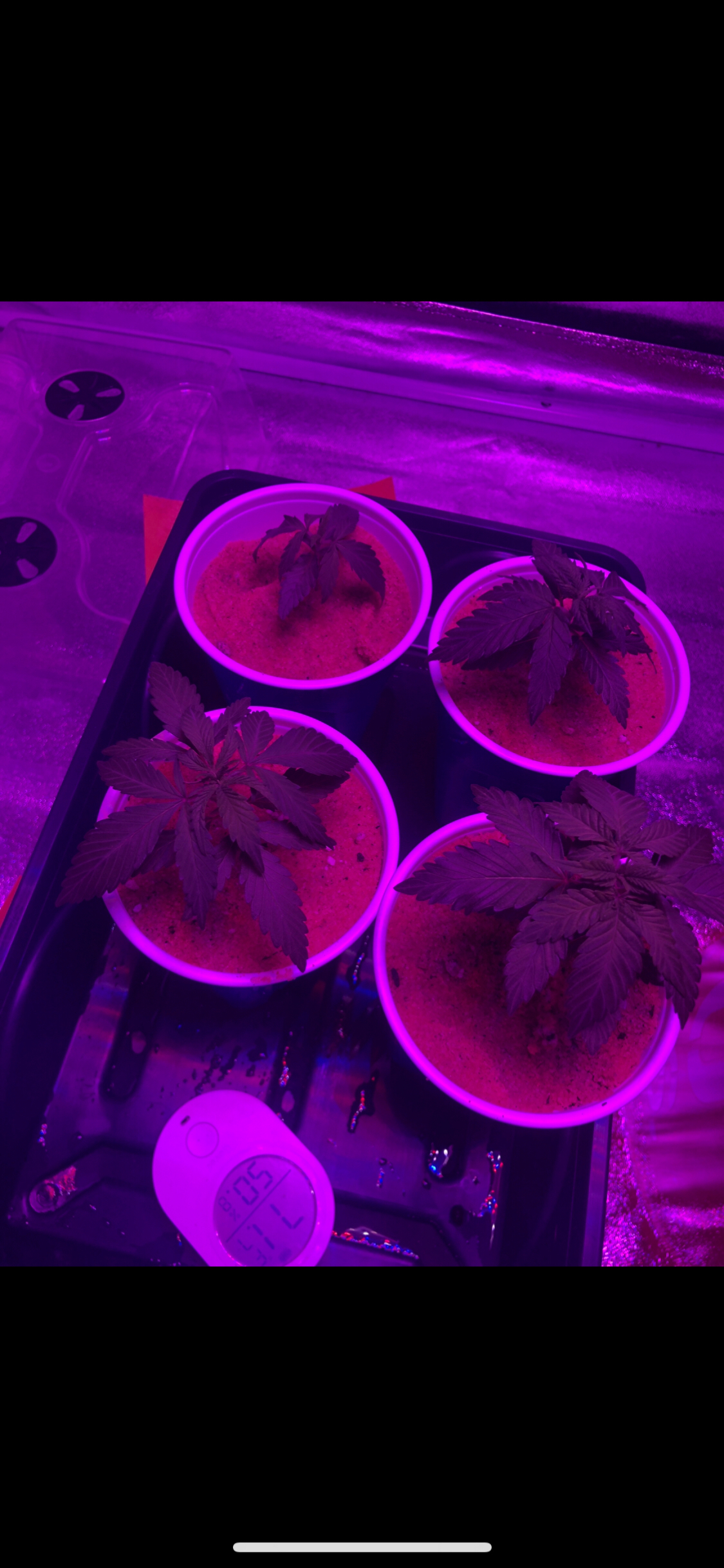 I purposely let them dry out so I would better understand what it looks like when they are thirsty. The second image is after watering them for the first time in 3 days. They perked up within hours of watering and feeding.
4 years ago
Had some leave twisting on all plants. The only thing I did was use a very light amount of Fox Farm nutes and tried to add some peroxide to my soil to kill fungus gnats. I think the 3% grocery store peroxide is what did it, it has additives that could be harmful to cannabis, in particular seedlings. They are looking better though.
4 years ago
Chucknv I'll also be placing them under either a 1350 Viparspectra or a HLG 550 V2 RSpec here in about 10 days. I think the Viparspectra might Veg them better so I might use that then use the HLG for Flower purposes.
Noticed more fungus gnats. Will not water tomorrow to try to kill them.
4 years ago
Did not water today. I noticed the leaves were drooping yesterday due to overwatering. The leaves straightened as the day went on.
4 years ago
Big growth spurt. Put down traps because I spotted two gnats in the water.
4 years ago
Watered a bit this morning. Surprised by how long it's taking for the second set of leaves to grow larger. I dropped my light down slightly to encourage more bushy growth during seedling stage.
4 years ago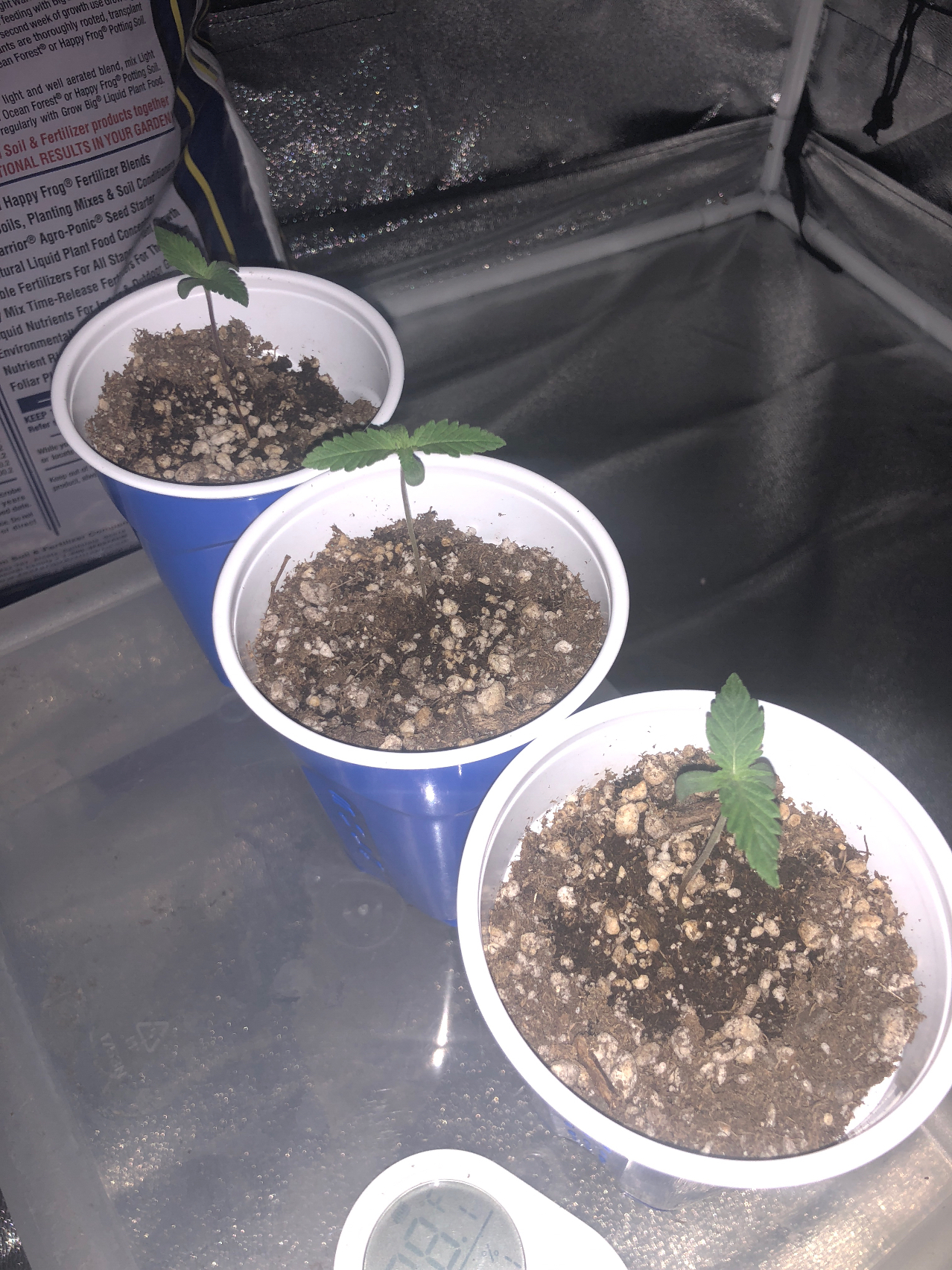 Watered slightly. Next set of leaves is slowly presenting.
4 years ago
I also planted my 4th germed seed since the white widow died once in my starter soil. I'm also germinating a 5th Afghan Kush that I plan to put in hydro to see the difference between the hydro and soil. Can't wait.
4 years ago
Watered 20ml just in and around the root structure. There were noticeably larger today. The other two plants have started to produce their second set of fan leaves which will be the 5 fanned leaf.
4 years ago
Chucknv I also rotated the cups slightly since two of the seedlings are leaned slightly. I'm hoping changing its light direction will cause it to lean the other way and become straight.
Sprayed with bottle slightly. Otherwise no watering today. Introducing better fan intake in tent due to 80F with just seeding light. Would be very hot with veg lights.
4 years ago
Chucknv Also, my White Widow died. I believe I may have messed with it too much once I placed it in the soil. I'm germinate 2 more Afghan Kush to replace it.
Watered light today and misted slightly
4 years ago
Very light water
4 years ago