koletrain
Hydro - 01
Fall 2020
6 plants in an isolated bubble bucket system. Using a Mars Hydro TS-3000. 10' x 10' grow room.
Redbone, Gorilla Glue #4, Jack Herrer (2), Girlscout Cookies, Peach Watermelon Zoom Zoom
Just a picture today.
3 years ago
I made the scrog net out of 3/4" PVC with 3 way connectors for a second scrog net extension later. The netting is 4" squares.
3 years ago
Plants are growing nicely. I repaired a split on the main top on the watermelon zoom zoom with duct tape. Built first layer of 4'x6' scrog net.
3 years ago
Koletrain Spread the buckets out close to final footprint. Have material to construct folding table for new nutrient mixing area to conserve floor space.
Slowly trying to even canopy. Getting materials for a hanging scrog net. Water change today.
3 years ago
Koletrain Week 4-5 Transition Period 18/6 - Light Cycle 1ml - Armor Si 4ml - CALiMAGic 3ml - FloraBlend 1ml - Floralicious Plus 3ml - FloraMicro 3ml - FloraGro 3ml - FloraBloom 2ml - Liquid KoolBloom 2ml - HydroGuard 1ml - RapidStart
Adding new Garden Soft Ties for training.
3 years ago
Plants are recovering nicely after second major defoliation. Slight adjustments on training wires.
3 years ago
Plants are still on a 18/6 light cycle. Defoliation needed. Root rot cured by lowering water temps below 70° and incorporating Hydoguard last week.
3 years ago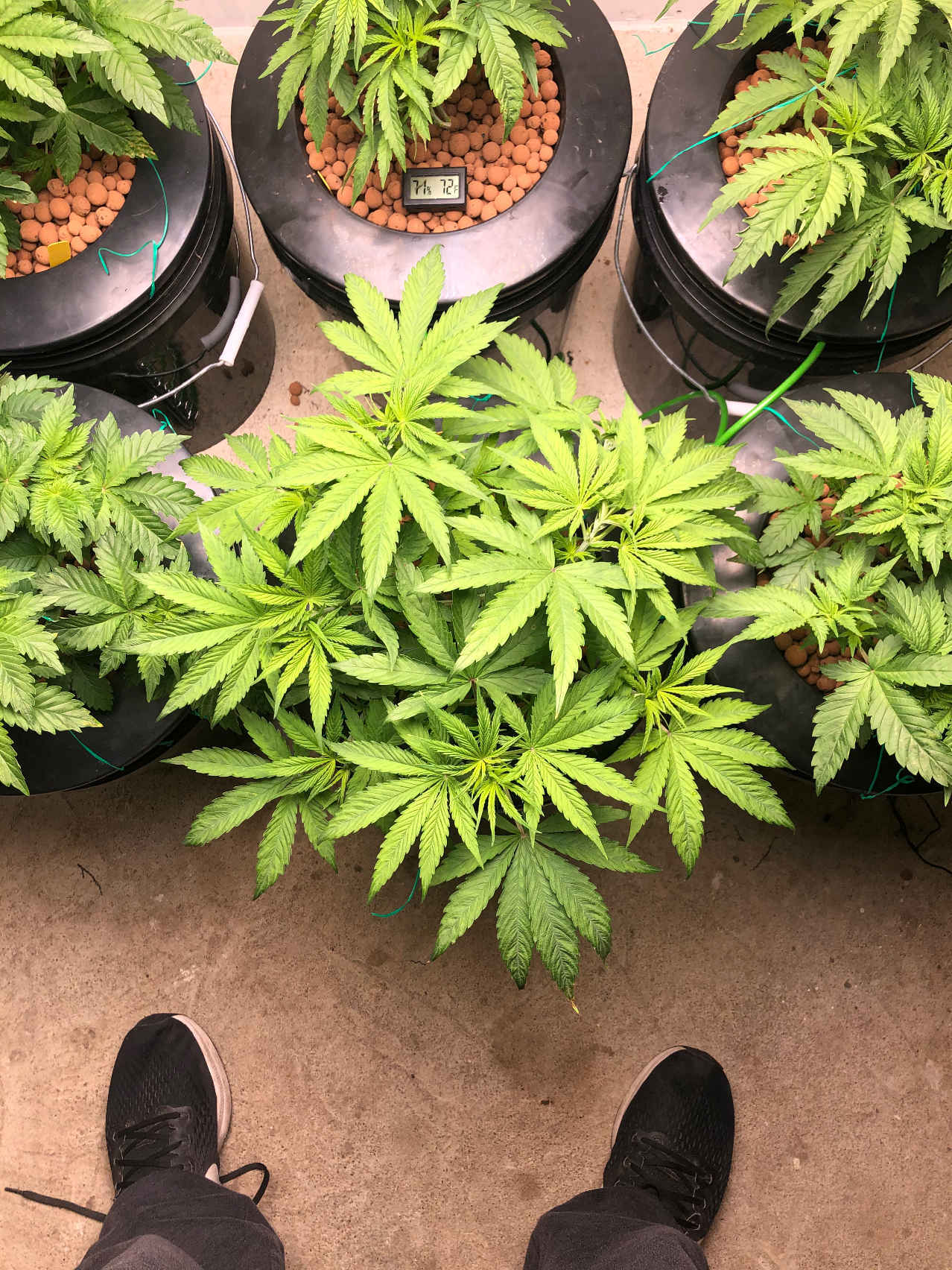 Plants are very thick and root rot is clearing up! Lowered room temps even more.
3 years ago
Good recovery!
3 years ago
I did a major defoliation to all of the plants except for the Peach Watermelon Zoom Zoom. I ordered a new pipette set to help with nutrient measuring.
3 years ago
The plants have come back strong after defoliation. No change in root rot situation. Did a full water change on the Peach Watermelon Zoom Zoom.
3 years ago
Added supplemental fluorescent light fixture. Added AC infinity exhaust fan with automated temperature and humidity controller.
3 years ago
First defoliation. Noticed Peach Watermelon Zoom Zoom was struggling due to beginning root rot. I incorporated HydroGuard into top off water and lowered room temps to below 75°F.
3 years ago
Noticed slight growth. No roots showing through basket.
3 years ago
Day 1 in new room. Using the Flora series nutrients from General Hydroponics at 50% manufacturer recommended strength.
3 years ago