Magic Melon
Fall 2022 - Winter 2023
"Combining the pungent Magic Melon strain with the ease and vigour of an autoflower makes these feminized seeds an obvious choice for anyone who wants a lot of bud quickly. We've been improving autoflowers to be as gorgeous as any full-season strain. All autoflowers require favourable conditions throughout the lifecycle, particularly in the early vegetative phase. It may flower early if the roots feel constrained. Pungent, funky fuel, with dense trichomes and a hint of raspberry"
Wow I truly can't believe how big of a yield I got at the end of this Magic Melon grow. Coming in at a total of 5 ounces(144.43g), I can definitely say I'm impressed with the buds and smell even though she's not fully cured yet. Can't wait for the next run
4 months ago
Well we've finally made it to harvest. I'm really impressed with how this strain turned out, now I just gotta wait a good 10-14 days till she's dried. I'm not too sure how well she'll do while drying since I can't get the humidity above 47%, I'm already using a damp towel to increase it from 40% so maybe next time I'll invest in a humidifier
5 months ago
Ewaters91 Looks great! 5 gallon pot? I went with 3s and smaller plants but may consider starting to do just 1-2 bigger ones.
Ewaters91 That's from a 3 gallon pot?!? Wow maybe I should do just one plant then in my 3x3 tent instead of 4 plants in 3 gallon fabric pots. What growing medium do you use? I do coco, have over 10 years experience but this is my first batch of autoflowers. Definitely a learning curve with it when it comes to stunted growth.
Damn I can't believe how far I've come. It's now the start of week 14 which is my last and final week before harvest. My guess is I'll be chopping her between Tuesday and and Thursday of next week, I just gotta keep an eye on those trichomes to make sure she's ready. I'm really impressed with this Magic Melon auto I've grown, after having two failed seeds this last summer
5 months ago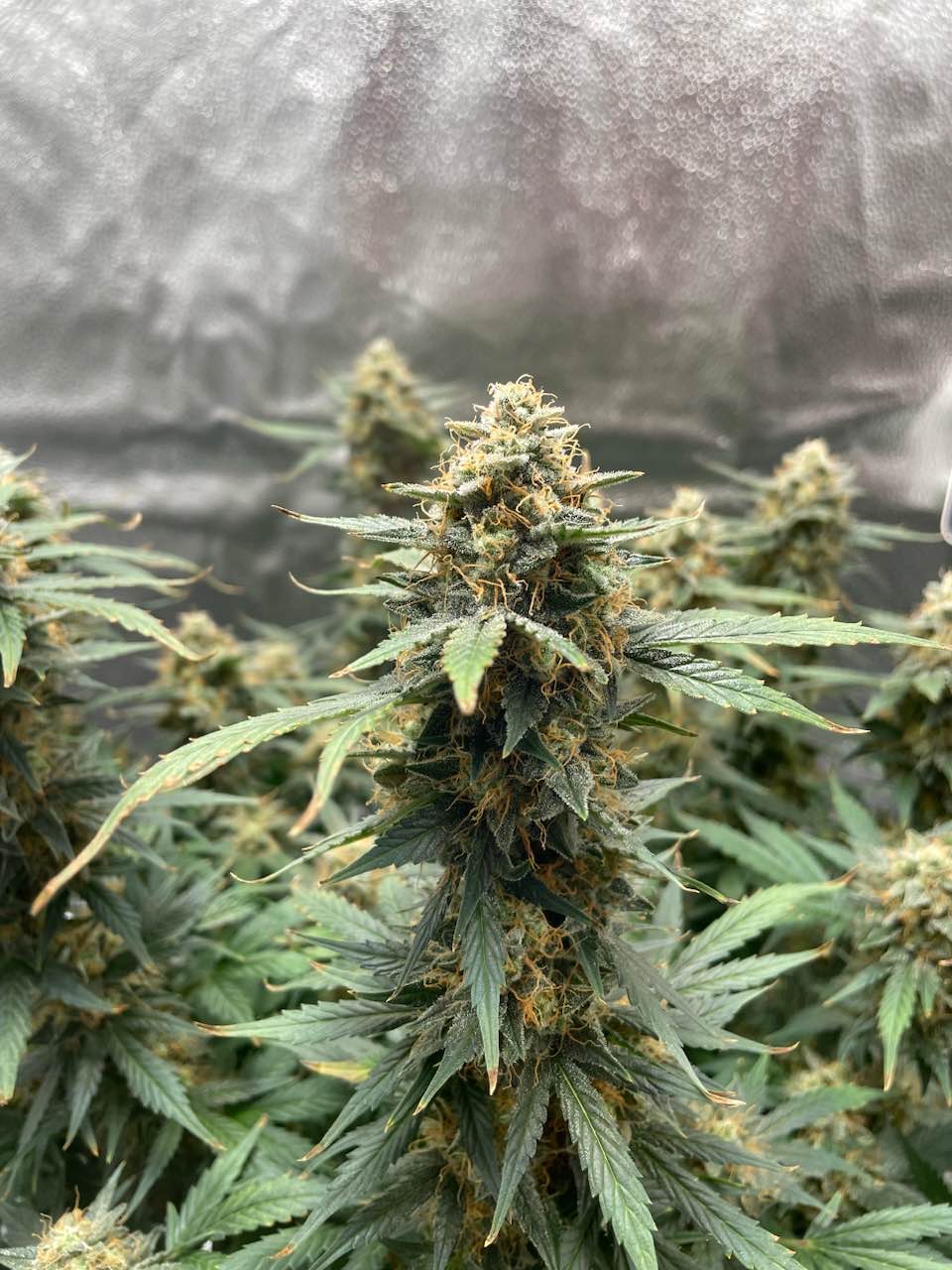 It's the start of week 13, we have about 2 weeks left till chop and the buds just keep getting bigger and bigger. Every time I open the tent the whole basement stinks up but I'm willing to put up with it since it'll be a beautiful smoke. Hopefully the trichomes will be ready in time, I'm thinking my next grow I'll do a quicker growing auto cuz 15 weeks is just ridiculous
5 months ago
Starting week 12, I can't believe we're already here. We only have a 2-3 weeks left before we chop her, she's starting to smell like a fruit basket. I'm hoping she'll continue to fatten up over the next little while, she's already gotten so big I can only imagine how dense she'll be by the end
5 months ago
Start of week 11, we're moving fast. I think the deficiencies and toxicities I've been dealing with were related to PH fluctuations so I'm gonna try and stick to around 6.0. We only have 3-4 weeks left to go and I'm really looking forward to seeing how big she's gonna get over these last couple weeks
6 months ago
Well we've finally started week 10, I can't believe time went by so fast. Last week I ran into some nute burn and a some potassium deficiency but luckily I was able to correct it early on, I just gotta remember to flush more frequently with liquid nutes next time. Only a few weeks left to go now!
6 months ago
Start of week 9, she's finally starting to make some trichomes on and around the bud sites. I'm extremely impressed with this auto's performance, you can really tell how much I've learned since the first grow back in April. I can't wait till it's time to harvest, I'm really hoping to get close to 3-4 ounces if all goes well
6 months ago
Start of week 8, ran into a couple problems throughout last week, specifically nitrogen toxicity and calcium deficiency. Luckily I was able to deal with both pretty earlier on and now she's looks like she's going great, we're in the home stretch now.
6 months ago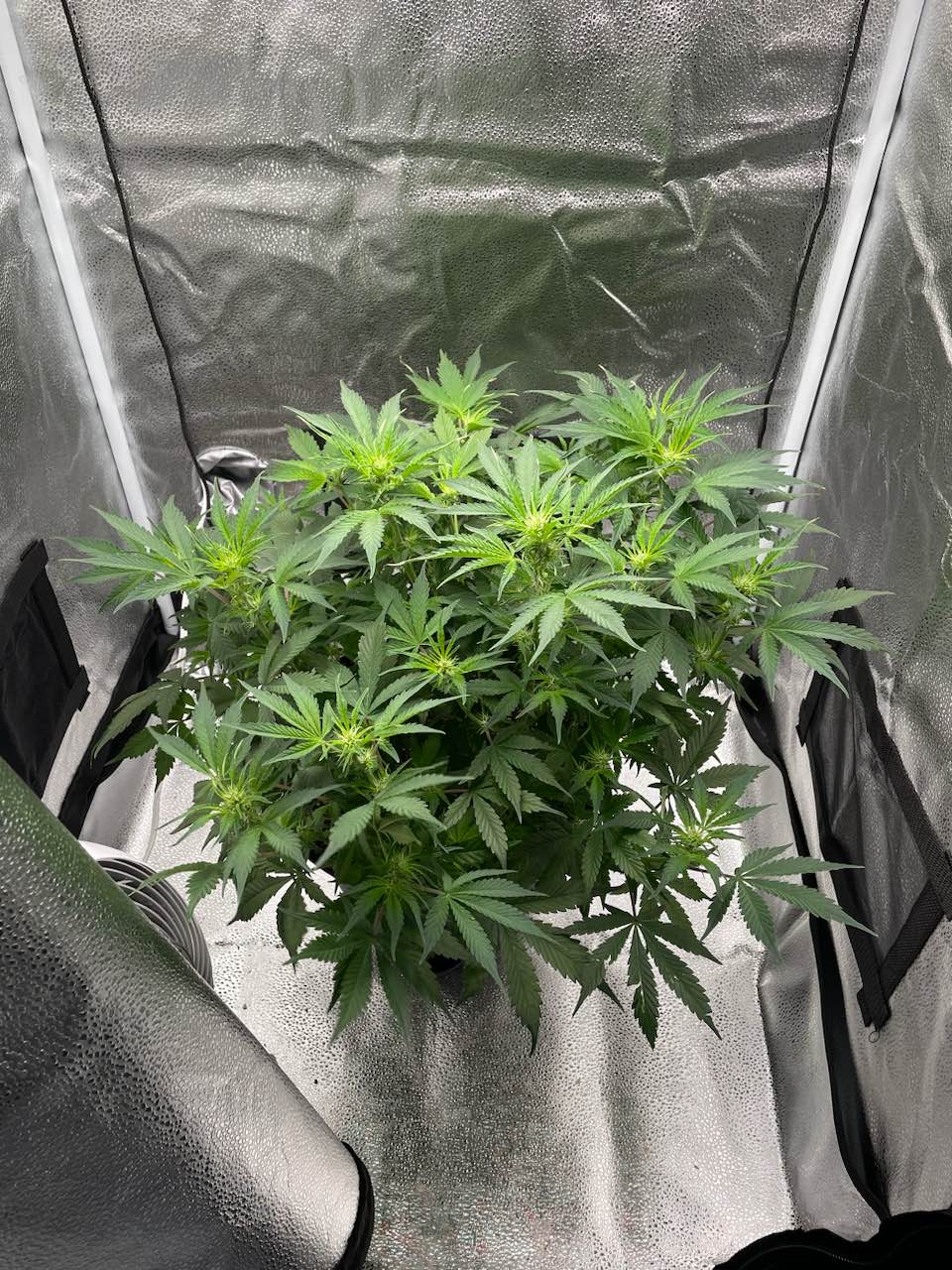 She's really starting to make some good flowers, its now the start of week 7 and we're ready to get growing. I'm hopeful to see some beautiful stretching and weight gain over the next 7 days. Can't wait to see what the future holds for this plant, she's already done so well compared to my first auto grow
7 months ago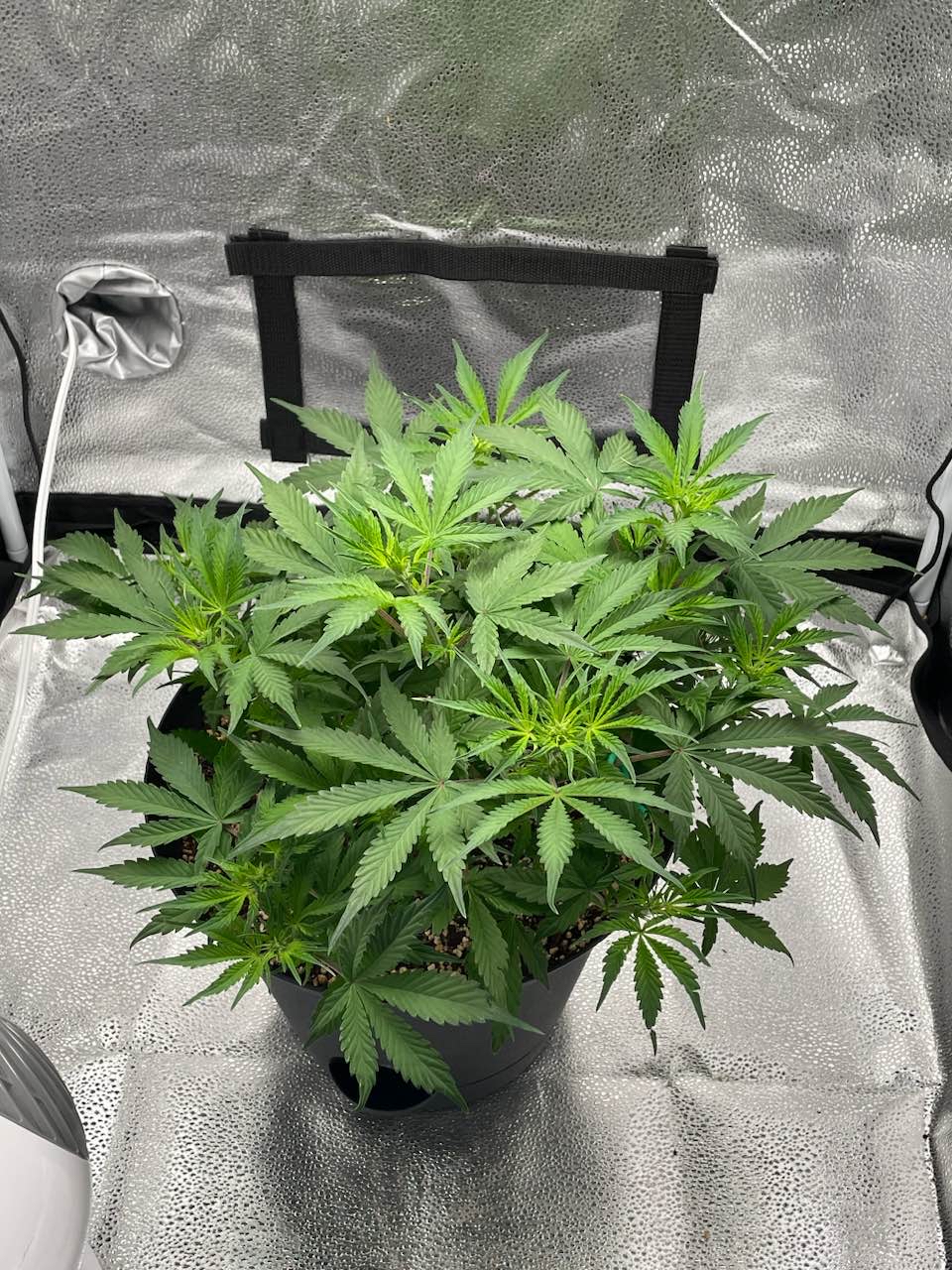 Damn she's at the start of week 6 and she's been chugging back litres of water in no time. I've been really impressed with this nutrient line and I can't wait to see how she looks in a few weeks from now
7 months ago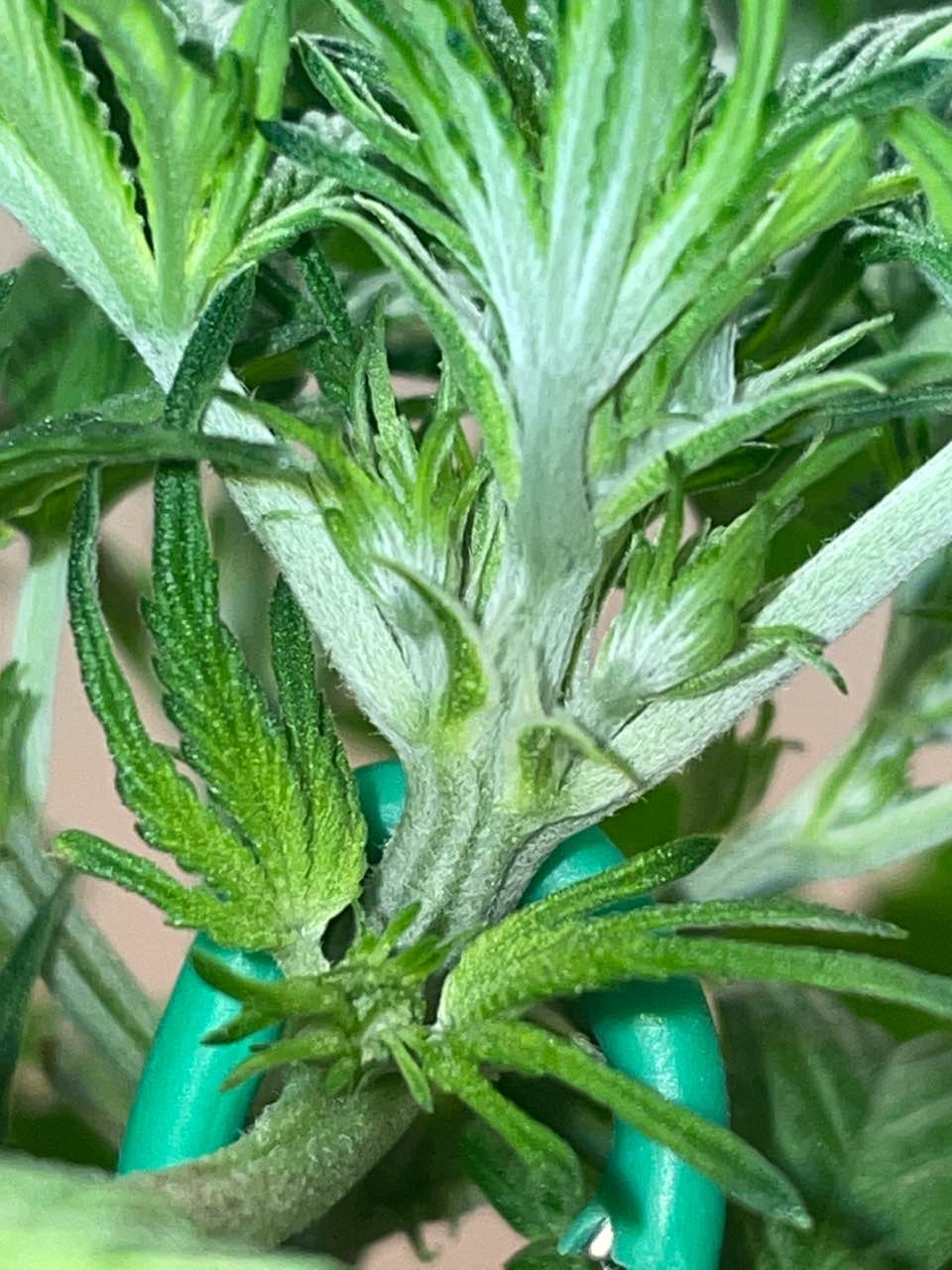 Damn, time really does fly when growing autos. It's the first day of week 5 and I'm extremely impressed with her growth after some heavy LST. There's a good canopy spread so I'm hoping they'll be perfect for some big buds, I'll be starting her pre-flower nutes tonight so we'll see how she responds to that
7 months ago
Damn what can I say, it's the start of week 4 and it feels like time is just flying by. I've addressed the cal mag deficiency that came up and thankfully the new growth has come out clean. I'm hoping I'll get another week or two to LST her a bit more, I wanna make sure her branches are nicely spread out for the perfect conditions
7 months ago
Reckless When are you supposed to defóliate? Or training?
Jay-Root When do you think I should defoliate and should I aim for the older growth? Also I've started LST since then, I was mainly bending the main stalk but I'm gonna do the other branches soon
Reckless mind I don't know! Am a first grow my self! Your plant is looking gorgeous
View 2 additional comments
My oh my, look at how much she's grown in just 7 days, It's now the start of week 3 of the Magic Melon grow and I'm pretty impressed with her progress thus far. This past Sunday I accidentally overwatered her so I decided to let her dry out for a little while, this morning she was looking pretty droopy so I gave her about 500ml to keep her going strong. I plan to start LST her in a few days once her next set of leaves grow a bit more but as of right now she's doing better than i expected. It's also worth mentioning that these Cronk Nutrients along with their monkey juice has been working so well, I can't wait to see how this lady turns out
7 months ago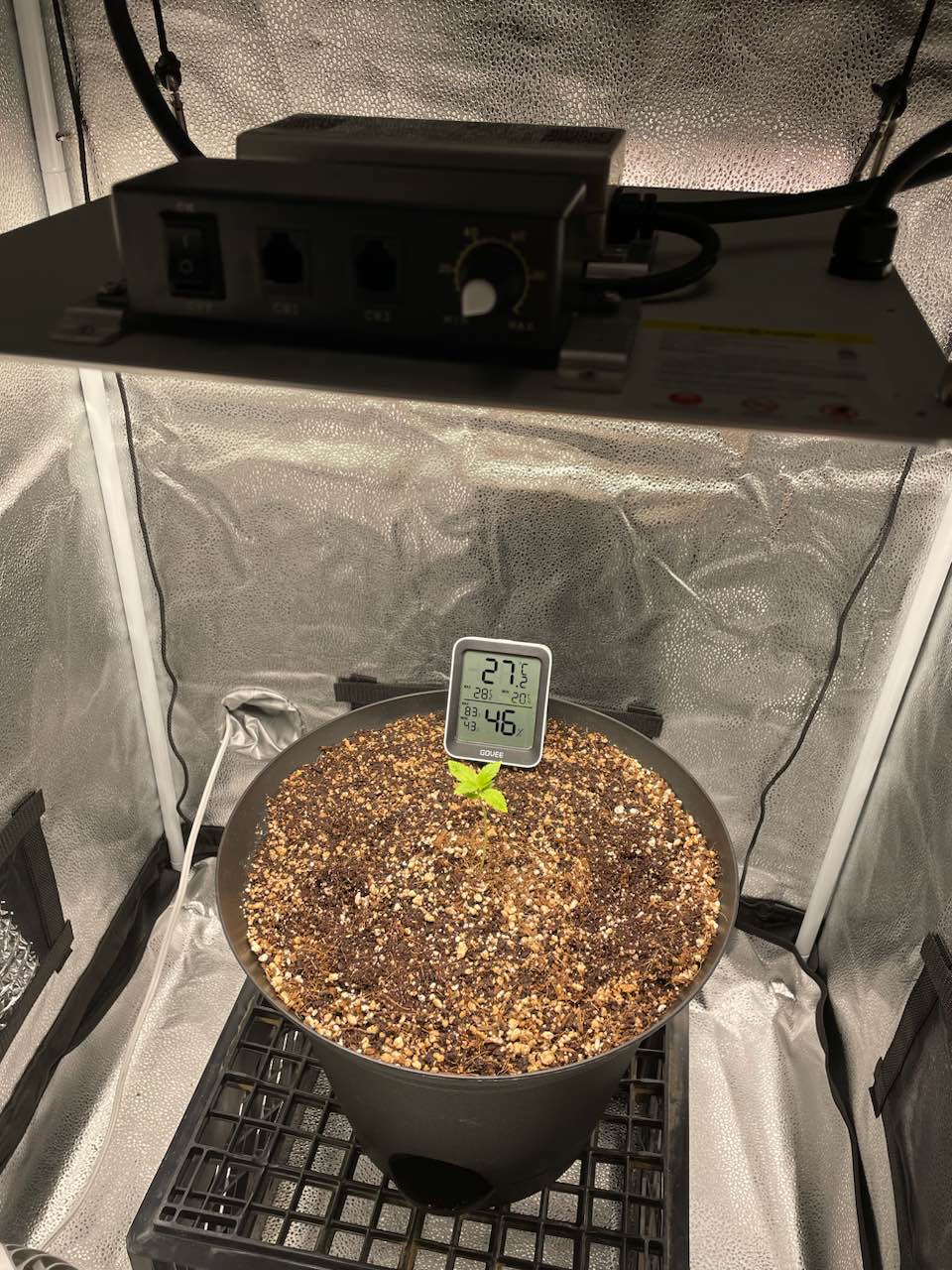 Start of week 2, she seems to be doing fantastic and loves the light I'm giving here. So far I couldn't ask for better conditions except for maybe some higher humidity during veg but overall I think she'll be something special
8 months ago
So MM sprouted a couple days ago but she got stuck with helmet head for the last couple days. I was originally gonna leave her be but I didn't want her to be stuck with it for too long so I intervened a little, hopefully she's not stunted too much but I guess since she's finally free I'll consider this the first day of my grow cycle
8 months ago