silly-hippy420
Mystery strain
Summer of 2020
Geminated and planted 5 seeds on July 2nd planted 10 more seeds July 5 th there under a 150 watt hps bulb looking amazing so far there in a 2 foot wide tent that is 5 feet tall and 5 feet long is an over kill with the tent and bulb but there looking it just all in small planters wish I knew what they were and or if they are female or not or I put have planted strait into a 5 gal bucket using pro mix soil not using any form of plant food just water if anyone has suggestions plz only my third grow and loving it
Transplanted a few moved around slowing coming back from the dry out last week but have a few deficiencies forsure need and will transplant soon 14/10 light waiting for my nutes still 😩
3 years ago
Bit of a drought / dried up when I was away sadly need to transplant ASAP switch from 24/7 light to 14-10
3 years ago
Hempfam420 What's up man looking good I need your suggestions on mine I'm having trouble with mine what do you suggest?it might not be an auto should I put into flower ?
Hempfam420 But what if it is an auto will it effect outcome if I put too sleep 24 hours?
Moved tent around transplanted one had enough soil to do so and yeah 4-4 on females out of 15 so 4-15 female so far sex the rest in the coming week / transplant aswell as little lst past week just playing thou 💯
3 years ago
24/7 light just soil natural organic and tap water
3 years ago
Oops was gone for a couple days got some deficiencies and forsure got a little dry was gone for a week and were poorly taken care of 😔
3 years ago
24/7 light till sex and let's grow keeping well humid
3 years ago
Almost half way roughly till sexing for larger and 3 weeks or so for rest then trans plant and lets grow!
3 years ago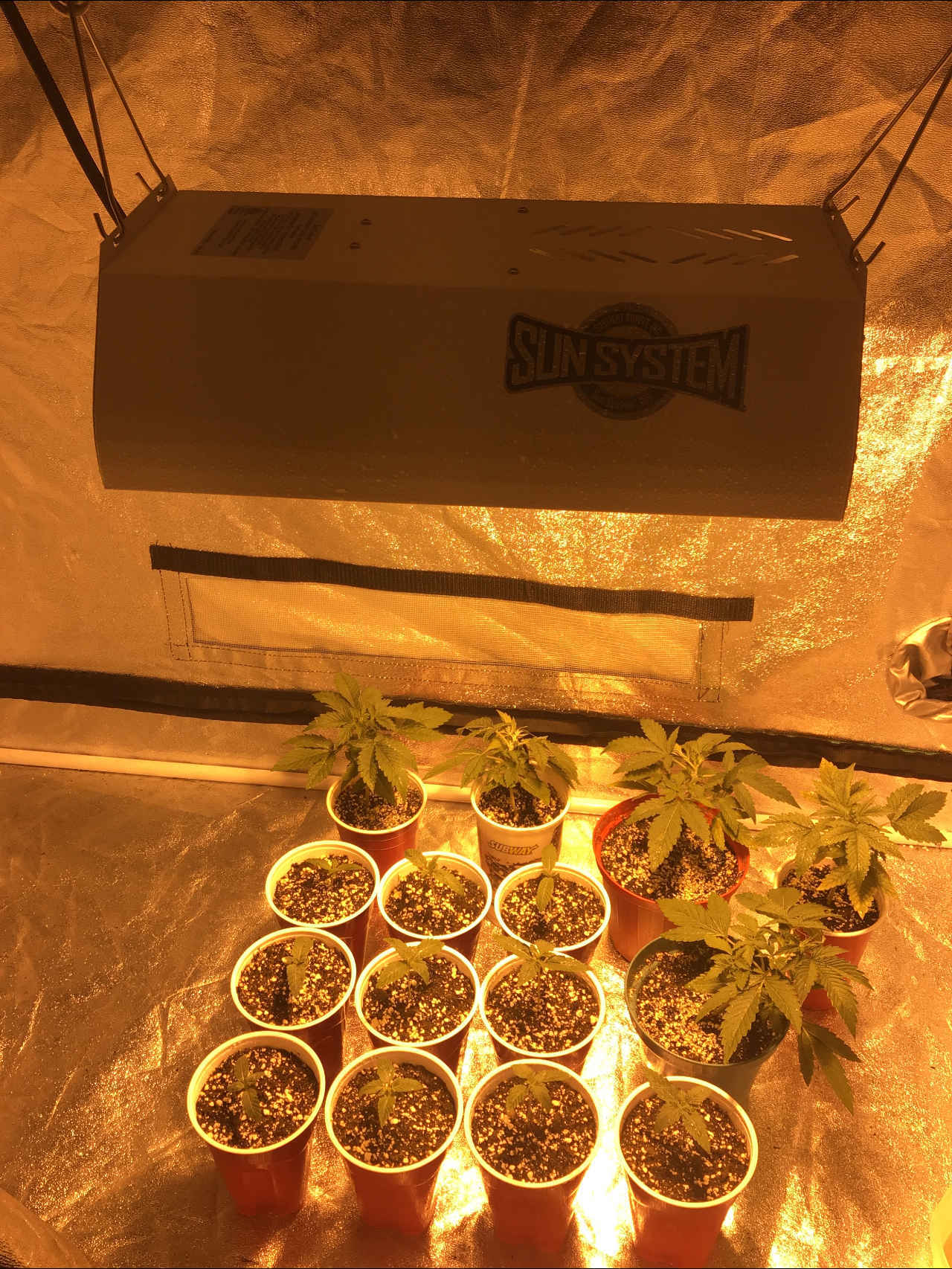 24/7 light keeping humid great growth but one has some sorta deficiency looks to be pushing through thou all looks well thou
3 years ago
24/7 light keeping tent humid and let's grow!!!
3 years ago
15 seedlings 10 planted 5 days apart from the other 5 tallest at 6 inches going down to an inch at the smallest soil moist and quite humid Also moved my tent around and am now moving my light rather than my plants as I have to room to do so on day 6 of dry with the grand daddy purp x gorilla glue
3 years ago
5 plants are about 4-5" inches tall other ten are vary from 1/2 inch to 2 inches just using basic water and keeping humidity high not using any nutes yet 24/7 light with a 150 watt hps sun system set up
3 years ago
24/7 light great environmental humidity at 50-60 % temp at 21-24 Celsius
3 years ago
Silly-hippy420 Aswell as just harvested my granddaddy purp and gorilla glue mix looking forward to starting the cure in the next coming week