LuckyFarms671
My First Indoor Grow
Spring, March 2022
Gonna be using Advanced Nutrients Sensi Grow and Bloom for this grow. Also in the tent I have a Spider Farmer SF4000 4x4 grow light.
5 Purple Punch /// 1 Cherry OG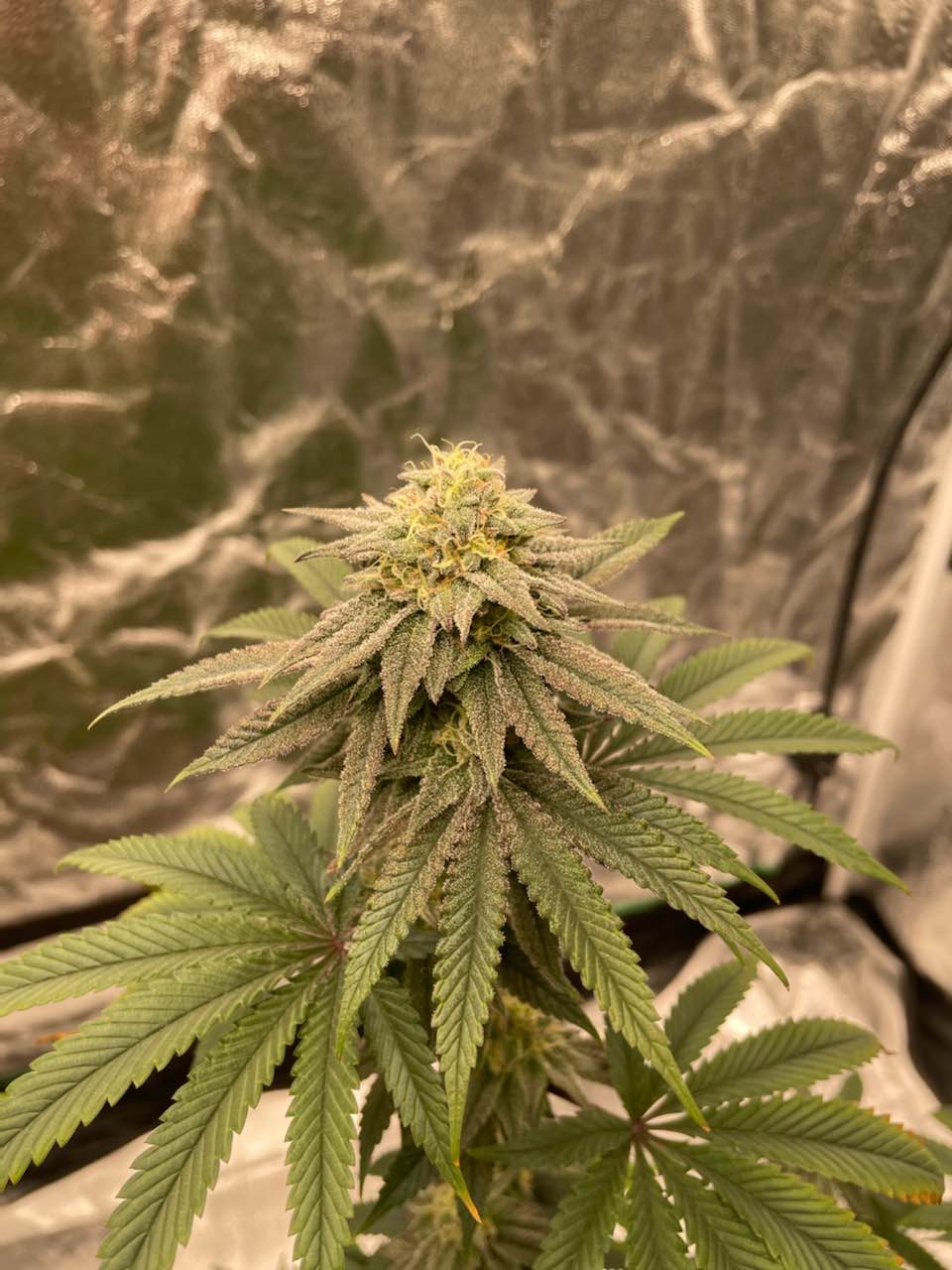 Some pictures from the last couple of weeks. We are now on week 6 of flower and i have begun the flushing process. Never thought it would be this frosty and gorgeous to look at. I hope all goes well these last 2-3 weeks. Let me know what you guys do during your last few weeks before harvest to improve smoke and flavor or even improve yields.
5 months ago
HeritageSecretGarden Well I think you have started the flush too soon but they look good just look like you could push them 4 more weeks but let them fade naturally and watch the trichs when I see 10-20% amber I chop'em down but from the pics they look good 👍
HeritageSecretGarden I just have found with LED' it usually will go 10 to 15 days past the recommendation
View 8 additional comments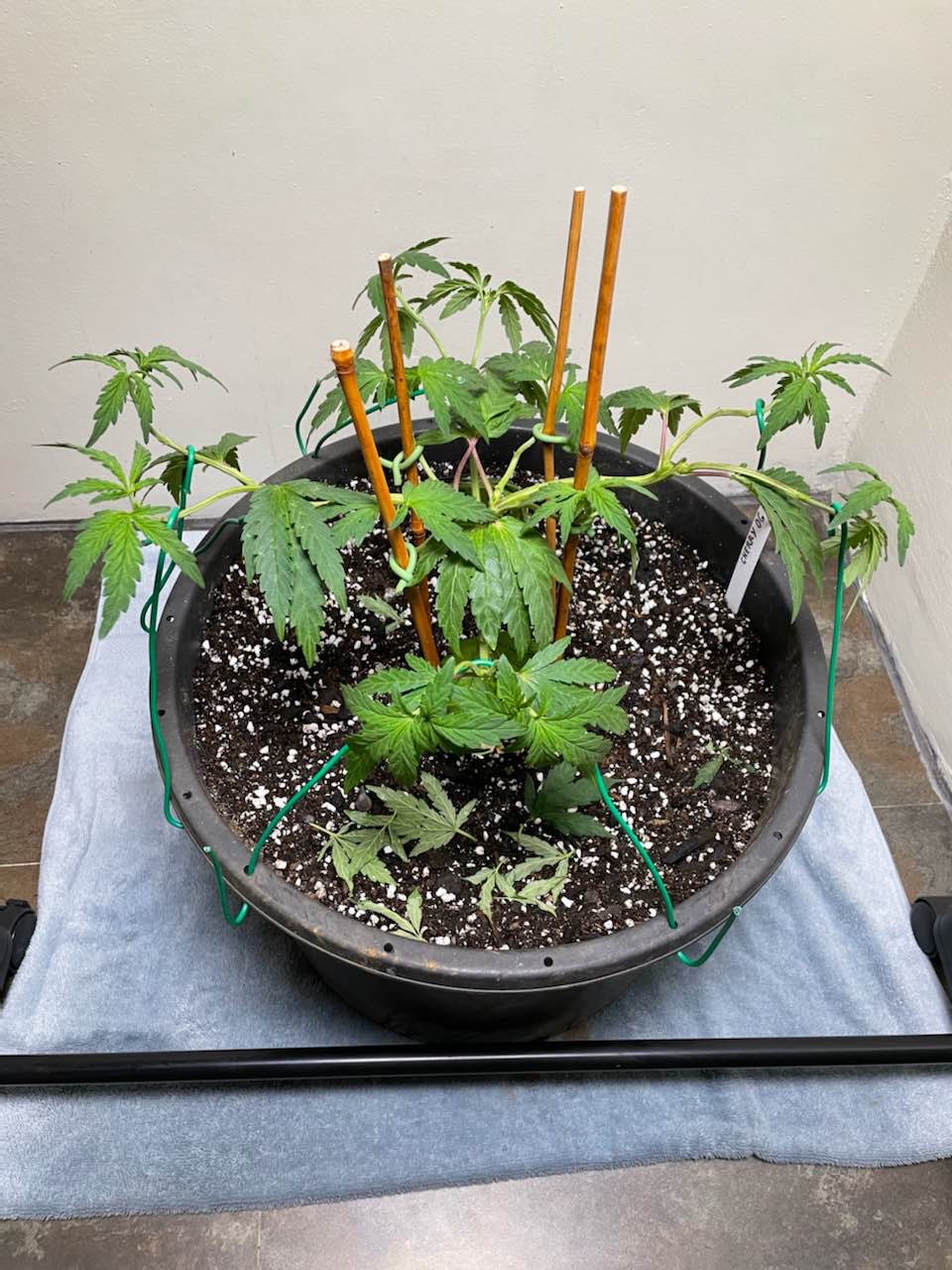 Transplanted the Cherry strain into a 5 gal. Topped once more and will continue training branches. I think I'm going to let her grow for the next month now. The plan is to take as much clones as possible in about a month then I'll flower her from there.
6 months ago
masscangrow Nice training. Just a suggestion to avoid root balling and choking is to use fabric pots. The trade off is fabrics pots don't have that sturdy anchoring support the plastic pots give.
View 3 additional comments
Some Week 3 of Flower . I noticed that the pistols are really starting to stretch out. Trying my best to keep them from drying. Probably gonna start feeding every 2 days now. All in 3 gal. pots. Going to continue training Cherry (middle), I'm trying a different method of mainlining by topping and keeping the first nodes only. From there i honestly don't know what's going to happen. Wish me luck.
6 months ago
Watered using a new 2gal pump sprayer and Advanced Nutrients to hopefully get a better evenly distributed water… I emptied the runoff in their trays.. To be honest my goal was to get more main tops off of these autos but i don't think i did enough training or defoliation at the right time to really maximize their yield. Let me know what you guys think please…. I'm fairly new to this and i just want to know if what I've been doing so far is actually decent or really good because I want to grow the best buds possible.
6 months ago
2nd week of flower for the 4 Purple Punch. Day 58 Veg. for the Cherry strain. I just cleaned off the Cherry strain and tied branches down. I'm expecting her to be stressed for a good 2 week just because it was a heavy defoliation. Watering using Advanced Nutrients.
6 months ago
More pics of bud sites.
6 months ago
This is day 50 of veg for this Regular seed Cherry Strain. Training is looking really good. I've got some lower branches that i didn't train because I'm gonna use them as clones so I'm letting them growing just a bit more. For the past week or 2 i have been moving this plant indoor and outdoor because i have some plants on 12:12 and i don't want this plant to flower just yet
6 months ago
Node.Hacker Looking good! I am a 1st time grower. Is there a reason you are keeping the lower leaves at this point? When do you lollipop your plant?
LuckyFarms671 What's up @Node.Hacker !! Don't worry this is my first grow indoors as well. I will be cutting leaves in about a week or so. Im just keeping it right just because those leaves are kinda acting as a filter because im using nutrients. I rather have the fan leaves or lower growth get nutrient burnt rather than the new growth sites. So pretty much once I cut some clones, im gonna clean her up
LuckyFarms671 I can't wait to update y'all once i have everything cleaned up
View 2 additional comments
I figured out why the plants weren't growing….. I wasn't giving the plants enough nutrients. On Day 45 I fed them using alkaline water along with my advanced nutrients Bloom Parts A and B and cal mag.., I finally followed/read the directions and now the plants are doing a lot better no droopy leaves after flipping.
6 months ago
LuckyFarms671 I also removed 1 plant from the tent bc it was a male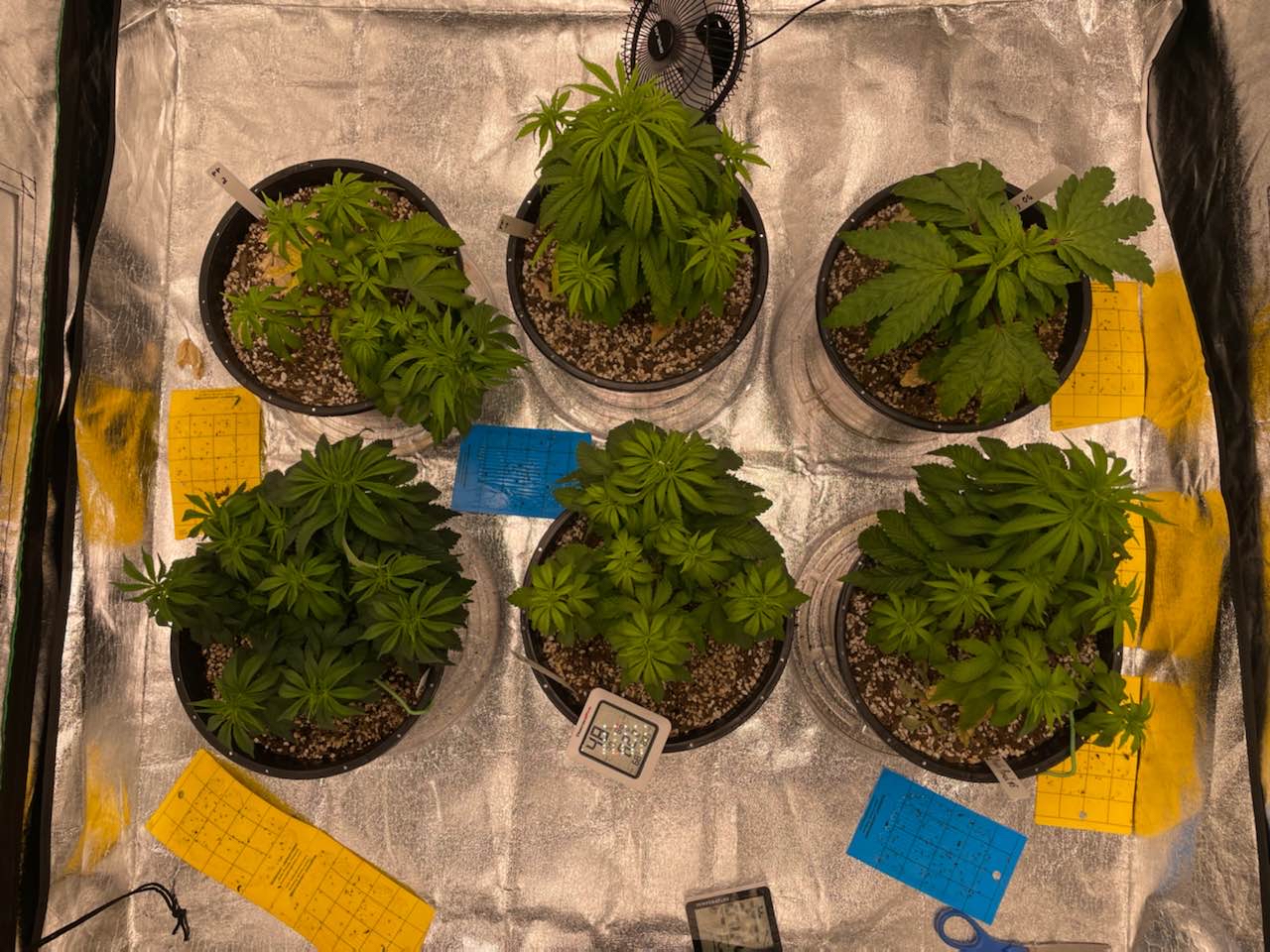 Just moved the girls to 12:12 … Switching nutrients to Advanced Nutrients Bloom using both parts, A and B.
7 months ago
LuckyFarms671 The Cherry strain will be moved in and out of tent since it is a regular seed and i don't want it to flower yet
LuckyFarms671 As a reflection of auto veg. stage: personally, i like growing regular seeds because i have more time to control the plants growth. It might be due to the lack of experience i have growing autos and indoor but i think a couple more grows will teach me what i need to know.
LuckyFarms671 I felt like the plants started out great but for the past few weeks they have been growing slow, leaves started dying off and just growing different than I'm used to.
Watered with nutrients. Continuing LST. Since these are autos I'm assuming they should be flowering soon right? … I haven't gotten any indications of flowering yet but I'm assuming within the next 2 weeks. If there's anything i should do please leave some advice because this is my first time with autos and indoor.
7 months ago
skiiimannn I had 2 autos not flower up to 2-3 months
skiiimannn They was supposed to be 9-10 weeks sprout to harvest
More pictures. (Closer look) 🥸
7 months ago
Started LST around day 23 on a couple plants. Watered with nutrients until 15% runoff. Also pulled some branches down on other plants to begin LST
7 months ago
LuckyFarms671 Missed a feed so i think it might've stunted their growth for a couple days but it seems like we're back on track
View 4 additional comments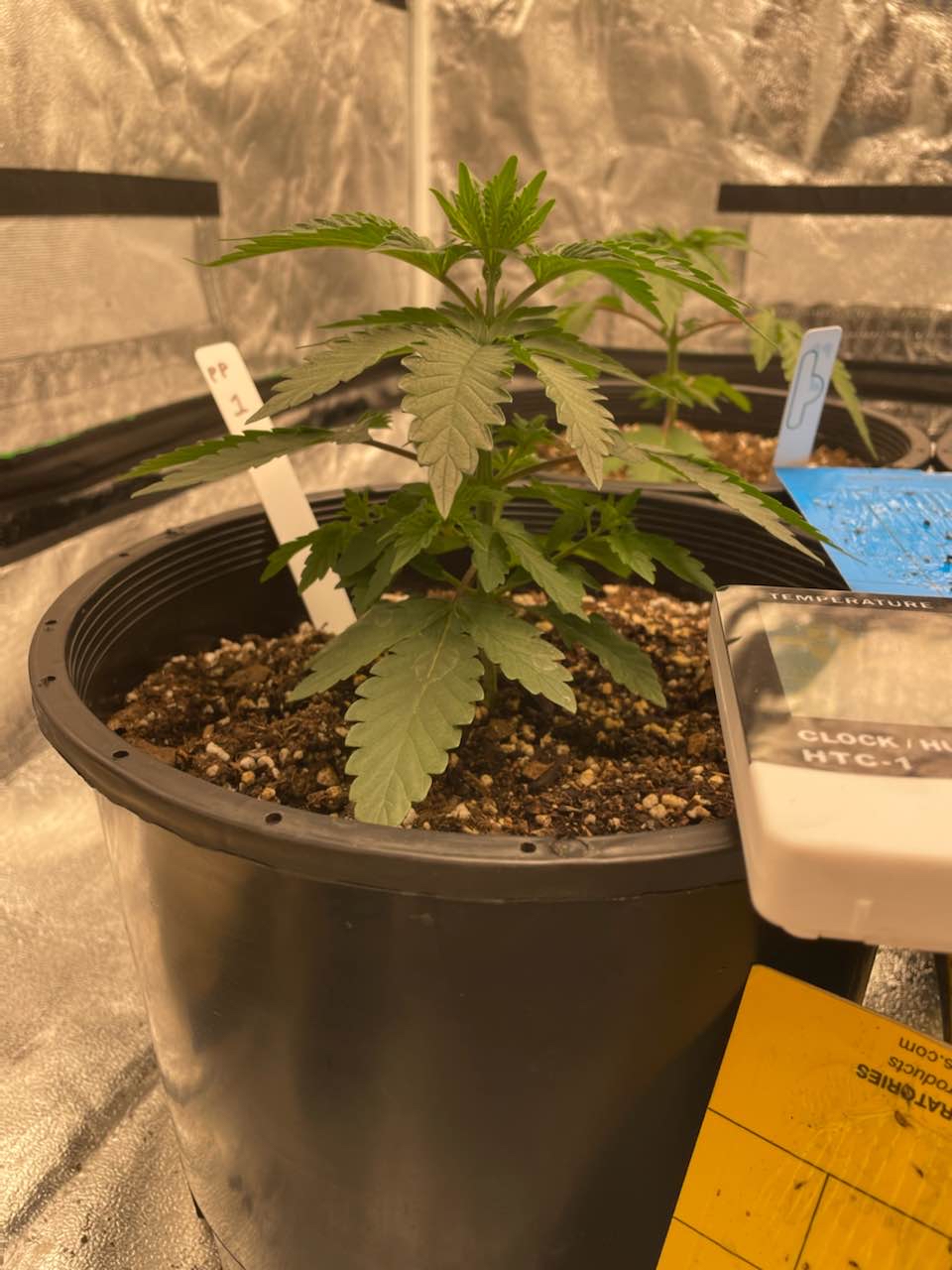 They slowed growth for a couple days. I just gave them a water until runoff and it seems like that's helping. After flushing with water, I use 1gal of compost tea amongst 6 plants.
7 months ago
ThatGuy671 I'm also not to sure why I'm getting some weird growth from the plants. So if anyone knows what may have cause this please comment. Could it be that I was moving the light and adjusting the power and different times during the last few days? Irdk so yeahhh
zdgrows37 I would try and follow the VPD for the environment and the week the plants are on .
Picture Updates for Day 15. Gonna water tomorrow.
7 months ago
ThatGuy671 PP 3 (picture 4) is growing differently than the rest of the girls. Not sure how pheno hunting works but I want to keep this pheno. If anyone has advice on how I can keep this phenos genetics pls comment below
ThatGuy671 Update: April 14 : Looks like the big leaf has slowed growth and the rest of the leaves are catching up
Watered yesterday using Advanced Nutrients Part A and B. Definitely didn't use the recommended dose because I probably would've burned them all.
8 months ago
ThatGuy671 Dealing with a gnat problem. Not too sure how to kill or prevent them other than sticky traps. I live on a humid island so I'm not surprised that there's a lot of them but i need to eradicate those little fuckers
ThatGuy671 I'll look into it. Thanks for the advice @Big O's Dank Grows
Nothing new just picture updates
8 months ago
ThatGuy671 Growth is pretty good plants are loving the environment
The kids are doing great so far. Just watering when dry. The Cherry Strain is making a comeback after having a slow start because i accidentally broke one of the leafs when it has the seed stuck to it. Also, I topped one plant so i will be provide updates later.
8 months ago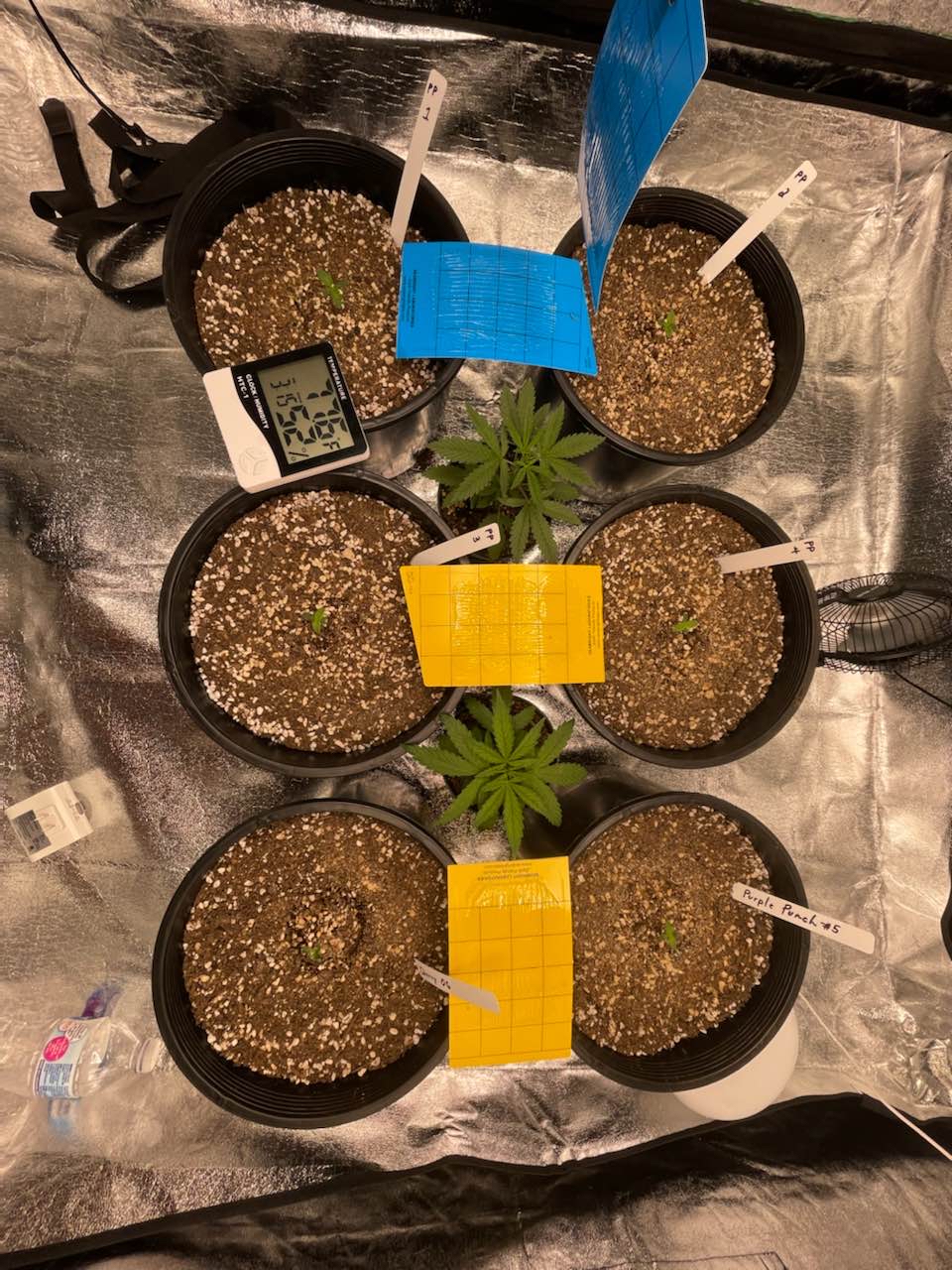 18::6 on the Lights. All but 1 plant growing nicely. Been watering a small amount around the seedlings daily when soil is dry. Also I noticed that my 2 older plants have spots on them so I bought sticky traps and caught 2 small bugs (not to sure of the species of flies) within a couple minutes.
8 months ago
Running 18:6 on the lights at 40% power. Just watering with purified water once the top soil drys. *Not to confident in growing autos so please leave some tips*
8 months ago