captnhappy
Moose & Lobsta and GG4
First run
The first 9 plants will flower in 3gal cloth pots in a 4x4 under 640w full spectrum LEDs all M+L and GG4 the rest will become moms
Moose n Lobsta, GG4, funky gassolina, spaceman, bbg3, bitchslap x lemon cookies
Sorry, got real busy with work so lacked a few updates. Cut last night, end of week 8.
3 years ago
Week 8 clean water flush started
3 years ago
Ending of week 6. Trichomes on the GG are cloudy.
3 years ago
Week 6 flowering
3 years ago
Start week 6 flower. Think the GG is going to finish before the moose, we'll see.
3 years ago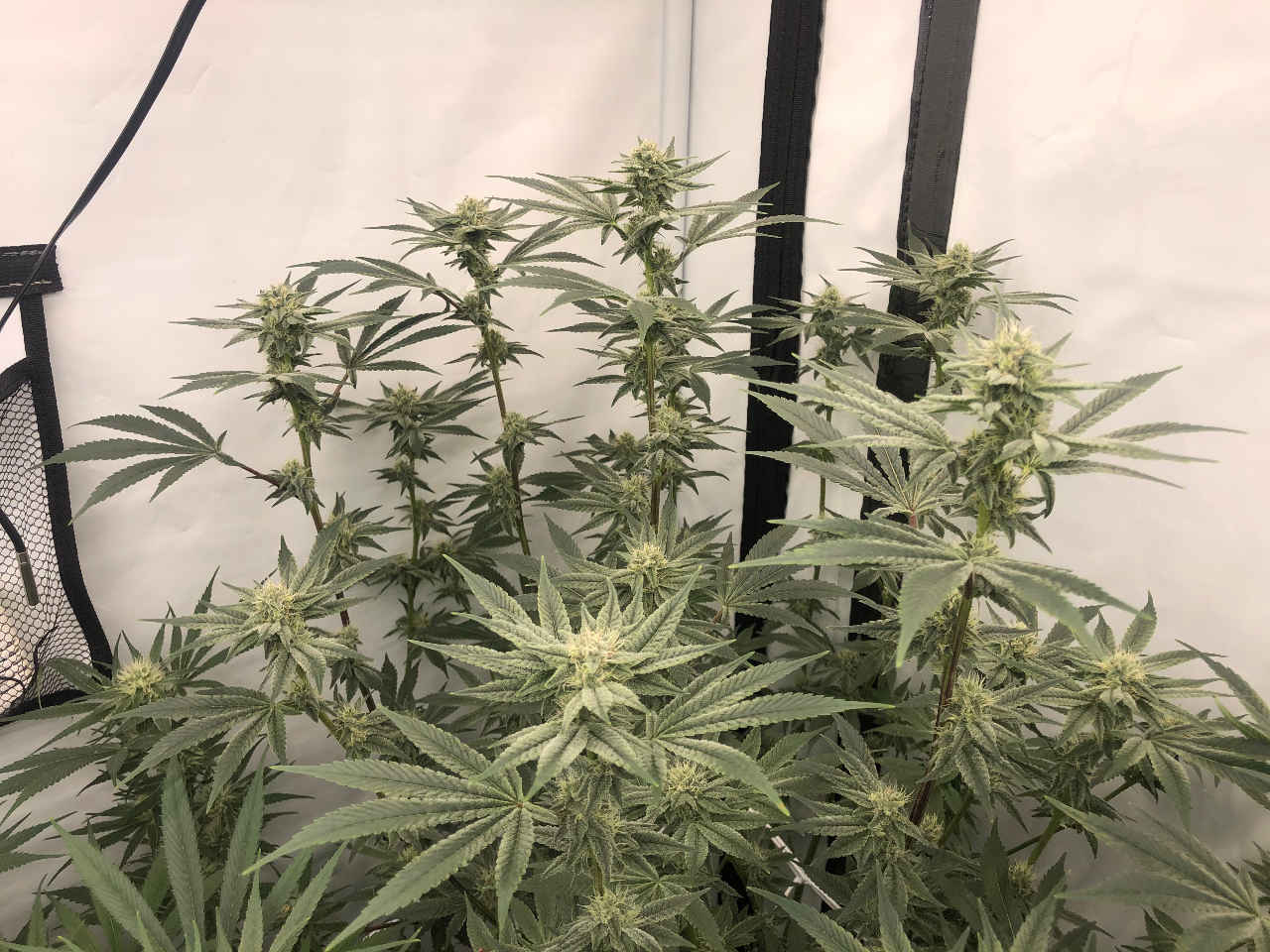 Got warm today, hit 89 in the tent while the sun was coming right through the door. Need that ac ASAP, wasn't here to vent the room. Co2 has s also finally gone, will refill tomorrow.
3 years ago
End of week 4 flowering
3 years ago
Some bud shots. Photos don't really do them justice. Feed note. Noticed the EC was rising in the pits, so I stopped the 10am 1 min feed. Now just doing 2 minute feed at lights on and 1 minute feed at 2pm. Will watch the EC this week to make sure it drops.
3 years ago
Buds for days.
3 years ago
Thinned most of the wider fan leaves, opened up the canopy a lot. Will get to the GG later today.
3 years ago
More lower defoliation today. Should have cut more last time, but so much better airflow through the mid canopy now. Got rid of most of the "suckers". I keep playing with the canopy, trying to guide some of the lower bud sites through the upper net.
3 years ago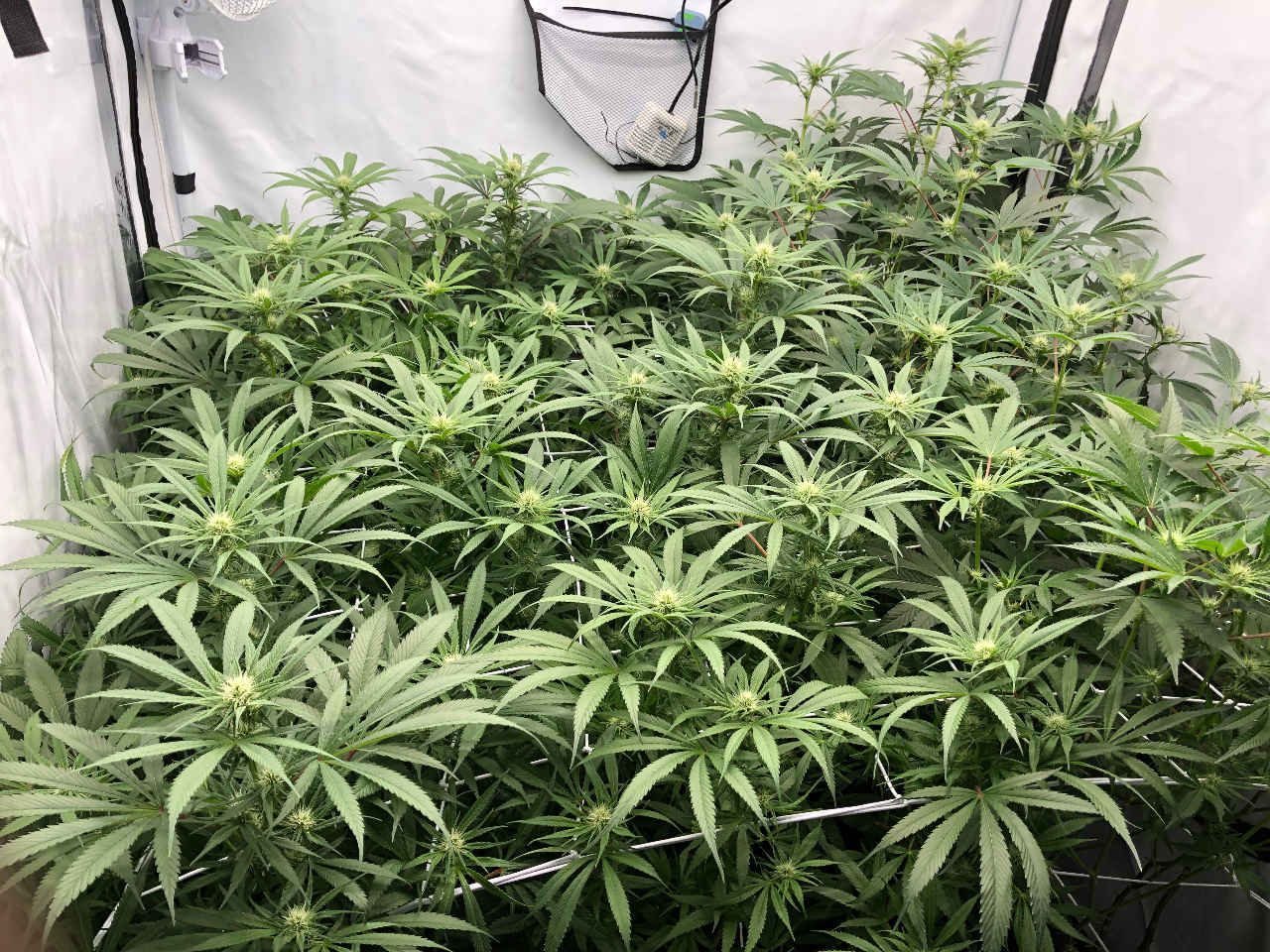 Selective defoliation as they get find their pace
3 years ago
Buds are really starting to go. Trichomes are already abundant GG4 really stretched, and are finally stacking
3 years ago
Second trellis starting to find its home. Helping the growth find its way
3 years ago
Thinned out a little and removed more lowers
3 years ago
Second dehumidifier worked well last night. Siphon issue gone and feeding is now on scheduled feeds, 8am and 1pm. 2 minutes.
3 years ago
David0810 Cool im on the south shore. I didn't know moose n lobsta was a strain, I thought it was a Maine reference. Sounds like a good one from what I've read.
View 1 additional comment
Full lol beginning of week 3 of flower
3 years ago
Chugging right along. Finally put an anti siphoning tube on my feed line, so I can set my schedule tomorrow. Co2 holding nice. Got a co2 rain hose, but broke the 1/4" T that comes with it so need to get another one. Damn hose was just too hard.
3 years ago
Buds are starting to develop! Second week of flower down!
3 years ago
Heavy lower defoliation today. Any sucker branches that didn't make the canopy were removed. Lots of low branch growth was also removed if the stalk was thin, even if it broke the canopy. Really opened up the canopy. Temps are really good today, co2 is holding and doesn't seem to be running constantly.
3 years ago
Got a CO2 monitor and controller from my cuz, now I'm dialed right in at 1500ppm. He also has a Sensor Push sensor on the line, measures heat and humidity, but I think the calibration is off. Even with the max adjustment in the app, temp is about 10degrees off and humidity is about 10% off, going by the sensors from my fan and humidity controller which are all located in the same area of the tent. Still gives me a good relative reading via Bluetooth (so need to be local) and has alerts set up for temp and humidity. If I get a setup I'll probably get the WiFi gateway so I can monitor remotely. Cool little unit and app.
3 years ago
They're very happy. EC and Ph are all in line. Co2 is pumping and the temps have been perfect, 75-80 all day. This starts week 2 of flower.
3 years ago
Cut feeding times down to about 1:00 (from 2:00) and the levels have been good. I'll stick with that 2x a day for now and keep an eye on the EC levels of the media as I go. The moms are ready to clone. Getting to that this week.
3 years ago
Good morning! First week of flower down.
3 years ago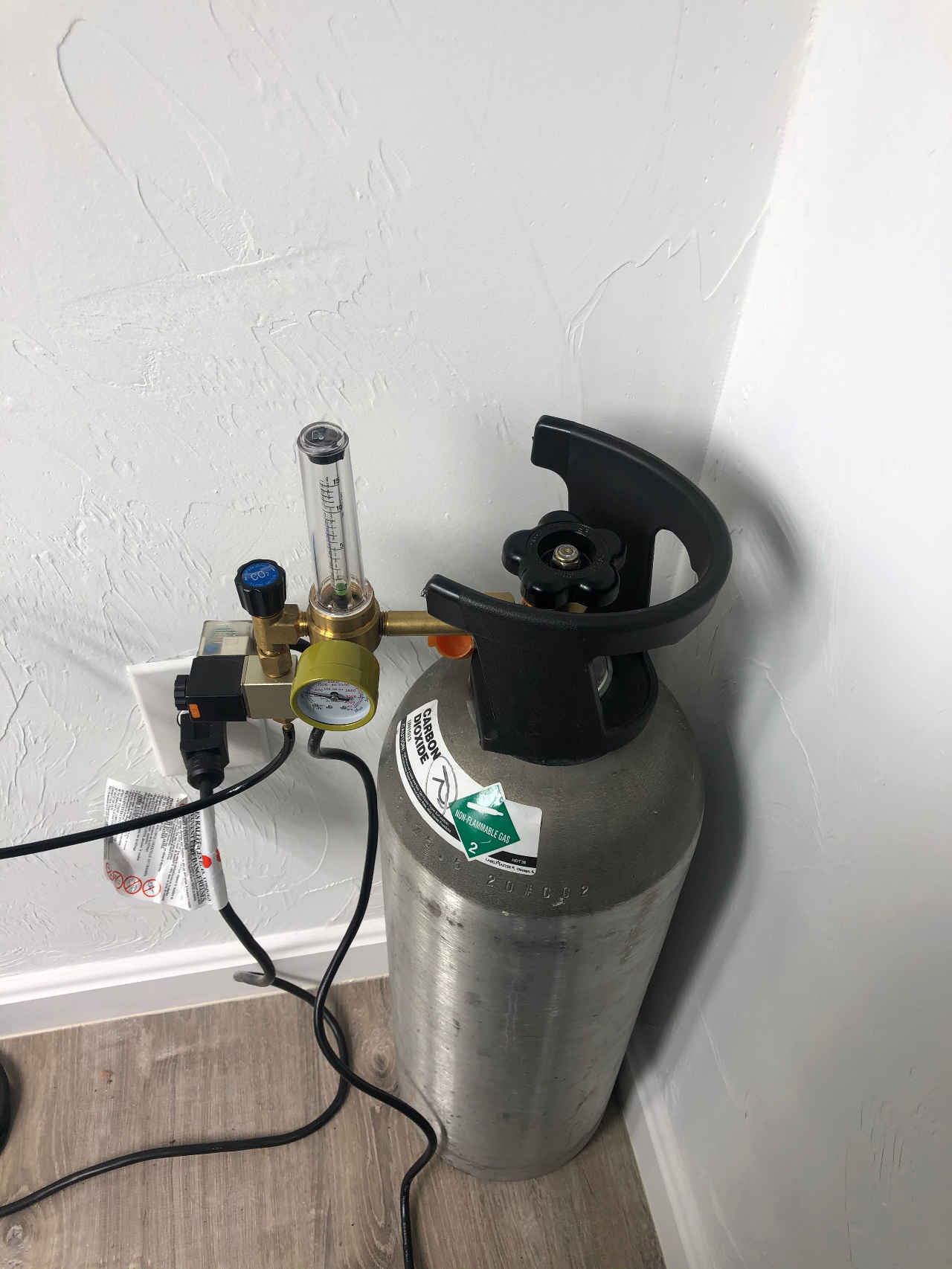 Moved the lights up this morning to promote some stretching. Watered clean again, EC is down to around 1.0, I'll give them another day to drop down. Put in the co2 finally. Running it :15 on :15 off all day and off at night set at 1 on the dial. Might have to recheck that math again lol. Love how the Highdrogro tents open completely on three sides, with independent doors, it gives me great access to the entire grow. Other tents I've used have the D door that needs to open entirely to access the sides, and it's a pain in the ass, but these are designed with access in mind.
3 years ago
Fed with a ph 5.9 clean water today. EC Was high (1.7 right after feeding) but came down to 1.2 a couple hours after feeding today. Skipped second watering, will check ec in the am and determine feed then. Looking great! Some lights off pics tonight.
3 years ago
Went to 12/12 after a day at 18/6, so call this the first week of flowering. Puts me at around Dec 11th to harvest.
3 years ago
The stretch is on! Some pics of the fertigation system. Shout out to Tim from Next Level Horticulture for all of the support. First and last dropper have fairly even output, will be putting a second line in the opposite direction to get better coverage.
3 years ago
Getting used to the nutrient change, and loving the light. Started to selectively defoliate, and keep training branches. Trimmed a bunch of the lower stuff off also. All tents from highdrogro.com. 2 HDG 44s and 1 HDG Dbox (will save my second Dbox for now)
3 years ago
Loving the transition! Switched to bloom A+B at 4.5g/gal each plus tribus Second pic is the mom group.
3 years ago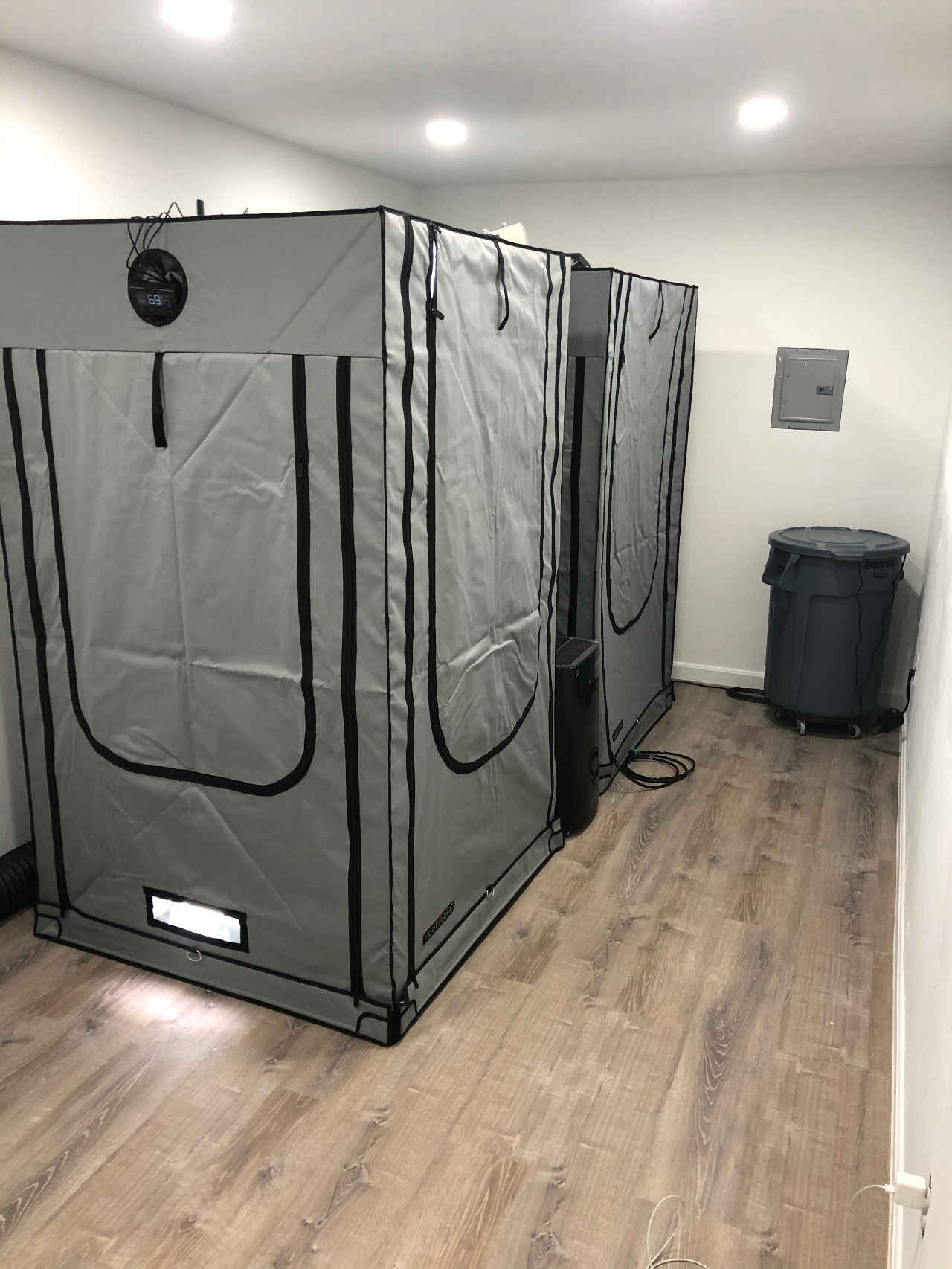 Put in the second tent, moved the rest of the girls in and have them in veg still. Flower tent went to 18/6 for a day then to 12/12. Call this day 1 of flower.
3 years ago
Finally transplanted the 9 flowering girls. 6 M+L 3 GG4 Fed first bloom feeding today. 4.5g/gal 5.85ph 1400ppm 2.7ec
3 years ago
Build and transplant! Setting up two HighdroGro 4x4 tents, and one HighdroGro Dream Tent. Have a second Dream Tent once both 4x4s are in flower, but space might be tight
3 years ago
Hopefully transfer today
3 years ago
Feeding at 3g down from 3.5g/gal, some tips are turning.
3 years ago
Trimmed and thinned out, fed and ready for transplant this week.
3 years ago
Filling out. The waiting drove me mad...
3 years ago
Loved that last feed Pic 2 is the blueberry gelato. Short fucker. Pic 3 is the bitchslap x lemon cookies that will become a mom.
3 years ago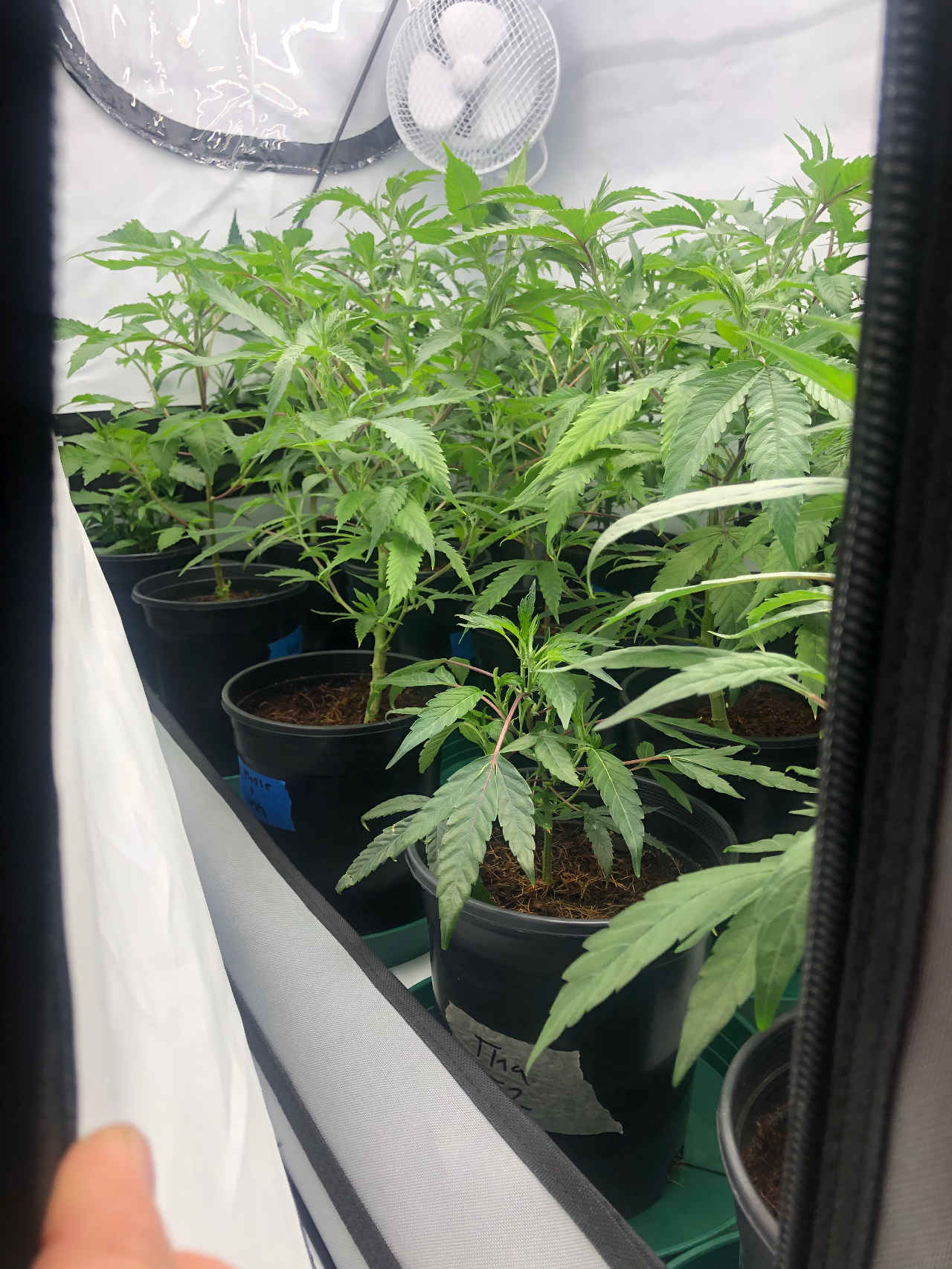 Patiently waiting transplant. End of the week hopefully.
3 years ago
Reacting to the light, turned it down
3 years ago
Loving the new light.
3 years ago
Freshly topped and fed.
3 years ago
Put up the new LEDs last night, wanted to get the girls under more light than before. 640w full spectrum 6 bar. Set all 4 spectrums to 60%. Will feed tonight.
3 years ago
Everyone is doing well. Lots of new growth on the older girls, the younger ones are coming along also. Topped the 9 on the right. Also finally replanted the remaining babies into 1g pots.
3 years ago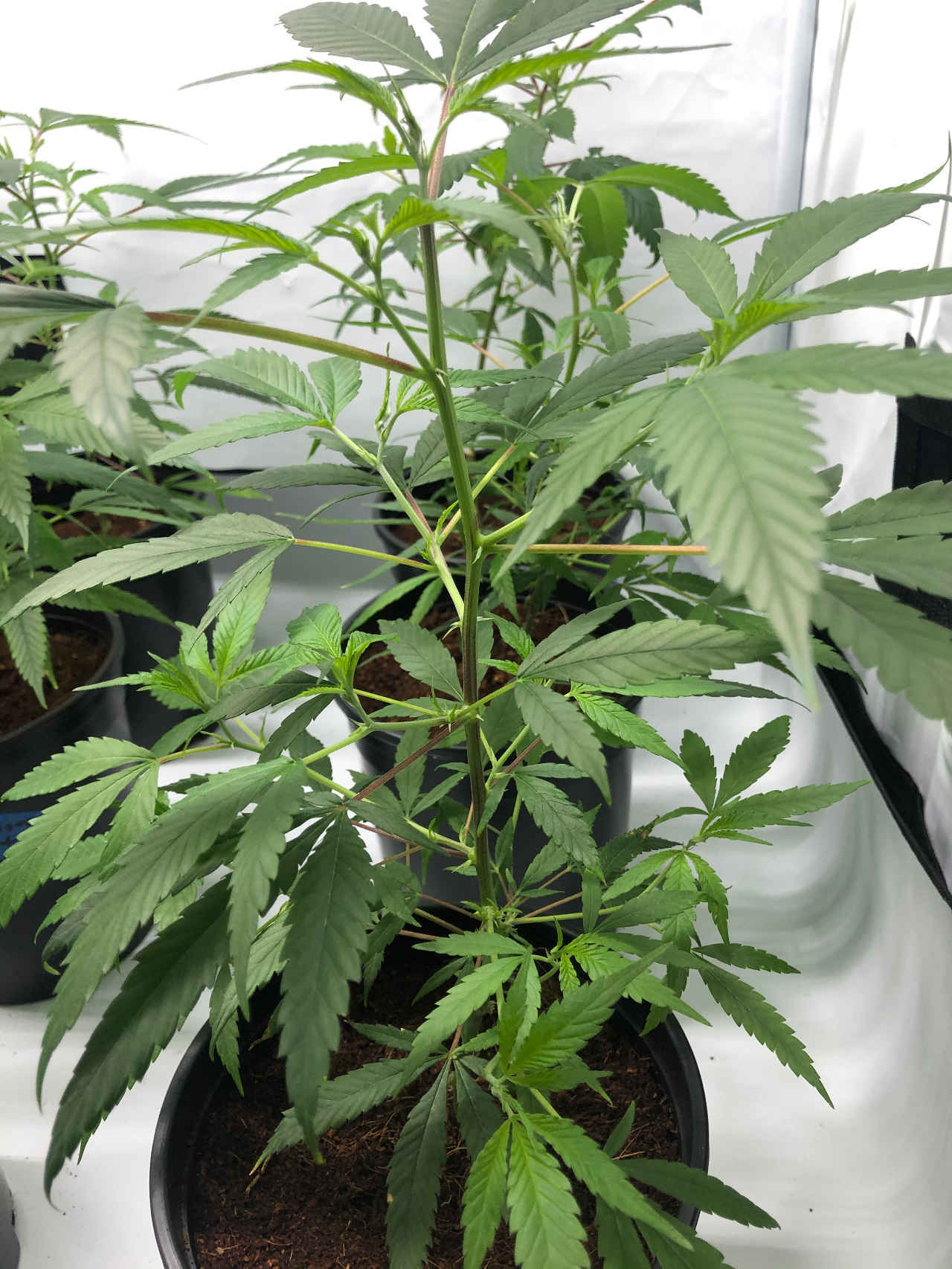 Some close up of the structure on the m+l. Really good looking plants.
3 years ago
Had to remove one plant, was a BBG, had some PM starting. Disposed of her and gave everyone a treatment of trifecta. Still under temporary light until the room is done.
3 years ago
With the lights on and rearranged a little. The 9 on the right are a little older, and will be flowered. The others will become moms
3 years ago
They arrived. Put a HighdroGro Dream Tent in my room until the shed is finished. Got all of my tents from HighdroGro.com. Very high quality tents.
3 years ago