supakilla420
Northern lights Auto
Growers choice seeds
Growing two northern light auto plants under a 300 watt light (130 power draw) in a 20x20x48 tent.
Harvesting tomorrow. After 52 hours of darkness
3 years ago
Bad pic but here is a update
3 years ago
Flowering ... defoliant
3 years ago
Officially in flower
3 years ago
Still onc22/12
3 years ago
Pic from this morning. I did aggressive ish lst yesterday and it has already recovered. Wishing to 12/12 on day 70. Canary is pretty even.
3 years ago
Bad picture just showing that I added 2nd light in. Going to remove the lamp. Plant still not in flower I think it is not auto going to give it until day 70-75 and switch 12/12
3 years ago
BamaJosh I'm on day #90 and mine just won't finish. Growers Choice seeds too.
Still waiting for flower... 👀
3 years ago
Did 2 gallon flush with ph balance tap water. Going to start giving flower nute tomorrow
3 years ago
Thing is getting out of control
3 years ago
Supakilla420 Yeah thank god im actually going to get some yield out of this plant I will be surprised if i don't get 1 ounce.
Dukeshaba Yea man it happens though now you know for next time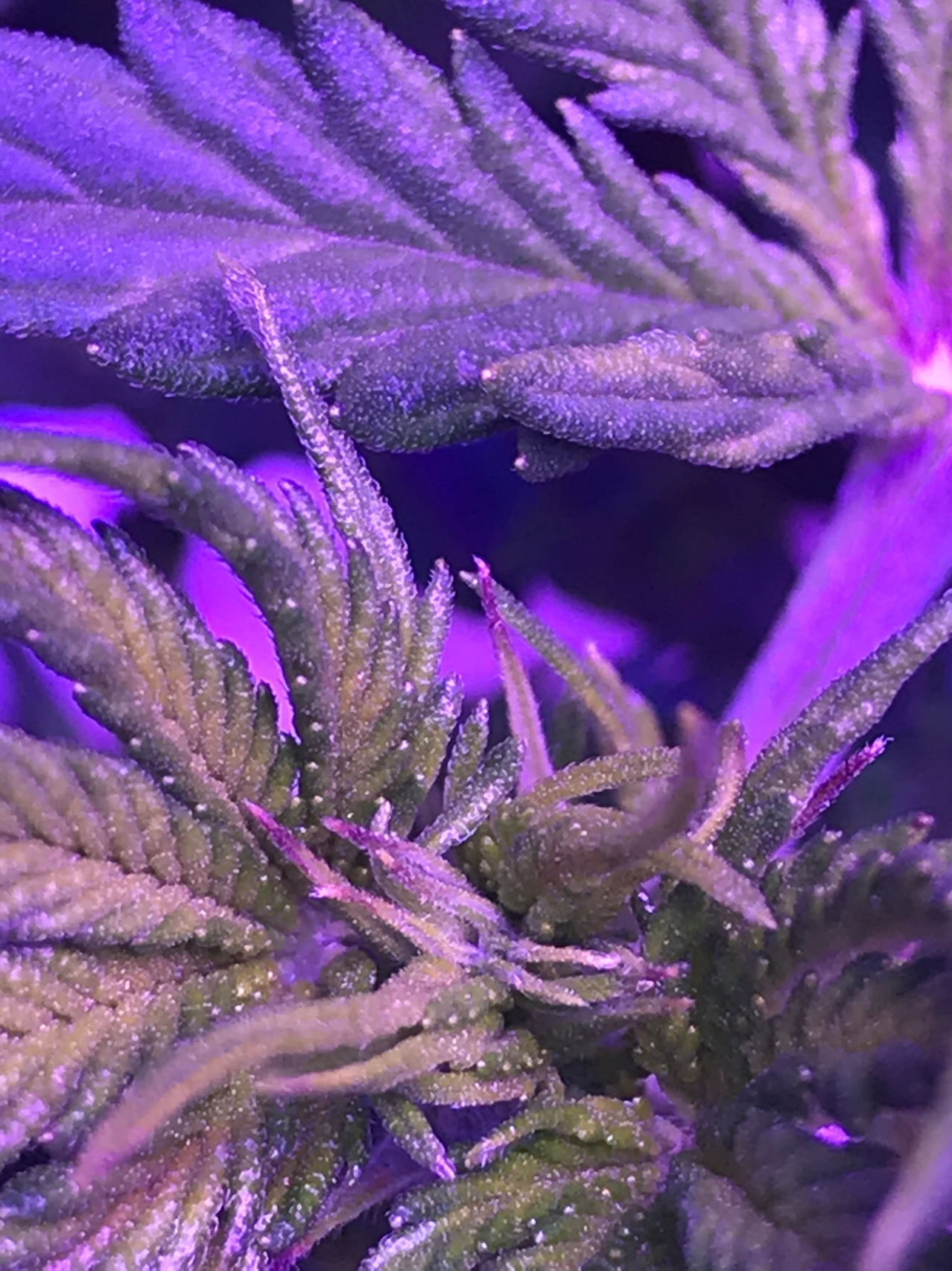 Seeing signs of preflower
3 years ago
Haven't given nutes for the last few days still growing hopefully will flower seen i see a few signs. But will like to have it veg for a another week. Ordered a generic 300watt light on eBay to run during flower. I am not planning on running the new eBay light only for 16 hours a day/whenever I am home because I am paranoid of fires
3 years ago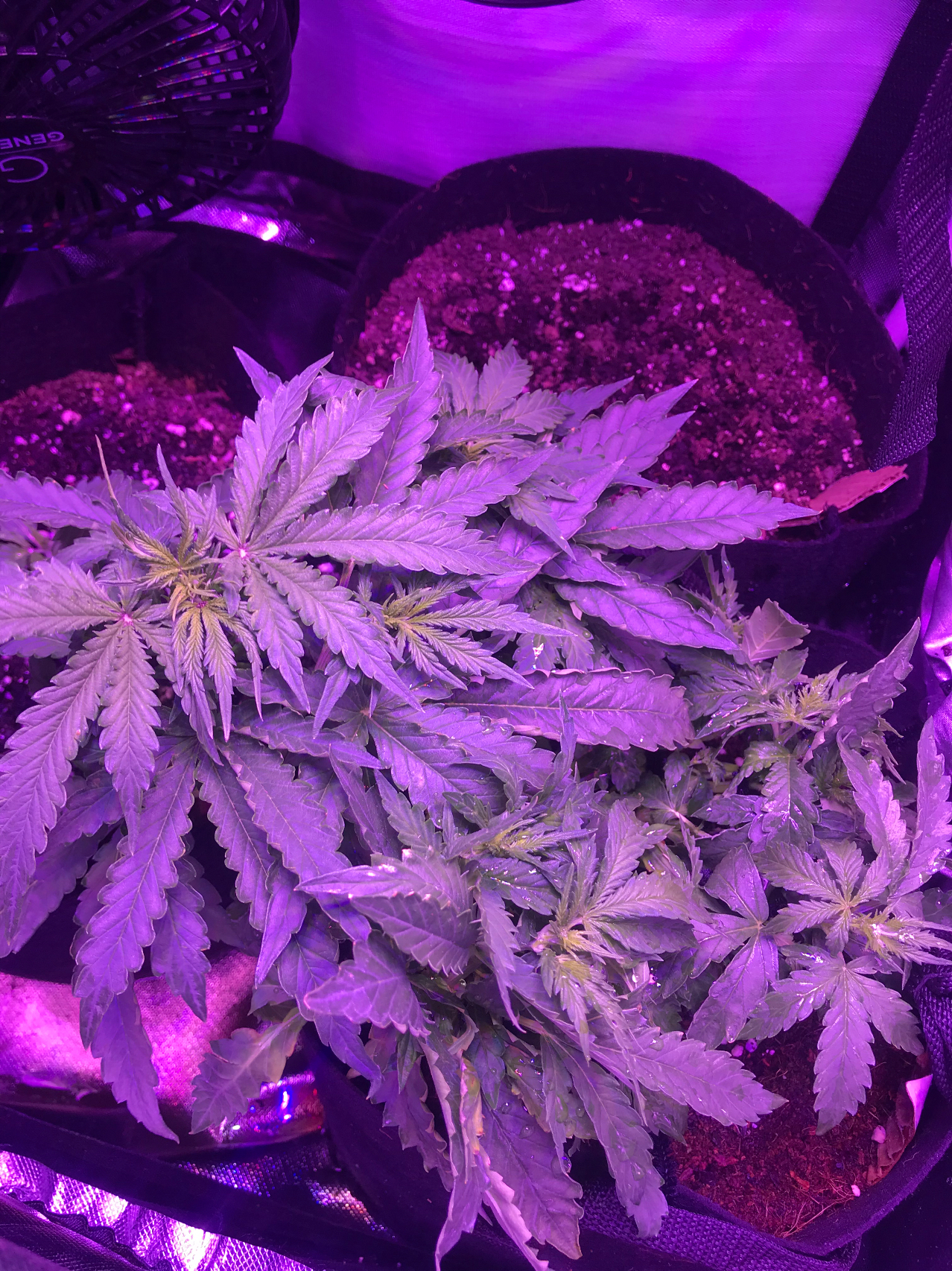 Update pic. Got some orange spots on leaves any idea ?
3 years ago
Still growing sorry about pic. I took after adjusting lst
3 years ago
Still growing I have been adjusting the lst everyday. No sign of flowering yet so I am happy that I still got more time for veg growth
3 years ago
Hoping for atleast 15- so more days until flower if it keeps growing at this speed
3 years ago
Idek why my lights look diffrent. They don't seem as bright to mez don't know what happened. Still growing
3 years ago
Dukeshaba I can't tell what half of what you put means but those leaves are tacoing from heat
Supakilla420 Lol yeah I just typed gibberish. And yeah o figured it was either heat or overwatering. So I moved light higher. Since overall heat is not bad in tent
NickYo What's the RH. It could be low humidity
View 1 additional comment
Just a update. Trimmed dead leaves and started feeding
3 years ago
Stunted and damaged from to close lights, overwatering and giving nuts early. Going to grow it out and see what happens. Going to post less on it but will continue to update. Started germining a new gorilla glue auto seed
3 years ago
Dukeshaba I didn't know you were feeding them too man. Babies don't need anything until they are like a month old
Supakilla420 Yeah I relized that I was using fox farm organic blend. I was just using cause plant was not going good from the start so I figured it was worth a try. I think plant is flowering at this height. Going to get like 0.25 grams from it
Dukeshaba Hey man I'm newer myself but your pot always looks wet in your pics. You should let it dry out before watering. Babies are real hard.
Dukeshaba Maybe pull your light away a bit too and see if she'll stretch out a bit for ya
Supakilla420 Yeah I started to water less, every other day now and just raised the lights today, put them low early on because was having problems but now prob is time to raise
It's doing its thing
3 years ago
Plant 2 is finally really growing. It has bigger leaves and I can see a lot more about to sprout
3 years ago
Dukeshaba Hey bro I but if you cut down on the water more she'll do better
Will no longer include plant 1 in the journal I gave up on it. It is still in tent getting light but it's not looking good, still barely growing and turning yellow. Plant 2 is growing now like a weed
3 years ago
ryanhavana Will keep an eye on this one to compare to mine, all the best!
Supakilla420 I'm down to one, but I m only watering once a day right now. Not even sdding enough water to get run off either because seedling is soo small using just enough to wet the roots. Sometimes twice a day since i moved my light closer it dries some of the moisture.
Said fuck it and just threw out plant 1. Was lost hope and if it did make it, it would have been drastically stunted
3 years ago
Plant 1 is pretty much a lost cause, plant 2 is doing good. Growing. I still have plant one in and under the light but it is turning yellow.
3 years ago
After getting frustrated last night. I ordered more seeds and I pulled plant one out of the coco to see if it atleast had big long roots. It didn't. Replanted it but it is likely going to die. Stared to give the plants calmag, and fox farms organic. And lowered the light from 22 inches to 12 Plant one baby leaves are starting to yellow which may be its impending doom. Plant 2 has actually grown quite a bit overnight.
3 years ago
If it doesn't grow much this week I am going to give up and get different seeds I'm getting pissed off now....
3 years ago
Watered plant one this morning it is growing some new leaves. But no major changes
3 years ago
Plant 1 is still hanging in there. I think it is going to make it. I used a soil ph tester and almost hit a root and I was about 3 inches from plant, so Ik it is developing roots nicely. No real height difference
3 years ago
Plant 2 is still getting big and growing as expected. I water once a day
3 years ago
Plant 2. Growing a little no major changes
3 years ago
Leaves on plant 1 are doing even worst but plant does not seem like it will die
3 years ago
Plant 2 has no major changes
3 years ago
Leaves on plant 1 are starting to shrivel up and yellow. :(. But I can still see more leaves growing in from center
3 years ago
1st plant leaves are starting to turn yellow and grow really thin. Height of plant is not changing much.
3 years ago
Here are both plants on day 5
3 years ago
Plant 2 is doing a lot better, wiser leaves and it is even standing taller than plant one. I am surprised due to its earlier short comings
3 years ago
Plant two has one leaf spreading and the other still has seed shell. I removed the shell manually with a light touch
3 years ago
The leaves on the first plant expanded slightly but not major change
3 years ago
2nd plant sprouted but the seed shell is still stuck to it, if it does not break on its own I will manually remove using tweezers or finger
3 years ago
1st plant has started to open.
3 years ago
It's hard to see but the 1st seed has started to sprout
3 years ago
Germination successful on both seeds just planted. Just germinated using moist paper towel and sandwich bag placed in drawer of my desk.
3 years ago